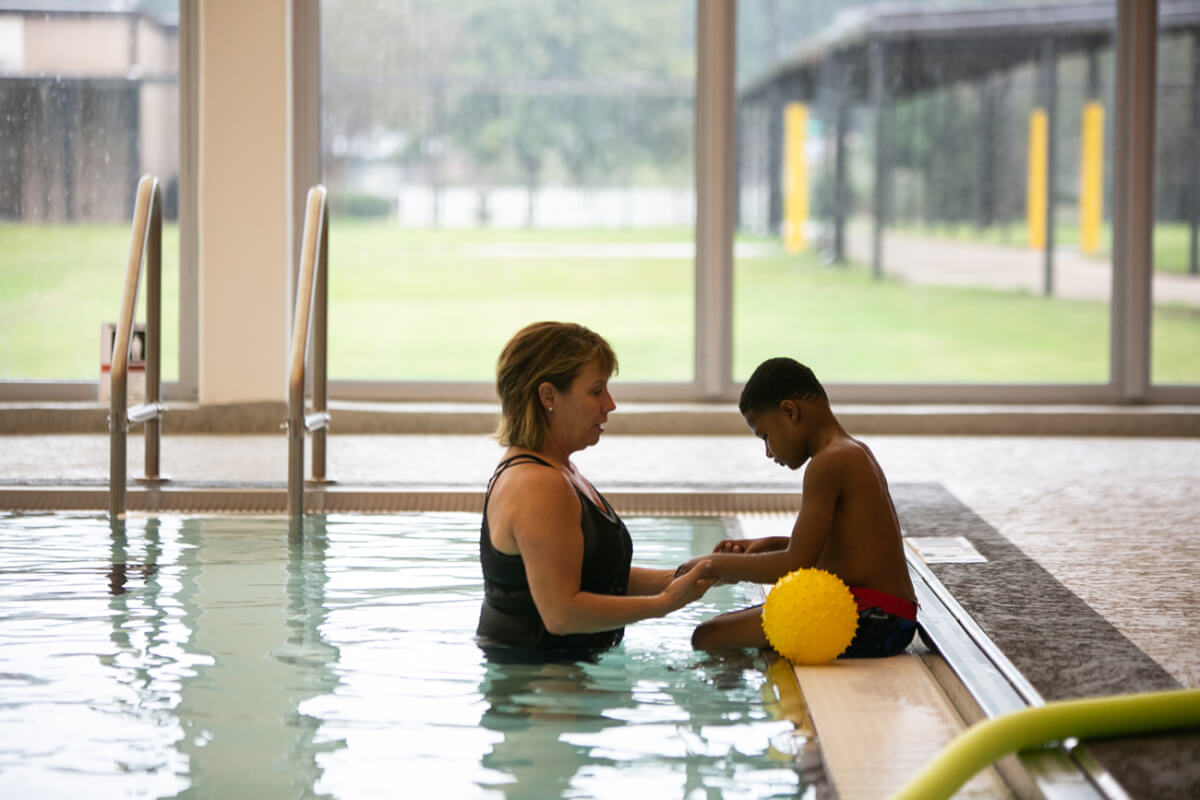 Deep Roots, Deeper Mission
Georgia Academy for the Blind creates life-long impact on students, community
By Lisa Pritchard Mayfield
Photography by Christopher Smith
If staying power plays a role in the success of an academic institution, it's no wonder the Georgia Academy for the Blind is still going strong – nearly 168 years after its founding. In fact, the unique school is well-positioned to continue to break barriers as it forges ahead in the coming years.
Founded by Macon residents in 1852 and funded by a $5,000 grant from the state legislature, the Georgia Academy for the Blind has been well-situated at its current Vineville Avenue location since 1902. One of three state schools operated by the Georgia Department of Education, GAB is a sister school to the Atlanta Area School for the Deaf and the Georgia School for the Deaf. GAB has an average annual enrollment of about 110 students, some of whom are residential students, while others are transported daily.
"It's amazing to think that the Georgia Academy for the Blind has provided services to students that have vision impairments, some with additional disabilities, in Georgia since 1852," said Dr. Kenney Moore, state schools director with the Georgia Department of Education. "We are fortunate that the Georgia Legislature understood the need to establish such an important school. This occurred years before the Civil War even started."
As the only state school committed solely to the education of Georgia's K-12 students with visual impairment, eligible students from any Georgia school system may enroll utilizing IDEA (Individuals with Disabilities Education Act) and the IEP (Individual Education Plan) process.
Because it is operated by the Georgia Department of Education, the curriculum offered at GAB follows the Georgia Standards of Excellence content, which is mandated for all Georgia Public Schools.
"The GAB is well-known for outstanding visual arts and choral and theatric performance, teaching and learning," said Cindy Gibson, superintendent of the Academy.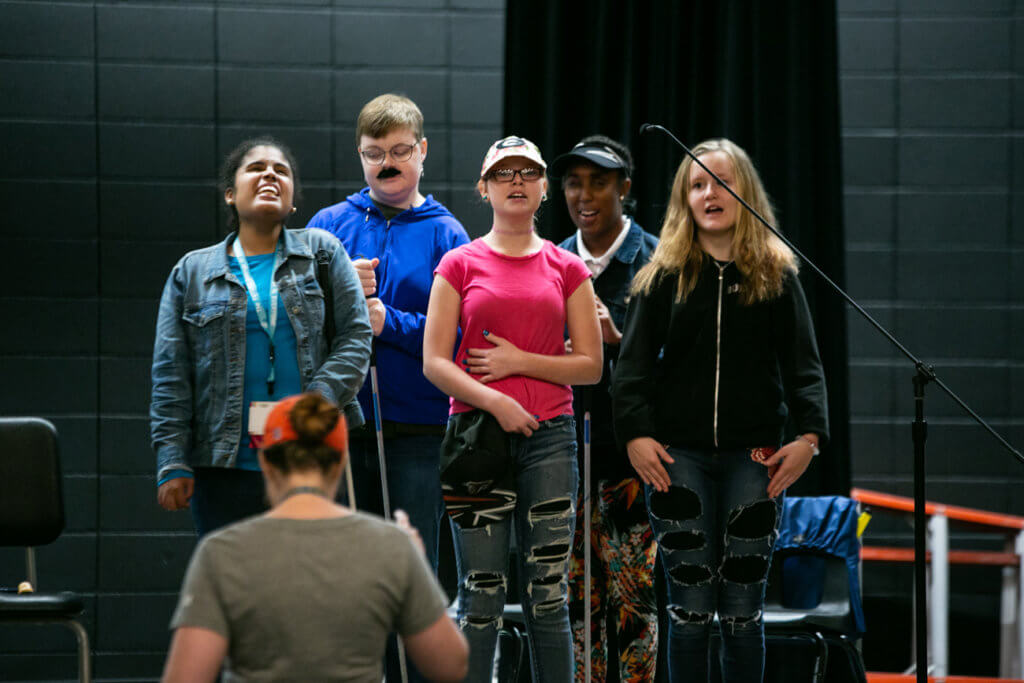 Like students in other Georgia schools, students at GAB excel in team sports such as wrestling, track and field, cheerleading and goalball. Goalball is a team sport designed specifically for athletes with vision impairments. Participants compete in teams of three, and try to throw a ball that has bells embedded in it, into the opponent's goal. Gibson encourages sighted individuals to put on a blindfold and "give it a try! We would love to teach you!" 
Committed to serving the whole child, GAB offers wrap-around services, including occupational therapy, physical therapy, speech-language pathology, orientation and mobility, Expanded Core Curriculum, parent mentors and personalized transition services such as Project SEARCH, which stands for "Self-directed Exploration of Attainable, Realistic Careers and Happiness."
"Project SEARCH is a business-led, one-year, school-to-work program that takes place entirely at the business," said Assistant Principal Alicia Jackson. "Total workplace immersion facilitates a seamless combination of classroom instruction, career exploration and hands-on training through worksite rotations."
Project SEARCH was founded in 1996 in Cincinnati, Ohio. In the GAB program, Navicent Health is the business partner providing work-readiness training for eligible students.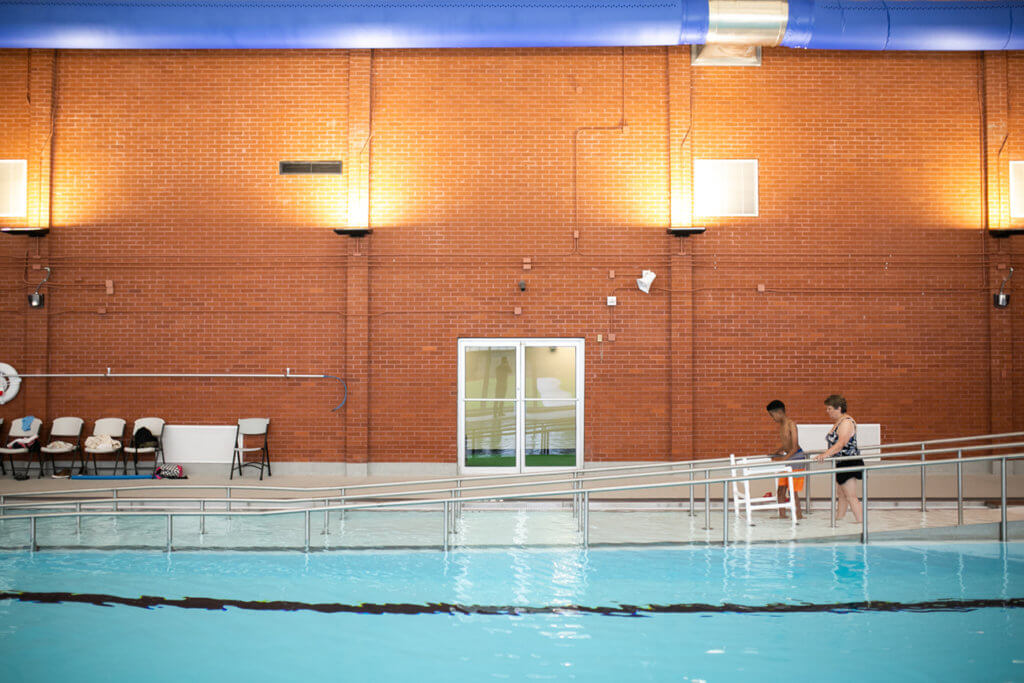 "Students must have completed all requirements for graduation prior to beginning the Project SEARCH transition program," Jackson said. "Students rotate in three work assignment positions at Navicent during the school year, so that upon completion of the year, students have resumes of experience and references."
Additionally, the school boasts a "stellar school nutrition program" supported by state and federal funds. 
"The focus is on nutrition and fresh fruits and vegetables daily," said Dierra Sullivan of GAB food services.
The dining hall personnel "serve up a grand helping of hospitality as they customize for students with special dietary needs, too," Sullivan said. The kitchen at GAB has been updated, and the dining hall itself is the next renovation goal.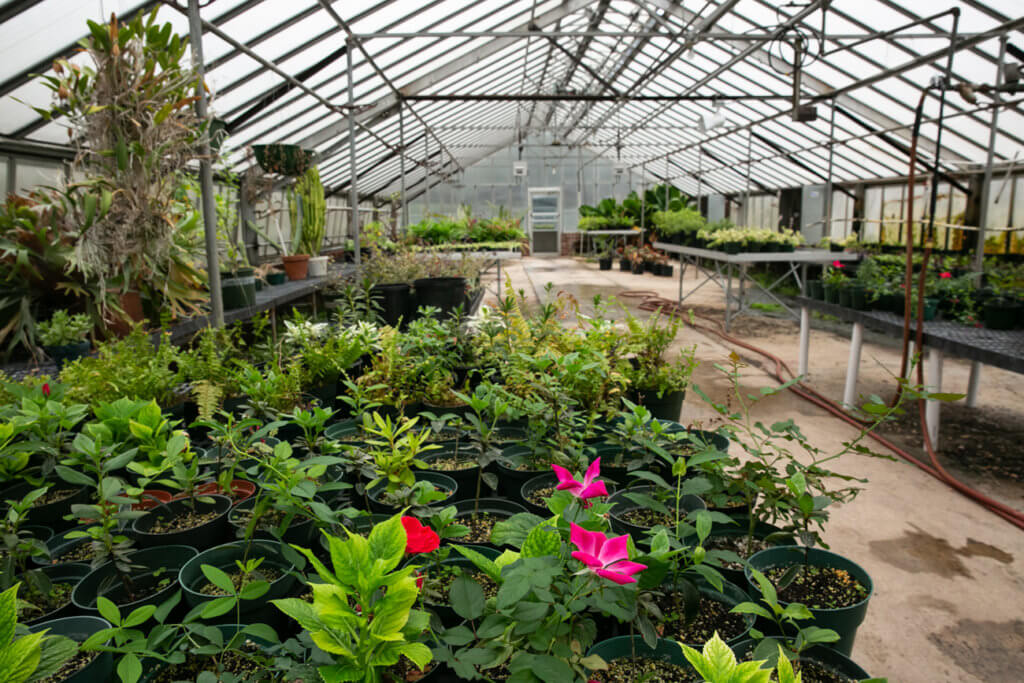 A continued commitment to the expansion and improvement of the GAB campus included two renovations completed in spring 2019: the Watkins Natatorium and Reynolds Auditorium.
"We all should be proud of how much the school has evolved to support students in our state with vision loss," Moore said. "The school is a true asset to our state and most importantly to the students that benefit from the services the Georgia Academy for the Blind provides."
The Academy's previous pool was installed in 1958 and became defunct three years ago. The new natatorium is named for an outstanding leader and coach who retired last year, Ivan Glynn Watkins, who coached and taught physical education at the Academy for 11 years, after working with special needs children at the Bibb County School District's Butler Early Learning Center.
The pool helps students in more ways than just exercise.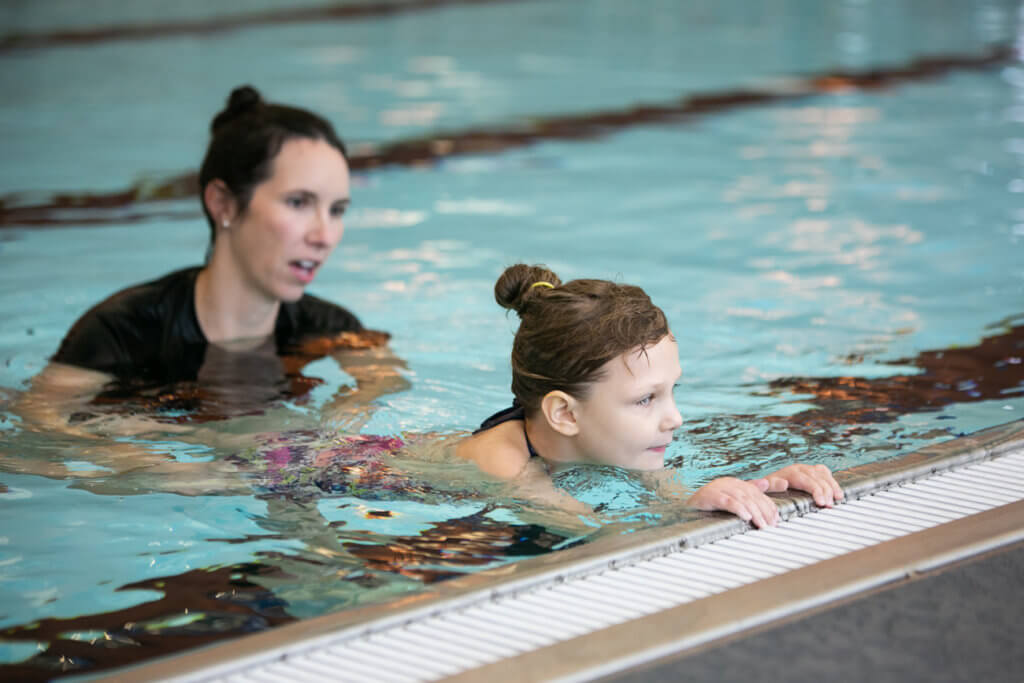 "Some of our students have the opportunity to experience the pool for aquatic therapy," said Allison Hawkins, GAB support specialist. "In this case, the water is used as a tool to help students reach new milestones and achieve goals. The buoyancy and hydrostatic pressure of the water provides a sensory feedback that helps support learning and skill development. This is helpful for our students with a variety of challenges, from decreased mobility to sensory processing difficulties."
Being in the water is highly motivating for the students.
"They are typically having so much fun, they don't realize how hard they are working. It's amazing to have this opportunity for them to improve their body awareness and achieve goals," she said.
The Willie Frank Reynolds Auditorium is named in honor of Frank Reynolds, the longest-serving employee in Georgia state government.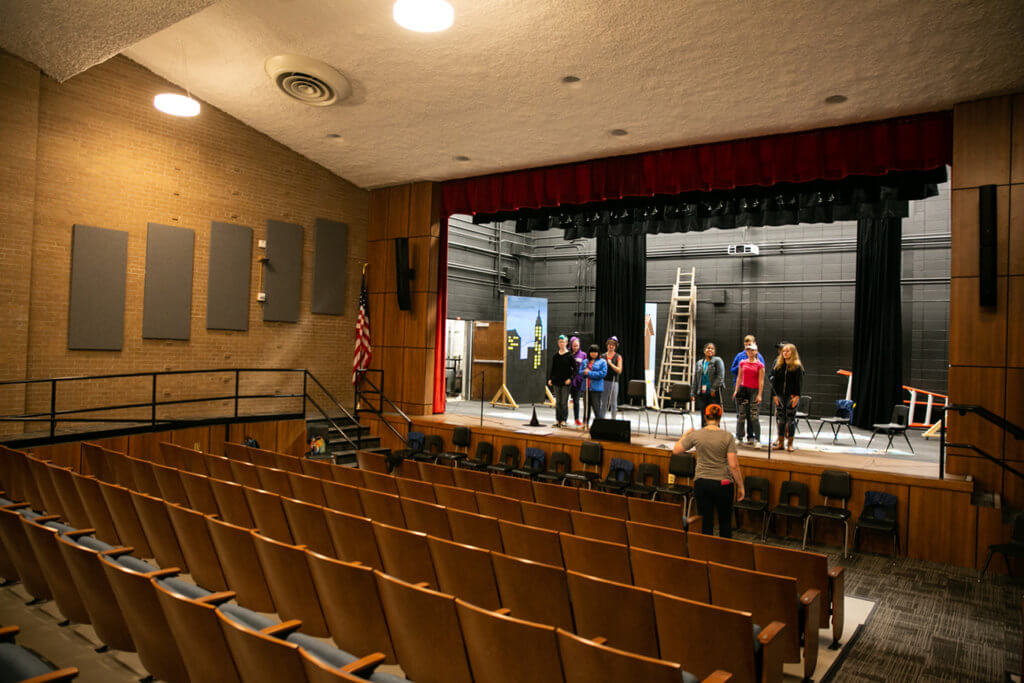 "He has been the director of residential services at the Academy for more than 40 years and a state employee for more than 50 years," Gibson said. "He has been here throughout the great history of the auditorium."
GAB's role in the community continues to be strengthened by the partnerships the school is forming here, too. Over the years, a number of local and regional agencies and organizations have partnered to provide services for students. Among them are Magnolia Soapbox Derby, Community Foundation of Central Georgia, Macon Rotary Club, Georgia State Society Southern Dames of America, Kroger, Mulberry Street Methodist Church, Macon Outreach, Middle Georgia Easter Seals, Georgia Vocational Rehabilitation Agency, the Methodist Home, Wesleyan College, MidSouth Federal Credit Union, Middle Georgia State University and Georgia College and State University. 
The Academy has made a lasting impact not only on the community, but of course on its students, too. More than a few GAB alumni have come back to either volunteer or work at the school.
"Currently, there are four former students employed or volunteering at the Academy," Gibson said. "Two of the four hold graduate level degrees from higher educational institutions. Each is a story unto himself or herself."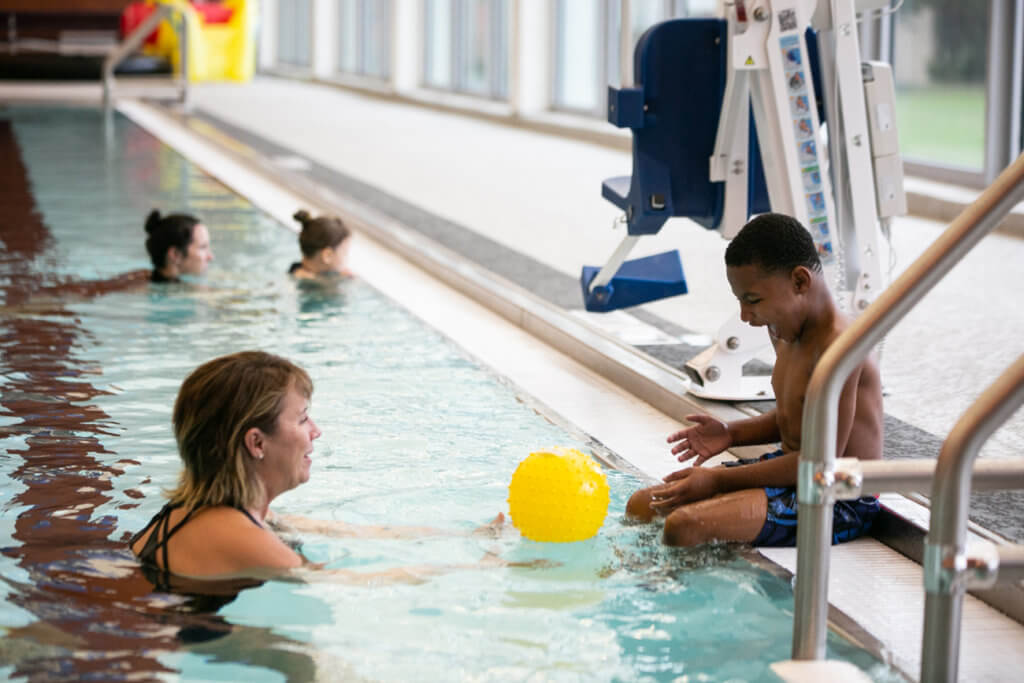 Gloria Gardiner was sent to the Georgia Academy for the Blind from South Korea by her parents, who valued independent living skills and problem solving as part of her education. Gardiner participated in dual enrollment through Macon's Central High School and Mercer University. Upon graduation, she received her first degree at Georgia College and State University and subsequently a doctorate from Nova Southeastern University. She has taught special needs and Braille at GAB for about 17 years and is married to Michael Gardiner of Macon.
Eddie English came to GAB from Swainsboro, attending from first grade through high school. After graduating from high school in Swainsboro and receiving his teaching degree from Georgia Southern University, English taught and coached in Lamar County, then at Elam Academy for 16 years. He said that GAB helped him find his confidence and a "can do" attitude. Now a special needs high school teacher at GAB, English said he is here to "pay forward what was given" to him.
Kimberly Patat was a Bibb County student who attended GAB from seventh grade through graduation. After graduating, she worked at GAB as an instructional aid before attending Gardner Webb University. After returning to Macon to care for a family member, Patat eventually found her way back to GAB, where she is now a paraprofessional. Wanting to help kids with her disability, Patat said working at GAB is like "coming home."