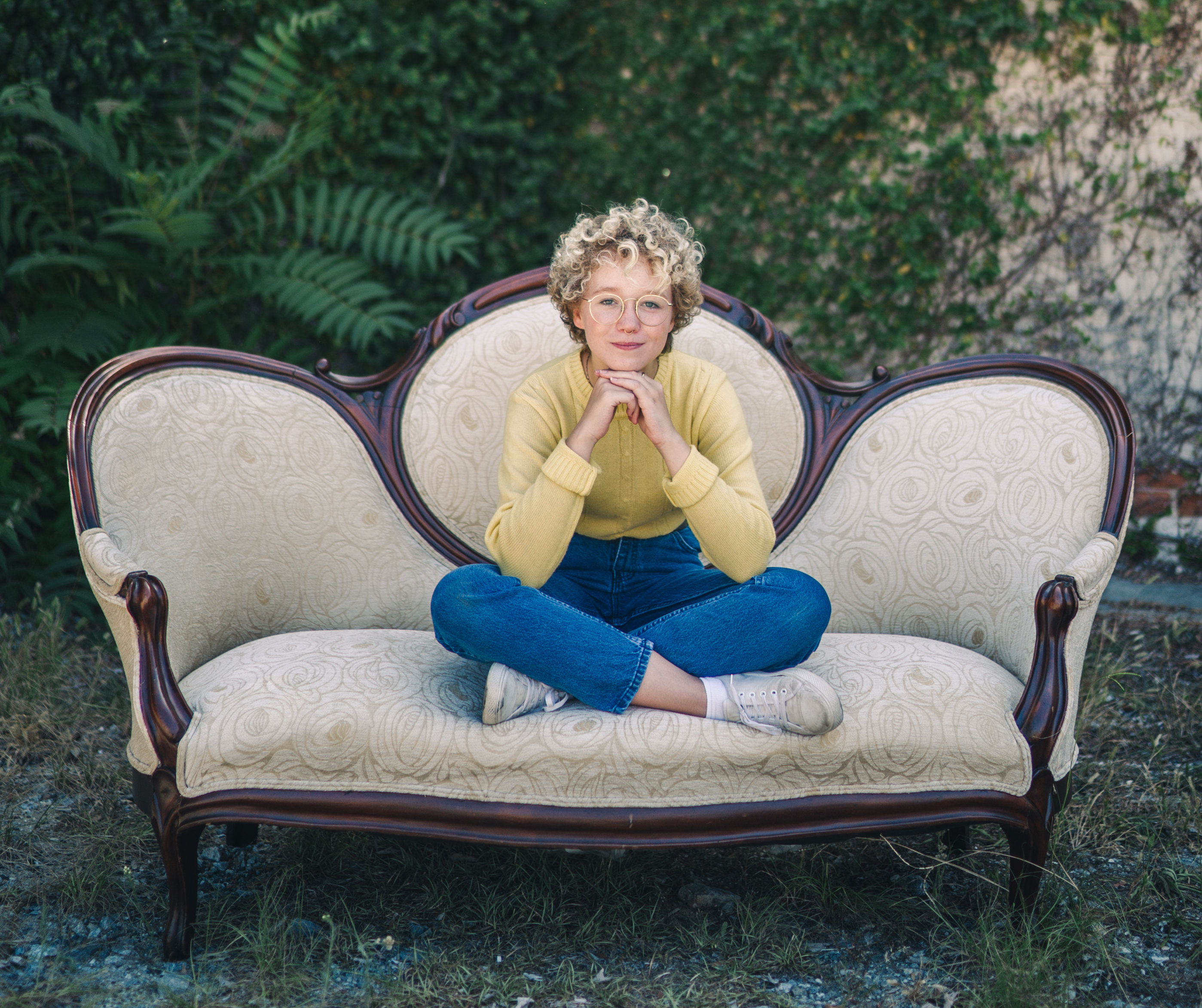 Look Forward, Give Back
On the cover: The Art of Thrifting
Shopping at local thrift stores can make more than just a fashion statement
By Hannah Jett Theus
Photography by Jave Bjorkman
There is an intriguing mystery of where an exquisite scarf got its start and who originally sat on the couch that has now found a second or a fourth home. Whether you're shopping for fashion or furniture, finding something with a past and giving it a future can provide purpose in the otherwise everyday.
In case you didn't know, it's quite nifty to be thrifty – especially when it comes to recycling, reintegrating and repurposing things. At philanthropic stores, furniture, decor and clothes can impact more than just a business' bottom line. Their sales can provide essential resources for a homeless person or a paycheck to a single mother. Clothes and décor have the power to do more than you think – a lot more. 
History in the making
Ivy Clarke, a student at Mercer University, is wonderfully wise, intriguing and has a love of eco-friendly shopping that pairs beautifully with her minimalist and streetwear styles. She avoids "fast fashion," which she said is full of fads that feature "seasonal, cheap clothes produced in poor conditions that just get quickly added to landfills."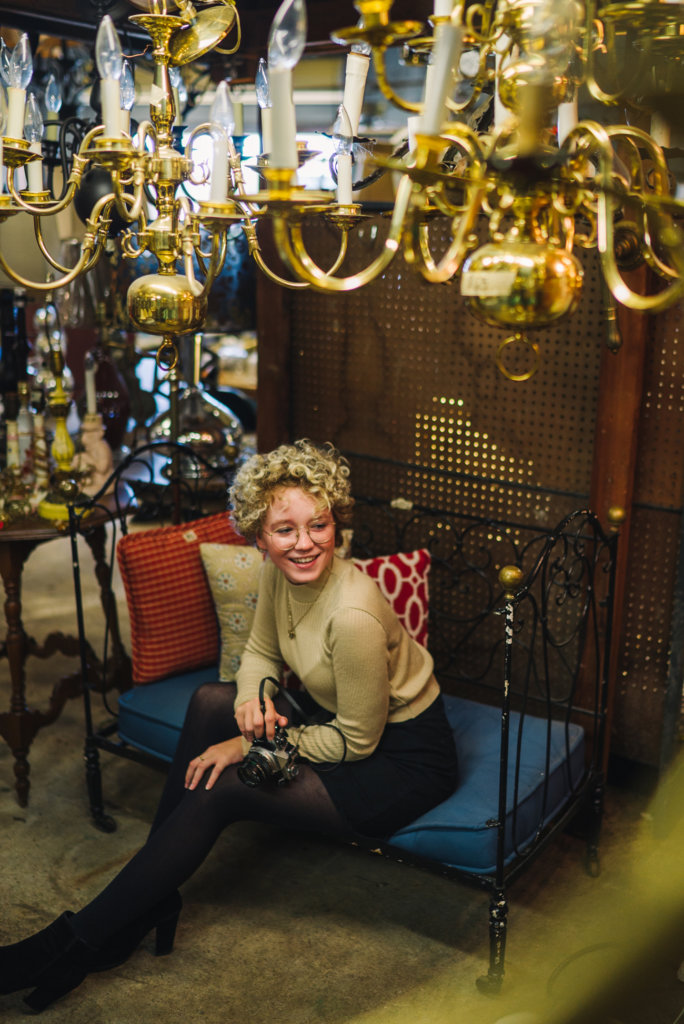 "Through thrifting, I'm able to reuse clothes, cut my own contribution to fast fashion, and limit my personal waste," Clarke said. "Add a touch of feminine color or cut to those otherwise androgynous fashions and you've got me sold."
Just like clothes, furnishing your home with storied items can be marvelous, and Historic Macon's annual Flea Market is a great place to snag new treasures.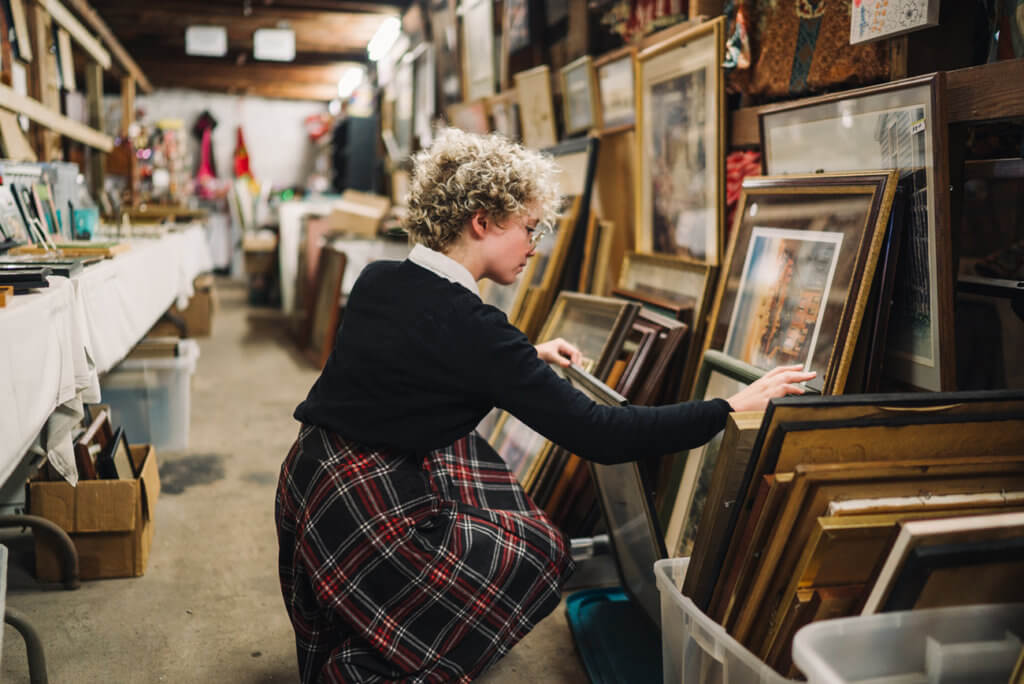 "I love that the flea market is giving new life to old things. I saw a lot of really neat stuff while I was there and made some mental bookmarks, so I will definitely be back," Clarke said. 
The Flea Market, slated for Oct. 4-6, has been happening for 42 years and is Historic Macon's biggest fundraiser. 
"People far and wide look forward to it all year long," said Stafford Gudenrath, Historic Macon's director of engagement. "Supporting the Flea Market is critical for Historic Macon's mission of preserving the architecture in Macon and helping revitalize our community."

A heart for helping
Collinda Simmons, a human resources associate at Goodwill of Middle Georgia, has a heart for benevolence. She doesn't just work to help people, but she helps people find work, fulfilling Goodwill's mission to "help people overcome challenges to build skills, find jobs and grow their careers," according to the website.
Simmons said that her fondness for finding something original keeps her on the go.
"Usually, you go to retail stores with a style in mind, but at thrift stores, it's an endless combination of designers and possible styles," she said.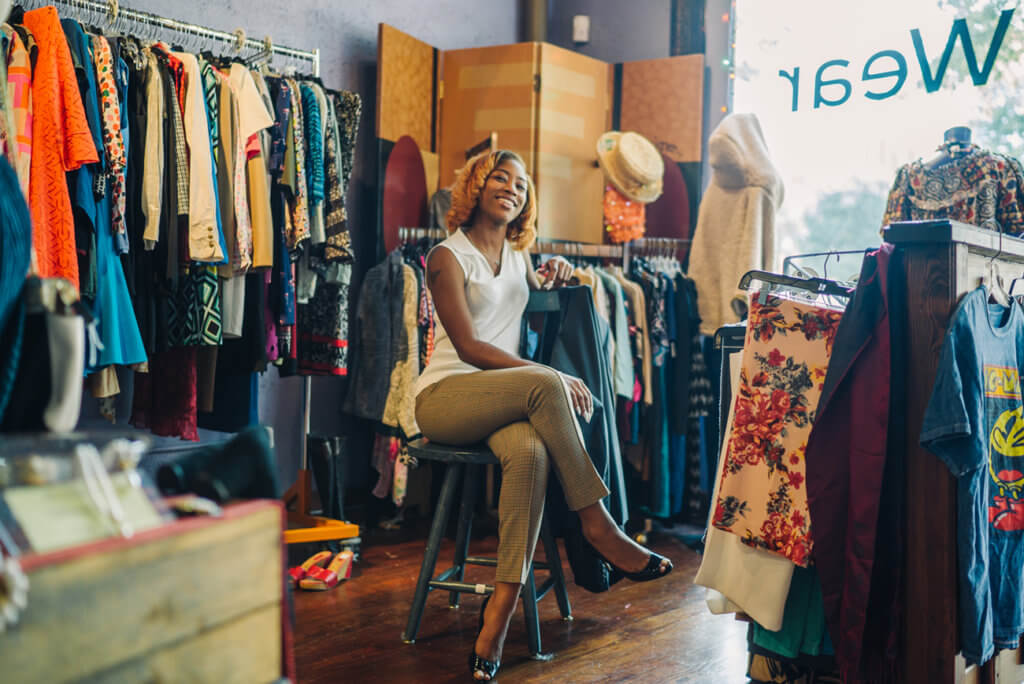 There, she finds herself more willing to step out of her comfort zone and choose pieces that would not normally be on the manikin. Simmons said she aspires to dress and save as well as her mother, thrift shopper extraordinaire Dr. Melinda Moffett.
"Hands down, she is my thrift shop fashion icon," Simmons said. "From casual to formal, most of her closet comes from various thrift stores. Her favorite past time is to pull out a bag from her trunk to show off her latest pick-ups and especially those clothes that still have their original price tag."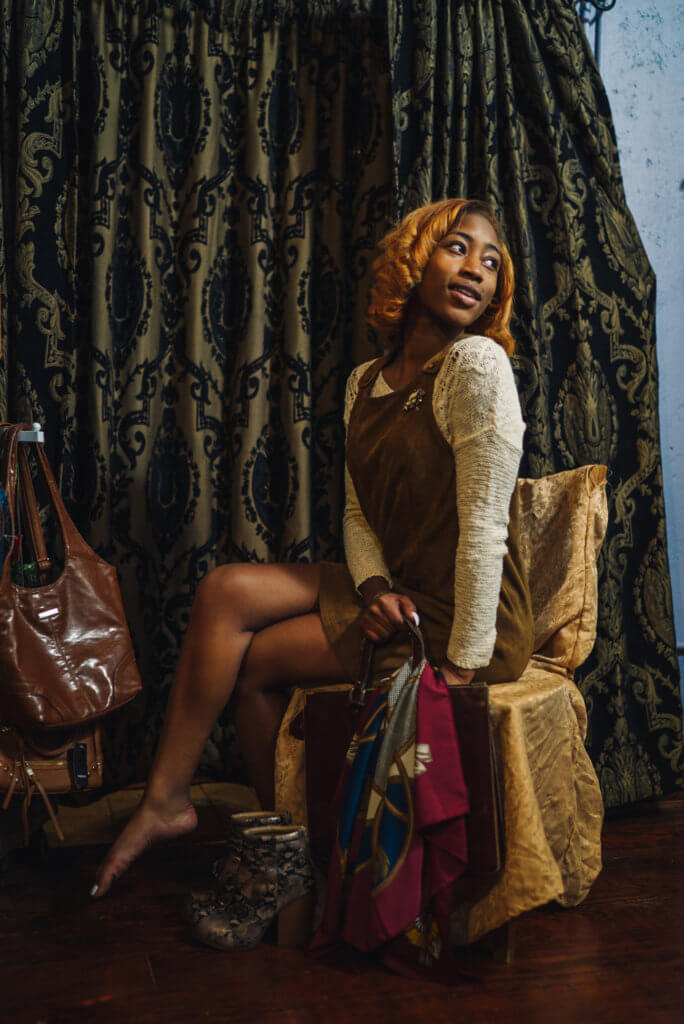 Simmons said thrift shopping is better when you go to multiple stores, taking time to slow down and really search. The ambience of Wear, with its purple walls and big windows, invites shoppers to linger.
"The purpose of Wear, outside of providing cute clothes for a deal, is to help raise awareness and funds for Daybreak. Daybreak, a project of Depaul USA, is a day resource center for homeless men and women located in downtown Macon," said Heatherly Wakefield, manager of Wear. "When shopping at Wear, you know you're getting a great deal and helping others in your community." 

Unique point of view
Bela Venditti, a senior at Warner Robins High, has a knack for originality.
"My favorite thing about thrifting is that every piece is sort of unique," she said. "You can find some pretty weird, niche stuff at thrift shops, like shirts for oddly specific life paths and just sort of odd clothes. One of my favorite finds is a black shirt that reads, 'You can talk about me all you want, but at least I teach my own kids.' Another of my finds was a red tunic length T-shirt with a non-branded fireman dog on the top left and a single pocket on the bottom left."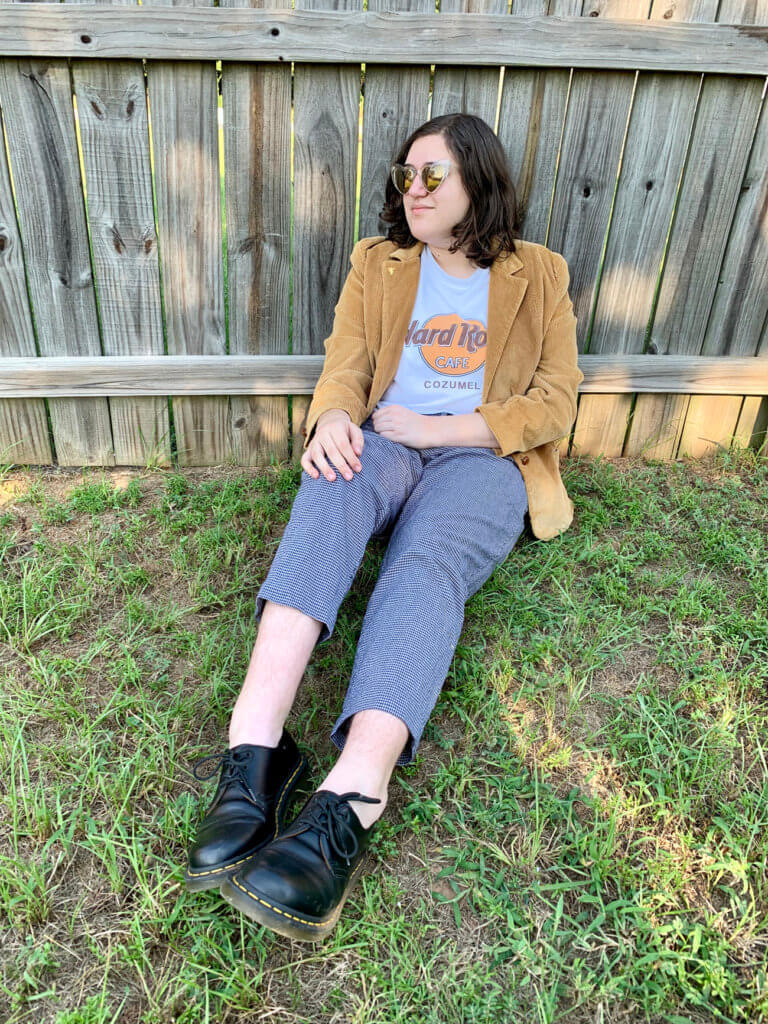 Her favorite thrift store find is a pair of orange leather Diesel shoes.
"They're super different from pretty much all of my other shoes and they're such an interesting pop of color. They're pretty clearly well loved, but I've never been able to find a pair like them anywhere else online."
She also advises following thrift stores on social media and looking for the discounted tags on certain days for even more dashing deals. 

Where to shop
Wear
464 First St., Macon. 319.7381
wearmacon.com
Goodwill
goodwillworks.org
6235 Zebulon Road, Macon. 757.9769
4560 Forsyth Road, Macon. 477.2809
5171 Eisenhower Parkway, Macon. 471.4803
2823 Watson Blvd., Warner Robins. 953.9300
JC Thrift Store
192 New St., Macon. 305.7161
facebook.com/JCThriftstore
Deja Vous Consignment & Boutique
2786 Riverside Drive, Macon. 305.0845
dejavousmacon.com
Tags of Hope
3342 Vineville Ave., Macon. 254.2489
themethodisthome.org/tags-of-hope
Fashionably Late Vintage Boutique
2320 Ingleside Ave., Macon. 207.7480