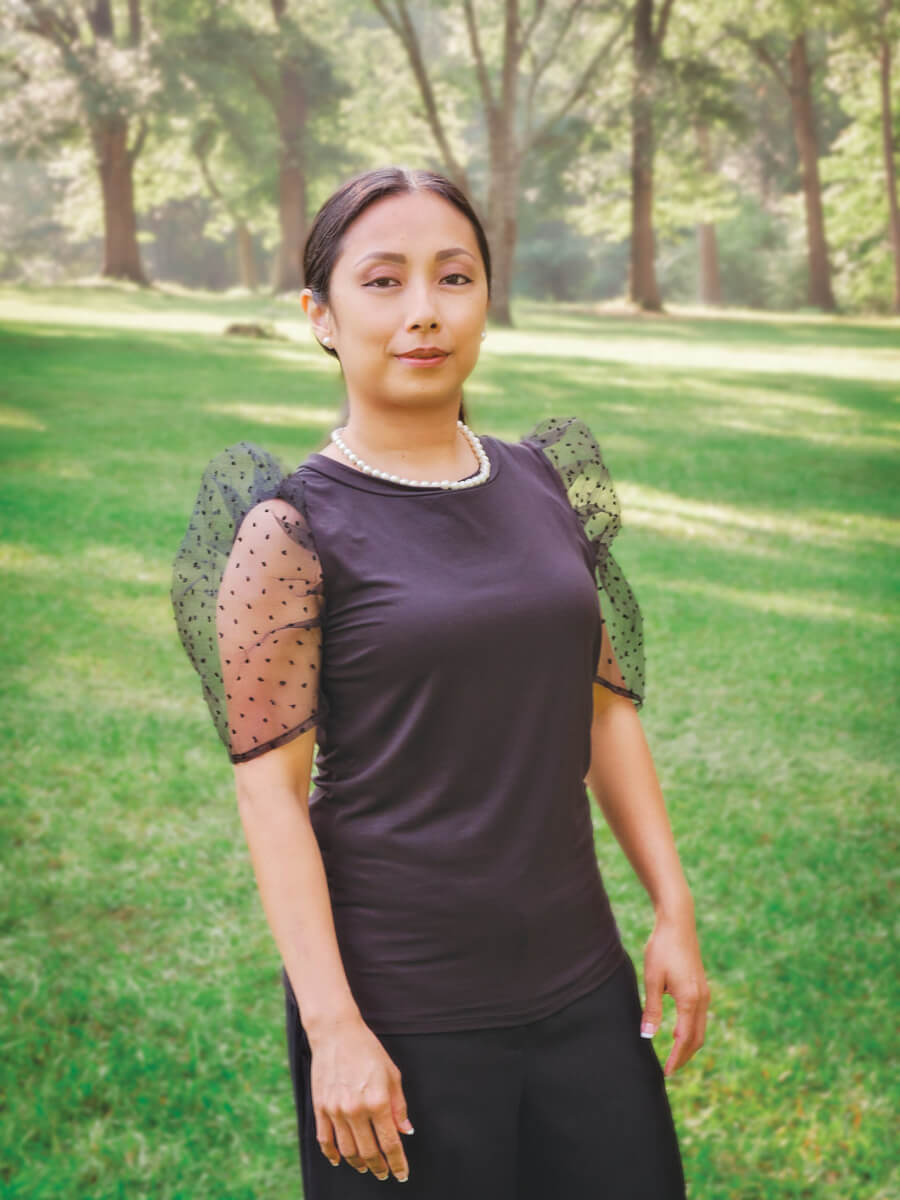 5 Under 40: Cindy L. Quan Hong
Cindy L. Quan Hong, 39
Art Educator and Teacher of the Year at Springdale Elementary
Tell us about your job, and why you chose your career field.
I have been an arts educator for 15 years. I chose this career field to make an impact and share my passion for the arts with future generations. I've stayed in education for my students; their work and their accomplishments are a testament of my life's work. Our children are our business. They are our present, our future and, for educators, our work should always be for them. We are their role models. We are their support system away from home, and they become a reflection of us. I have always loved being involved in the arts. While pursuing my undergrad, I saw an opportunity to share my expertise and work with students during an internship. I knew instantly that being an educator was my calling. After one trip to Macon, it was enough to convince me that Macon is where I needed to be. There is so much unrecognized talent and potential that I felt I needed to help foster that creativity. As an art educator, I have made it my personal mission to not only create Macon artists, but Macon leaders through art education. My work has always reflected the needs of my students or community. My work goes deeper than the surface colors; it is a representation of who we are as a society. More importantly, my work grows with my students as they learn to critically think outside the box and model positivity.
Tell us about your activities in the community, especially what you're most excited about.
I am part of a bigger community of educators in Bibb County. Post pandemic, we've learned that the work we are doing goes beyond the eight-hour workday and transcends beyond brick-and-mortar infrastructure. I believe that creativity in children has few limitations. Therefore, with sufficient prompting, students of every level can produce and engage meaningfully with art — especially art that they produce themselves. Art is not just about adding color to their canvases, but how they apply that color and the meaning and intention that they infuse in their work. Works of art often have greater meaning to the artist, and careful questioning and prompting leads to powerful discussions on topics well outside the theory of art being taught. Cultural and diversity awareness is crucial to learning and understanding the many different students in our classrooms. I love creating opportunities for my students to interact with others in our community. This has propelled me to work with galleries such as the 567 Center for Renewal, Triangle Arts, the Museum of Arts and Sciences and stARTup Studios. I also enjoy working with and mentoring students outside of my area, including work with the Appleton Foundation, the Industrial Children's Home and the Bibb County Summer Program. I am most excited about creating parallel opportunities for students and art educators across Georgia in my most recent appointment with the Georgia Art Educators Association as president-elect to District 5 and completing the Coaching Endorsement Program that validates my commitment to educators in our district.
As you look to the future, what are your professional and personal goals?
My personal and professional goals are intertwined somewhat. I would love to see more visual arts integration in our district and at the state level in all subject areas. Arts are critical to innovation and should be on par with sports and physical education in terms of availability and opportunities to create and encourage a holistic approach to serve the whole child. My ultimate dream would be to open my own art center and studio with a focus on mentoring students of all ages through arts education.
What are you personally committed to accomplishing in Macon and why?
My life's goal is to create lasting experiences and impact students of all ages through art education. I would like to know that I have helped become that catalyst for change in their lives and be part of a community that gets students to their fullest potential to be college or career ready. I believe that creativity in children is limitless, and my role as an educator is to elicit within my students the desire to create, to give them the confidence to try, and then teach them that the journey is only part of the grander scheme of things.
Right now, what is the best thing going on in Macon?
I love seeing great people lead and lead well. We are surrounded by a bank of amazing leaders from all walks of life doing great things all for the greater good of creating opportunities for equity, appreciation and humanitarian work. As relief dollars are funneled into the community, those leaders will continue making improvements across this great community. The American Relief Plan awarded to the education system will go a long way in closing the learning loss gap because of the pandemic. As an educator, the focus is on community and rebuilding our faith and trust in the education system.
What have you learned about yourself or people during 2020?
2020 was a bittersweet year for me as an educator. When our brick-and-mortar doors closed, we were all challenged with "how to effectively continue our pedigree of education without face-to-face experiences." Students and teachers alike had to navigate entirely new platforms to learn, conduct, instruct and receive instructions. I am honored to be part of a system of educators that saw the need to overcome, owned their position, created solutions and did what needed to be done. They truly went above the line for their students and their community. I hope that the grit and perseverance toward excellence to succeed stays alive as we return to a new sense of normalcy.
What is your vision for our community?
My vision for our community is to see continued growth in a cohesive way that really brings communities and people from all walks of life together. We need to celebrate the small wins; celebrate the appreciation, the inclusion and embrace unity.
What needs to change to encourage continued progress in our city?
There are so many passionate organizations all working toward a common goal. We need to be a united front, and be true movement changers and leaders through unity. We need to appreciate all areas of success and not focus on a few communities at a time. There is great happening everywhere and we need to highlight the opportunities and the leadership that is happening across all of Macon.
What would be a missed opportunity in Macon?
A missed opportunity would be neglecting the importance of integrating arts education in all subjects at all school levels, but especially at the elementary level. It would truly be a dishonor to the creative soul to not encourage holistic education at a critical part of a child's development.
When you talk about Macon to people who don't live here, what do you tell them?
My family and I moved to Macon five and a half years ago on a whim from what I saw and experienced during a visit. Macon is a beautiful melting pot of cultures and people coming together and is full of potential and talent. Opportunities are available for growth, to highlight and recognize wins. This is where you want to be!
What does it mean to be a good leader?
A good leader needs to model, listen, build relationships, promote growth and collaboration. A good leader encourages others to lead and create realities of their own. A good leader is innovative in their practice, empathetic, humble and is the embodiment of integrity.
What do you consider your greatest achievement?
I am blessed to have a supportive family and I live vicariously through my practice and my students' success. Being recognized for my service to the Bibb County School District and nominated as one of the final five Teachers of the Year 2021-2022 in our district while being able to raise our beautiful daughter has been my greatest achievement.
What are three qualities that got you where you are today?
Each day brings about new goals, new dreams and new challenges. I would not be the person I am today without my passion, my determination to go above line and my creativity.