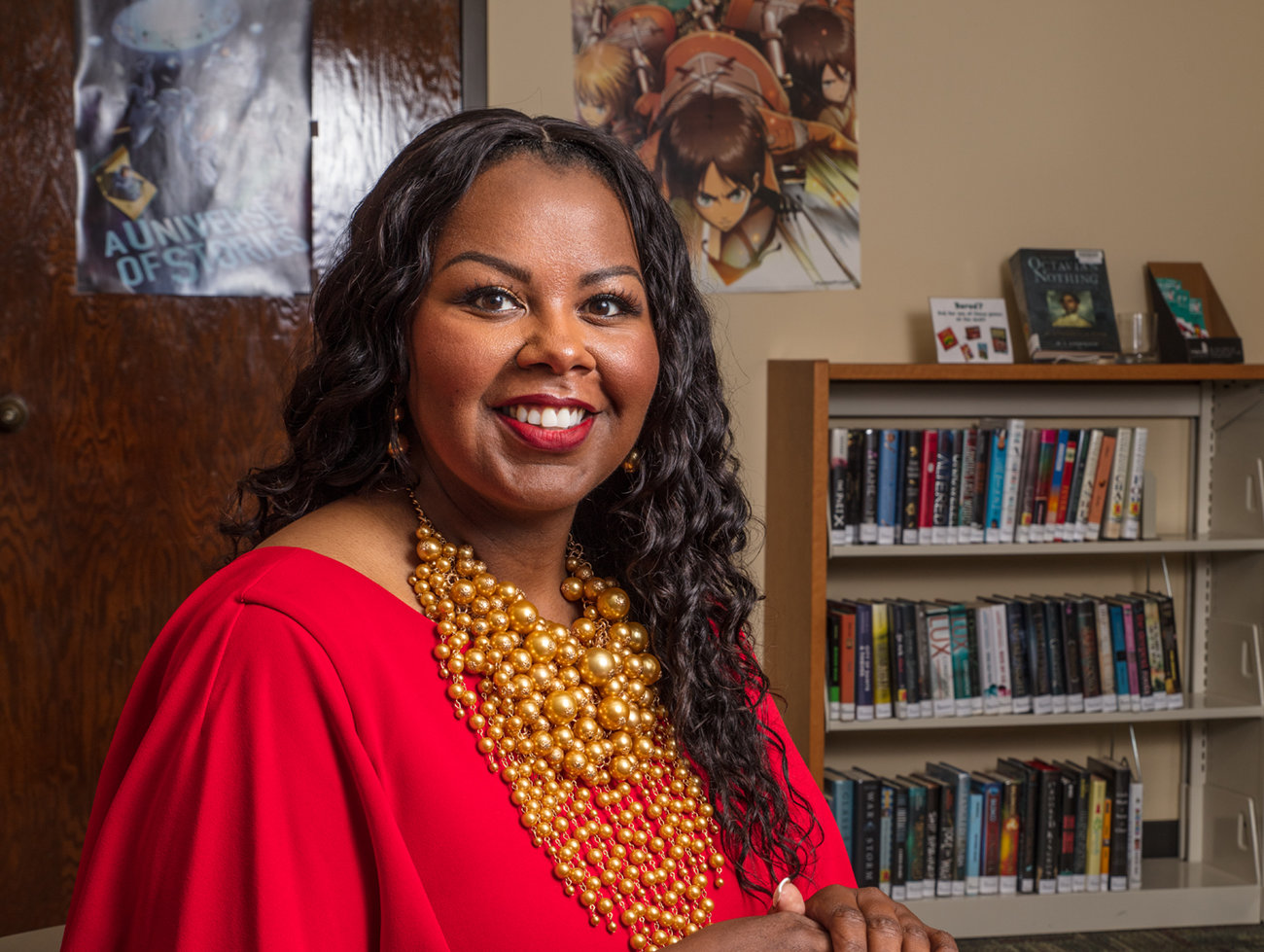 5 Under 40: Geneva West
Geneva West, 38
Founder, CEO, Real I.M.P.A.C.T. Center, Inc.
Tell us about your activities in the community; especially what you're most excited about?
I am excited about the work that we're doing at Real I.M.P.A.C.T. Center, exposing girls to science, technology, engineering and math education and careers, while teaching life skills along the way. Uniquely, Real IMPACT is the only organization in the region that offers a year-round STEM Education program for girls. Our programs afford an opportunity to girls in third to eighth grades, who otherwise may not be able to engage in robotics, coding, dissections, DNA analysis, forensics, physics and more. Since 2013, we have served more than 2,500 girls from various socio-economic backgrounds. Our goal is to provide an opportunity for all girls to excel in life through exposure to STEM, to inspire girls to consider STEM education and careers, and to create a network that helps women in STEM. We are especially excited that upon completion of our program in the eighth grade, girls are being pipelined to a pre-college STEM program with Fort Valley State University's Math, Science and Engineering Academy.  
As you look to the future, what are your professional and personal goals?
If you want a stronger community, invest in a girl! Girls deserve the chance to break the cycle of generational poverty among women who, although making exceptional salaries, sadly make less than men in the same field. I believe greatly that when you educate a woman, you educate a generation. Therefore, if you want a stronger community, invest in a girl. Personally, I want to become a better me and to further align with God's plans for my life. 
What are you personally committed to accomplishing in Macon and why?
Less than 25 percent of women are in the STEM workforce in the U.S.; for women of color it's even less. As the founder of Real IMPACT, I want to close the gender gap in STEM right here from Middle Georgia, and I want that impact to reach into more rural counties, like my home county of Wilcox. I am passionate about cultivating and creating more resources to benefit underserved and rural communities. I want the excitement that comes with producing a successful student athlete to exude among us when we are cultivating a computer programmer, electrical engineer, chemist and physicist. 
What is your vision for our community?
We should focus more on the good that is happening in our city by embracing the things that are getting better. My vision is that we take pride in the things that are going great for our city and generate a momentum to advance the good among us as a collaborative community.
What needs to change to encourage continued progress in our city?
Macon is full of big hearted and passionate people who want to see change, but we could do a better job of collaborating and pooling together resources to reach a common goal of evolution. I'd like to see a public incubator for under-resourced nonprofits, a space that would provide mentorship and partnership opportunities from the more established organizations to those in existence for less than 10 years. Locally, there are so many grassroots nonprofits taking on national initiatives and start-up small businesses that could just use a hand to engage the community. Sincerely, the best way forward is together! Progress will become more visible if we collaborate more and suppress the desire of having our names in the spotlight.
What would be a missed opportunity in Macon?
A missed opportunity is that, as a community, we highlight and publicize our challenges in a way that hurts us from potential growth. We miss speaking to the progress, the advancement, or the solution that is in the works here. I truly feel that there is a certain level of pride that one must exude in order for someone else to embrace this city as their own best place to live, work and play – no matter which part of Macon we live in.
When you talk about Macon to people who don't live here, what do you tell them?
I now mention the educational growth of Bibb County Schools through the leadership of Superintendent Curtis Jones. I'm empowered to mention the opportunity for small businesses to thrive here, like Felicia's Cake Factory, Travis Jean Emporium and The Naturalista. I am compelled to speak of the passionate pastors who are engaged in the community beyond the pulpit. Two of the biggest things I mention are the Pan-African Festival and Cherry Blossom Festival. 
What does it mean to be a good leader?
A good leader empowers people to accomplish their goals and to seek only the mere satisfaction of that inspirational moment. I agree with John Quincy Adams: "If your actions inspire others to dream more, learn more, do more and become more, you are a leader." A great leader knows when someone else's strength complements their own weakness and doesn't feel threatened. A great leader cultivates even greater leaders! 
What do you consider your greatest achievement?
My greatest achievement has been becoming a mother of two beautiful, strong and independent daughters who inspired the founding of Real IMPACT. At times, it's one of the hardest journeys that God gave me. For me, I couldn't let being a single mother become a crutch that would make me stagnant from continuing the path that God has for me. 
What are three qualities that got you where you are today?
My faith in God.
My determination to succeed.
My execution to ability.