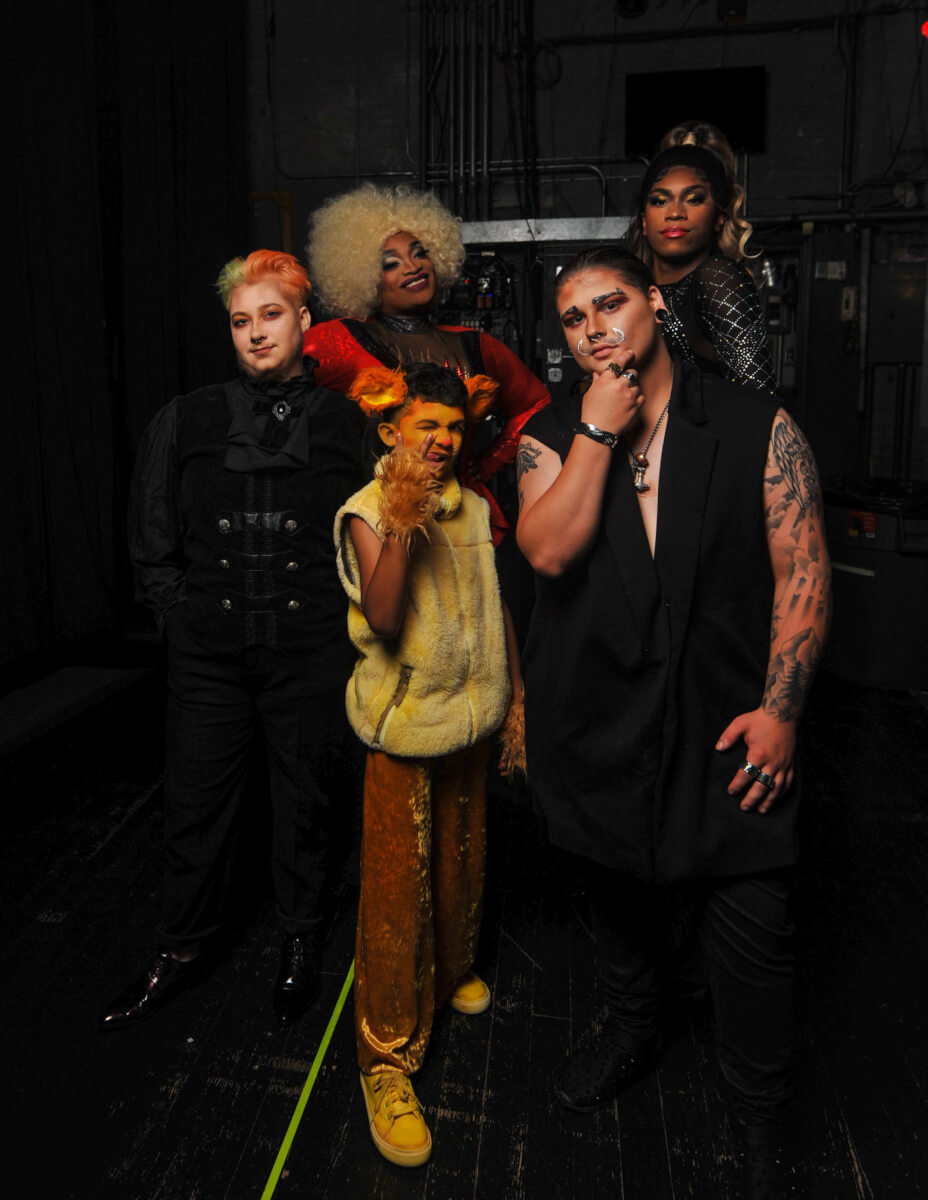 All that glitters
The Tribe Macon shines in venues around Central Georgia, elevating drag shows to an enviable business model. But there's more than makeup and padding that makes these artists transformational.
"Let's go, girls! Time to make magic happen," Christion Walker bellowed from the Grand Opera House orchestra pit. Onstage, about a dozen performers began swaying and moving to the musical Pippin. It was an eclectic group in terms of age, looks, and fashion choices for this casual rehearsal. Everyone was a little bit different – except that clad on each of their feet were bedazzled platform heels or shined up dress loafers. It was a hint of the magic Walker hoped to inspire during the show.
Walker goes between reprimanding the team and dancing exuberantly in a single swoop during this rehearsal. Their authority is sharp and graceful, commanding the room in a way that is a signature of the attention-grabbing nature of drag performance. In Central Georgia, The Tribe Macon has become ubiquitous over the past few years, storming stages around the region and putting on many "firsts" for an openly LGBTQ+ performance group.
Breaking barriers wasn't the plan for Walker, who performs under Christina Leòn and serves as the ensemble's show director and regular host. "I never wanted to be a performer. I started doing drag because of Yutoya, actually," Walker said.
That would be Yutoya Avazé Leòn, the stage persona for Stevie Smith, who was always a natural: "When I was in daycare, before preschool really, I kept having this reoccurring dream of me on a stage in a big, black fuzzy outfit. I just remember having long hair, singing, and this is before I ever did any kind of shows." Growing up, Smith honed their skills in the theatrical world, becoming an accomplished singer and actor.
GENERATIONS OF GLITZ
It was watching the smash hit RuPaul's Drag Race that sparked the inspiration for Smith to pursue being a drag queen: "It was my way to learn a lot about gay culture."
The origins of drag performance are tied up in a long history in a number of LGBTQ+ subcultures and often represent the expression of liberation for those who feel othered as not only gender and sexual minorities, but also as occupying intersectional senses of personal identity. The first recognized performer, William Dorsey Swann, was a formerly enslaved Black man who described himself as "the queen of drag" and held drag balls in Washington, D.C. in the 1880s where men wore elaborate silk dresses. Drag balls were an open secret across the 19th century world, as they were commonly known but still had to be kept on the down-low due to the illicit nature of homosexuality in many countries.
The over-the-top costumes and makeup of drag queens and kings today hail in direct lineage to these original balls, which mimicked the elegant, high-fashion balls that occurred during the Victorian era in heterosexual society. This legacy continues into the big and outlandish drag outfits, hair, and makeup of today, since these looks are originally based on 19th century black-tie occasions. Swann also called his entourage the House of Swann, a tradition that persists in drag and LGBTQ+ culture to identify a network of mentors and proteges in a relationship of a chosen family. Creating a new family is especially important in the LGBTQ+ community, where many people have been ostracized from their family of origin because of their sexuality and gender expression.
Smith identified their drag mother as Melody Devine of Austin, TX, who first put them onstage. Before The Tribe, Yutoya and Christina performed as The Leòn Sisters in recognition of their family bond. As for their foremother in Macon, both sisters identified legendary local queen Tangerine Summers (see Hero feature on pg. XX) as the person who opened the door for drag acceptance in Macon in the 1980s and beyond – and who personally helped their careers.
"Tangerine did the march. Tangerine fought the good fight for girls like us. I just picked up the torch," Walker said. "I just want to keep us here."
To that end, The Tribe Macon is ensuring longevity through teaching a family of their own. Their drag "babies" can get their start by competing for prizes in Newbie Nights and several close to the team are called The Tribe Next Gen, indicating their up-and-comer status.
Nick Hamilton, who performs as Nicole Rosé, came to drag through the encouragement of The Tribe. Hamilton was "crazy scared" to perform, but after winning a Newbie Night, Hamilton was hooked on "having other people celebrate expressing who I am and enjoying being myself." Hamilton believes the education passed between generations is vital: "They have created such a platform for other new, local queens to rise and create their own story."
SUCCESS IS MORE THAN SEQUINS
The new queens and kings are essential to The Tribe's success, according to Walker, who thinks The Tribe has differentiated themselves through reinvention. "Drag evolves. I mean, my drag has evolved, or else I will fade away. Society evolves, and they want to see something new," Walker intimated in The Grand's dressing room as they prepared their transition to Christina Leòn, which involves donning special padding, makeup, and wigs with an assistant popping in and out to help along the way.
The evolution of Tribe shows involves new themes every time, from Y2Slay, a 2000s-themed performance, to The Tribe's prom show, which encourages audiences to dress up for a high school prom dance in their authentic gender identity to full queer acceptance. The troupe has put on a Queen of Hearts-themed fundraiser for the American Heart Association and played Chosen Family Feud for The Hope Center. Walker currently serves on the board of Macon Pride as the entertainment director.
The venues are different, too. From Friends on the Hill in Warner Robins to Macon's Society Garden to Pub 96 in Bonaire, The Tribe has cultivated a regular following around the region, and audiences don't see the same show twice. "People like change," noted Walker, who tries to tailor their shows to different markets.
This show at The Grand was The Tribe: LIVE on Broadway with numbers and costumes matching iconic musicals. The Tribe performed the first drag show in The Grand's history last year, which was a proud moment for Walker: "We do not hide that we are here. It means something to be Black and queer, and to pop out of the trap door Harry Houdini came out of."
"We're literally being ourselves on the stage – it's just amplified," Smith explained about The Tribe's aesthetic. The leading duo incorporates signature talents into their act, like singing live or creating side-splitting jokes. The girls also all perform at other venues near and far. They credit their technique to frequently studying other drag performers in Atlanta or Athens as one reason The Tribe brings so much energy and professionalism to Central Georgia.
Besides Yutoya Avazé Leòn and Christina Leòn, other frequent collaborators are CoCo Iman Starr, Pynk S. Dime, Akasha Giselle Vidalle, and DJ B3. Each has their own role. Vidalle, for example, has several years of experience and teaches other queens. Yutoya takes on marketing, creating colorful graphics and social media posts. Christina, as the leader and host, explains her experience in management roles in the work world prepared her for directing.
But in-demand DJ B3, otherwise known as Khalil Blount, might be the "secret sauce" to The Tribe's takeoff, according to the queens. Blount is the signature mix master for The Tribe, but he does so much more. He said his role is multifaceted: "It's the audiovisuals. I make sure their microphones are good, the sound is good. I create the atmosphere. I also help with the financial dealings. We all put our heads together and make sure things happen."
STICKING IT TO THE MAN
The Tribe has multiple engagements a month, and combined with rehearsals, the girls describe themselves as "booked and busy," said Smith, who performs as Yutoya now as their full-time job. "It's gotten to the point now where I'm getting paid my worth. I don't even have to travel as much. We've created so many opportunities here at home."
It hasn't come without challenges, though. Smith only started performing more frequently after getting fired from their day job. Walker said they believe that even now, The Tribe is still unfairly judged because they are LGBTQ+. "We're never taken seriously, as seriously as many unprofessional acts. You could have a very unprofessional singer, for example, but we are the ones being called divas," they said, highlighting a term that is often used against queer people to paint them as difficult or problematic when they assert their rights. In the case of The Tribe, the group ensures that all performance requests are agreed to in writing at least a week ahead of an event in order to combat this perception.
Blount agrees but remains optimistic: "There's a lot of venues that see what we're doing and say we aren't for them. But we've done a lot of 'first-evers' in other venues." He believes the quality of their work speaks for itself, preferring to work with the queens for their talent and professionalism over a number of other gigs.
Smith said they think that their common persistence and creativity is what will keep The Tribe in their positions. They believe that "Just because you aren't booked somewhere this weekend, doesn't mean you can't work on your craft… When your time comes, you need to be ready." The winds of change aren't lost on these queens of transformation.
Walker thinks that the heart of drag is its chameleon nature, and the relationships within it, that create a true legacy for the company: "I'm teaching my children, when the torch is handed to them, not to blow it. I think drag in Middle Georgia is going in a more positive direction. Those who take it over will really continue sticking it to the man." This attitude shows that drag is ultimately about more than the best nails or the coolest choreography. It's a statement of bold, colorful, sparkly defiance against bottling up authentic self-expression.
Smith also sees their journey as a continuum, stating: "We're bringing back the culture that existed before we came. And we're going to leave a legacy with the newer queens and kings."
Drag existed before The Tribe in Middle Georgia in gay clubs that are no longer around and later on in certain heterosexual clubs that would do drag nights, and The Tribe is careful to pay homage to the drag pioneers that allowed their group to become so popular in the region. And The Tribe has no intention of limiting its sparkle: both Smith and Blount expect more travel outside of the region is in the cards for The Tribe.
"We could do this anywhere in the world. It just so happens that we're here in Middle Georgia. Macon is our stomping grounds," Blount noted. On the day of the show, he wore a shirt emblazoned with the word MACTOWN, which is meaningful to Blount. "Macon has shown me so much love, and we're branching out. It's not really Macon for us anymore — it's Middle Georgia, and next stop is the world."
It's easy to see, onstage and backstage, how The Tribe has garnered so much love. When asked about their greatest victory, Walker doesn't cite the amount of tip money earned, or the best costume, or the biggest stage. Immediately, they have another answer. "Creating spaces for me and my friends," Walker stressed. "The biggest win of all is working with my sisters."