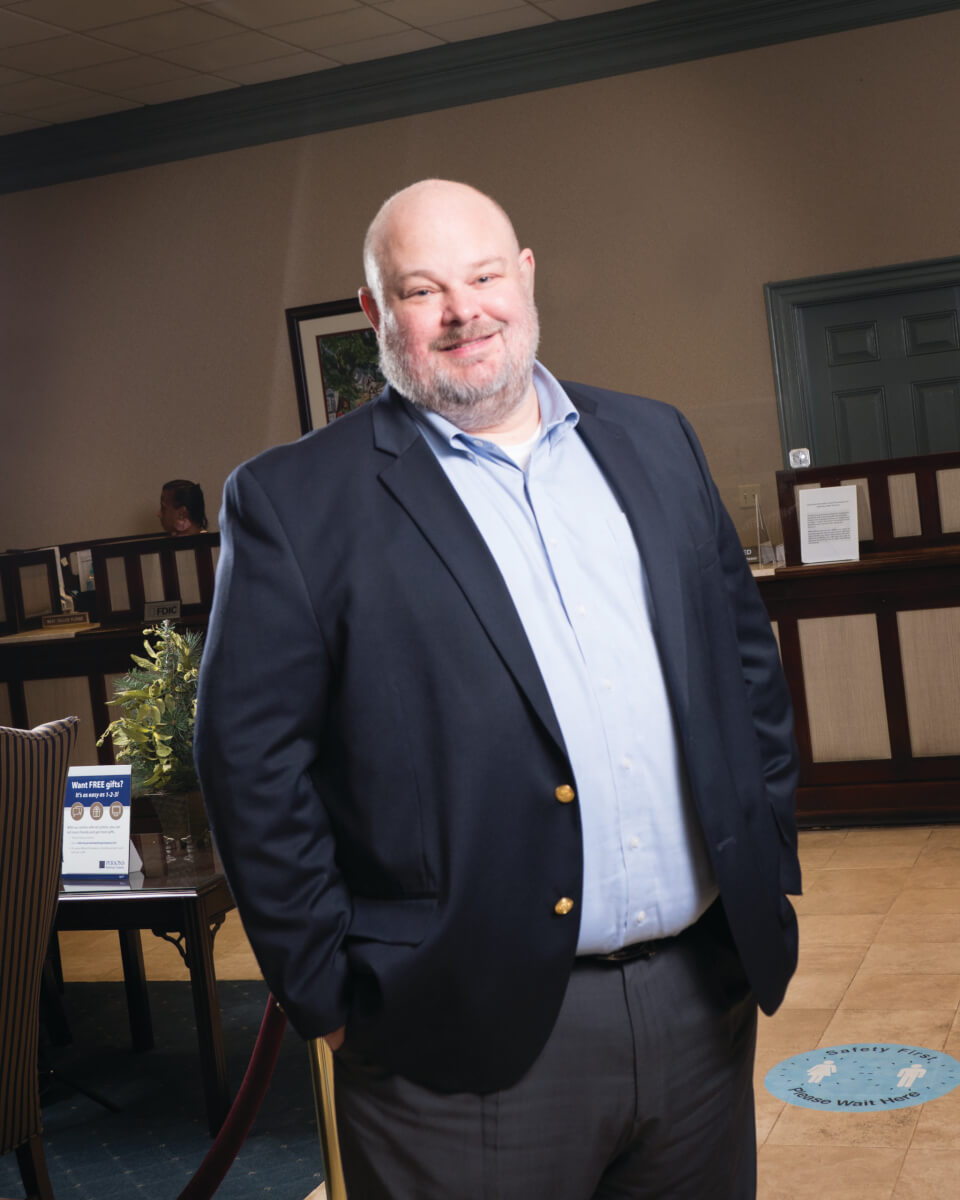 Business Spotlight 2020: Adam Foley
A SPECIAL ADVERTISING SECTION FEATURING MIDDLE GEORGIA BUSINESS LEADERS AND WHAT INSPIRES THEM. PHOTOGRAPY BY JESSICA WHITLEY.
Persons Banking Company
Division President Forsyth
88 N. Lee St., Forsyth
877-753-9224
adamfoley@personsbanking.com
personsbankingcompany.com
What is the mission of Persons Banking Company?
Our mission is to serve our local communities by combining exceptional customer service with practical and flexible financial products.
How did Persons take the lead during COVID-19?
Our COVID-19 response consists of three key parts:
Communicating to our clients that we are in this together and will work with them to provide whatever banking support they need to weather the economic storm.
Providing nearly 200 SBA PPP loans to help local clients meet payroll and other expenses.
Remaining flexible so we can address client needs individually.
What was the best business advice you ever received?
A former supervisor told a much younger me, "Adam, it doesn't matter what you know if no one wants to listen to you." Like most young professionals, I had spent more time developing technical skills than relationship-building skills. The advice helped me understand that building trust is the foundation for all success.
What makes you a strong leader?
As the division president in Forsyth, I do my best to remain scrupulously honest with clients and co-workers alike, and to take responsibility for my mistakes.
You might not know: For a relatively small community bank we have an excellent website and app!
What sets your business apart?
Our ownership and executive team, led by Owner/CEO Ogden Persons III and Bank President Keith Beckham, are committed to responsiveness. When I discuss a project with a client, I don't have to wait days or weeks to get a response from an out-of-town or out-of-state approval authority that is not invested in the success of our local community. More often than not, we discuss the project within 24 hours, which puts me in a position to help our clients move forward immediately with no unnecessary delays.
How does your business serve our community with inclusivity in mind?
Persons Banking Company is committed to diversity and inclusiveness in our hiring practices, our client services and our community support and outreach. Middle Georgians of all backgrounds are ready to unite and be successful together.
What can Macon do to better support businesses now?
The economic revitalization Macon has experienced in recent years is nothing short of miraculous. If we keep moving forward together, the sky is the limit.
What is the most gratifying part of your job?
Building relationships both inside and outside the bank is extremely gratifying. Nothing beats the feeling of pulling our team together to help a client take advantage of an opportunity or overcome a problem.
What's the most difficult part?
Right now, the most difficult part of almost everyone's job is dealing with the uncertainty created by the COVID-19 pandemic.
What is the most common question you receive?
"Can you lower my interest rate?" I'd imagine that's the most common question every banker receives.
Any advice for those seeking to get started in your field of business?
Finance is rapidly evolving along with the technology institutions used to provide products and services, but the key to banking is still building trust by following through on your commitments to clients and co-workers. If a network of people trusts you, you will always be able to provide value to an employer.
How do you define success?
Financial institutions use many metrics to measure outcomes, but what underpins it all is the ability to solve problems for your clients and co-workers. If you're solving problems – not ignoring them or passing them along or blaming others – you are successful.
What are you most excited about right now in our community?
Our Chamber of Commerce Leadership Program is sponsoring a Shop Local Initiative that we believe will help our local economy recover from the pandemic.