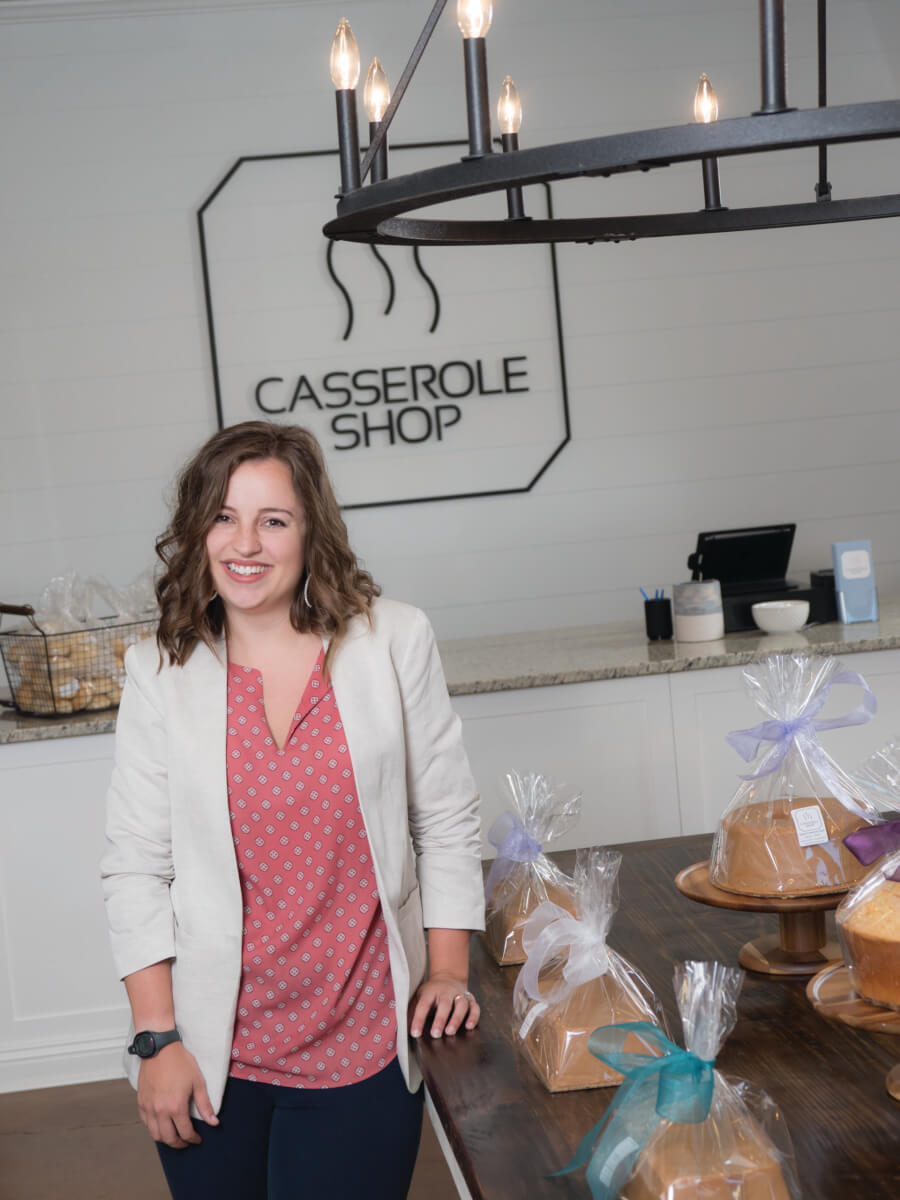 Business Spotlight 2020: Kaytyln Cobb
A SPECIAL ADVERTISING SECTION FEATURING MIDDLE GEORGIA BUSINESS LEADERS AND WHAT INSPIRES THEM. PHOTOGRAPY BY JESSICA WHITLEY.
Casserole Shop
Business Development Manager
4420 Forsyth Road, Macon, and 1030 Ball St., Perry
478-757-0074 and 478-224-0044
bdmanager@thecasseroleshop.com
thecasseroleshop.com
What is the mission of the Casserole Shop and what sets your business apart?
Our mission is to create quality comfort food that brings communities together around the table. The Casserole Shop is centered around serving others – and that is a beautiful thing to us.
How did your business shift during COVID-19?
Our business shifted in that every three casseroles that were purchased, one was donated to hospitals in Macon and Perry. Thanks to the overwhelming support of our customers, we were able to donate over $20,000 worth of casseroles during that time. We were grateful for the opportunity to continue to serve our community with wholesome meals, but it meant so much to us as a company to take care of those who were taking care of everyone else.
How does your business serve our community with inclusivity in mind?
The heartbeat of our company lies in gathering people together to share a meal – and everyone has a seat at our table. We sit at our table and we share life, we listen, we love and we grow together.
What is the most common question you receive?
People have asked us what our direction is for the business. While we are working to continue to expand and grow the business, we will always call Macon home. The loyalty of our Macon community has gotten us to where we are today and we hope to continue to serve our community long into the future.
What can Macon do to better support businesses now?
I believe that local businesses are the lifeblood of our community. I would encourage any local Maconite who is considering a service, a meal or entertainment to shop local. Macon is a great place to enjoy life, and if we believe those words then we need to support it with our actions
What is the most gratifying part of your job?
Good things happen around the dinner table, and I get to play a part in that by creating and serving quality comfort food that brings people together – that's a pretty great thing.
What's the most difficult part?
Saying no to good things is always difficult for us. But we view saying no to something as a chance to say yes to something else.
What makes you a strong leader?
Leaders are only as good as their team. I am able to do the work I am doing because our leadership, production and customer service team shine so bright in their roles.
What are you most excited about right now in our community?
I think we are finally having the hard conversations that need to happen, and I think we are going to be a better, more united community on the other side.
You might be surprised that:
My husband and I are foster parents here in Bibb County and advocating and caring for kids in the foster care system is really important to our family.
What was the best business advice you ever received?
Put priority on the power of one. Each member of the team matters. Each customer who walks through the doors or has yet to walk through the doors, matters. Go above and beyond to serve each person with generosity and humility.