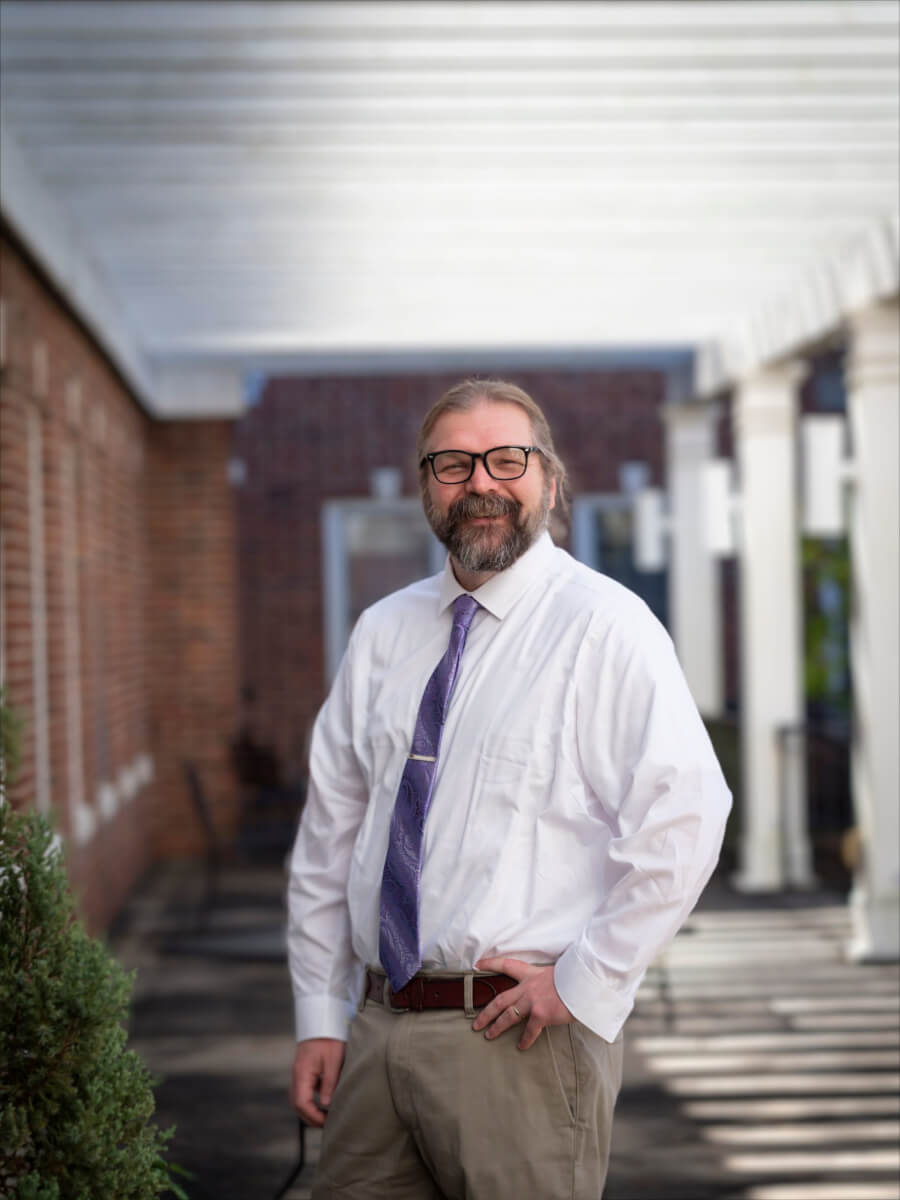 Live Well 2022: Dr. Seth Selke
A SPECIAL ADVERTISING SECTION featuring middle georgia businesses that will help you live your best life in 2022. PHOTO BY JESSICA WHITLEY.
Assistant Professor of Business & Director of Graduate Business Programs at Wesleyan College
4760 Forsyth Road, Macon
PHONE: 478-757-5184
sselke@wesleyancollege.edu
https://www.wesleyancollege.edu/admission/graduate/Graduate-Admissions-Home-Page.cfm
What is the mission of the MBA program at Wesleyan?
The mission of our MBA program is to provide graduates the business skills and acumen to succeed in any industry. Our students engage in the strategic exploration of business environments and practices through case studies, special projects and Wesleyan College's transformative international experience. Students have the opportunity to learn from knowledgeable, highly practiced faculty who create a rewarding online learning experience in every virtual classroom.
How has that mission changed because of COVID-19?
The mission has not changed. However, we have revamped the program because of issues related to COVID-19. For instance, our program is now 100-percent online. This will allow us to meet the educational demands of working professionals and to provide the flexibility our students need due to their careers. Another change to our program involves the study abroad option we provide. While study abroad was a requirement in the past, it is now an option. This means those who desire to travel abroad could still have the option, but if traveling isn't an option for the student, then they can still benefit from an international business course.
How do you serve the community inclusively?
With increased diversity and internationalization of the campus, faculty, staff and students, our school continues to change curriculum, expand activities and programs, and establish more community events. We also bring in local artists and guest speakers to share their experiences, thoughts, work and exchange of ideas.
How do you improve lives?
Education can improve the lives of individuals from a variety of perspectives. When individuals choose to further their education by attending grad school, they usually have a specific purpose. Our students' lives are being changed in a few ways. Some are seeking a promotion in their current company or industry; some are looking to make a difference in healthcare; others are seeking to obtain the skills to operate, fund or start their own nonprofits, or further the cause of a current nonprofit they work for or volunteer at. With so much change in the world today, we will see a growth of nonprofit organizations over the next decade. Like most nonprofits, the goal is to help those who need assistance and/or to bring awareness to issues considered vital to our communities.
What are you most excited about as your business moves into a new year?
I am always excited for a new year! This means new opportunities for growth, possibilities for change and new beginnings. When I meet new students, I can get a sense of what they want out of the program, and what their plans include for the future, and this is always a wonderful and thrilling experience for me. Plus, a new year in education means a new group of graduates who will become part of a community for life!
What challenges do you face, and how do you overcome them?
Challenges in the world of higher education are nothing new. I think the same challenges exist today that existed in the past, such as rising expenses, budgets constraints and access to students, as well as newer challenges such as being cautious of the financial burdens being levied on the students, rising competition and growing expectations. Each of these can present tests for colleges and universities. Overcoming these challenges will not be easy, but they are not impossible. It will take involving stakeholders who have shared visions and goals, using technology to support large growth, restructuring and most importantly, creating relationships with our community to build a pipeline of people looking to grow, develop and make a change, not only in their lives, but also in the lives of others.
What is a myth that you wish people would get over? And, what is the antidote?
One of the biggest myths is the age one needs to be in order to attend college. I hear people talk about going back to school, or wishing they would have finished school or how they wish they were 10 years younger, etc. There has been a demographic shift in attendance for colleges and universities. There are a lot of programs designed for working professionals, evening programs, part-time programs, online programs and there are several resources for nontraditional students to help them succeed. I think the antidote is knowing your age is simply a number, and you can achieve whatever you would like to achieve regardless of your age. So, if you have a desire to go to school, to change your career or to start over, then go for it.
What are you most proud of about your business?
I am most proud to be part of Wesleyan College because of the vision they have moving forward. There is obviously their history of being the first to offer degrees to women, but there also has been a real commitment from the college to social and racial justice and equity. We are creating an inclusive environment, providing DEIJ training, facilitating workshops and partnering with local community organizations to develop solutions for our community.
How do you define "living well?"
Being able to do what you love to do and making a difference in the lives of others.
When you're not working, how do you relax and spend your time?
I love to golf, travel with family, watch movies and listen to music.
Who are your inspirations for a life well lived?
When I think of a life well lived, the first people I think of are my grandfathers. They were both veterans, one of whom was a World War II POW who came home, worked a full-time job, raised three boys, was active in the community and always had a positive outlook on life. My other grandfather was a hard-working family man who always worked multiple jobs. After years of hard work and juggling different jobs, his small business grew into multiple locations, and he eventually expanded operations to include a wholesale distribution company. They both showed me that while nothing comes easy, if you work hard and have determination, you can succeed and live well.
What needs to happen to help our community live happier and healthier lives?
As a society, I think we have more similarities than differences overall. Anytime we can have community events, gatherings and opportunities to share ideas, thoughts and visions, the better off we are as a community. Events that bring awareness and provide a chance to work together are essential to living happier and heathier lives.
What are you most excited about right now in our community?
As somebody new to Macon, I am constantly discovering new things about the city and region. I have been fortunate enough to make friends with several wonderful individuals from the area who have all opened different doors to the community. I am really excited about the locally-owned stores. I love the downtown area. I love the beautiful parks. As one of my good friends likes to say, for people who say there is nothing going on in Macon, then that is a "you" problem, because there is always something going on in Macon!
YOU MIGHT BE SURPRISED TO KNOW: We have been part of this community since 1836 and I know that is very well known. However, people might be surprised to discover the growing number of graduate programs the college has to offer as well as the new Lane Center for Social and Racial Equity. We are excited about the changes being made and the partnerships being formed in our community.