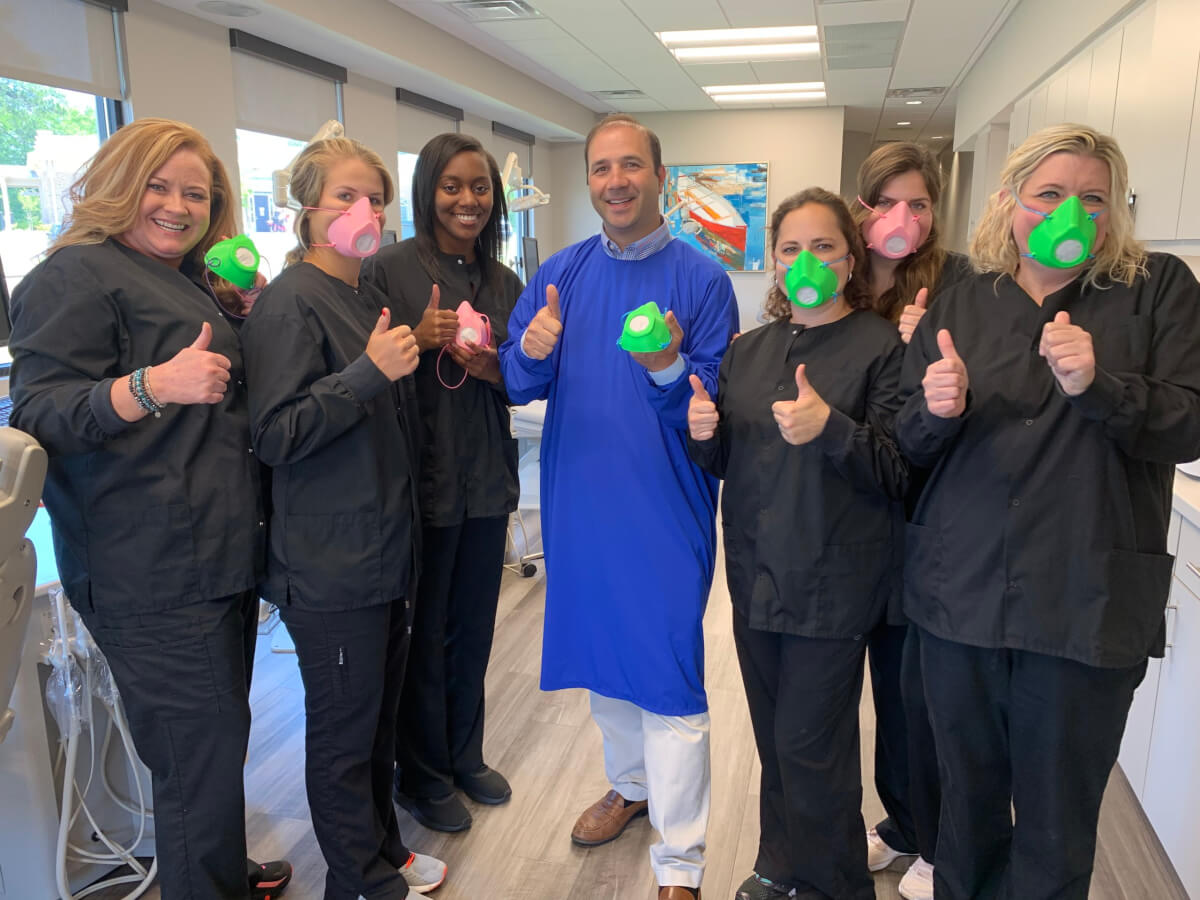 Good Doers: Stratford Academy
A special blog section highlighting local good-doers, helpers and heroes.
Several weeks ago, pediatric dentist Dr. Margaret Moore shared with one of her children's teachers, Holly Leskovics, that she and her staff were anxious about the impending medical mask shortage and how it might affect her practice. Pediatric Dentistry of Central Georgia was continuing to treat emergent pediatric dental patients during the COVID-19 health crisis.
Leskovics, a STEAM (science, technology, engineering, art and math) teacher at Stratford Academy, enthusiastically and eagerly took on the opportunity to help out. Moore and Leskovics collaborated together on a project that has now made a lasting impact on the Macon community.
Moore had been researching different mask types online, and found a file she deemed fit for the situation at hand, but needed assistance with opening and reading the file with the appropriate 3D printing software. She knew her children's teacher, Holly Leskovics, had experience with 3D printing, and even taught it at Stratford, Moore quickly asked her for help.
Leskovics jumped right in and used Moore's research, combined with another mask style she discovered, to create a design for a mask frame that combined the best of both models for Leskovics to print. Moore purchased headbands and a HEPA-certified lawn mower filter to assemble with the frame, then sealed it to create a medical-grade mask that would make everyone at Pediatric Dentistry of Central Georgia rest easier.
After Moore posted a message of thanks to Leskovics on her practice's social media platform, the masks caught the attention of many other local medical professionals. Local allergist Dr. Jeff Langford reached out to the pair with a new idea after researching how to make medical masks himself. Langford's children are students of Leskovics at Stratford Academy as well, and the three then collaborated on a way to integrate a type of circular medical filters he uses in his practice into the masks instead. After calling on the help of Stratford's upper school computer science teacher, Mike McCue, the team created a mask with a viral efficiency of 99.97% and could be custom sized in small, medium, and large to meet everyone's needs.
"The assertion is that the masks we created, when fitted correctly, have a better viral filtration efficiency than the industrial grade NP-95 masks that we've all become familiar with," said Langford.
News of the successful, customizable, and easily-produced masks quickly spread across the Macon medical community, and the masks were soon in high-demand. Stratford teachers, alumni, and parents used the school's spring break to take turns operating printers and assembling masks to be delivered across town.
"We have a tremendous number of alumni, parents, and supporters who are frontline workers, particularly in healthcare. As always, our teachers look for ways to use their talents to help others," said Kathleen Medlin, Stratford Director of Institutional Placement. "Teaching is a calling. It doesn't surprise me at all that they looked for ways to be helpful. The working together of our faculty/staff on behalf of parents, alumni, students, others in healthcare is a great example of how Stratford is a community working for the good of many."
The hard work of all those involved in the production of these masks has not gone unnoticed. To date, hundreds of masks have been produced and distributed. Leskovics is still leading teams of volunteers to continue producing the 3D printed masks to help meet the needs of our medical community.
If you are interested in partnering with STEAM educators in your community to produce these masks, please email Holly.Leskovics@stratford.org for information about receiving the electronic file.
Submit your ideas for local good-doers, helpers and heroes to hello@maconmagazine.com, and share these good stories on social media with hashtag #MaconGoodDoers.