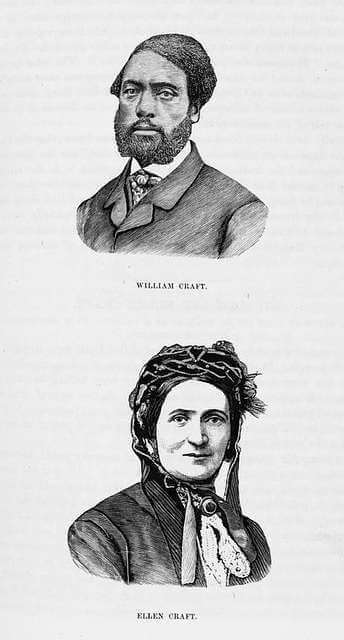 Julia Ellen Craft Davis to speak in Macon in February
By Maura Rutledge
Photography provided by the New York Public Library
Macon begins its celebration of Black History Month by sharing the daring story of Ellen and William Craft, who escaped slavery in Macon in 1848. Both the Cannonball House and Wesleyan college are welcoming the Craft's great-great-granddaughter Julia Ellen Craft Davis to tell the perilous story that began in Macon over 170 years ago.
Born into slavery, Ellen Craft lived in Macon under the household of her enslaved mother, who her enslaver had impregnated. Ilyon Woo, author of Master, Slave Husband Wife: An Epic Journey from Slavery to Freedom, explained to CBS News that Craft was given away as a wedding gift to her half-sister at age 11. When Craft reached her 20s, she feared the same fate would follow her children. To prevent this tragedy, Ellen Craft and her husband William Craft devised a plan: Ellen would use her lighter complexion to disguise herself as a "wealthy white man" and portray William as her slave, as stated in the video by CBS titled "One couple's remarkable escape from slavery." Through the disguise, the two would escape Macon and head north.
Ellen would wear men's clothes, such as hats and coats, to keep up her disguise; however, there was a different issue to be dealt with. Ellen could not properly read or write due to her denied literacy as a child. So, when she needed to sign documents, she would put her arm in a sling or wear a poultice on her face to further conceal her appearance.
"They cut her hair, they put glasses on her to kind of had her ask her that if she looked afraid, or, or whatever, they wouldn't pick up on that. And they put her arm in a sling because she could not read or write. When you're signing into places, they want you to write so she couldn't do that. That was going to be the way they could get away with that," said Executive Director of the Cannonball house Cheryl Aultman
The two traveled for four days by train. They were able to get away with Ellen's disguise at several stops until they reached the last point before they were safe in the North. In Baltimore, Ellen and William were stopped by an officer, to which Ellen argued that they had no right to be detained. Miraculously, the two were released and continued on their journey.
After safely making it to Boston, the couple joined the abolitionist movement alongside other historical figures like Frederick Douglass. Danger was not out of reach for the Crafts. Due to the Fugitive Slave Act, slave hunters were sent after many who escaped slavery, including Ellen and William, but were intervened by abolitionists, the Black community of Baltimore, and through lawsuits. The Crafts continued traveling, this time across seas to England, where they followed their dreams of creating a family and learning to read and write. With their newfound literacy, they wrote a book documenting their perilous story called Running A Thousand Miles for Freedom, which will be available in the Cannonball House gift shop.
"They went on to Boston, Massachusetts, eventually they go to Canada, and later on sail for England, and they would live in England for 20 years, and raise their children there, before eventually coming back to Georgia and setting up a school in Georgia," Aultman said.
Ellen and William's great-great-granddaughter Julia Ellen Craft Davis continued her ancestor's passion for equality by advocating for change during the civil rights movement.
"I believe that the legacy of the Crafts is a part of all of our family, all of the Craft's descendants," Davis said in the interview with CBS.
Davis will be visiting Macon to speak about her great-great-grandparent's story at the Cannonball House on February 4 from 1:30 – 3 p.m. The event at the Cannonball House is sold out, but she will also be speaking at Wesleyan College on February 6 from 6 – 7:30 p.m. in The Taylor Hall Building at the Peyton Anderson Amphitheater.