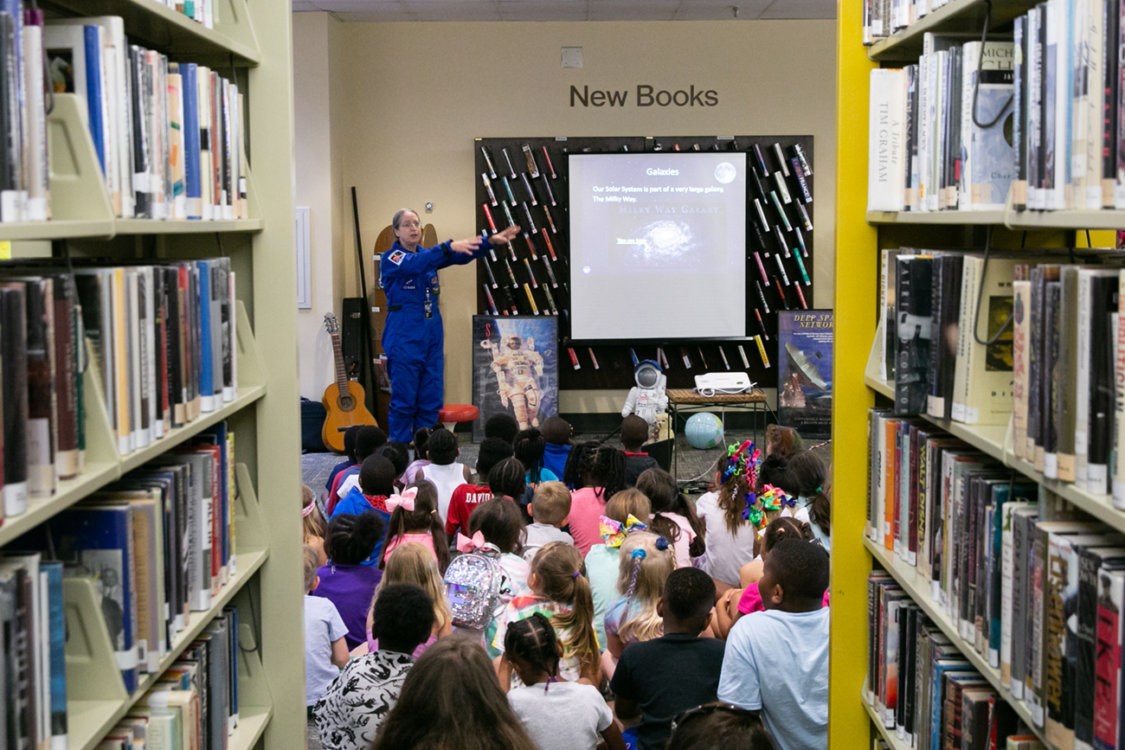 Local Libraries Reach Beyond the Stacks
Middle Georgia Regional Libraries follow a mission to enrich the community
By Lisa Pritchard Mayfield
Photography by Christopher Smith and Matt Odom
"Shhhhhhhhh"
Think that's what you'll hear upon entering one of our local libraries? Not anymore. No longer bastions of silence designed only for loaning books, today's libraries are so much more.
In fact, according to Jennifer Lautzenheiser, director of Middle Georgia Regional Libraries, the strength of our library system rests in a commitment to provide responsive, communitydriven services that meet the needs of Middle Georgians. Through many different programs designed specifically to enrich the lives of residents – from young to old – Middle Georgia Regional Libraries are strengthening their commitment to the community at large.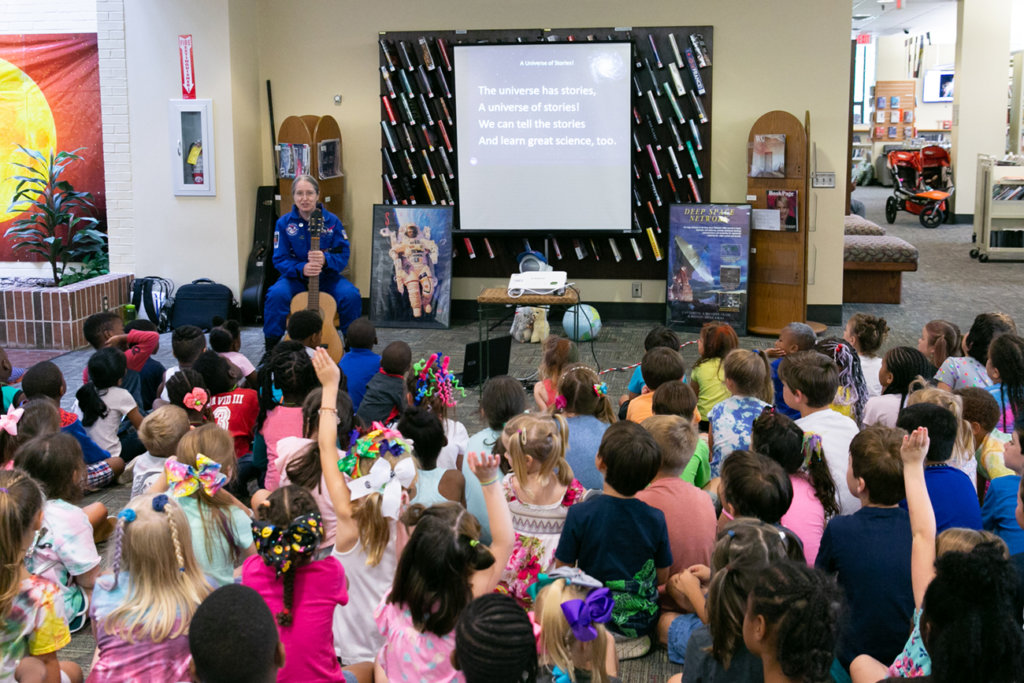 Leader among libraries
Middle Georgia Regional Libraries (MGRL) are leading the way as media centers because they are fully embedded in and driven by the community.
Lautzenheiser, who also serves as the secretary of the PINES executive committee and president of the Georgia Library Association, said that "as director of one of the larger systems in Georgia, I believe it is partially our role to set an exceptional standard for library service in the state."
Whenever possible, she said, MGRL shares its scaleable projects with other systems for duplication.
"We were recently contacted about duplicating our business services in more rural areas," Lautzenheiser said. "The economic impact of our programs is recognized statewide. Community demand drives our innovation, and we have created extensive community partnerships to stretch
limited resources and accomplish great things."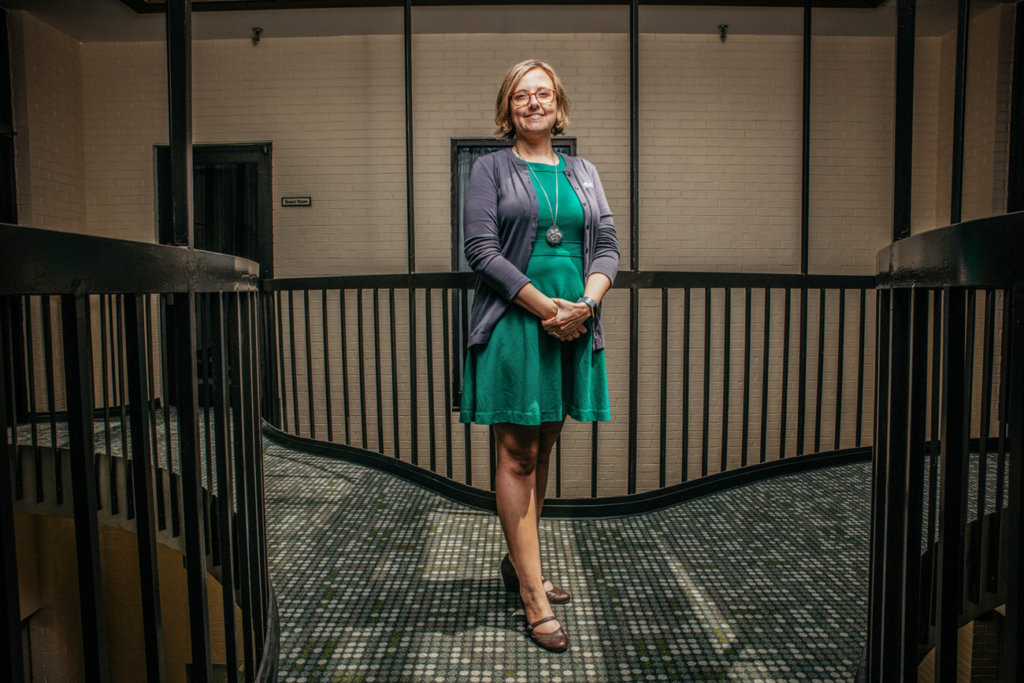 Improving lives locally
More than just books to borrow, local libraries have created new pathways for learning for adults and children in our community.
"We are increasing opportunities, providing access and encouraging dialogue here," Lautzenheiser said. "We occupy a unique niche in our community because our spaces are open to everyone and are free to access."
Increased opportunities come in many forms and at every level – from building literacy and technology skills for children and helping adults build work-ready skills through free computer classes, to empowering entrepreneurs and nonprofit leaders with tools and guidance in the Business and Nonprofit Center.
"We're also invested in making sure that everyone in our community has a seat and a voice at the table," Lautzenheiser said. "Later this year, we will expand our services even more when we open a new library in the Bloomfield neighborhood in collaboration with the Macon-Bibb County Recreation Department."
Facilitating conversations
MGRL partners with the Center for Collaborative Journalism at Mercer University to give members of the community an opportunity to provide feedback and ask questions about news coverage with a reporter who holds "office hours" during the week at rotating locations.
MGRL locations host tables during On the Table Macon and has been able to facilitate productive conversations about food instability, accessibility of government buildings, adult literacy, immigrant experiences and more.
"The Washington Memorial Library also hosts a monthly Social Justice Community Book Club where attendees are encouraged to engage in respectful dialogue about complex issues such as institutionalized racism, privilege, prejudice and compassion," Lautzenheiser said. "We are committed to our role here in the community."
She said that commitment begins with the littlest learners.
"We encourage and guide parents to begin reading to their children from birth onward through the 1,000 Books B4 Kindergarten program," she said. "Story time remains a cherished part of the library's children's services, but classes about technology, art history and international culture broaden the scope of learning for youngsters," she said.
Contests such as The Art of Reading encourage students of all ages to marry their artistic skills with literacy. Each year, students from around Middle Georgia are invited to illustrate a favorite book and winners are celebrated during a special event. The winning artworks are framed and spend the following year traveling from one library branch to another as a touring exhibition.
Reaching beyond Macon
The Middle Georgia Regional Library system encompasses 13 branches in six counties: Bibb, Crawford, Jones, Macon, Twiggs and Wilkinson. With nearly 76,000 card holders and more than 451,000 patron visits in 2018, the value of libraries is evident.
"Being part of the regional library system gives those small towns access to high-quality programs that have been designed to be portable and reproducible," said Jeanne Peloquin, marketing manager for Middle Georgia Regional Libraries. This gives children who visit the libraries in those towns hands-on experience with science, technology, engineering, arts and math concepts that help them in school and beyond.
"We are a hub for technology use in Central Georgia and beyond, with resources available for all skill levels," said Peloquin.
Through the library's various class offerings, "children and adults can develop coding skills, seniors can learn internet safety and computer basics to navigate the digital world, and job seekers can improve their skills in everything from Microsoft Word and Excel to web design and
3D printing," Peloquin said.
Middle Georgia Regional Libraries also provide opportunities for people around Macon, throughout Georgia and around the world to explore cultural heritage. As home of the Middle Georgia Archives and Genealogical and Historical Collection, thousands of people from as far away as Europe visit Macon every year.
"This is one of the most outstanding reference collections of its type in the South," Peloquin said.
The libraries also help local residents explore beyond the realms of Central Georgia.
"We work to help Central Georgia families make memories that will last a lifetime by checking out passes from the library to visit Zoo Atlanta, Georgia State Parks and Historic Sites, the Center for Puppetry Arts and many more," Peloquin said.
Building businesses
The Business and Nonprofit Center (BANC) at Middle Georgia Regional Libraries is teaching entrepreneurs how to develop business plans and do market research.
"Nonprofit leaders use the BANC to learn to write grant proposals, research funding and create project budgets," Peloquin said.
Sinda Martin can't speak highly enough of the BANC courses offered by the libraries. As director of the Greater Allen Chapel Summer Enrichment Program, Martin was interested in applying for a grant to help fund the church's mission, a summer camp program that serves 50 children ages 5-11, but wasn't familiar with the grant-writing process.
"That's when I learned that the library offered a series of free grant-writing classes, which were very in-depth and understandable," Martin said. "In the last class, we were asked to write a grant; I didn't think I could."
But Martin did her research, buckled down and started writing, planning to apply for the Downtown Rotary's Community Grant. When she was done, she brought the completed grant application to the instructor, who gave her pointers. Martin had several other friends proofread the grant before she submitted it.
"I was nervous, but I went ahead and submitted," she said.
A few weeks later, her pastor received the letter from Rotary saying they had received the grant.
"That class at the library gave me the confidence I needed to pursue that avenue," Martin said. "I'm so grateful."
Rooted in responsibility
Middle Georgia Regional Libraries work to break down barriers to ensure that all people have access to the services and materials they need to improve their lives, too. According to Peloquin, the Library Without Walls program delivers library materials and services to underserved communities, including Daybreak Day Shelter for people experiencing homelessness, the Macon Transitional Center and many more.
"This sort of outreach allows community members to interact with the library staff and resources in environments that are comfortable and convenient," Peloquin said.
Being culturally responsive in today's climate makes the library an even more vital component of the community. The Middle Georgia Regional Library is committed to providing information and public space for community members to gather, be informed and share ideas, Lautzenheiser said.
"Libraries are one of the few places in our society that welcome everyone, regardless of their education, socio-economic status, etc.," she said. "As an institution deeply rooted in this community for more than 100 years, we are highly invested in the continued growth and development of the culture, education and economy here."