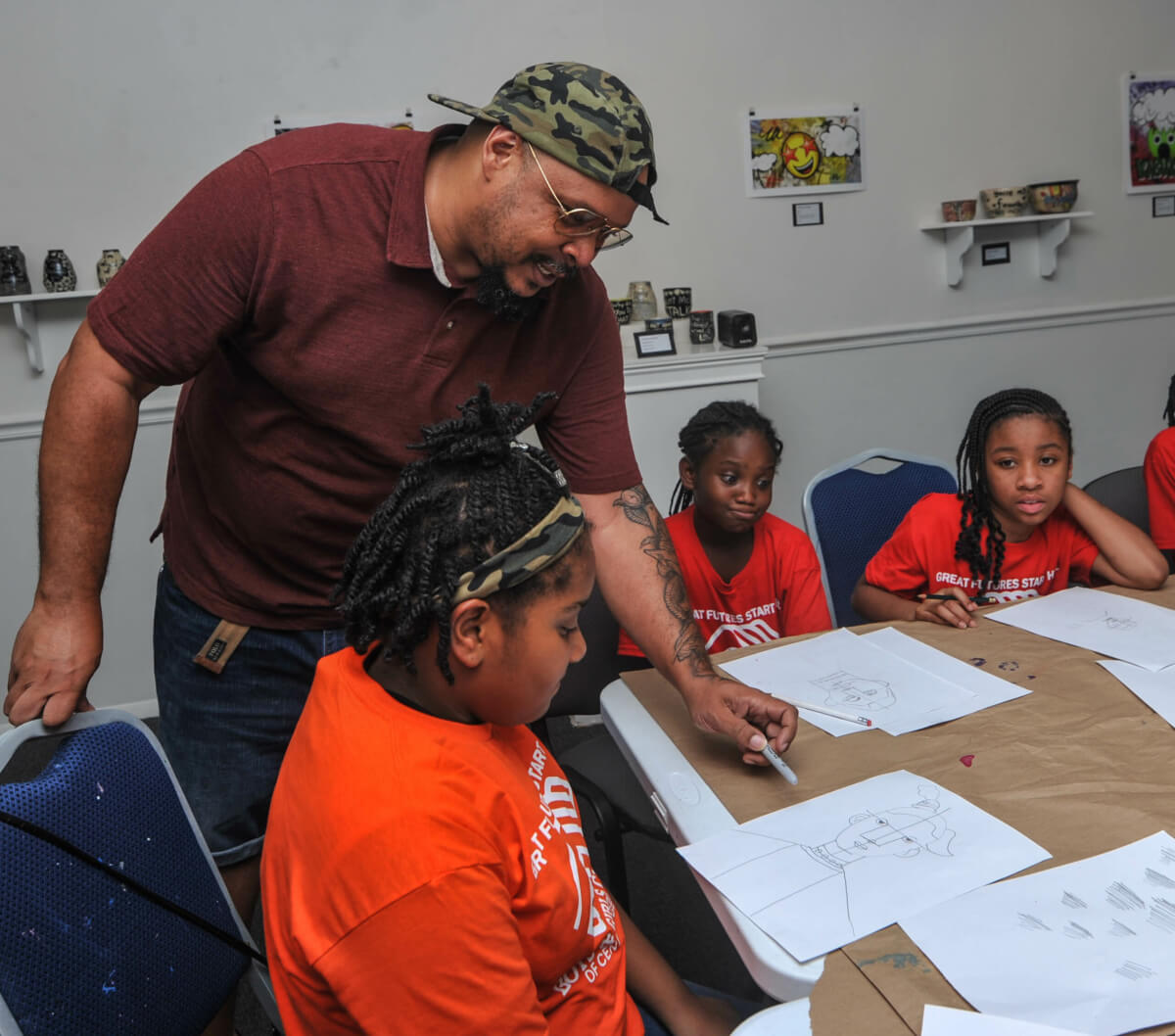 Macon Art from the Heart
By Lisa Mayfield Spence
Photography by Dsto Moore
Art can function as an integral tool that pulls a community together. It helps to build a sense of belonging and changes the way people think and respond to one another. Here in Macon, something of a renaissance of diversity in the arts scene is taking place as more individuals and organizations are recognizing the importance of investing in the local arts culture. That investment is showing significant rewards, particularly through the Art from the Heart program, a project of the Boys & Girls Clubs of Central Georgia (BGCCG).
The 12-week program, which began earlier this fall, engages local artists through art lessons with the children at BGCCG. Each club is paired with a local artist who offers classes at the 567 Center in Downtown Macon on a weekly basis, culminating in a gallery showing event including both the kids and the artists. The nonprofit, a local chapter of the national organization providing voluntary after-school programs for young people, is excited to host local art muralist Kevin Lewis, who is mentoring more than a dozen youth and helping them to build on their basic art skills. Once a week, Lewis guides the BGCCG children (ages 8 – 12) in art classes taking place at The 567 Center for Renewal in Macon. "Through this program, these youth will not just get a chance to hone their art skills, but also…sharpen their abilities for self-expression," explained DeMarcus Beckham, special events coordinator for BGCCG.
The Boys & Girls Clubs of Central Georgia has been a sustained institution since 1938, when it was first established as the Macon Police Cadets. The mission of the organization is to strive to enable all young people to reach their full potential as productive, caring, responsible citizens. "We're dedicated to providing a safe, positive place and having a significant impact on their lives," Beckham stated. "We do this by instilling the values of academic success in our youth. Encouraging our youth to become actively engaged in their community and highlighting the importance of making healthy life choices is what we're about."
While leading the series of art classes, Lewis also intertwines the message of how the youth can cultivate a sense of discipline, tenacity, and patience through artmaking. "The children are subconsciously understanding how making art allows us to tap into our ingenuity and problem-solving skills," Beckham said. "It refines our abilities to discern and perceive." The Art from the Heart program also provides an opportunity for the youth to visit different art galleries across the city and get a chance to become featured artists in a gallery. "These youth will get a firsthand account of how huge an impact art has in our communities and contributes to community development and revitalization," according to Beckham.
The Central Georgia community has responded in kind. "We have had tremendous support from the local art community and a few community foundations," Beckham continued. "We even have a few community influencers who are using the power of their social media to encourage others to donate and support the cause." The community at large is then able to see that they are making a direct impact on a new generation of artists and artisans.
Lewis works well with the youth, said Beckham, adding that Lewis is gifted at helping children to understand their full potential. During the classes, Lewis doesn't just focus on the basics of art, but also offers critical thinking opportunities, communication skills, decision-making capabilities, creative thinking experience, interpersonal relationship skills, and self-awareness-building skills that translate back into the everyday lives of the young people. "They will build off basic skills such as shading techniques to create complete works of art," Beckham said.
The young BGCCG artists with whom Lewis has worked throughout the fall season will see their creative works exhibited at Mercer University's McEachern Art Center (affectionately known as the MAC) at the conclusion of the Art from the Heart program on Dec. 2, 2022. The Mercer art gallery is a space designed to advance artists and create in our community, a place where all are welcome to contemplate art, according to its mission. Free and open to the public, the gallery exhibit featuring the collected artworks of the youth participants will be displayed alongside some of the works of the featured artist, Kevin Lewis. It intends to encourage the families of the students to explore art personally and within the community. Art created by the children will be auctioned off to help fund arts and education programming at local clubs. Benjamin Dunn, lecturer and director of the McEachern Art Center, acknowledged that bringing in local, younger artists to show their work in the same spaces where museum-quality exhibitions are staged is something special. "It's always a pleasure to host and support local organizations at the MAC," Dunn explained. "Mercer enjoys moving further into our surrounding community, creating partnerships with folks like the Boys & Girls Clubs of Central Georgia." Such exhibits, he added, can really open a world of possibilities and imagination for these young artists.
Follow along on their art journeys on BGCCG's Instagram and Facebook. Be sure to visit the MAC on Friday, Dec. 2, to see their masterpieces in person and to observe the impact of BGCCG's programs on the youth.