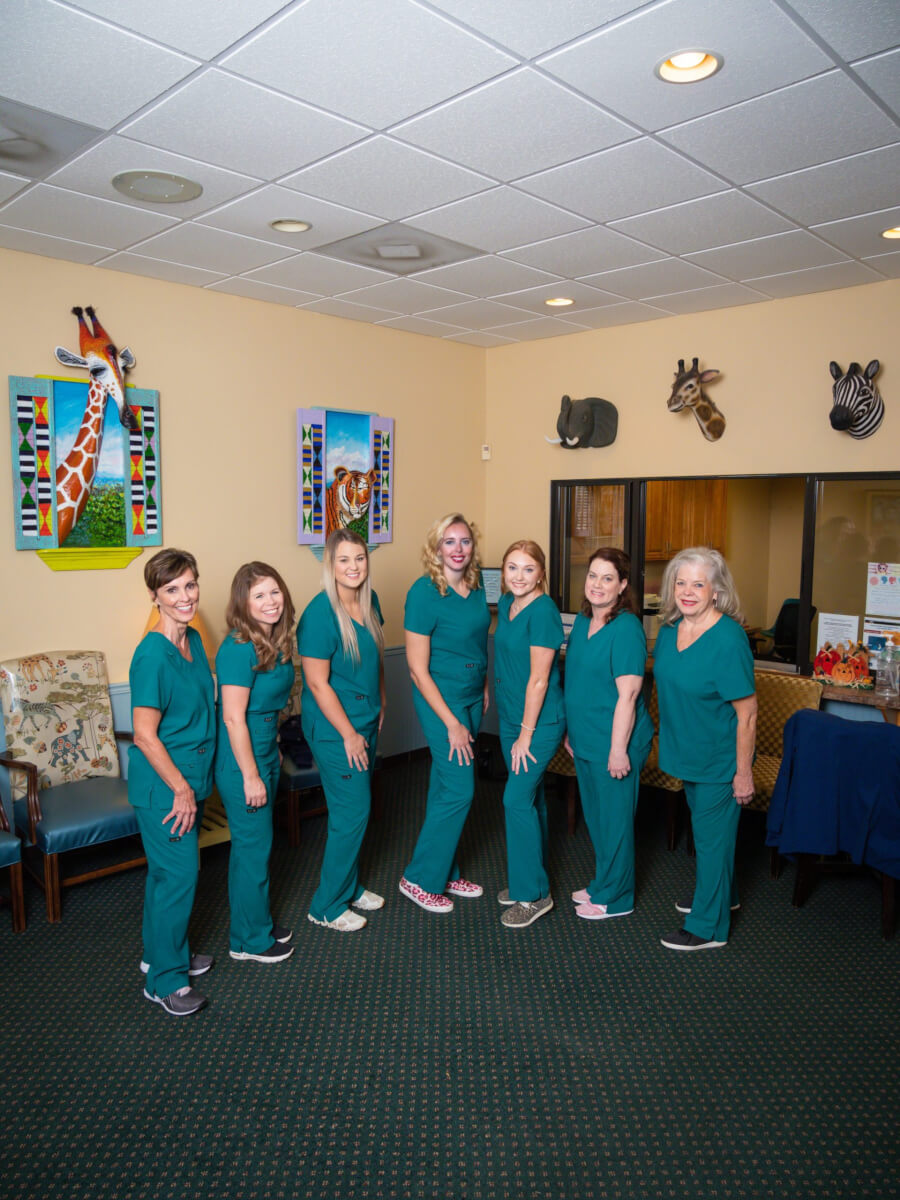 Live Well 2022: Macon Pediatric Dentistry
A SPECIAL ADVERTISING SECTION featuring middle georgia businesses that will help you live your best life in 2022. PHOTO BY JESSICA WHITLEY.
Natalie Olivia Ford Cozart, DMD
Pediatric Dentist/owner, Macon Pediatric Dentistry
1923 Hardeman Avenue, Suite C
478-746-1538
EMAIL: smiles@maconpediatricdentistry.com
WEBSITE: http://www.maconpediatricdentistry.com/
What is the mission of your pediatric dentistry practice?
Our goal as pediatric dentists is to instill in our young patients a positive attitude toward dentistry that will last a lifetime. We provide specialized care for infants, children and adolescents, and are especially caring toward children and adults with special healthcare needs. We believe in building a relationship on the foundation of trust with our patients and their parents.
How has that mission changed because of COVID-19?
COVID-19 threw a roadblock in the mix for everyone! In the beginning, we were only seeing emergency situations. Now that we have learned more about COVID-19's transmission, we are confident in safely treating patients. It just involves a little more coordination in that we confirm exposure/sickness history over the phone and immediately prior to appointments. Another issue has been that some people have delayed dental care out of fear, which has been detrimental to dental health. I do feel I have seen an uptick in "covidities" (cavities that have occurred since COVID became a known issue) in children. Some possibly attributed to remote learning and the ability to snack more during the day, and also due to missed appointments. Most importantly, I hope everyone knows that most healthcare providers have protocols in place for COVID prevention, and it Is important to continue seeing healthcare providers as needed.
How does your business serve our community with inclusivity in mind?
We are located in a central location near downtown and the interstate, making us easily accessible. We strive to make all children feel special and important during their appointments!
How do you improve lives?
The entire office strives to educate parents and their children on prevention of cavities (including healthy diet and good oral hygiene). I have seen an uptick in "covidities" (cavities that have occurred since COVID-19 became a known issue) in children. Some possibly attributed to more time at home, the ability to snack more during the day and also due to missed appointments. But, we try to make the restorative visit as happy as possible.
What are you most excited about as your business moves into a new year?
We always aim to improve ourselves and the office. With each new year, I always try to implement something new I learned from my continuing education meetings. This year, we plan to give the inside of the office a bit of the upgrade with new flooring, and an awesome mural! I also love to find new games for children to play while they have downtime at the office.
What challenges do you face, and how do you overcome them?
COVID has definitely brought issues with supply chains, and also an increase in overhead costs. Earlier we had issues with staff having to be out due to quarantines and/or childcare. Luckily, that has not been as much of an issue. Another big challenge is that our patients rely on their caregivers to bring them to their appointments – unfortunately we do have a lot of missed appointments. In that case, we try to educate parents/caregivers on the importance of timely dental treatment!
What is a myth that you wish people would get over? And, what is the antidote?
The dental visits are scary! The best antidote is visiting our office. I feel we have a great staff, and try to make visits as exciting as possible.
What are you most proud of about your business?
The staff is wonderful. Many of my employees have been here since Dr. Marilyn Murphy owned the practice, and are well-trained with fearful children or children with special needs. I always love that patients are pleasantly surprised at how great their children do here at our office!
How do you define "living well?"
Living well can mean a lot of things. Obviously one meaning, is living a healthy life! But, I also feel that living well means being passionate about all aspects of life – career, family and connections with others!
When you're not working, how do you relax and spend your time?
I love spending time with my family. I have a 3-year-old and a 4-year-old, so I am certainly never still! We keep the kids busy with sporting activities and all the events in Macon. A plus, is that I often run into patients and their families having fun as well. Most of my employees have children/grandchildren, and they stay busy with them as well.
Who are your inspirations for a life well lived?
My and my husband's parents and grandparents. They instilled in me the importance of doing my best in a career that I enjoy and contributing to the community, all while having a close-knit family.
What needs to happen to help our community live happier and healthier lives?
I feel that people need to focus more on connecting with one another and also being supportive of others. It is important to check in on each other, and take the time to see how others are doing. Kindness goes a long way in improving lives!
What are you most excited about in our community?
Community cohesion is what makes and will continue to make Macon better. Being near Pleasant Hill, I am thrilled with many of the Pleasant Hill improvements. The new parks and playgrounds in the area are certainly encouraging an improvement in health.
You might be surprised to know: My family has a lot of dentists – my father, brother and cousin, and even someone way out in Arizona; But, I'm the only who is a pediatric dentist.