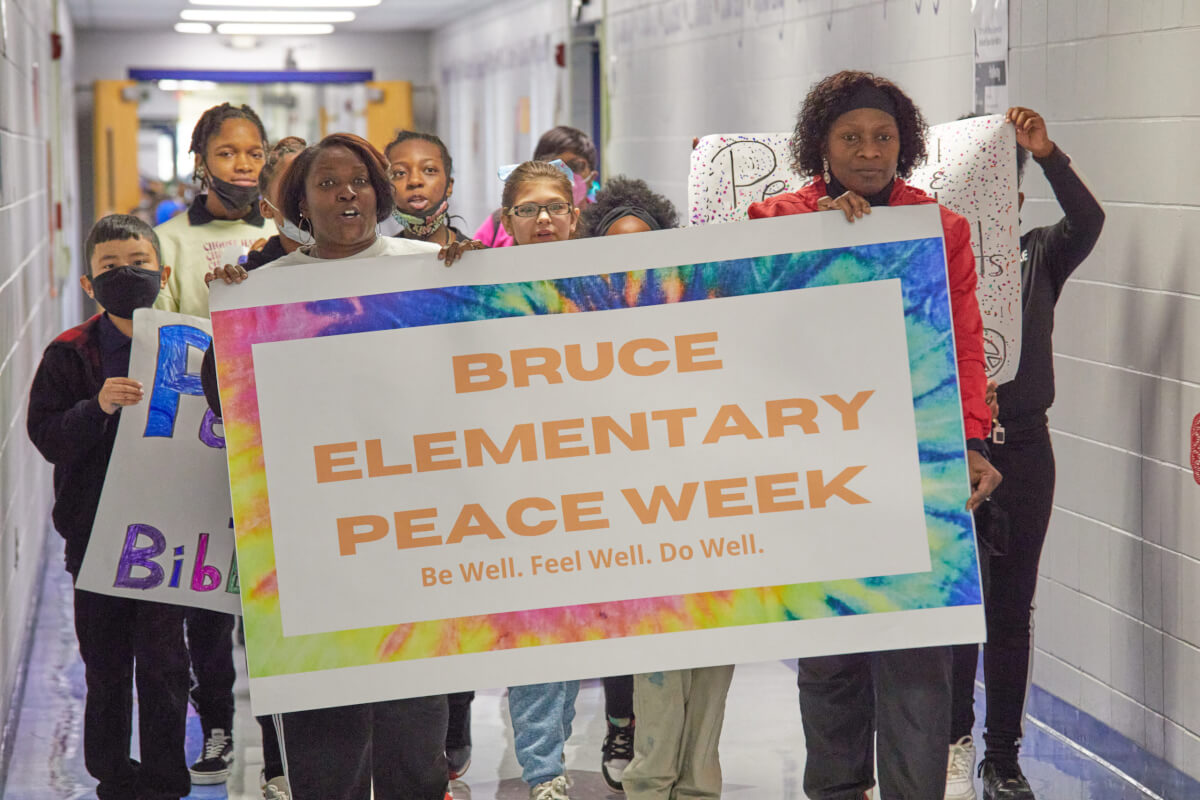 Mental health matters
Community and grass-roots initiatives unite to bring awareness to mental health among teens and youth
By Edna Ruiz
Photography by Matt Odom and Dsto Moore
These past few years have been hard on all of us, mentally. We're healing, but for some it can take a while, and if it's left untreated, the consequences are serious. Among those hurting are teenagers and younger children.
According to the World Health Organization, depression, anxiety and behavioral disorders are among the leading causes of illness and disability among adolescents. The reality is, if we don't address adolescent mental health conditions, they extend well into adulthood and impair both physical and mental health.
"I often tell parents of children that I work with, they think that kids don't need them as much when they get to be older, but that's not true," said Founder and CEO of the Southern Center for Choice Theory Gloria Cissé. "Young adults need their parents as much as smaller children do. They may not act like it, but they do need us."
In Cissé's decades of experience, she has worked with people of all ages dealing with trauma, including children and teenagers. She said some signs of trouble with mental health in youth are anger, worry, trouble sleeping, not eating right, grieving something longer than they should, hurting people and/or animals, destroying property, trying drugs or alcohol or obsessing about eating and exercising.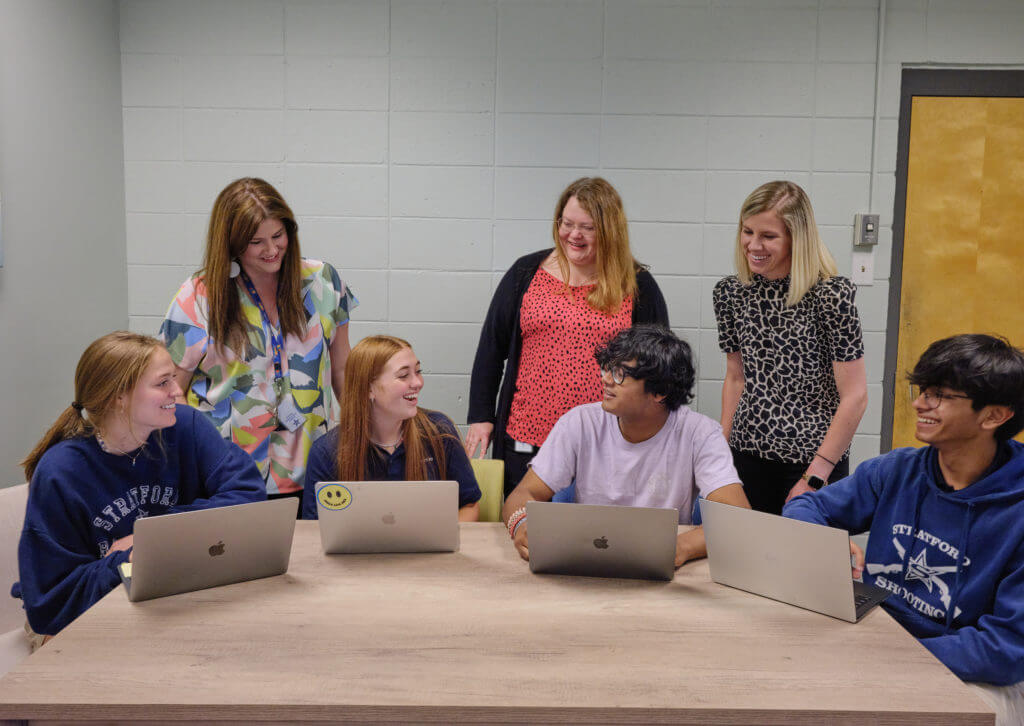 "We have to remember that kids express emotions differently than adults. So, we might think they're just being angry or mean to someone when in actuality, they're experiencing other stuff going on inside of them. They just don't have the words to tell us what it is," said Cissé. "This can have a long-term negative impact on their mental health if it's not treated."
Cissé said it's important to treat mental health wounds like physical wounds. Although we may not see them, they exist and can only get worse if they're ignored.
PACE CENTER FOR GIRLS
A recent report from the Centers for Diseases Control and Prevention examined changes in pediatric emergency department visits for mental health conditions. It found that adolescent girls (12-17 years) accounted for the largest increases in the number and proportion of emergency department visits for mental health conditions in 2020, 2021 and in January 2022 compared to 2019. The report goes on to say it's difficult to pinpoint one contributing factor to this, but does state it is related to the COVID-19 pandemic. While many girls have already been dealing with mental health issues, the stress and grief brought on by the pandemic made it more difficult to cope.
"Sometimes I may be showing that I'm feeling okay on the outside, but people don't know how I'm really feeling on the inside. I'll tell people I'm okay when I'm really not," said Ma'Kaliyah S., a 15-year-old freshman at Southwest High School. "And I know I'm not the only one who is like that."
About a year ago, Ma'Kaliyah joined the Pace Center for Girls in Macon. Pace is a nonprofit organization aimed to provide girls and young women an opportunity for a better future through education, counseling, training and advocacy. There are 21 locations across Florida, and just one in Georgia, which is in Macon at the Booker T. Washington Community Center.
Pace takes a more personal approach to guiding girls in our community, and services are catered to each girl from ages 11 to 17. In each session, they meet for about an hour at Booker T. Washington Community Center, their homes, schools or anywhere they feel the most comfortable.
"During the shutdown, because of the pandemic, it was tough for girls," said Rebecca Richard, Reach Program Manager of the Macon location. "Parents were working and kids were home. One girl told me, 'I stare at these same four walls every day and it's getting to me. My phone was my outlet.' It's not necessarily healthy, but it was their only way of socializing, which could unfortunately lead to cyberbullying or pressure."
Through Pace, the girls get to talk one-on-one with their counselors as well as practice different activities, such as mindfulness and breathing. It provides an outlet outside of their home and school lives. The goal is to get them to think differently.
"Pace and Ms. Rebecca have gotten me to open up more and talk to people and smile more," said Ma'Kaliyah. "Some of my friends have noticed, too."
Typically, during a therapeutic session, the therapist does a lot of the talking in the beginning.
"You know it's going well when a teen just comes in and slumps down on the couch and they just start talking and don't need any prompts. That's when I know I'm seeing a change," Richard said.
TEENS TAKING THE LEAD
WITH MENTAL HEALTH
Discussions about mental health are taking a turn, especially among teenagers. Those who are starting to open up more about their feelings and problems are hoping to get others to join. That's the case for Stratford Academy Senior Darran Shivdat. He started S2S, Student 2 Student. It's a student forum aimed to normalize talking about mental illnesses in teens.
The S2S forum started during the pandemic as students were having to deal with online classes and isolation. They weren't having the typical lunch table conversations and social interaction, so Shivdat wanted to create a safe space to talk to one another and have open conversations.
"I received a lot of positive feedback about S2S from teens who were lacking social interaction with people their age," said Shivdat. "They were also dealing with their own stresses, so they were able to openly talk about it, while learning that it's okay to talk about mental health."
The forum is meant for every teen and young adult in our community, Shivdat explained, as well as throughout the country. He said students from different states like California and Massachusetts were joining the conversations.
"It was an interesting dynamic to have freshman in high school and then juniors at Harvard talking about mental health issues. It really brings two completely different perspectives to the table, but they were both able to resonate with each other and understand each other's problems and help each other," said Shivdat.
Wanting to take this even further, Shivdat agreed to help bring this approach to Stratford Academy with sophomore Abbie Rose Perkel. With the help from Upper School English teacher April Bacon, they created Stratford Minds Matter. It started this school year and has a student leader from each grade, with about 40 students in the club.
"It has been great so far. The club is more of a time to hang out, but through the hanging out, we can talk about our stresses in school, especially with exams," said Perkel. "Mental health is very important, that's why we want to reduce the stigma because if something is bothering you, it's going to affect your life in every way."
They host events like pizza parties and play games in order to draw in more students. The club has also brought in Piedmont Hospital's residents to speak with Upper School students about mental illnesses and provide a deeper understanding for mental health.
"These student leaders are truly incredible. They come up with the ideas and activities," said Bacon. "I think through them, one of the big goals is reducing the stigma of talking about mental health, so who better than these club leaders? They're very inspiring."
Stratford Academy has two school counselors. Gena Chalfa works with the Lower School (beginners to eighth grade) and Alex Minor works with the Upper School (freshman to seniors). They have an open-door policy, provide lessons for students about mental health and also help with other clubs such as "Girl Talk" and an anti-bullying club.
"We encourage all of our students to come to us if they ever need anything," said Chalfa. "Our goal as counselors is to be present, whether it be in the classrooms or in the hallways greeting our students, so we can develop strong relationships with them, and just show them that we're there."
COUNSELING IN SCHOOLS
The role of guidance counselors has changed a bit in schools compared to what it was like 10 years ago. They are typically there to help with both academic guidance and some emotional guidance, but are now focusing more on mental health. That's the case at Mount de Sales Academy.
"They have freed me up this year and last year to mainly be a counselor for mental health," said Mount de Sales Counselor Amanda Smith. "While we do have an academic counselor, my main job is to be available for the middle and high schools for any mental health needs."
Smith has been at Mount de Sales for about 12 years, but in the last few years she has strictly become available to any student in need.
"The biggest thing that I have seen this school year is that when it comes to me giving students outside referrals for local resources, the wait time has been a bit longer than usual," said Smith. "That tells me more people are reaching out for help."
First Presbyterian Day School (FPD) also refers students to other counselors if the school counselor notices they may need extra help. Angela Berchell is the only school counselor at FPD and sees students on a regular and weekly basis depending on their needs. When she's not speaking to students individually, she's going into classes to teach students about emotional management, wellness and character. The school also provides a social and emotional development curriculum, which is grade specific. The middle school uses it weekly and the high school uses it monthly.
"I have an open-door policy. Any student can come see me," said Berchell. "The whole staff is very supportive of their students seeing me or any other counselor I refer them to."
Teachers at FPD are trained twice a year to deal with mental health and crisis management in their classrooms and what to watch out for. They all must attend a seminar at the beginning of the school year and another in the second semester. This is something Head of School Dr. John Patterson said he takes very seriously.
"While it's important for us to address any current problems, it is really more about prevention for us," said Patterson. "My job is to do basic training on how we assess threats. What looks dangerous? And what do I do with dangerous?"
While training teachers, FPD also trains students. They have a motto that says, "When in doubt, give a shout." Patterson said they are as transparent as possible with their students.
"Everything we are doing on the front end, I think it all leads to a student feeling safer," said Patterson. "When a student feels safe in their seat, that is the beginning of learning."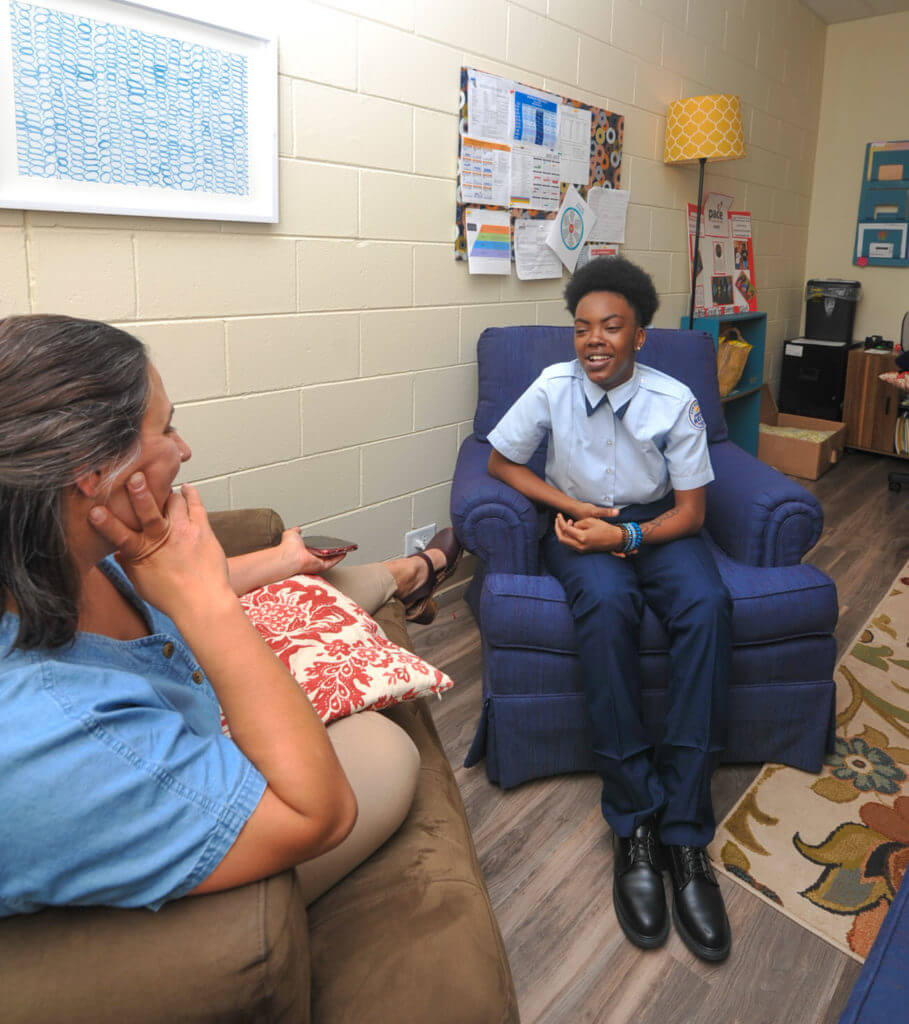 PROJECT AWARE
In September 2020, Bibb County Public Schools was awarded a five-year federal grant from the Substance Abuse and Mental Health Services Agency (SAMHSA) to create Project AWARE (Advancing Wellness and Resilience in Education). Project AWARE is aimed to better address the mental health needs of students in the school district.
Tajalyn Woodruff is the Project AWARE Coordinator for Bibb County Schools. She and a team of mental health clinicians work together to bridge the mental health gap in public schools. They conduct outreach, bring curriculum into schools and provide direct services and referral services.
"We do progress monitoring of students who are enrolled in our services," said Woodruff. "We are not only saying, 'hey this student has a concern and here is a recommendation for services,' but we are following up. We want to know how those services are going and what else we can do for them. We don't want anyone to fall through the cracks."
Since the start of Project AWARE in 2021, the office has received more than 500 requests for assistance for students. And while they are addressing current problems, their goal is to also provide education and prevention when it comes to behavioral health.
In March, they celebrated "Peace Week" throughout county schools to promote mental wellness, kindness and emotional regulation. Teachers incorporated mental health related activities to promote peace and to educate students. Students at Bruce Elementary held a parade on campus to showcase their peace and kindness posters.
"Each school had their own activities to promote peace week," said Woodruff. "It's all part of the big picture to get students comfortable to speak up."
FIXING THE PROBLEM TOGETHER
There is no clean-cut way to address mental health issues within youth, but our community is coming together to address these problems in different ways. Professionals suggest having open conversations with your children and teenagers and to get them involved in activities that will keep them busy, especially outdoor activities.
Even if you're not a parent, it could be helpful to step up and become a mentor to someone in your community, whether it's through the Boys and Girls Club, Mentors Project of Bibb County or other organizations.
Talking with our youth is crucial. Ask questions and listen.
"It's important not to wait until a child reaches adolescence to address mental health," said Cissé. "Providing mental health support from birth is critical."
Most importantly, if you see or know of someone struggling, get them the help they deserve. River Edge Behavioral Health also offers services for youth experiencing trouble with their mental health. Most services are available to the uninsured at little to no cost, based on sliding scale. River Edge provides mental health counselors in more than 30 schools in Central Georgia through the Apex services. They also offer outpatient mental health and/or substance use disorder assessment and treatment, including psychiatric care and medications, through their outpatient locations in Macon-Bibb and Baldwin counties. Learn more about their services at river-edge.org. Anyone seeking help who may not have insurance can use Macon Mental Health Matters. Visit maconmentalhealthmatters.com to learn more.
Washington Memorial Library offers mental health resources for teens
THE WASHINGTON MEMORIAL LIBRARY is stepping up to address mental health and now offers more than just books and archives. The Middle Georgia Regional Library System is aiming to become a safe space for teenagers in our community.
It all started with an idea from Young Adult Specialist Aimee Wilds. She wanted to make resources easily available for anyone seeking mental health help. The library currently has pamphlets with a list of organizations that provide mental health services. They took it a step further and held a session for teenagers and young adults to unplug and get help if they need it.
"On top of school, teenagers may be dealing with a lot more. So, I wanted to create a safe space for them and a judgment-free zone," said Wilds.
The first session was March 2, where Wilds laid out several activities such as coloring, making stress balls and making guided journals. Participants also were able to take home bags filled with activities and resources. The events are free and open to everyone. Visit https://bibblib.org/ to learn about more sessions and activities.
Bike Walk Macon
GETTING OUTSIDE, picking up hobbies and exercising have been proven to help with mental health. Bike Walk Macon is continuously working to make our bikeways and walkways in Macon safer for all ages. While advocating for safer streets, the nonprofit organization is working to create a more vibrant, healthy and equitable city.
"People under the age of 16 do not have the option to drive," said Bike Walk Macon Executive Director Rachel Hollar Umana. "And many teenagers are increasingly choosing to rely on more affordable modes of transportation. Our work is important so children of all ages have access to safe and accessible infrastructure when biking or walking to school, neighbor's houses or our parks and public spaces."
Bike Walk Macon offers a variety of educational classes and community events throughout the year so younger people can feel confident and safe while traveling by foot or bike. Since the start of the organization in 2015, Umana said she has seen how riding a bike has been beneficial for people struggling with mental health.
"I started commuting around Macon by bike seven years ago and have noticed over time that the mental benefits of bicycling are just as important as the physical benefits," she said. "There are countless reasons that riding a bicycle is good for mental health. It reduces stress, helps you sleep better, sparks creativity, helps you feel more connected to your community and so much more."
If you would like to get involved or learn more about Bike Walk Macon's activities, go to bikewalkmacon.com or find them on social media at
@bikewalkmacon.