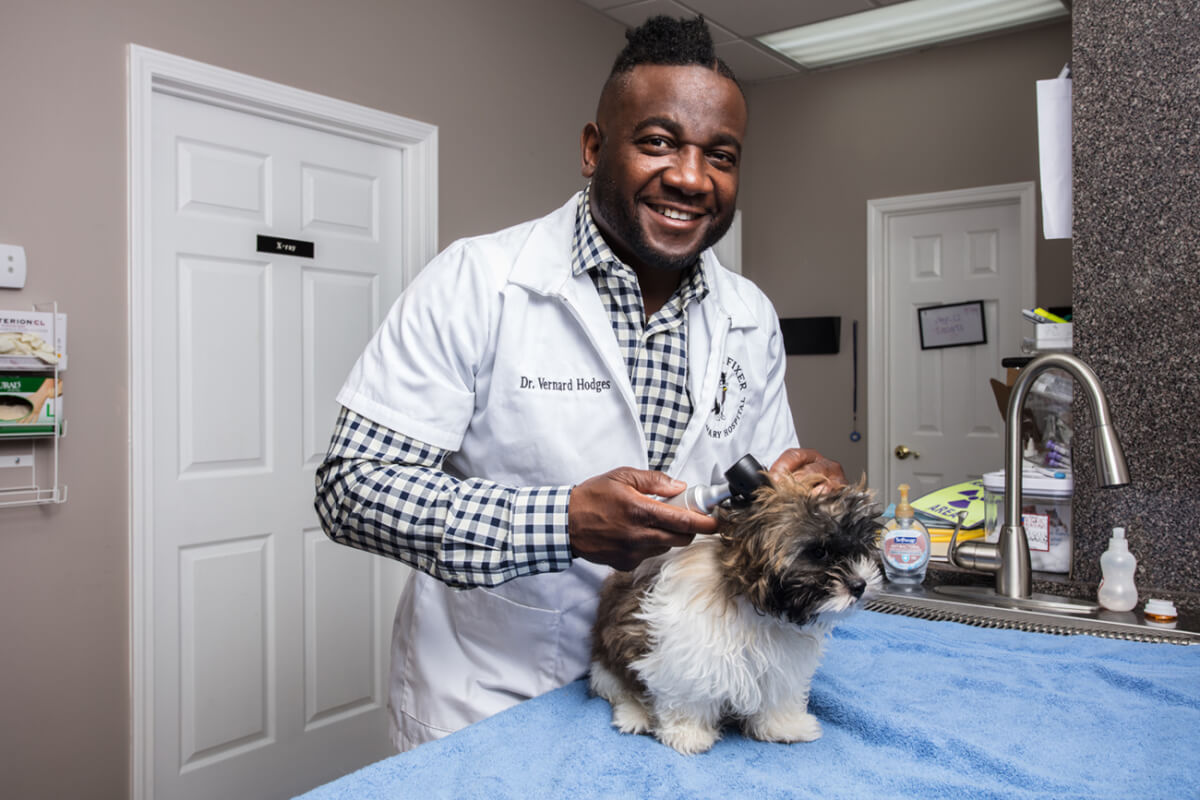 From the Bottom to the Top
Dr. Vernard Hodges' life and career inspire others, lead to television show
By Traci Burns
Photography by Matt Odom
"It's one thing for somebody to tell you that you can be anything you want to be, but there's no substitute for actually seeing somebody who looks like you, doing the thing that you want to do," said Dr. Vernard Hodges, discussing the fact that African-Americans comprise less than 2 percent of veterinarians working today.
As part of that 2 percent, Hodges has been a very public role model in Middle Georgia for more than two decades. In 1999, after earning his DVM from Tuskeegee University School of Veterinary Medicine, the only program of its kind located at an Historically Black College or University in the U.S., Hodges and longtime friend and classmate Dr. Terrence Ferguson opened their first veterinary practice in a tiny office in Byron. They dubbed it Critter Fixers and, nine months later, business was so good that they started a second location in Bonaire.
Today, Critter Fixers treats nearly 20,000 pets per year.
"We're humpin' from sunup to sundown," laughed Hodges.
With his quirky trademark mohawk haircut and his charming grin, he has the confident, satisfied demeanor of a man who loves what he does for a living, and that radiates through his effortlessly friendly rapport with everyone – human and animal – who walks through his office doors.
"He's obviously a knowledgeable vet, but he's great because he forms a relationship with the animals he treats, and with their people, too. He puts his whole heart into what he does," said Tracy Jones, whose dog Max was a longtime patient of Hodges'.
Years ago, after a close call with a mysterious illness, Hodges was able to save Max's life. Jones said, "When I had to put Max down years later, he cried with me. He said 'I fought like hell for him,' and he did just that."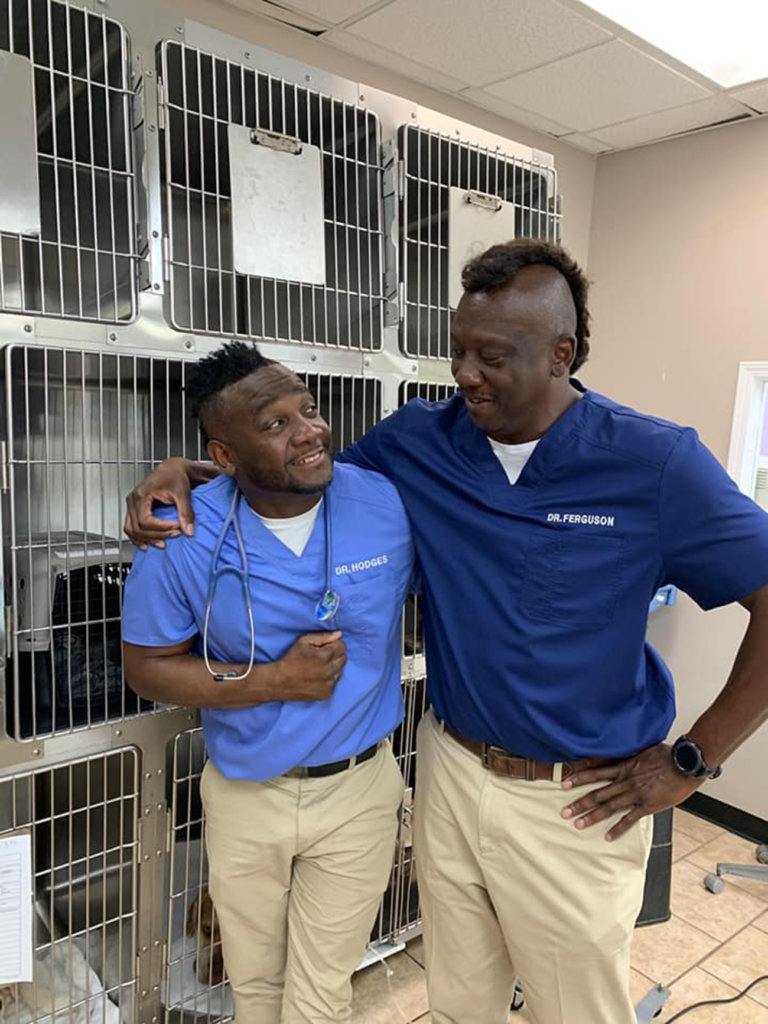 Dr. Hodges and his partner Dr. Terrance Ferguson, who showed up to work with a fake mohawk, which is Dr. H's trademark hairstyle.
'Smart after all'
This talented and empathetic man came from humble beginnings. Hodges grew up in Fort Valley, on the red dirt roads of Stallworth Trailer Park, hanging out with what he called "the wrong crowd." An only child, Hodges always was drawn to animals and daydreamed of a career spent helping them, but his only moneymaking models were the hustlers and drug dealers who populated the back alley that locals deemed "The Trap." 
"I didn't realize I was smart," Hodges said. "How do you know you're smart if it's not nurtured?"
He failed the ninth grade, and could have easily taken the slacker route from then on out, but seeing a childhood friend hauled away to jail served as a turning point. Middle Georgia Consortium offered him a summer scholarship to Fort Valley State University, and he decided to go for it.
"I made good grades. I felt confident, like maybe college really is something that might be for me. I figured out I might be smart after all," Hodges said.
Hodges graduated from FVSU with a degree in fisheries biology and spent a summer in Nepal and India working for the Agency for International Development to create an aquaculture program that would grow fish as an inexpensive protein source for residents.
Being accepted into the Veterinary Medicine program at Tuskeegee was a high point in his life, and following that path led him to a career both inspirational and deeply fulfilling. Hodges' whip-smart 14-year-old son, Vernard II – he goes by VJ – already has plans to follow in his father's career footsteps.
"That's pretty cool," Hodges said about VJ, who he also refers to as "the Robin to my Batman." "He's a sharp kid, and I'm excited about him being next in line."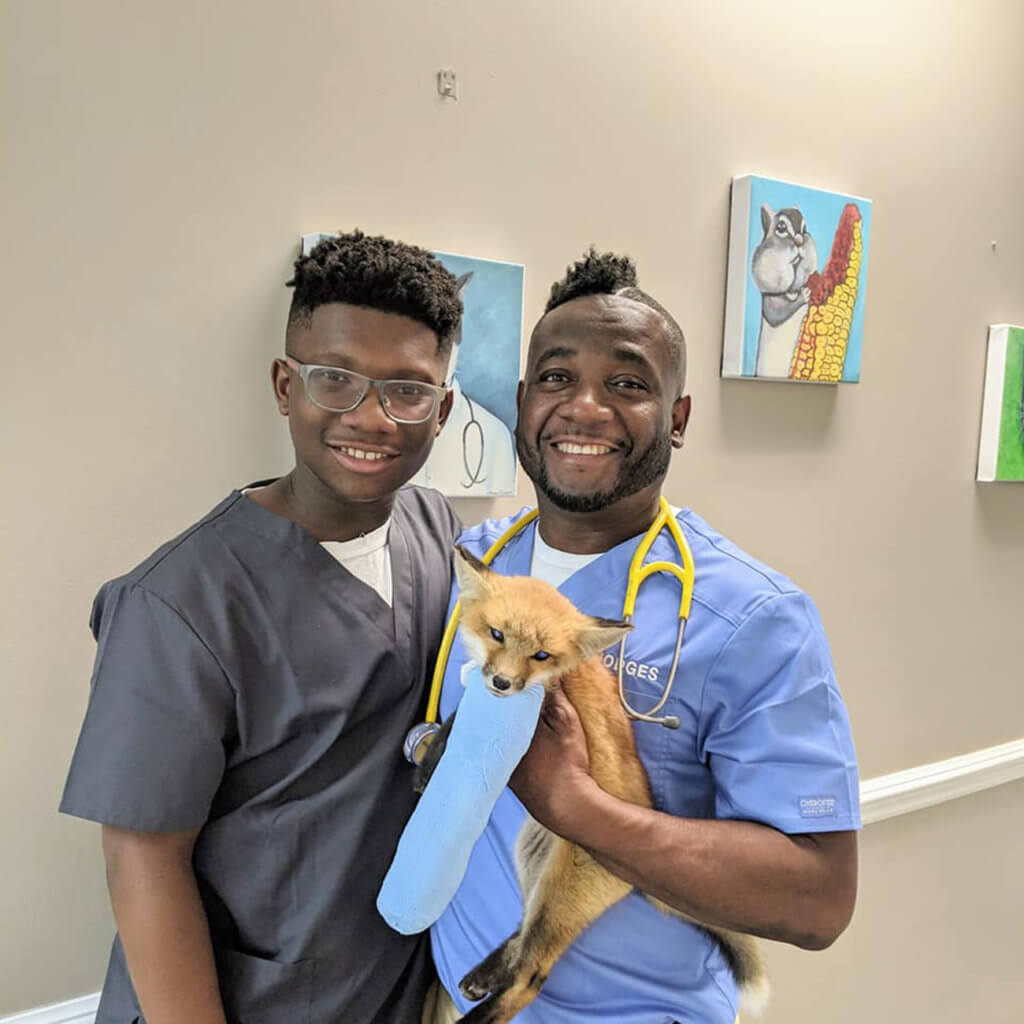 Dr. Hodges and his son VJ with a cute little fox.
'Bet on yourself'
Hodges feels an obligation to pass on the hands-on, real-life knowledge he's acquired over the years. He's been a guest speaker at Middle Georgia State University, Central Georgia Technical College, and many other schools and organizations around the midstate. In 2018, he wrote and published the highly acclaimed book, "Bet on Yourself: From Zero to Millions," which blends autobiographical stories of Hodges' past with practical, accessible financial advice.
He stresses the importance of multiple income streams, gives a primer on the stock market, and discusses how to get started investing in rental property – something he began to dabble in when buying land and buildings for Critter Fixers' first location 20 years ago. Now, he owns multiple houses and apartment buildings, choosing to rent to local families for sustained cash flow rather than flip them for a quick buck. 
There's also plenty of inspiration and motivation, as the title would suggest. Hodges' life story is a testament to the power of perseverance, and in his book he underscores the importance of kindness, faith and self-esteem even in the face of failure.
"When people look at me, they only see the end game, and I want them to know my mistakes, to see how I stumbled along the way but didn't give up," he said.
'The real deal'
About the time his book was released, Hodges had planned to take a step back from his vet practice. His real estate portfolio was doing well, he had good, trustworthy doctors working for him, and after 20 years, he thought the time was right for him to fade into the background and relax a little. Then came a phone call from a stranger, asking if he'd like to be on television.
Hodges ignored the call at first, dismissing it as a prank, but it was real. Someone from National Geographic had become intrigued by Hodges' life story and enamored of his Instagram feed (@drhodges_critterfixervet) filled with pics of the photogenic vet and a fascinatingly eclectic assortment of critters. They wanted to come down from New York with a camera crew and shoot a pilot.
The pilot was a hit, and Nat Geo Wild ordered a season's worth of episodes of "Critter Fixers," which has finished filming and will air in early fall.
"I saw the first episode, and it's great, and I got an email from the executive producer and the network president saying how pleased they were," Hodges said. "The beauty of this thing is, none of it is staged. All of it's the real deal. This is what my daily life is like! People are gonna be amazed at the things we do."
In one episode, Hodges performs an emergency amputation on a chinchilla whose leg had gotten caught in a ladder. In another, VJ gets some hands-on knowledge from his dad when he learns how to palpate a cow to check for pregnancy.
"I think this was God's way of saying, 'Nah, it's not time for you to quit yet,' " said Hodges, who signed a multi-year, multi-episode deal with National Geographic. "Now, my reach will be much larger. My book was doing well, but this gives me a national platform to reach out and show the world that anything is possible."
More of an audience means more awareness of Hodges' nonprofit. He started the It Takes a Village Foundation, which aims to educate young people about entrepreneurship and community, over a decade ago.
"I'm all about teaching kids to fish instead of just giving them the fish," Hodges said. "Socioeconomics plays a huge part in how we're doing. It's hard to concentrate on getting educated if you're worrying about where your next meal is coming from."
The foundation offers mentorship and support for young people seeking guidance and business skills, and also partners with Kohl's to offer a yearly holiday shopping spree for kids in need.
"It's amazing how life comes full circle," Hodges said. "You can be at the lowest point, but if you work hard, you can find yourself in a position where you can bring others up, offer support and show them the ropes."
In the meantime, Hodges is living his best life here in Central Georgia.
"The thing I've learned about Middle Georgia is that it doesn't matter what you look like. If you provide a good service, people will support you," he said. "I feel the support and the love, and it's like a family. Everywhere I go, somebody recognizes me. I don't know if it's the mohawk, or if they saw me on TV, but when I'm out at a restaurant or the grocery store, people are always coming up to me and saying, 'Hey, Doc!' and telling me about their animals. I love that."