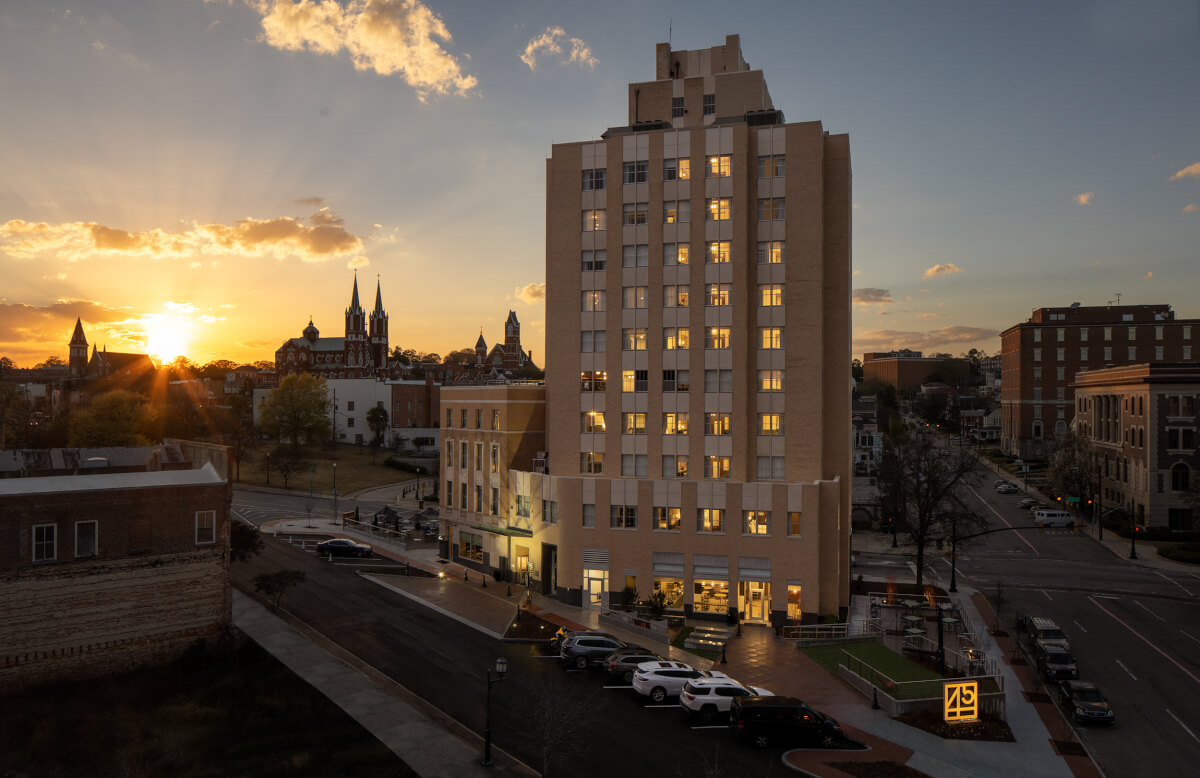 Multi-storied
May is Preservation Month and Hotel Forty Five, downtown Macon's first hotel in the central business district, has plenty of stories to tell
By Jami Gaudet
Photos courtesy of Hotel Forty Five
Hoteliers had been breaking Macon's heart for decades with promises of a downtown hotel. With each announcement, hopes ran high but were dashed repeatedly. Then, on Jan. 25, local leaders and hotel officials cut the ribbon on Macon's long-awaited prize, a first-class hotel in Macon's historic central business district.
Finally, the hotel gods had smiled down on Macon with Hotel Forty Five, a joint venture between award-winning Mainsail Lodging and IDP Properties, one of 30 hotels in Marriott's Tribute Portfolio, a constellation of singular properties "bound by their indie spirit and heart for connecting people and places."
Tribute bills itself as a growing, global family of characterful, independent hotels based on three pillars: captivating design, sincere service and vibrant indoor and outdoor social spaces. Each property has a point of view designed to captivate travelers and locals. For Hotel Forty Five, it's the triad of Macon's rich history, legendary music and prime location next door to the City Auditorium.
And, as hotel executives pointedly admit, their whole operation is as dedicated to locals as to out-of-town guests. According to Director of Sales Jimmy Teixeira, "Appealing to locals is a corporate philosophy."
SELLING MACON AND HOTEL FORTY FIVE
Hotel Forty Five is steps away from downtown restaurants, clubs and shops, and mere minutes from major interstate thoroughfares. Take that, Atlanta!
For Teixeira, that convenience is a huge advantage.
"Our location is one of our biggest selling points. We're right in the middle of everything," he said.
Gary Wheat, president and CEO of Visit Macon, called Hotel Forty Five a game changer, noting its consequentiality on several fronts.
"It changes our strategic plan for the future," Wheat said. "The location opens up a new market for selling Macon and downtown, puts new tools in our tool chest and gives us a meeting component we didn't have. Previously, the City Auditorium had no walkability from a hotel, making it hard to put meetings and events there."
Hotel Forty Five is a new offering for Macon's leisure or transient travelers, the market segment in which Wheat expects the biggest growth and impact.
"Now, visitors can get a room, park their car and walk around downtown to see live music, shows, music history and sample our local downtown restaurants," he said.
For added convenience, two floors of valet parking on the Truist Bank deck across the street await.
Wheat enthused that this newfound inventory is vital to Macon's film industry, much of which is centered downtown.
"Hotel Forty Five delivers a headquarter hotel for production companies in addition to the Marriott City Center. Hotel Forty Five maintains the flavor and uniqueness of Macon, and tells a story while being a wonderful, boutique hotel," he said. "In the past, when we booked Marriott City Center, we were limited in the size and number of convention delegates because we didn't have an overflow hotel in proximity. Hotel Forty Five allows us to increase the size of the meetings, conventions and sporting events we pursue."
Occupied hotel room nights means additional hotel/motel tax dollars that help to fund 11 local attractions including Visit Macon, Macon Coliseum and City Auditorium, Lake Tobesofkee, Cherry Blossom Festival, Macon-Bibb County's General Fund, Georgia Sports Hall of Fame, Douglass Theatre, Tubman Museum, Museum of Arts and Sciences, Macon Arts Alliance and Fort Hawkins.
Wheat reports that tourism produces 3,800 jobs in Macon-Bibb County.
"These people are our friends and neighbors. We expect Hotel Forty Five to contribute approximately $600,000 in hotel/motel tax to the city's coffers annually, and locals appreciate a historic building that's been repurposed," he said.
STORIED HISTORY
Businessman Parks Lee Hay, original owner of the Hay House, Macon's National Historic Landmark, commissioned architect W. Elliott Dunwody to design the headquarters for his Bankers Health & Life Insurance Company. At the time, it was purported to be the tallest building built between New York and Miami after the Great Depression. Dunwody was the first of three generations of Dunwodys to produce designs for the high rise.
In his 2008 book, "Architectural Works of W. Elliott Dunwody Sr. FAIA," author and local historian Jim Barfield describes the Bankers Insurance Building as a modern, concrete and stainless-steel structure in the Art-Deco style, likening the interiors to a fantasy of the future with elevators like rocket ships. He writes that Dunwody envisioned the building serving as a pedestal for a gleaming stainless-steel spire extending into the heavens. "Regrettably, it was never added," said Barfield.
Historic Macon Foundation, in the required narrative for historic rehabilitation tax credits, wrote of the building's early history: "The four-story building, which opened in 1923 at 439 Cotton Avenue, was purpose-built to fit the narrow, triangular lot. The 11-story high rise was added in 1941. Considered one of Macon's most coveted addresses, it housed businesses from law offices and railroad companies to a beauty shop and WMAZ radio and television. It's an excellent example of a structure that retains its originally designed exterior while the interior has been adapted to a wide variety of office uses."
Renamed the Southern Trust Building in 1970, six years later former Macon Mayor Buck Melton brokered a deal whereby the Macon-Bibb County Urban Development Authority (UDA) bought the building, later transferring it to the City of Macon, which, with consolidation, became a Macon-Bibb County holding.
To alleviate overcrowding in City Hall, a mix of government offices, including several divisions of the former Macon Police Department, relocated there. Inarguably, the most unusual occurrence in those years was handcuffed and shackled prisoners, accompanied by investigators, en route to interviews in the Property Crimes offices, sharing elevators with other building occupants.
In 2007 came another name change, with the building becoming the Willie C. Hill Annex in honor of one of Macon's first Black City Council members and one of its longest-serving members.
TRANSFORMATION TO A HOME
FOR HOSPITALITY
The imposing building with the storied past has been reimagined and transformed into a modern, carefully curated 11-story, 94-room hotel with a vintage vibe, brimming with personality and pulsing with Macon's history.
Getting it to that point is its own story.
Post consolidation, in 2016, the tenants began finding alternative office space and Macon-Bibb County and the UDA conducted a study in preparation for UDA's sale of the building. According to study results, the building was best suited for loft apartments, and the UDA sold the building to IDP, a Valdosta-based real estate company, which hired Dunwody/Beeland Architects Inc. for the redesign.
W. Elliott Dunwody's son and grandson, Gene Dunwody and Gene Jr., worked closely with IDP's president Rhett Holmes on the conversion from office and government building into initially planned apartment and retail development.
"We were having a hard time making the apartments financially feasible, and the building's small footprint and height provided certain design challenges," Holmes said. Gene Jr. added, "So on a whim, for our presentation my dad drew a floor of hotel rooms."
Not IDP's wheelhouse, Holmes was disinclined to tackle a hotel, and the project was shelved. In addition to design challenges, with costs on the rise, Holmes said the financial feasibility of the project was in question. Several months later when the project team reconvened, to the Dunwodys' surprise, Holmes had interviewed an assortment of hoteliers, docking on Tampa-based Mainsail Lodging and Development.
"Intent on developing the right product in the market, we knew we needed the right team to make that happen, and we found the right team," Holmes said.
That meant starting over, but, Gene Jr. quipped, "On that news, I jumped in the car, drove to Tampa to stay in Mainsail's Epicurean Hotel, and was blown away."
Added to the stress of a complete redesign, in March 2020 the indefatigable team weathered another storm and delay when the bank pulled out because of the COVID-19 pandemic.
Enter the UDA to the rescue.
UDA Executive Director Alex Morrison explained the complexity of the negotiations during this particularly difficult period, which saved the project.
"In order to retain all bridge lenders and maintain the time line for tax credits, UDA got a loan commitment from Macon-Bibb County, issued bonds and agreed to be the project's senior lender," he said.
When work resumed, Dunwody partner Robbie Beeland assumed responsibility for the construction administration, which Gene Jr. called key to the project. The architects also enlisted the services of their in-house interior designer, Arielle Schlesinger, who Dunwody said deserves a lot of credit for coordinating the architecture and interior design.
Beeland spoke of the innate challenges in reworking the building.
"Walking into the building today, you have no sense of the complexities of the project — making all entrances appropriate, and coordinating and making use of all the levels," Beeland said. "Hotel Forty Five took two years to complete, and is a real asset to the city, another way to bring people downtown and add to Macon's future."
682 CHERRY BECOMES 401 COTTON
According to Historic Macon, the exterior of the building remains true to W. Elliott Dunwody's design.
"While we gutted stem to stern, when possible, distinctive elements were preserved, like the gorgeous elevator lobby," said Gene Jr.
That gorgeous elevator lobby includes the original terrazzo floor banded around the perimeter in ivy green with curving gold and saturated cherry racing stripes leading directly to the original elevator doors. There are echoes of that color palette throughout the building.
"We spent a lot of time figuring out how everything would work, down to the entry," said Gene Jr. "There are three entrances, each at a different elevation. The most prominent one was on Cherry Street, which couldn't be opened up for a lobby because of the marble. Cotton Street, actually the side entrance, was the least memorable, but we added a cool overhang and drop-off space. It all worked out, plus, we met all the guidelines for historic tax credits."
According to Historic Macon's Director of Field Preservation Services Matt Chalfa, "They had to prioritize preserving remaining historic elements, mitigating negative impacts to them and integrating them into the new plans."
The new entry necessitated an address change and 682 Cherry St. became 401 Cotton Ave.
Sadly and unexpectedly, Gene Dunwody Sr. died on Jan. 9, 2021. With construction in high gear, the project's completion was left to his grieving son who had just lost his mentor, best friend and partner, but Gene Jr. soldiered on.
Now the architect of record, Gene Jr. recalled, "I was devastated. Dad was sick, but never told us. He loved this project and was here every day. They even made a hardhat for him. He would be so happy with this place. I wish he were here to see it."
THE HOTEL FORTY FIVE VIBE
Hotel Forty Five's celebration of Macon, its history and influencers is inescapable. The name, a double entendre, is a reference to the hotel's prime location, the 45-degree angle on the iconic wedge formed by Cherry and First streets and Cotton Avenue, and a nod to Macon's storied musical past, recorded in 45 records.
Norwood Smith, vice-president of sales and marketing for Mainsail, said the company delivers one-of-a-kind experiences for guests.
"The new luxury means being more than an upscale hotel. People want enriching experiences. We're storytellers in an authentic way. Look around. It's clear that the design team did its research and homework," Smith said.
Beaming, Teixeira said, "There's hints of Macon's past around every corner."
Hotel Forty Five's lobby is a departure from the grand entrances typical of hotel chains and feels inviting, with check-in akin to an inn or guesthouse. Seating is limited to tall, tobacco-colored leather and metal chairs around a high-top table. A long, curved wall features a custom wallcovering with a grid of Macon's downtown streets and the distinctive Hotel Forty Five logo.
The 94 rooms, including six suites, occupy floors 3 through 11. Rooms are spacious with a mid-century modern ambiance and sweeping views of downtown and beyond. Design elements are as disparate as a pint-size retro-style refrigerator and a large flatscreen television hung on the wall above it.
Touches of copper, mirroring the City Auditorium's famed copper roof, are seen in guest room furnishings and throughout the building. Creamy white drapes reflect Macon's prolific cotton crop, one of the city's earliest economic engines with transport courtesy of the celebrated Ocmulgee River.
And lest you forget you're in Macon, the large, rectangular art above the beds features an imposing face overlain on what Gene Jr. calls a "funky city map." Guest rooms have a sleek, sizable bathroom with a mix of high-end materials — octagonal shower tiles, a quartz countertop and Carrara marble floor.
The hotel boasts three food venues. Spacious and serene, loom (purposefully lowercased) is the hotel's signature restaurant, serving up contemporary Southern cuisine. Another homage to Macon is the expansive black and white wall photo of two female textile workers each paused over her work on an enormous loom, one wearing a colorized green dress.
There's a long bar, and walls of windows suffuse the room with light. There's a mix of seating with a few booths for intimacy. Contemporary wood furniture is topped with cushions in cool shades of soft green and caramel.
Steven Brockman, executive chef at loom, called his food largely simple in prep, streamlined in execution and crafted to allow paired flavors to shine. Raised on a farm in Nebraska, he draws culinary inspiration from his grandmother, who nearly a century ago prepared meals with fresh, in-season foods native to the area, honoring the rhythm of the calendar and the abundance of her own backyard.
Before arriving in Macon, Brockman worked in Martha's Vineyard, Montana, New Mexico and Maryland. He considers locally-sourced, made-from-scratch and cooked-to-order food the foundation of excellence at loom.
Reckon (also no capital, as in the Southern idiom, "I reckon"), a coffee bar by day and wine bar by night, winks at Macon's beloved cherry blossoms and annual festival. Large custom metal drapes with a cherry blossom silhouette cover the windows. An expansive, pillowed sofa in a deep copper encourages guests to linger over conversation, a beverage or a snack.
The windowed Hightales Rooftop Bar on the sixth floor is dotted with music memorabilia. The ample patio serves up widespread views of City Hall, Rosa Parks Square and miles of First Street, perfect for catching some of the city's best sunset views and sipping a signature cocktail honoring one of Macon's music legends, like the Allman Brothers' "Jessica," country crooner Jason Aldean's "Rear Town View" or Otis Redding's "Dock of the Bay."
"Figuring out the roof was the hardest part of the whole process," said Gene Jr. "It would have been great to put the roof top bar on the very top, but we've got so many systems out there — air conditioners, generators and elevator equipment. So, I designed an outdoor bar on six, but historic tax credit restrictions wouldn't allow any new structures outside."
Artwork and photography indigenous to Macon abounds. Every piece from the collection has significance, from giant black and white photographs of Parks Lee Hay and his wife and the Ocmulgee Mounds in the corridors, to the architectural signature stamp of all three architects — Gene Dunwody, Gene Dunwody Jr. and Robbie Beeland — in every guest bathroom. Additionally, each architect is honored with a personalized barstool in loom.
Celebration and meeting venues include Hightales (up to 50 people); the second floor Rhythm and Blues Ballroom (up to 80); event lawn (up to 75); and the Redding Room, an intimate space for up to 10 people behind the sixth floor bar.
Gene Jr. shared his thinking: "Because of the building's small footprint, we created spaces for outdoor activities including the patios outside Hightales and loom, and the event lawn."
Teixeira added, "We've taken a landmark and converted it from an office building to a unique hotel with a welcoming environment. Our spaces are designed for social conversations and gatherings, but for business meetings too, all with Southern hospitality."
Wheat called Hotel Forty Five a special property.
"They've preserved the history of the building and the story of Macon. Hotel Forty Five fits perfectly within the landscape of our tourism inventory, lifting up other hotels in the market and allowing them to be more competitive," Wheat said. "Everyone is excited, but unless locals book family, friends and events, like weddings, and go there for dinner or drinks — as well as Macon's other hospitality and tourism offerings — they can fade from vision."
Mainsail's Smith summed it up the symbiotic relationship between the new hotel and its city by saying, "Clearly, Hotel Forty Five's branding and Macon's history are interwoven. 22 is a good year for 45."
Amenities at Hotel Forty Five
Hotel Forty Five recently opened its doors, including its restaurant, rooftop bar, coffee and wine bar and meeting rooms to guests and residents. Here's what you need
TO KNOW BEFORE YOU GO. BY MANDI DELONG
LOOM
Loom is Hotel Forty Five's sit-down restaurant, which their website describes as a "signature, chef-driven restaurant." Customers can make reservations or requests for private dining online at loommacon.com. They're open for dinner from 5-9 p.m. daily and lunch from 11 a.m.-2 p.m. Monday-Friday and 10 a.m.-3 p.m. Saturday-Sunday.
HIGHTALES
Inspired by Macon's music scene, Hightales is Hotel Forty Five's rooftop bar on the sixth floor. While the bar is first-come, first-served for seating, interested patrons can request to rent out the bar through Hightales' website, hightalesmacon.com.
RECKON COFFEE & WINE BAR
Reckon has "an eclectic vibe," according to Hotel Forty Five's website. Public Relations Manager Jackie Reardon said, "It's a versatile space serving coffee in the mornings, transitioning to wine and more in the evening." Reckon is open from
7 a.m.-9 p.m. daily.
MEETING ROOMS
Hotel Forty Five also has several event spaces available to be rented. They have a ballroom (capacity 80) and a boardroom (capacity 10) on the sixth floor, and can also rent out loom, reckon or the event lawn (capacity 75). Interested patrons can email jteixeira@hotelfortyfive.com to get information about pricing and reserving any of those spaces.