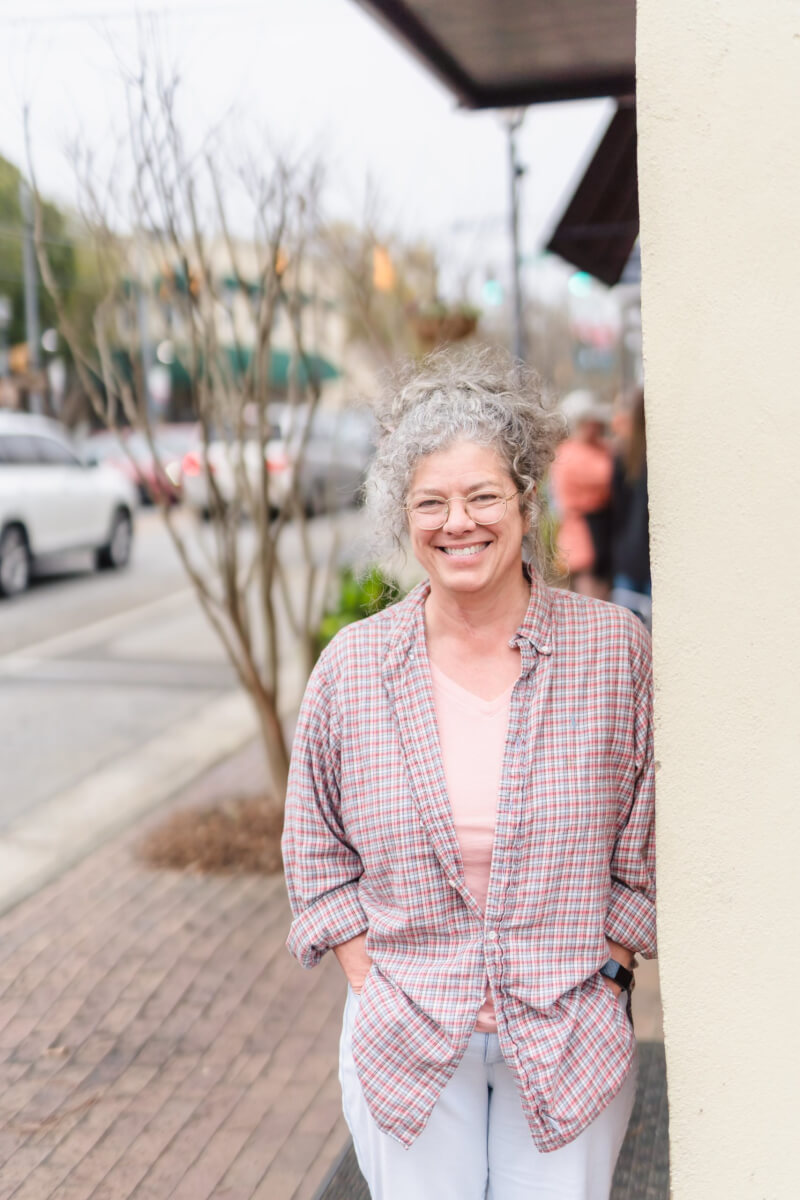 Planting seeds
Thanks to Jodi Daley, farmers market start-ups have grown into success for local businesses
By Michael W. Pannell
Photography by Mike Young
More is being grown at Middle Georgia's locally-operated farmers markets than the fruits, vegetables and produce on sale. There are more ingredients at work than the flour and spices in cookies, cakes and jams or ones in soaps and candles.
In the past decade, entrepreneur Jodi Daley has been at the center of starting and managing farmers markets and helping farmers, artisans and others start and grow their own businesses, often beyond the confines of the popular one-day-a-week markets.
Daley is founder of Warner Robins' International City Farmers Market, has managed the Perry Farmers Market and, for a season, was advisor and manager of Macon's Mulberry Market. Her vision has extended beyond such markets to encourage a friendly, informal network among farmers and artisans that benefits them and the public as well.
In it all, Daley has championed making healthful foods and products from regional producers available to the public with a special concern for consumers coping with low incomes.
IT STARTS WITH FARMERS
"For us, everything grew out of what Jodi started here," said Fernando Mendez of the Warner Robins market Daley started in 2010. Located at Watson Boulevard and Maple Street, it operates from 1-6 p.m. Thursdays. Mendez and wife, Margarita, run Crisp County's Marview Farms where they raise organic-fed livestock for the beef, pork, lamb, goat, eggs and fowl they sell at the market "all year, come rain or shine."
The couple have won awards for innovative practices.
"We credit Jodi with so much as far as our business goes," Mendez said. "She's hard-working and passionate about it and as result went out of her way to invite us here. Jodi always worked to recruit new vendors and their products. People make their living at these markets and Warner Robins is the only one we're at. People kept trying and buying more of our products and telling their friends."
Mendez said recognition from the market helped them sell at their farm and through a truck-route where people pick up orders.
Daley's work to help others succeed has resulted in a number of vendors beginning brick-and-mortar shops and operations of their own in various communities. While no one — especially Daley — claims she started their businesses or made them happen, the Mendezes and others repeatedly credit her as being a significant part of their beginning, growth and success.
Originally from Ohio, Daley settled in Houston County in the late 2000s bringing with her a passion for fresh, locally-sourced food and helping others appreciate and get farmers market items more easily. Her desire to connect farmers, artisans and buyers, and to create community among them, proved beneficial to all.
The trend of consumers to increasingly know where their food and goods come from and how they're produced — along with the desire to eat fresher and better foods sourced locally — suits Daley's farmers market ethic. Within the widening community of producers and vendors, Daley helped foster a reliance among them including the use of one another's products to create their own unique goods.
Joshua Hess makes artisan soaps and skin care products under his Sassy Alpaca brand. Hess began selling at the International City Market in 2019 and the Perry market in 2021. As business grew, he launched a brick-and-mortar shop at 2371 Ingleside Ave. with a soft opening in February and grand opening in March. He still sells at the markets, does pop-ups and frequents national events.
"If it hadn't been for Jodi establishing and working with the farmers markets, my business wouldn't have succeeded," he said. "Her network of local growers and artisans was and continues to be vital to my products' development and success of my brand — and I'm not alone."
Hess said since meeting neighbor-vendors, their products have become ingredients in his products. He gets beef tallow from Marview Farms. JG Apiaries supplies honey and beeswax. Citrus fruits come from Greenway Farms, who also grow and sell beef and livestock products and other products originating from their farm at markets. He gets magnolia leaves, rosemary and blueberries from Cindy's Bits and Pieces, and herbs, lemon balm and peppermint leaves from Ernie's Eggs. And the list goes on.
BRICK-AND-MORTAR BUSINESSES
Debbie Arledge owns Simply Southern Sweets Bakery at 1002 Ball St. in Perry where they offer "yummy stuff." The shop is on the square downtown across from the old courthouse parking lot, which the Perry market calls home on Saturday mornings. Arledge loved baking as a youngster and admits she might have been a teacher's pet in home economics classes. Arledge has always baked and done for others but started selling publicly at the Peaches to Beaches Yard Sale that runs through Perry to the coast. Then came tables at the Warner Robins and Perry markets, then a small donated space in Perry. Now, there's the storefront bakery.
"I do miss being outside in the sunshine and the great people who are always around," she said. "But being able to open our shop is such a blessing. Miss Jodi gets a lot of the credit."
Clay Oliver's Oliver Farm Artisan Oils is in Pitts, where they now have a store called The Station at 110 7th Avenue West. They make products highlighted by sunflower oils, peanut oil, pecan oil and other seed-based oils. There's also gluten-free flours and other items. The oils are cold-pressed and unrefined to be less greasy, and retain the beneficial nutrients and flavors found in the whole seed or nut.
Oliver Farm products are sold wholesale and online to restaurants and individuals and have become one of Georgia's hot-ticket items. They've been featured on the "tasteMAKERS" television program, which celebrates the "makers, farmers and chefs who are redefining the flavor of American cuisine."
Oliver said Daley played a significant role in the business' advancement and that she shows how one person with dedication and passion can have a far-reaching impact.
"Jodi provided one of several platforms we used, and helped create a market for us when there wasn't a demand," he said. "Farmers and other entrepreneurs may not know what others are doing or how to get products in front of people to gain customers. Jodi helped solve that around here. We were able to let people try our products and they liked them. People still come up to us and say, 'I first tried your oils at the International City Farmers Market.' Week in and week out, what you do there may seem small but, for us, it turned out to be huge. I'm thankful for Jodi and the people she put together who got behind our products."
One of those people is Rikki Waite who, at Daley's invitation, began selling empanadas made from her grandmother's recipe at the Warner Robins market. They were a hit and Waite now owns a popular Panamanian-themed café called My Grandma's Empanadas at 120 S. Armed Forces Blvd., across from Robins Air Force Base.
Waite is another example of someone now committed to using locally sourced products and one who readily acknowledges Daley's role.
"I was surrounded by such great people and started using their products, which were really, really great," she said.
That included Oliver's oils and flours and meats from Marview Farms as well as locally sourced eggs and even flowers for her restaurant's tables.
A STORE OF HER OWN
Feeding off the inspiration she gave others, Daley opened her own business, Bodega Brew, in downtown Perry at 1025 Ball St. Staying true to her land-to-table, locally-sourced product ethic, Bodega offers the likes of coffee roasted in Athens; baked goods, sandwiches and other items using Oliver Farm products; regionally bottled sodas; and craft beers and wines from area micro-brewers and wineries. She sells many farmers market products in her establishment and even brings in local musicians to entertain diners.
Bodega Brew offers outside catering and within, Daley said there's a comfortable, coffee-house setting to do work, study, have a meal or enjoy a favorite beverage with friends.
To focus on Bodega Brew, Daley put her farmers markets in other people's capable hands, again creating opportunity for more to do well in business.
Former vendor Joe Bossi is now the International City Market's owner-manager and the Perry market is operated by Main Street Perry. Daley stays in touch, though, and can be seen passing around treats to vendors from Bodega Brew.
"Jodi has had quite a good impact, grown community among farmers, producers and buyers and has helped a lot of people in business," Bossi said. "The fact I operate the Warner Robins market is evidence."
COMBATING FOOD DESERTS
Lacey Resch ran Macon's Mulberry Market, which operates from 3-6 p.m. Wednesdays, for almost 10 years and took Daley up on an early offer of help and advice. Daley worked closely with her and the market for several years and served as its manager briefly when Resch took on other duties with its operator, Community Health Works.
"Jodi is the real deal and helped the market a whole lot," Resch said. "She shared our desire to see wholesome food made available economically to those most needing it."
One method included the Georgia Fresh for Less program whereby those receiving SNAP/EBT dollars could get twice their money's worth of healthy produce. $10 would gain them an addition $10 more in healthful "free" produce.
"Technically, much of Georgia outside Metro-Atlanta is considered a food desert," Resch said.
Daley said food deserts essentially have to do with nourishing foods not being readily available in neighborhoods, typically poorer neighborhoods. She said the availability of truly healthful food is critical for the wellbeing of any community or individual.
"That's one of the reasons Jodi worked so hard to find new farmers and bring good products to the markets," Resch said. "And frankly, it can be hard to do with so few actual small farms in our area. Macon and Warner Robins were the first to become partner markets to leverage and promote our markets and get low-income programs."
Resch said she and Daley always saw the markets as business incubators and that when Daley points to businesses launched from them, it's not out of personal pride but pride in what others accomplish.
"I guess what's driven me professionally is the challenge and learning aspect of it all," Daley said. "The markets and now the restaurant bring new challenges every day, especially after COVID, and the need to learn something new only grows. And it makes me happy to see others happy, to see people get good food and small-business people succeed."