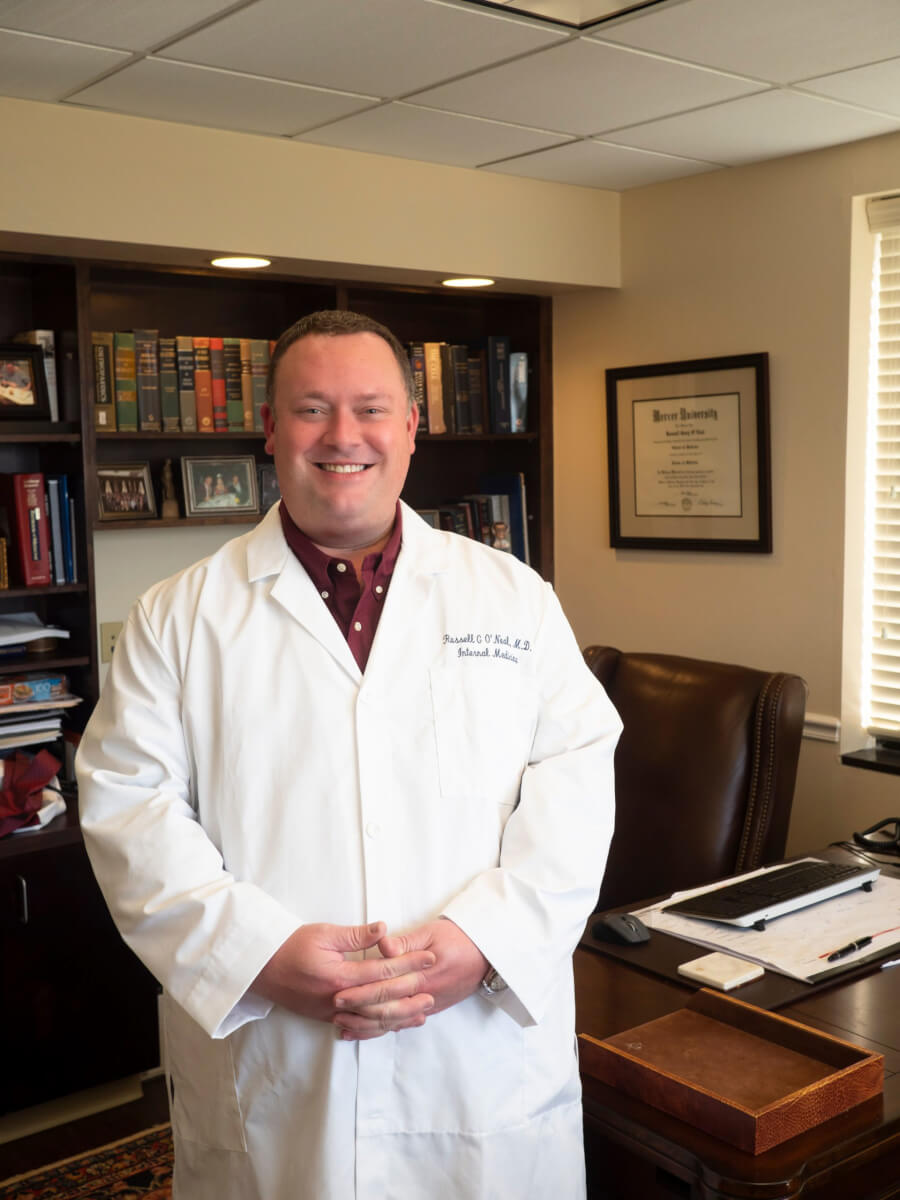 Live Well 2022: Russell G. O'Neal, M.D.
A SPECIAL ADVERTISING SECTION featuring middle georgia businesses that will help you live your best life in 2022. PHOTO BY JESSICA WHITLEY.
Russell G. O'Neal, MD
Physician – Internal Medicine
330 Hospital Drive, Suite 304, Macon
478-742-1010
russonealmd.com
What is the mission of your business?
My practice strives to provide superior, compassionate medical care for patients in the Macon and Central Georgia area.
How has that mission changed because of COVID-19?
COVID-19 has certainly brought many changes to the practice of medicine in general. During the height of the pandemic in 2020, when most people were sheltering in place, we had to quickly adjust our entire method of patient care. Inpatient visits were almost impossible, so telemedicine visits became the norm. While these certainly were effective in providing continuity of care, the ability to provide a thorough physical examination and obtain laboratory and diagnostic imaging testing were limited. Fortunately, this treatment modality worked well, and patient care continued. I must say, I still believe that seeing a patient in the exam room and being able to talk with and examine patient is particularly important, especially in the field of internal medicine, where I am frequently managing multiple chronic medical problems.
How does your business serve our community with inclusivity in mind?
In today's medical environment, access to affordable healthcare insurance remains a major hindrance in providing primary care services and managing both acute and chronic medical problems. While the majority of our patients are insured, we have programs in place to provide access to uninsured patients by our modified self-pay fee schedule. This allows those who are uninsured to have access to the medical care that they need.
How does your practice improve lives?
By practicing internal medicine, I provide primary care services for patients ages 16 and older. This includes annual physical exams and wellness visits, along with management of chronic medical conditions and treatment of acute illnesses. In providing these services, I can prevent progression of chronic illness and hopefully reduce morbidity and mortality. My goal is to help my patients live long, healthy lives and not be burdened by the long-term effects of chronic diseases.
What are you most excited about as we move into 2022?
I am most excited about the increased availability of effective vaccines against COVID-19. Booster doses will only increase this efficacy. The main challenge now is convincing the majority of the population to actually get vaccinated.
What challenges do you face, and how do you overcome them?
Practicing medicine today is much different than it was when I started over 15 years ago. The introduction of electronic medical records (EMR) has taken time away from actual patient care. While EMR systems certainly have many benefits, I have less face-to-face time with patients because of the documentation requirements that have been placed on physicians and mid-level providers. I frequently have to explain to patients that I now spend more time in front of a computer before and after a visit, then actually in the exam room. This is unfortunate. However, as technology continues to improve and some documentation requirements are eased, I am slowly seeing a movement toward bringing medical care back into the exam room and away from the computer screen. I am just hopeful that this will continue
What is a myth you wish people would get over?
Physicians order tests, make referrals and prescribe medications for purely financial reasons. If I order a test or prescribe medication, it is to help the patient. Unfortunately, social media helps to perpetuate these myths. Education is the best antidote. If a patient is concerned that tests are being performed unnecessarily, then they should discuss it with their physician.
What are you most proud of about your business?
I have a marvelous staff, and I feel that we provide first-class care to our patients. Not only do we keep people healthy and make them feel better, but we do so in a congenial environment.
How do you define "living well?"
I believe that if a person is healthy, happy and has a strong support network of friends and family, then they are truly living well.
When you're not working, how do you relax and spend your time?
I enjoy traveling, reading, watching sports (Go Dawgs!) and spending time with friends and family.
What needs to happen to help our community live happier and healthier lives?
I think Macon faces several challenges right now. First, violence and homicides are unchecked. It seems that hardly a week passes when there is not a murder or other violent crime. This needs to stop. I also think that there are many in the Macon community who still do not have access to adequate medical care, especially preventative services. If this could change, we would have a much healthier, and thus happier, population.
What are you most excited about right now in our community?
The recent announcement of the revitalization of the old Macon Mall is very exciting. Growing up in Roberta, my family and I spent a great deal of time in west Macon. Watching the decline of that area over the past several decades has been quite sad to me. I am hopeful that this will help to reverse that decline.
You might be surprised that: I was born right next door to where I now practice, when the Coliseum Park Hospital was the "new" hospital in town. Who would have thought that, over 40 years later, I would be practicing medicine in the same location?