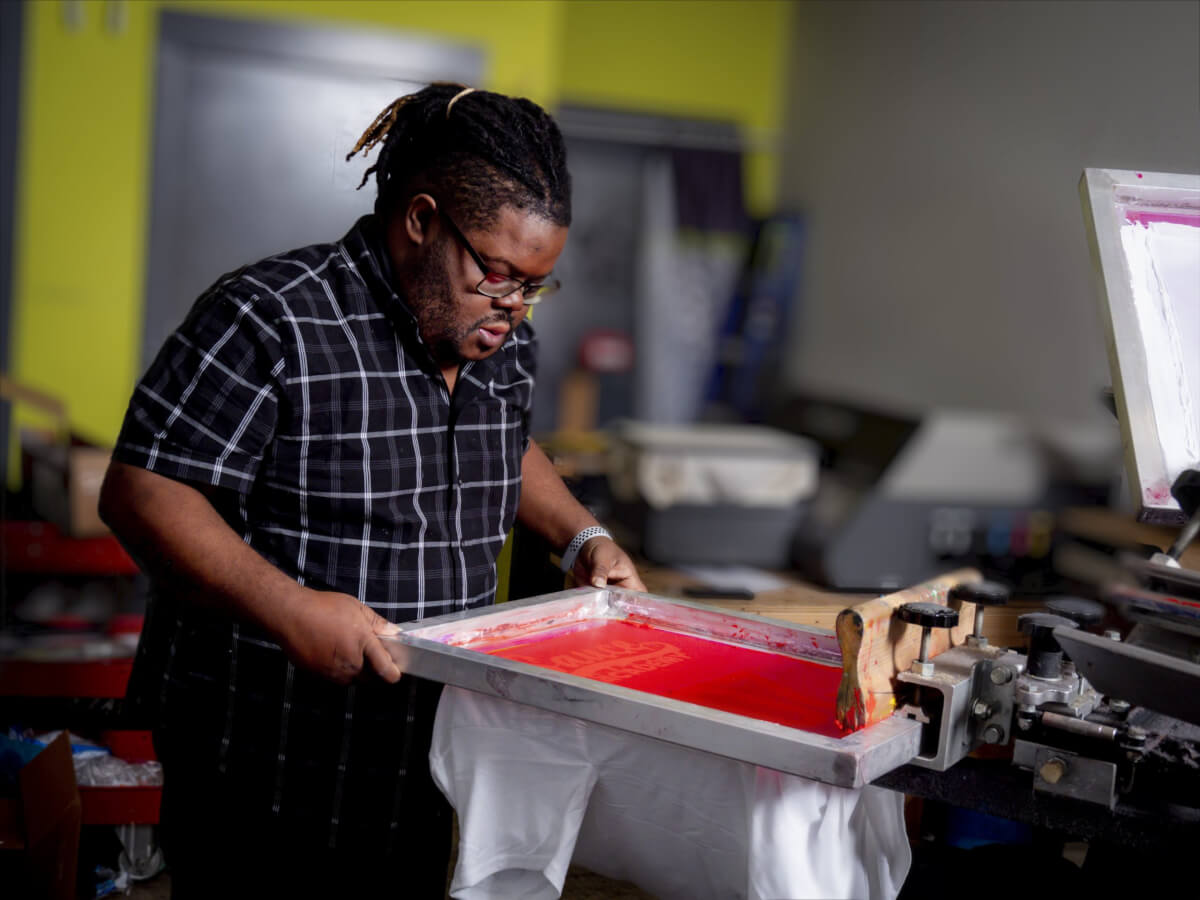 Success through struggle
These businesses cornered the market during the pandemic
By Kristen Soles McCrackin
Photography by Jessica Whitley
This is the second in a series of articles about businesses that launched and thrived during the COVID-19 pandemic. Read the first story at maconmagazine.com.
The pandemic caused much upheaval in all aspects of industry in 2020 and 2021. Truth be told, moving into 2022 some businesses are still feeling lasting effects. COVID-19 left more than human carnage in its wake; the death toll of broken businesses is high.
Against seemingly high odds, some entrepreneurs unlocked a secret formula for success during this dark period and took their trade to the next level of success.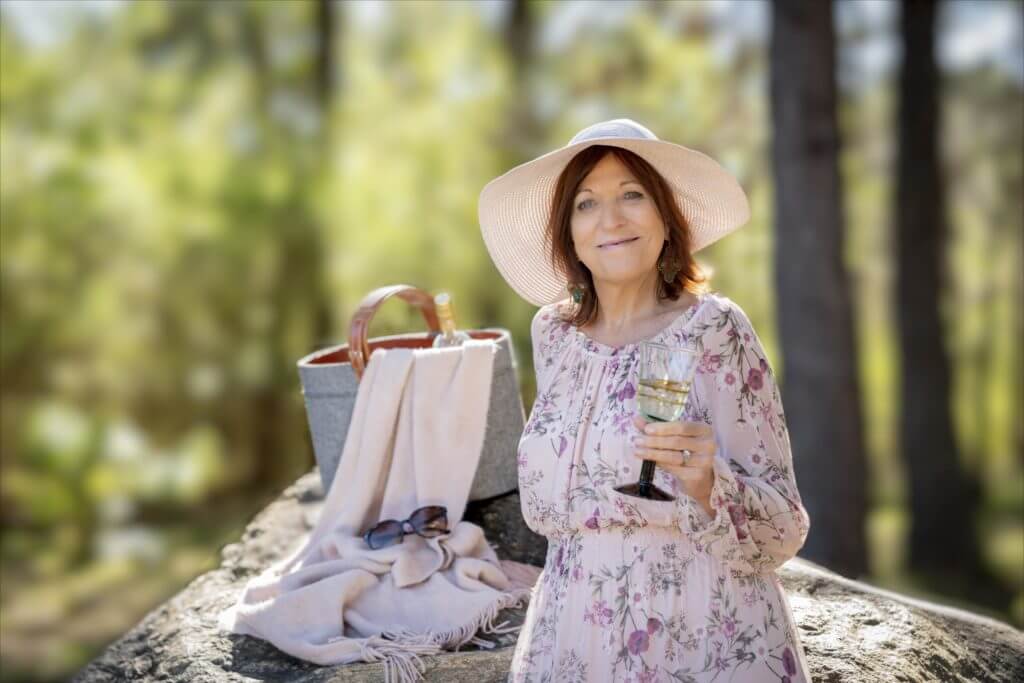 AMBITIOUS GRAPHICS
Ambitious Graphics launched in May 2016 as a graphic design and T-shirt shop with Wayne Woodard and Andreau Adside at the helm.
"We started out of Wayne's two-room apartment, then moved to the back of my dad's church before we got our space," Adside said.
Woodard described their services by saying they, "Specialize in graphic design but love making T-shirts — that's the sweet spot. We're a one-stop shop for anyone who wants to specialize in something."
Currently located on Poplar Street, the shop has plans to move to Third Street in the near future due to its continued growth, which Woodard attributed to the pandemic: "People were able to stay home and work on their dreams."
Along with logo designs, signs and pressing T-shirts, the business offers two clothing lines, "For the Love of Macon" and "478," which retail in the shop alongside Woodard's clothing lines, "Comfort for Suckers" and "American Hustle."
During the pandemic, Woodard said retail portion of the business took a hit because people weren't shopping in the store. Luckily, the printing portion of the business more than compensated for this loss.
The owners of Ambitious Graphics seek to help their customers realize their dreams and lift up their community.
"We try to help small businesses as much as we can — branding and rebranding — and doing little events to help our community and give them a platform," Woodard said.
Adside said what makes them special is that they "really care about our customers and we want them to come back."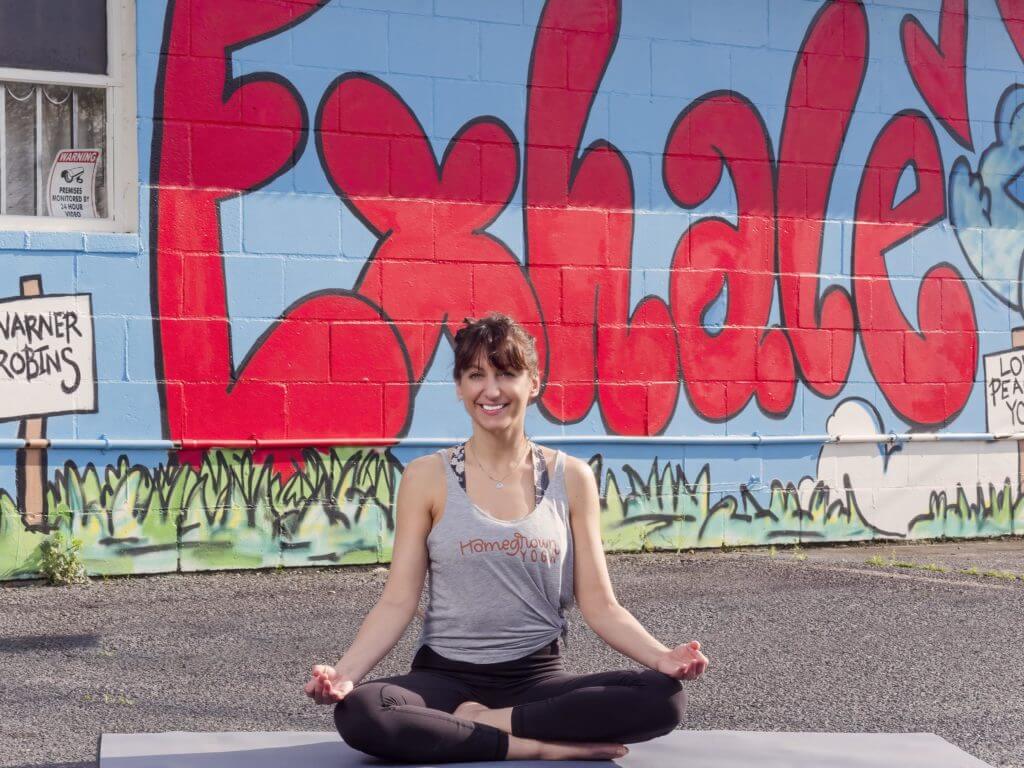 HOMEGROWN YOGA
Rachel Gerrity opened her second location of Homegrown Yoga in 2021 after her studio in Warner Robins proved prosperous.
"These are my roots. I live in Macon. And I'd always known that I wanted a space in Macon, as well," she said.
However, the second location wasn't in her immediate timeline — until suddenly it was.
"I was driving down Vineville Avenue and saw this building for sale. I wasn't on the search for a building, but I saw this used car dealership that had an outdoor space. What I knew from COVID was that even if COVID disappeared, people like being outside. So, I immediately called the realtor and went and looked at it and knew that was the space," Gerrity said. "I think if I hadn't found that, I wasn't going to lease an indoor yoga space. I didn't feel like that was where I wanted to go. The thought was there, I saw the building and it all kind of came together."
Gerrity faced serious obstacles opening her new location during a lockdown, such as the absence of foot traffic on a business that depends on in-person activity, as well as another vital component to the yoga practice.
"The biggest way that we've ever marketed the studio is through open houses. We couldn't do that, so the challenge was, how do we market ourselves without actually having to get a ton of people in the door at one time? We learned how to market ourselves with Facebook Live or we got out of the studio and did this 'All Roads Lead to Home' class at the Museum of Aviation and the Museum of Arts and Sciences. We did one at Fall Line Brewing Co., where we took people into an outdoor space that was much bigger than ours," she said. "There's also the challenge of breathing. Yoga is about breathing, so there's the challenge of creating an environment where people feel safe to come into a room with strangers and we tell them to inhale and exhale — and that's hard."
Now, as we are easing back to normal, Gerrity said she feels like Homegrown Yoga has settled into a groove that feels like home. She believes the pandemic, "highlighted that taking care of ourselves is much more important than people thought. The pandemic was a wakeup call for people to take care of themselves and a marketing tool for what we do. People, now more than ever, have said to me that yoga is something that I really need at this time, so it affirmed my belief that yoga is not going to be some fad that comes in and out."
Homegrown Yoga offers sunrise classes, hot yoga, meditation classes and kids' classes, and they utilize their unique outdoor space for various practices.
"It's a nice little oasis back there. On a night when it's really nice and pretty, we head outside and set up a sound system out there and so it gives you a yoga studio experience, but with the idea of fresh air and being able to spread out," she said.
No matter your age, yoga can be for you.
"Yoga is such an accessible practice that we have people of all ages hopping into all of our classes. We do have classes that are more low-key, physically, for people who are new or have degenerative diseases. Yoga is not a form of exercise that anyone ages out of," she said.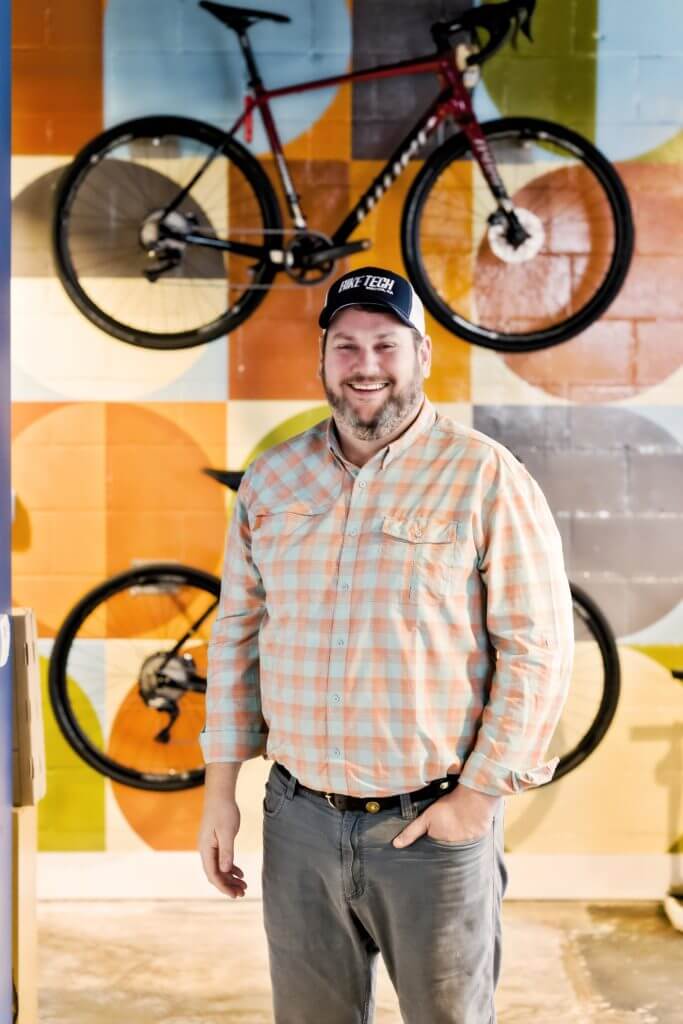 BIKE TECH
Bike Tech is a local tradition for cyclists in Central Georgia. Always a family-owned shop, it opened in 1982, with Bobby and Elizabeth Schorr taking over as the owners in 2015.
It was originally located on Vineville Avenue, but the Schorrs moved it to 909 Second Street in July 2021 in favor of a floorplan that would maximize customer service. This is what Bobby Schorr believes makes them special.
"The quality of the product and service we provide is unmatched by anyone else in or around town. What makes us unique is our ability to keep someone on the bike they've had for years and years with our service department. We take a tremendous amount of pride in the training our staff undertakes to keep people's bikes running strong. We have many customers who bought their bikes from us in the 1980s that are still bringing them to us for service," he said.
Despite the move during a pandemic, the store has continued on an upward trajectory in business.
"As the world was shutting down, people were looking for an outlet to get outside. We lovingly said, 'Cycling is the original form of social distancing in terms of exercise!' The industry as a whole, it was a huge boom," he said.
Then the challenges hit. By April 2021, the cycling industry had sold through all the bikes that were available in the U.S. Since then, there has been an inventory shortage.
"I have orders I placed over a year ago that maybe I will get in November or December of this year — maybe," he said.
Despite that, the ride has been positive.
"We found new ways to communicate with our customers, like texting. We continue to offer pick-up and delivery, although we had to stop this for a long time because of the pandemic. We've been able to host events like community rides, and we're helping new people get into the sport to show them how to ride in and around Macon," he said.
SO PRETTY PICNIC
Event planner and entrepreneur Kathy Nolan kicked off So Pretty Picnic at the beginning of the pandemic when she realized her then current means of employment, Hip Girl Trip, a tourism option geared toward women's groups, was effectively out of business thanks to social distancing.
"I decided, when I had all these picnic baskets and odd things I've collected over the years and when we had to hang out in pods of six people or less, that we could create an intimate special event," she said.
So Pretty Picnic is a customizable luxury picnic service. Nolan uses vintage rugs, tables, cushions, stemware, cutlery and dishes to provide unique experiences. She offers a number of menu options that are customizable, catered by Saralyn Collins. Her base price is a very reasonable $175 for two to four people. If you want an event with a bit more bazinga, she can do that, too.
Nolan's most unique experience was a James Bond birthday party.
"The birthday girl wanted something special and everyone dressed in James Bond attire. The party was in the backyard and there was a formal garden," Nolan recalled. "She came out on the balcony in full red sequins and sang an Adele song with the saxophone playing. I was on the ground shining a spotlight on her from the garden. There was fire everywhere with fur throws on everything, and James Bond themed food items!"
No stranger to creativity and people, Nolan has spent her life working in travel tourism, as a writer and as a co-owner of Bright Ideas Group marketing agency.
"These are things that I personally love to do so I'm trying to find a way to do them and make a career out of it. It all goes back to getting people together for a common cause of celebration — whatever that celebration may be. Just little extra touches take it from just having a party to something very special," she said.
As we wrap up our series, we'll feature businesses that filled a unique niche as a result of the pandemic. We'll also offer some tips on starting a small business as well as some interesting feedback from NewTown Macon's Emily Hopkins on downtown Macon's recovery.