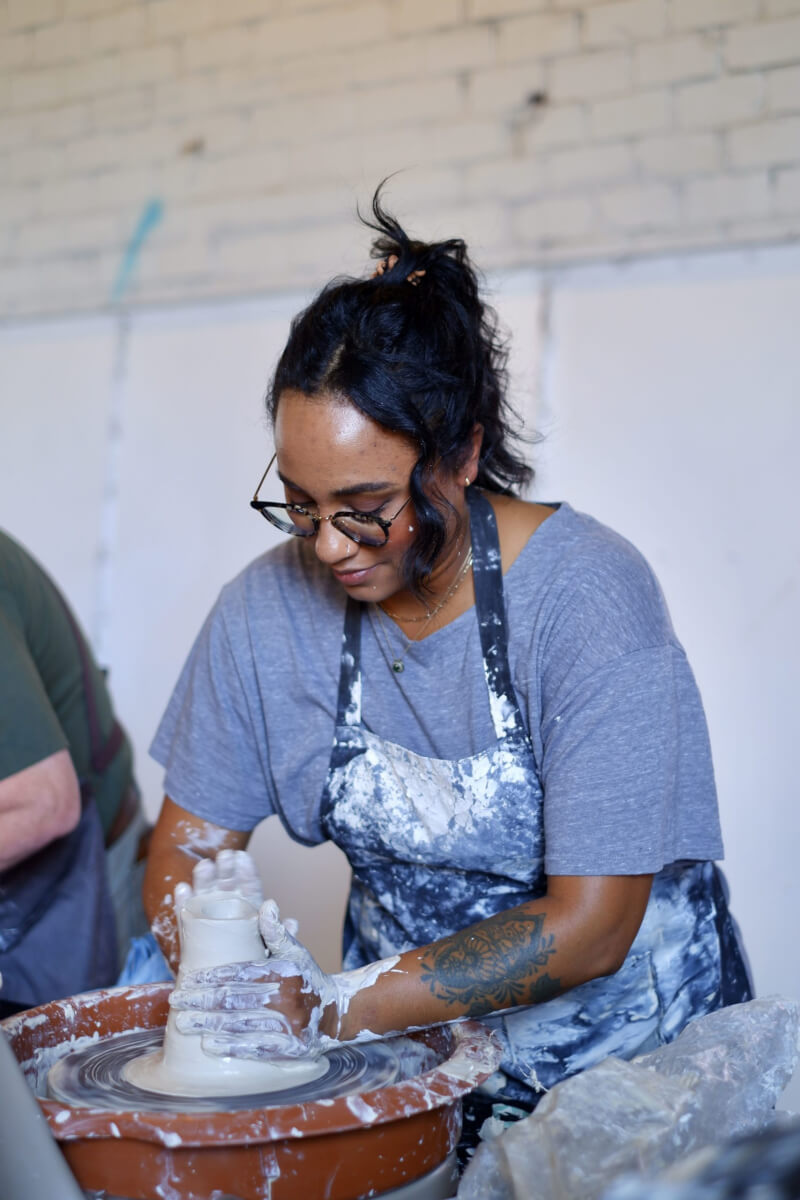 The magic of Macon's 2022 All Hands Art Festival
Driving through Downtown Macon's industrial district, I had the distinct feeling that I was lost in a space outside of time. The GPS directed me down a narrow road lined with overgrown warehouses until I discovered a group of buildings that dramatically stood out from the rest. They were covered in bright colors, painted murals, and intricate graffiti and sat behind rows of tents. I knew I had arrived at my destination: Macon's All Hands Art Festival.
The festival was held over the weekend from Sept. 30 through Oct. 2. For a $5 entry fee, guests entered into a strange sort of wonderland. Over a dozen art vendors displayed their crafts, which ranged in medium from jewelry to intricate pottery, stained glass to metal work, and even bonsai. Live music and food vendors drew the community deeper into the heart of the festival, an invitation to celebrate the artists themselves.
I learned that the brightly colored buildings surrounding the artists were once on the demolition list until they were revitalized by Triangle Arts Macon in 2019. Triangle Arts Macon worked with the 567 Center for Renewal and Visit Macon to create the first All Hands Art Festival in 2022. Its goal was to celebrate artists who work with their hands to create work with wood, glass, clay, and metal.
Melissa Macker, the executive director for the Center for Renewal, said that though Macon has a few art festivals, painters and paintings tend to get most of the attention. "We thought, wouldn't it be fun to have a festival which showcases these more industrial kinds of arts, like your pottery and glass and wood and metal, that maybe isn't as common or people don't think of as art? They can see not only the amazing art that's made but also see it in action and how it's made," she said.
Many of the Macon artists I spoke with had been practicing their craft for decades. One of these was Darlene Murphy, who has been creating and selling her art since 2004. Her company, Freestyle Art and Design, sells handcrafted jewelry and other pieces made from copper and sterling silver. Each piece is full of bright color and natural intricacy. When I asked her about her art, she said she loves the freedom it brings her. "I create my own worlds with my art. Every piece is like a little universe to me," she explained.
Macker said her favorite part of the festival is the art olympics. The olympics are a series of technical, fast/paced challenges that allow artists in each medium to demonstrate their skills. Viewers looked on as the artists were given a variety of tests. Each round ended with applause from the audience. The winners of each game received a trophy with a handprint fashioned from glass, clay, wood, or metal.
Macker said the festival was a success. "It's been amazing so far," she told me, smiling. "This is our first time doing the festival, so we didn't know how it would go, but it's been amazing. Tons of people have come out and had a great time. The artists are all happy."
The All Hands Art Festival felt, in the same way Murphy described her art, like its own mini universe. Everyone who left the festival and drove back down the dusty road must have felt, as I did, that they had taken a piece of this magic with them. I hope that the 2022 festival will be the first of many to come.