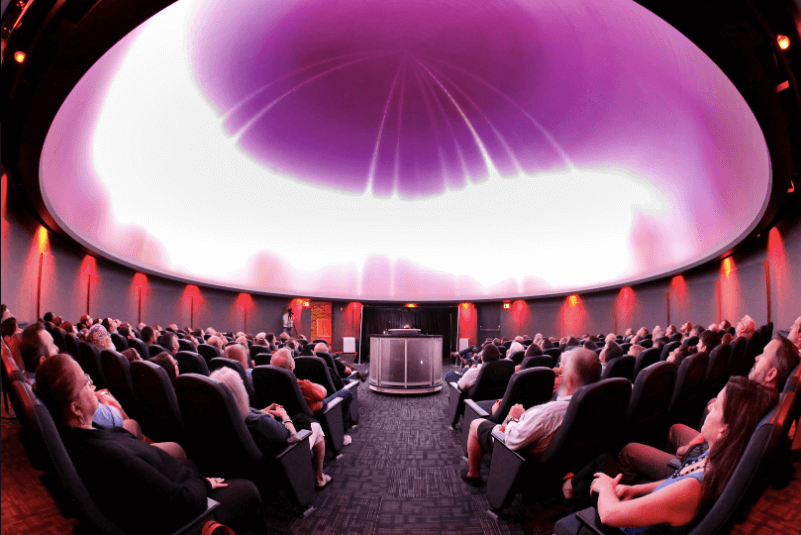 The Museum of Arts & Science's annual Fulldome Festival returns for its fifth year
By Michael W. Pannell
This August, adults can immerse themselves in travel, stories, and cutting-edge art; families can dive into the inner workings of trees; and kids can submerge themselves in a coral reef and explore distant moons – all from the comfy seats of the Museum of Arts and Sciences (MAS).
It's part of exploring and enjoying filmmaking's newest technologies as the museum showcases immersive films during its annual Fulldome Festival, August 18-20.
In partnership and running concurrently with the Macon Film Festival, the Fulldome Festival is in its fifth year using the museum's Mark Smith Planetarium's 44-foot, 360-degree overhead projection surface.
This year, the festival doubled its offerings with 39 innovative fulldome films from 14 countries including Germany, Canada, Australia, Japan, and Poland. Film genres from the family-friendly to educational, travelogues to boundary-pushing art explorations are represented.
"We're proud to offer an accomplished international juried competition, resulting in three days of in-person fulldome screenings," said Susan Welsh, the museum's executive director and fulldome advocate. "Increasing access to fulldome projection technology, encouraging filmmakers to experiment with this medium and growing an audience for it are all goals we're achieving."
It's rare to find a US city of any size that brings together the fulldome films offered at the festival, giving evidence of MAS's unique nature and growing recognition as a world-leading, fulldome hub. MAS not only shows films but has commissioned, in partnership with the John S. and James L. Knight Foundation, international award-winning presentations like "Sonolumin" and "Stardancer's Waltz."
"I was blown away during my first Fulldome experience in Macon in 2017. Those of us in the audience were treated to art films, created to take advantage of a Fulldome 360 degree projector. We weren't watching a film, we were literally experiencing the film from all angles." said Victoria Rogers, vice president of Knight Foundation's arts program. "The Macon FullDome Film Festival showcases the creativity of artists working at the intersection of art and technology and introduces their work to a broader audience. In commissioning artists to create new works for a FullDome experience the Macon Museum of Arts and Sciences is contributing to the evolution of an evolving art form."
The Fulldome Festival has gained further kudos through a number of firsts such as showing the first full-length, narrative film, "Indirect Actions," and the first-ever fulldome film of Japanese Butoh dance-theater, "Hiruko."
This year's educational and family films include films like "Dinosaurs: A Story of Survival," "Legend of the Enchanted Reef" and "Kitz the Cat's Supermoon Adventure."
Other highlights include the science film "Living Worlds," followed by a Q&A with maker Ryan Wyatt, and "Lands of the Americas," an art documentary using innovative techniques.
"Those interested in the more artistic experiences should attend 'A Night of Immersive Showcase,' which shows the Top 10 of this year's most innovative content," Welsh said. "We're excited to introduce 'Partita for 8 Voices,' an a cappella composition by Pulitzer Prize-winning composer Caroline Shaw that places viewers at the center of eight singers in a circle and pairs the oldest means of expression – the human voice – with cutting edge visual art and graphic animation. It's a powerful immersive experience."
Welsh said explaining the fulldome experience can be difficult. The solution: "Come experience a fulldome film for yourself."
Fulldome films are presented in genre blocks throughout the festival. Some films are only five minutes long while others are feature-length.
Scheduling information and ticketing are through the Macon Film Festival at maconfilmfestival.com. There's more on the Museum of Arts and Sciences at masmacon.com.