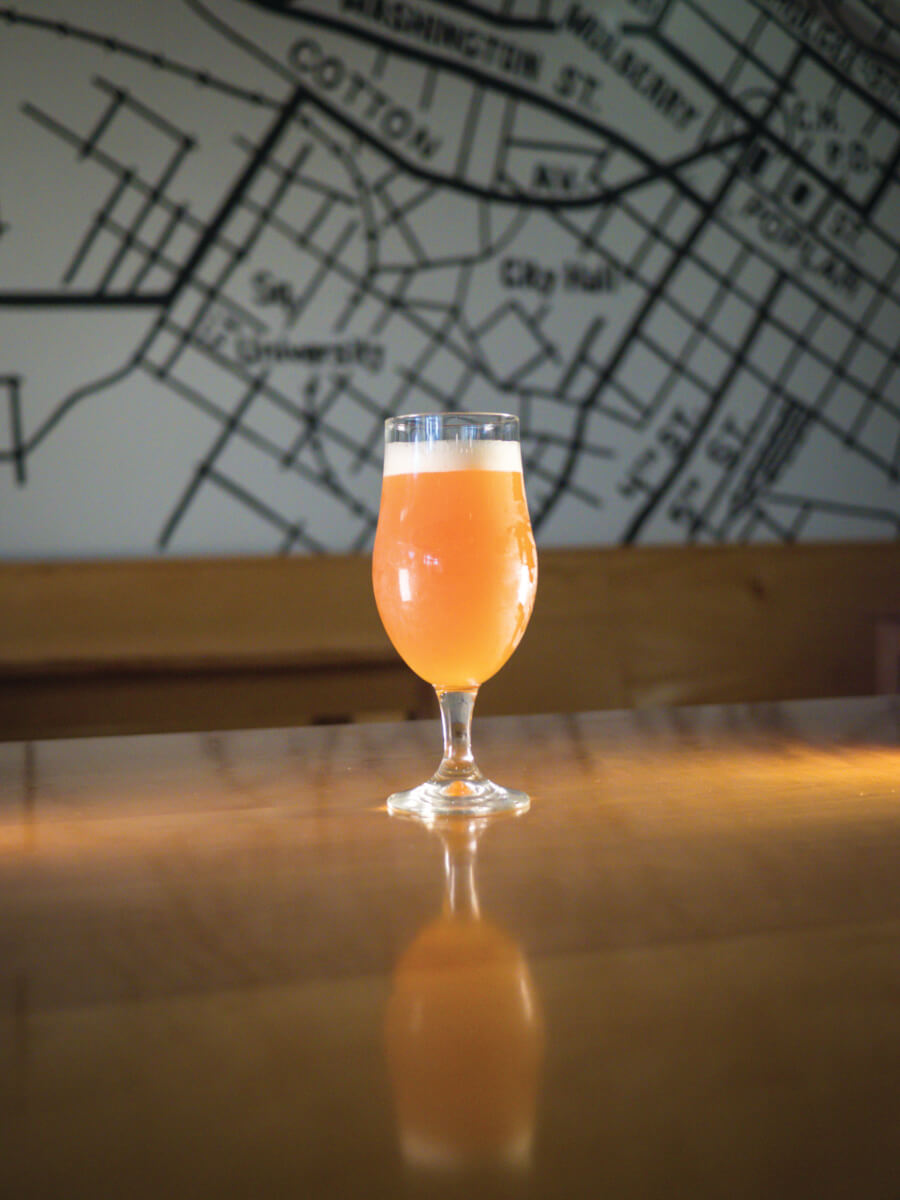 Crushing it
Explore Macon's Bubbling Beer Culture One Pint At a Time
By Jane Winston
Photography by Jessica Whitley
What does a Runaway Bride with Sea Legs do when she befalls a Muscogee Curse given to her by a Norseheart? If you are beer lover in Macon, the answer is simple: She pours herself a pint – or four.
Many a cold beer has been enjoyed in and around Macon, but if you want to sip on any of the above, you'll need to head to one of our local breweries. Although Macon's oldest brewery, Macon Beer Company, has been brewing since just after Prohibition, in recent years the city's beer culture has exploded faster than a freshly popped IPA.
Macon's love for beer has resulted in brewpubs, beer gardens, beer festivals and even beer yoga. It's a boon for tourism, too.
"The development of the Macon beer scene has been crucial to attracting a new group of visitors to our destination," said Gary Wheat, president and CEO of Visit Macon. "With the addition of new breweries, beers and the creation of a Visit Macon-Rock Candy 'Behind the Beer' Tour, Macon is positioned as one of Georgia's emerging beer destinations."
Josh Rogers, president and CEO of Newtown Macon, said the more things made locally that people are able to buy and consume, the better it is for our economy.
"Research shows that far more money stays here when it's spent here, enhancing our schools and community," he said. "Buying local beer is fresher, tastes better and supports more local jobs than national brands, along with reviving historic buildings, revitalizing our downtown and providing great opportunities for us to meet and get to know our friends and neighbors in their beautiful breweries. Local beer is good for our economy and good for our community."
Longwood's, an international destination research company, conducted a study for Visit Macon a few years ago to establish our city's visitor profile.
"It noted that the average overnight travel party size to Macon for leisure was 2.5 people and the party spent $205 per day," said Wheat. "An individual overnight leisure traveler to Macon will spend $78 per day on lodging, food, entertainment, etc."
That number includes $30 of food per day, per overnight individual. Arguably, that number includes local beer consumption, especially when you consider research in other cities.
"In his article, "Eleven Signs a City Will Succeed," national correspondent at The Atlantic and co-author of the national best-selling book, "Our Towns: A 100,000-Mile Journey Into the Heart of America," James Fallows noted this after developing an informal checklist of the traits that distinguished a place where things seemed to work:"
"In our experiences (after visiting half a dozen cities), these things were true of the cities, large or small, that were working best. … They have craft breweries. One final marker, perhaps the most reliable: A city on the way back will have one or more craft breweries, and probably some small distilleries, too. … A town that has craft breweries also has a certain kind of entrepreneur, and a critical mass of mainly young (except for me) customers. You may think I'm joking, but just try to find an exception."
Fallows visited Macon in 2018 when he joined Historic Macon Foundation as keynote speaker for the inaugural Revolving Fund Summit.
But don't just take his word for it, head downtown and check it out for yourself. All of these breweries are comfortable, family-friendly places to meet up with friends for good food and great beers. Even if beer is not your thing, the food alone is enough reason to check out the historic buildings which house Macon's four breweries. And stay tuned: We hear there is talk of distilleries on the rise in Macon, too.
Macon Beer Company
The oldest brewery in Macon began brewing again in 2013, the first to do so after Prohibition, in a former industrial plant on Oglethorpe Street.
"The original building now serves as the distribution center for the new brewery, distillery, restaurant and beer garden, which is located on Second Street," said owner Yash Patel. "I like the communal aspect of coming together with friends in a nice beer garden and enjoying a cold beer. It's these aspects that escalated my current interest in the industry."
The Second Street store-front is the former home of Independent Laundry, a commercial coin-operated laundromat. A lifelong resident of Macon, Patel considers Macon Beer Company to be Macon's hometown beer.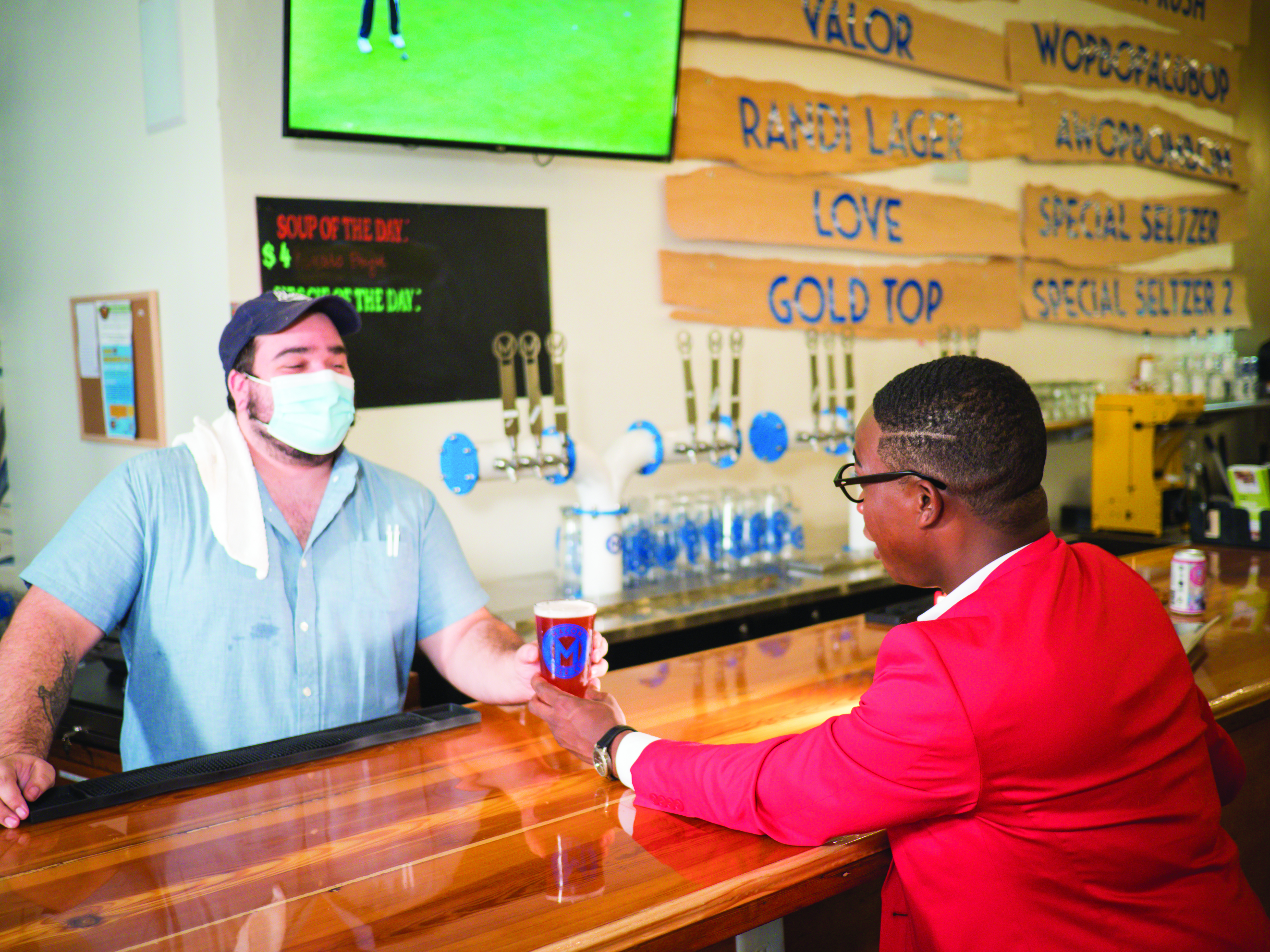 "Macon Beer helped spark the culture of craft beer in Macon," he said. "Our distinction is that we don't really chase beer trends, but focus on classic styles of beer. We do experiment, but we believe that beer should be beer and not a candy drink."
Although they craft their own bourbon, vodka, gin and rum, beer always will be their staple, and Macon Love is their signature brew.
"Macon Love is what I consider to be our signature beer," Patel said. "It is the one that brought recognition to our brewery. It is beautiful in color, and absolutely delicious."
Macon Love: A cherry wine profile mellows the rye's sharp complexities with a dry fruitiness that isn't too sweet. This blonde rye ale with cheerful pink foam was originally brewed to celebrate the Cherry Blossom Festival.
Ocmulgee Brewpub
The Ocmulgee Brewpub building on Second Street was originally a goat cart repair shop, then a hardware store, sporting goods store, bike store and finally a barbecue restaurant prior to Nate and Kaitlynn Kressin moving in.
Kaitlynn is a native Maconite, and Nate is from Ohio. After the pair met in college, they fell in love with "quirky Macon," and decide to make it home.
"Nate opened Just Tap'd in 2014, which pitched him head-first into learning about beer across the country," Kaitlynn said. Shortly thereafter, the idea of a brewpub began to ferment, and in 2016 the taps were flowing.
Kaitlynn credits much of the success of Ocmulgee Brewpub to their brew master, Doug Evans, and their culinary staff, who prepares some of Macon's most delicious burgers.
"Doug enjoys traditional brewing styles and perfecting age-old recipes," Kaitlynn said. "Ocmulgee's flagship IPA beer, Muscogee Curse, is traditional yet full of hoppy goodness. Our customers love it, and if we can keep them in Macon and coming back, great!"
Muscogee Curse: Balanced IPA with a good citrus and melon taste. Tangerine, blueberry and passionfruit make up the aroma and the subtle nuances of this beer. Not overly bitter with lots of hop flavors.
Piedmont Brewery and Kitchen
Longtime Macon residents Brian Whitley and Richie Jones opened the doors of Piedmont Brewery and Kitchen in March 2017. Brewmaster Whitley said brewing beer started as a hobby.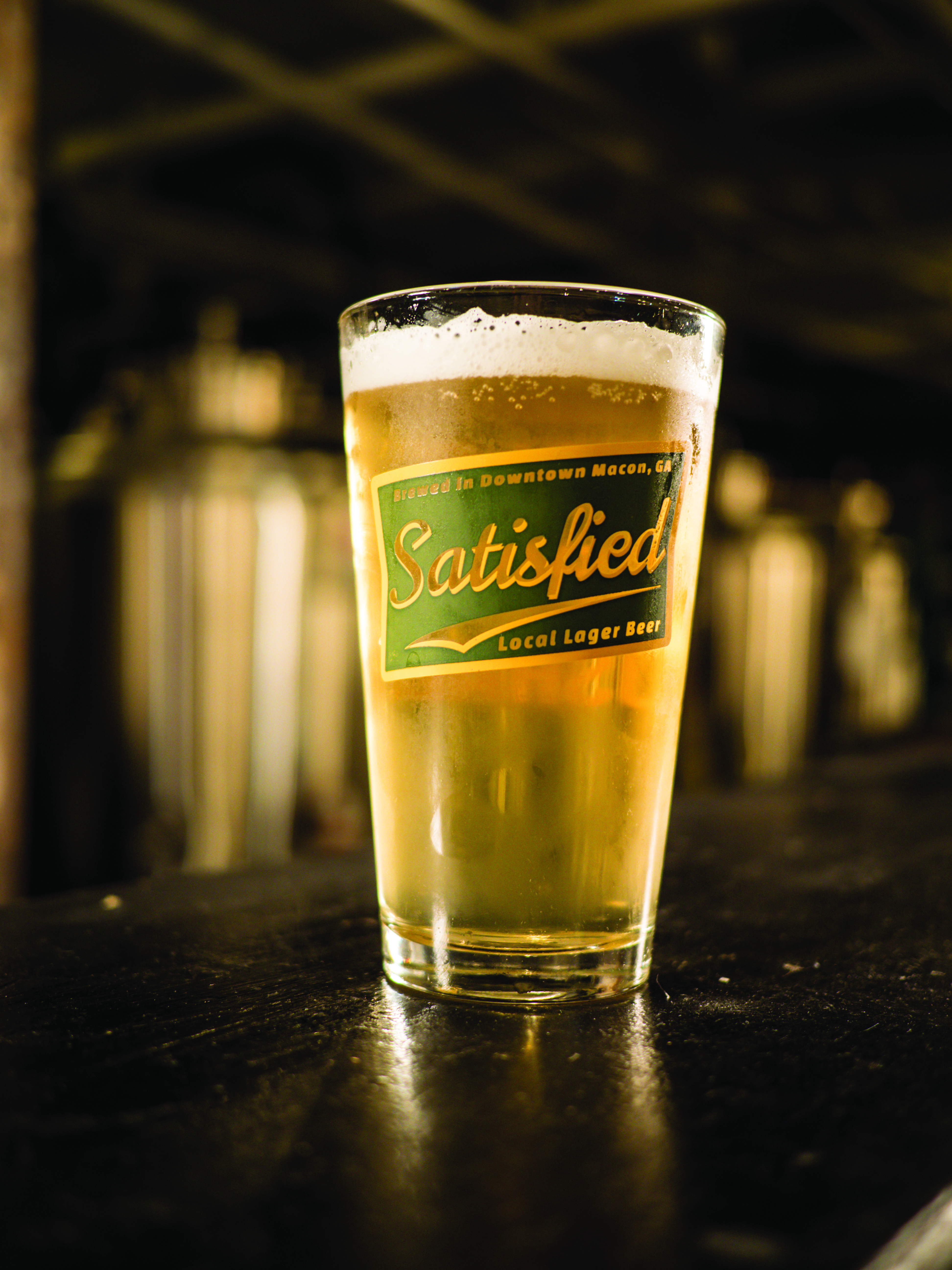 "I began brewing beer in my carport at home. As I began winning awards, I began taking it more seriously. Three or four of my original beers are brewed in this brewery currently," Whitley said.
Then, he met Jones.
"He had a history of running incredible bars and fine restaurants," Whitley said. "Combine that with my love for making beer, and it appeared we were destined for Piedmont Brewery and Kitchen."
When Whitley and Jones were raising the necessary capital to open Piedmont, they were "thrilled" to meet the folks at Central Piedmont Investment Group.
"They are a talented and diverse group of professionals who not only helped us with capital investment, but also used their talents and resources to help get us off of the ground. Three years later, we have been able to repay their investment plus a return, giving them the additional resources to go out and help others with big dreams like we had in 2017," Whitley said.
Bob Easter, managing director of Central Piedmont Investment Group, said his group was proud to have helped launch Piedmont.
"The partners at CPIG want to help founders launch and grow their businesses by investing funds, but also by sharing experience that they have gained from their own businesses and lives," Easter said. "We are proud to have had a hand in helping Brian Whitley and Richie Jones launch their wildly successful Piedmont Brewery & Kitchen. We look forward to continuing to see crowds pack their place daily."
Not only is Piedmont a restaurant with good food and good beer, it's a place where families can come and have a good time. Those good times include an arcade on the building's bottom level. Before becoming a brewery, the Third Street building sat empty for several years, but previously it had been a general store and at one time a crematorium.
"We even believe that the place may still have a few lingering 'spirits' based on some things we've seen and heard," Whitley said, adding that if any visitor can figure out why the floors of the building slope out toward the street, he'll treat them to a free beer.
We suggest you try their signature beer, Satisfied Local Lager, which won a silver medal in the 2019 U.S. Beer Open championship in the American Lager category.
Satisfied Local Lager: Modeled after Schlitz, the beer that made Milwaukee famous, this beer is crisp, cold and crushable. It's light on color and big on flavor.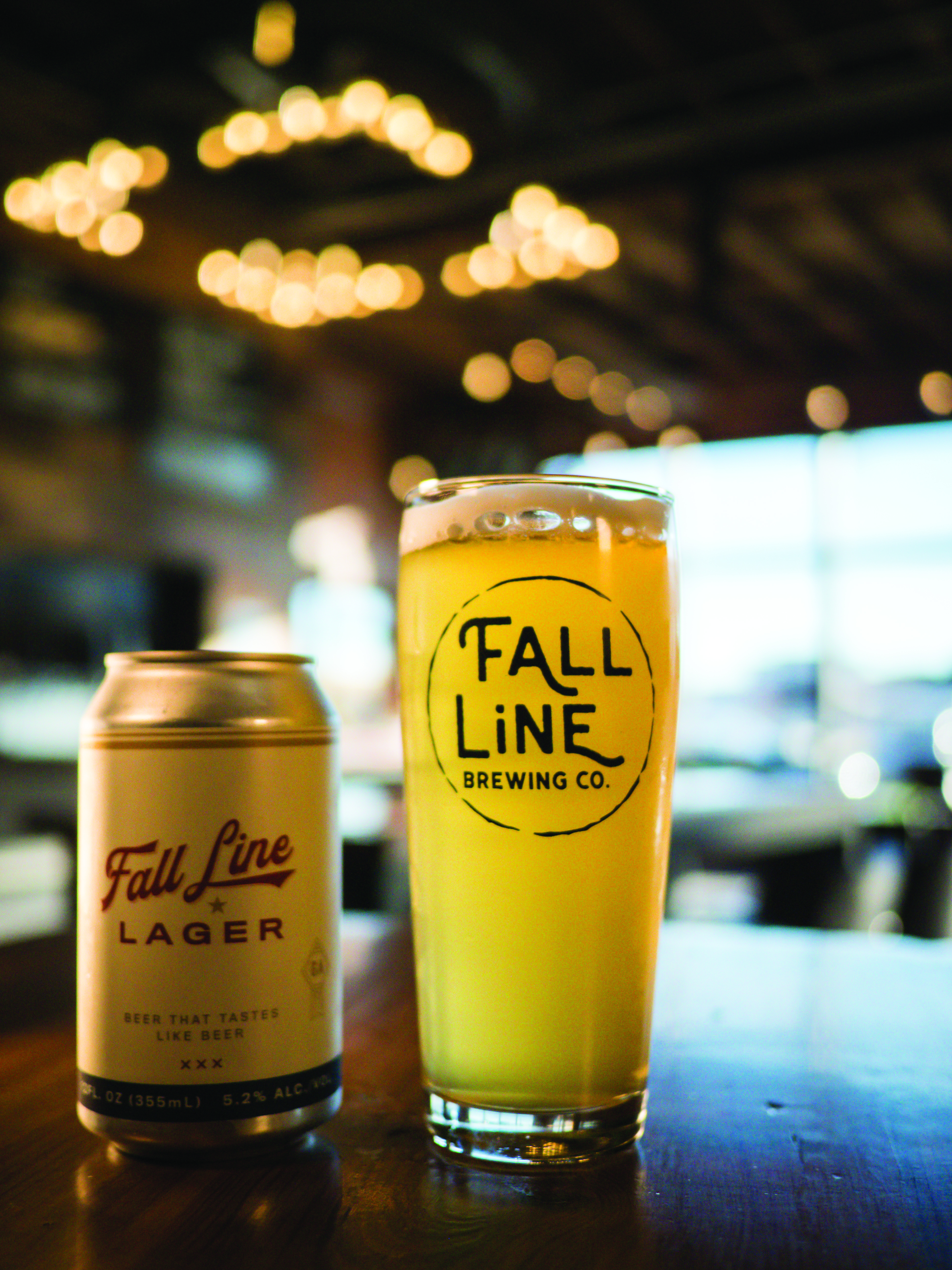 Fall Line Brewing Company
"We are a full-scale brewery, with a full kitchen, large outdoor beer garden and an all-inclusive, 12,000-square-foot event venue," Kaitlynn said. "We love to throw a good party and starting this brewery opened so many doors for us to be able to continue doing what we love and supporting the local community. In the future, we will be hosting fun events such as concerts, festivals and beer yoga."
In the meantime, take a seat in the sunshiny beer garden and sip on Fall Line Lager.
"Fall Line Lager has plenty of flavor, but is light and crisp enough to enjoy a few while hanging out with friends," Kaitlynn said.
Fall Line Lager: A light, crushable beer that tastes like beer. Easy to drink and great for traditional, American lager drinkers looking to try something locally made.