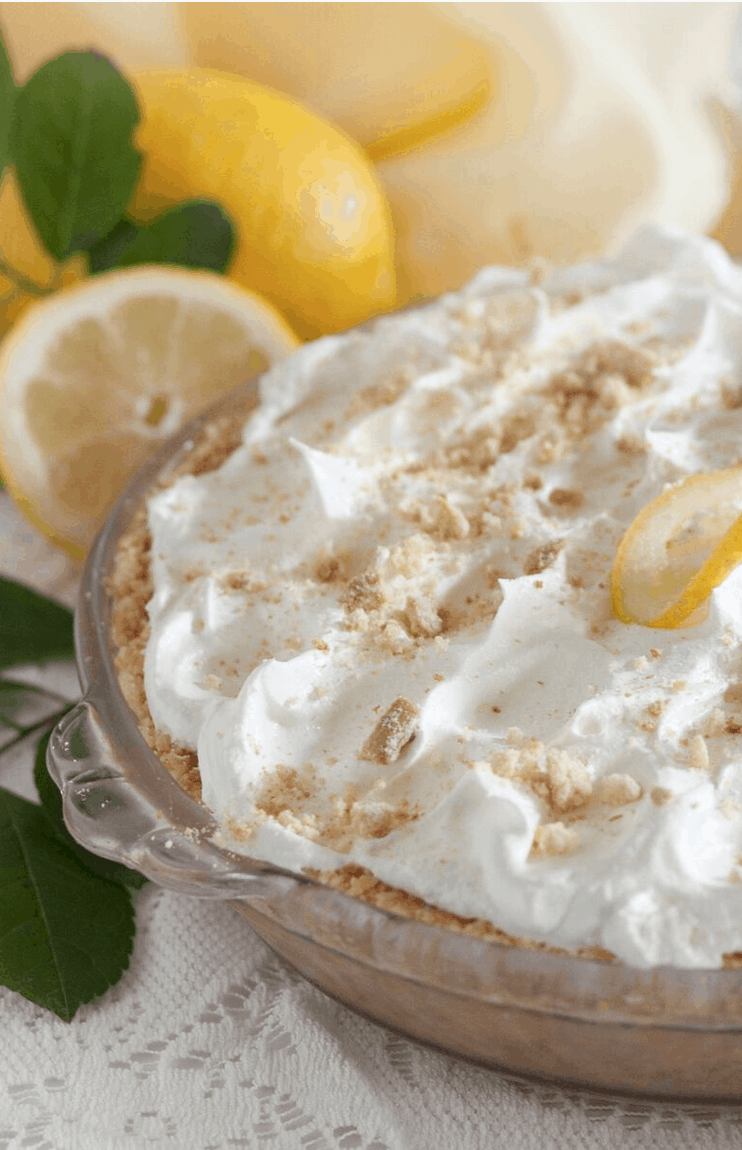 Delicious Direction
Make memorable desserts with Girl Scout cookies and help support successful girls
By Lisa Pritchard Mayfield 
This ain't no corner lemonade stand. Selling Girl Scout cookies is big business. The annual Girl Scout Cookie sale, taking place now across the nation and right here in Middle Georgia, involves more than one million girls selling over 200 million boxes of cookies annually, with a yearly revenue of about $700 million. That's a cookie empire! 
Founded by Georgia's own Juliette Gordon Low of Savannah, this year Girl Scouts are celebrating their 102nd year of annual cookie sales. Among the enterprising young members selling here in the midstate are members of Troop 60043. Under the guidance of co-leaders Melanie Marshall and Julia Wood, the 24 girls participate in both cookie pre-orders and cookie booth sales. 
Comprised of girls ranging in age from first through seventh grades, the girls work hard to sell the cookies so they can earn money for their troop and others. For each box of cookies sold, about 75 percent goes to the local Girl Scout council and 25 percent goes to the bakery. 
Cookies sold locally by Girl Scouts of Historic Georgia are baked by Little Brownie Bakers, headquartered in Louisville, Ky. According to Pamela Rugen, product program manager with Girl Scouts of Historic Georgia in Lizella, there are eight varieties of cookies: Thin Mints, Samoas, Tagalongs, Do-si-Dos, Trefoils, Savannah Smiles, Toffee Tastics and S'mores. 
The biggest sellers, she said, are Thin Mints, Samoas and Tagalongs. Girl Scouts of Historic Georgia averages more than 90,000 cases of cookies annually – that's more than 1 million boxes!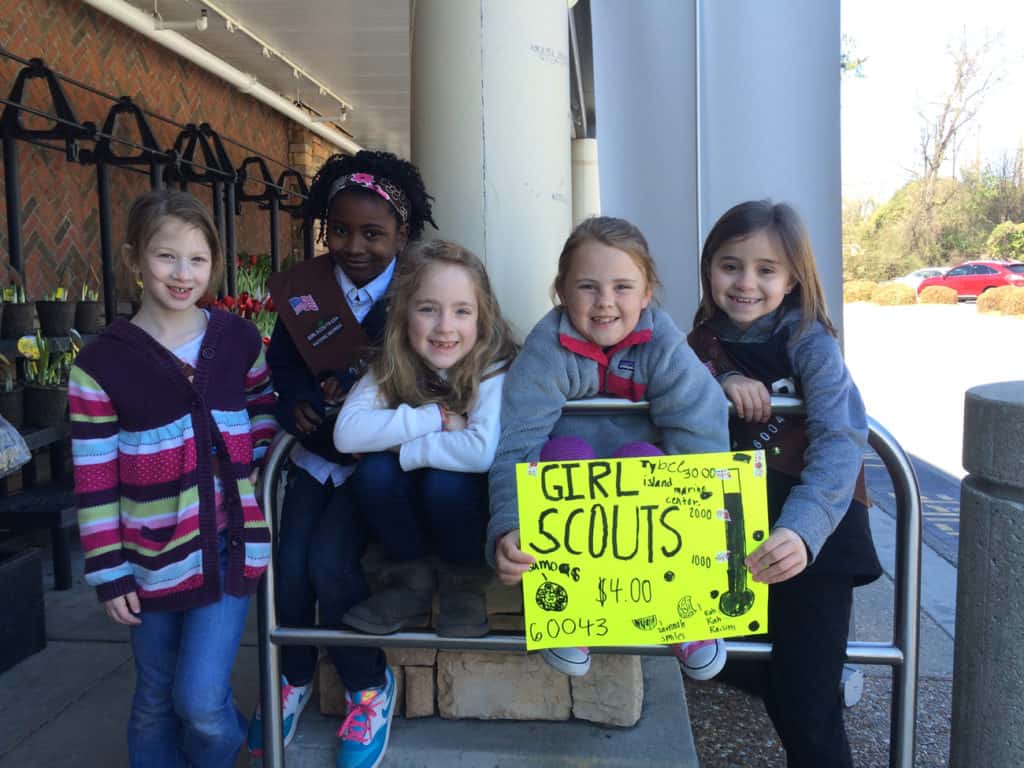 A few years ago, Wood said that Troop 60043 started to brainstorm how they could sell more cookies to reach their sales goals. 
"They decided a restaurant would be a good place to sell more cookies to more than one person or organization," Wood said. 
A partnership was born and the troop began selling to several local restaurants which, in turn, began to use the well-known cookies in special recipes. 
"For example, The Rookery makes a special milkshake each spring using a specific Girl Scout cookie flavor," Wood said.  
Matthew Newton, general manager of The Rookery, said, "Over the years, we have tried hundreds of different milkshakes, but when we paired the Girl Scout cookies with our locally-sourced Southern Swiss Dairy ice cream, we found a winner."  
The Rookery always has a "Shake of the Month," he said, and they typically feature the Girl Scout cookie shake in March or April. 
"We sell double our usual 'Shake of the Month' when we feature the Girl Scout cookie shake," Newton said. 
This year, he said, he's leaning toward the Tag-a-long. 
"Maybe we'll create a shake using the famous Tag-a-long cookie, peanut butter, Southern Swiss double chocolate ice cream and Southern Swiss milk," he said. 
As popular as Girl Scout cookies are, Wood said that not everyone wants to buy a box, but many customers still want to support the Girl Scouts. 
"Many people choose to purchase cookies that are shipped directly overseas to our military troops," she said. "Usually our troop will have 100-200 boxes that are sent overseas. The military personnel send back pictures of themselves with the cookies. They always love receiving them because it reminds them of home." 
Most importantly, Rugen noted, the Girl Scout cookie sales program makes a huge impact – especially in preparing girls for a lifetime of leadership, and building girls of courage, confidence and character who make the world a better place. 
Want to try some of your own creations using Girl Scout cookies as a main ingredient? The recipes here might get you moving in a delicious direction. Buy a few boxes and get started. 
Thin Mint White Chocolate Biscotti 
The Thin Mint's dark chocolate and sharp mint flavor pair with white chocolate in this non-traditional version of a delicious biscotti. Makes 2 dozen. 
1 package Girl Scout Thin Mint cookies, divided 
1/2 cup butter, softened 
3/4 cup sugar 
2 eggs 
1 teaspoon vanilla extract 
2 1/4 cups all-purpose flour 
1 1/2 teaspoons baking powder 
1/4 teaspoon salt 
2 3/4 cups white baking chips, divided 
Preheat oven to 350 degrees. Coarsely chop 16 Thin Mints. Finely crush remaining Thin Mints cookies, reserving for dipping. In a large bowl, cream butter and sugar until light and fluffy. Beat in eggs and vanilla. In another bowl, whisk flour, baking powder and salt; gradually beat into dreamed mixture. Stir in chopped Thin Mints cookies and 3/4 cup baking chips. 
Divide dough in half. On a parchment paper-lined baking sheet, shape each portion into a 12-by-2-inch rectangle. Bake 20-24 minutes or until a toothpick inserted in center comes out clean. Cool on pan with a wire rack for 15 minutes or until firm. 
Reduce oven setting to 300 degrees. Transfer baked rectangles to a cutting board. Using a serrated knife, cut diagonally into 3/4-inch slices. Place on baking sheets, bottom side down. Bake 18-20 minutes or until light golden brown. 
In a microwave, melt remaining baking chips; stir until smooth. Place reserved crushed Thin Mint cookies in a shallow bowl. Dip each cookie bottom into chocolate; allow excess to drip off. Dip in crushed Thin Mint cookies. Place on waxed paper; let stand until set. Store between pieces of waxed paper in airtight containers. 
Savannah Smiles Lemon Chiffon Pie 
The tangy lemon flavor of Girl Scout Savannah Smiles cookies adds a tart crunch to this classic pie. A light and refreshing ending to any meal! Serves 8.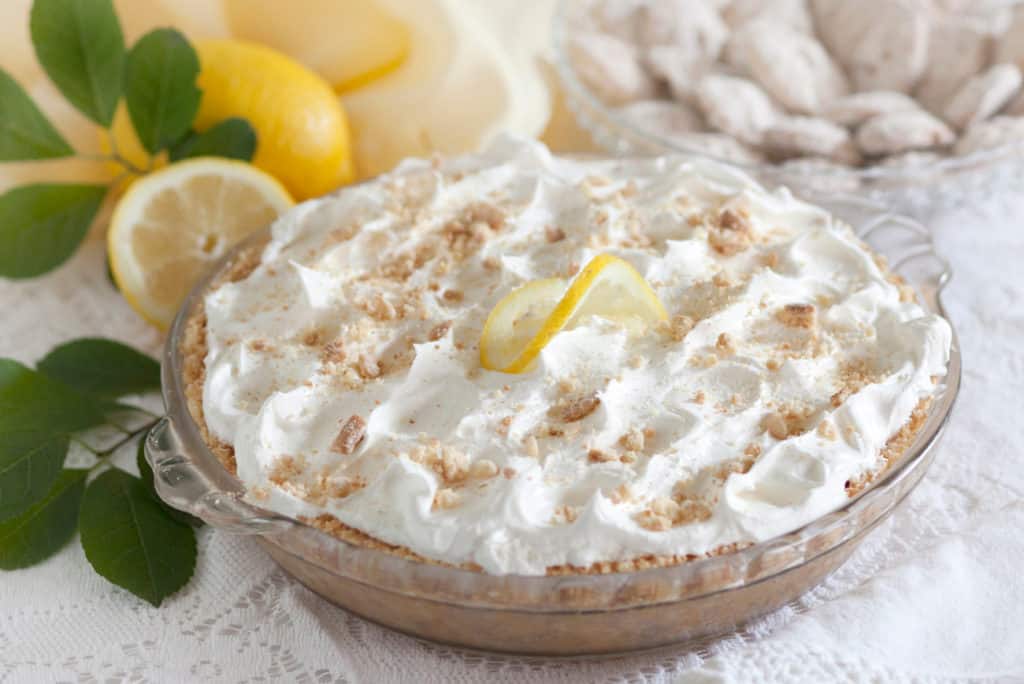 1 (3-ounce) package lemon gelatin 
1 cup boiling water 
1 package Savannah Smiles, crushed and divided 
1/4 cup butter, melted 
1 (8-ounce) package cream cheese 
1/4 cup sugar 
1 (8-ounce) tub of whipped topping 
Prepare the gelatin with hot water only. Refrigerate until it begins to set. Reserve 1/3 cup of cookie crumbs. Combine the remaining cookie crumbs with the butter and stir until coated. Press crust mixture into an 8- or 9-inch pie plate. 
In a bowl, blend the sugar with the cream cheese. Add the gelatin. Whip. Gently fold in one half of the whipped topping. Spread mixture over crust. Top with remainder of whipped topping. 
Refrigerate several hours. Garnish with 1/3 cup remaining crumbs just before serving. Optional: also garnish with a few fresh lemon slices. 
Samoas Toffee 
Such a toffee you've never tasted – toasted coconut, caramel, chocolate, oh my! Makes about 10 pieces. 
2 packages Girl Scout Samoas cookies 
2 cups butter 
2 cups sugar 
1 dash salt 
Pulse the two packages of Samoas cookies in a food processor until crumbled. Sprinkle one-third on a baking sheet lined with foil. In a large saucepan over medium heat, cook butter, sugar and salt, stirring frequently, until mixture reaches 300 degrees. Remove; carefully pour over crumbled Samoas cookies, spreading with a spatula to cover. Top with remaining crumbled Samoas cookies, pressing down slightly. Refrigerate at least 2 hours. When cool, break into pieces. 
Triple-Layer Toffee Tastic Cake 
It's worth the effort – and it's gluten-free! Featuring the gluten-free Toffee Tastic Girl Scout cookie, this is one impressive dessert.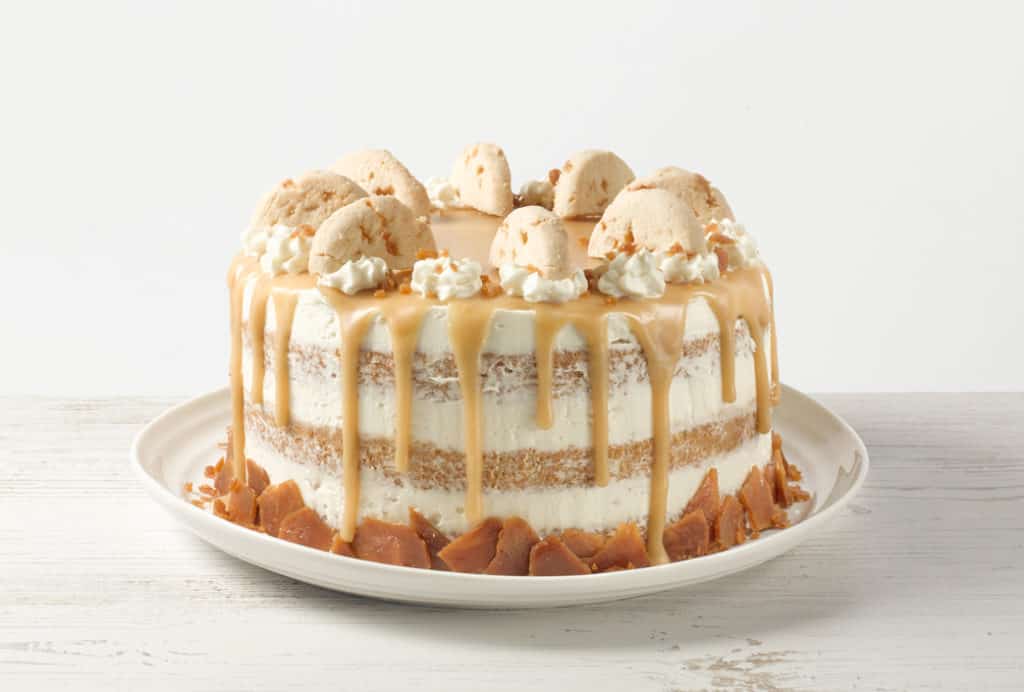 Cake wet ingredients: 
4 1/2 cups gluten-free all-purpose flour 
2 3/4 cups granulated sugar 
2 tablespoons baking powder 
1 teaspoon baking soda 
1 envelope dry whipped topping mix 
1 1/2 cups milk, room temperature 
Cake dry ingredients: 
6 eggs 
1 cup vegetable oil 
3 tablespoons white vinegar 
1 tablespoon vanilla extract 
1/4 teaspoon almond extract 
8 Toffee Tastic cookies (plus extra cookies for garnish) 
Toffee bits: 
1/2 cup unsalted butter 
1/2 cup sugar 
2 tablespoons water 
Pinch of salt 
Buttercream frosting: 
1 1/2 cups unsalted butter, softened 
4 1/2 cups powdered sugar, sifted 
1 1/2 teaspoons vanilla extract 
3-5 tablespoons milk 
Toffee sauce: 
1 cup light brown sugar 
1/2 cup heavy cream 
1/2 cup unsalted butter 
1 teaspoon vanilla 
Pinch of salt 
Preheat oven to 350 degrees. Grease three 8- or 9-inch cake pans. Combine all wet ingredients in large bowl, except for milk. Beat until frothy. In another bowl, sift together all the dry ingredients. Slowly mix the dry and wet ingredients, alternate adding milk to keep mixture wet. Beat at medium speed just until the batter is smooth. Do not over-mix. 
Pour batter into the three prepared pans and rest for 15 minutes. Bake for 30-35 minutes. Test with a toothpick. Cool on wire rack, then remove cakes from pans and return to racks. 
To make toffee bits, place all toffee bits ingredients in a medium saucepan and bring to boil over medium high heat, about 5 minutes. Do not stir. Continue cooking for about 8 more minutes, until the mixture reaches 300 degrees or begins to brown. Do not stir during any of this time. Pour onto a parchment paper-lined baking sheet and spread thinly. Do not touch, but allow to cool. Place into plastic bag and break into tiny bits. 
To make frosting, beat softened butter until creamy. Add the sugar and mix until light and fluffy. Add the vanilla, then add milk until a creamy spreading consistency is achieved. 
To make toffee sauce, place the sugar, cream and butter in a small saucepan. Bring everything to a boil, then reduce the heat to a simmer. Add vanilla and salt. Stir with a wooden spoon for about 3-4 minutes or until thickened. Let it cool until desired consistency is reached. 
To assemble, level each cake with a sharp knife. Put first layer onto serving plate, top with toffee sauce, a generous amount of frosting and toffee bits. Repeat for second layer. Put on top layer, generously frosting the top and skim coat the sides. Pour sauce over cake, allowing to drip down the sides. Decorate with frosting, cookies and bits.