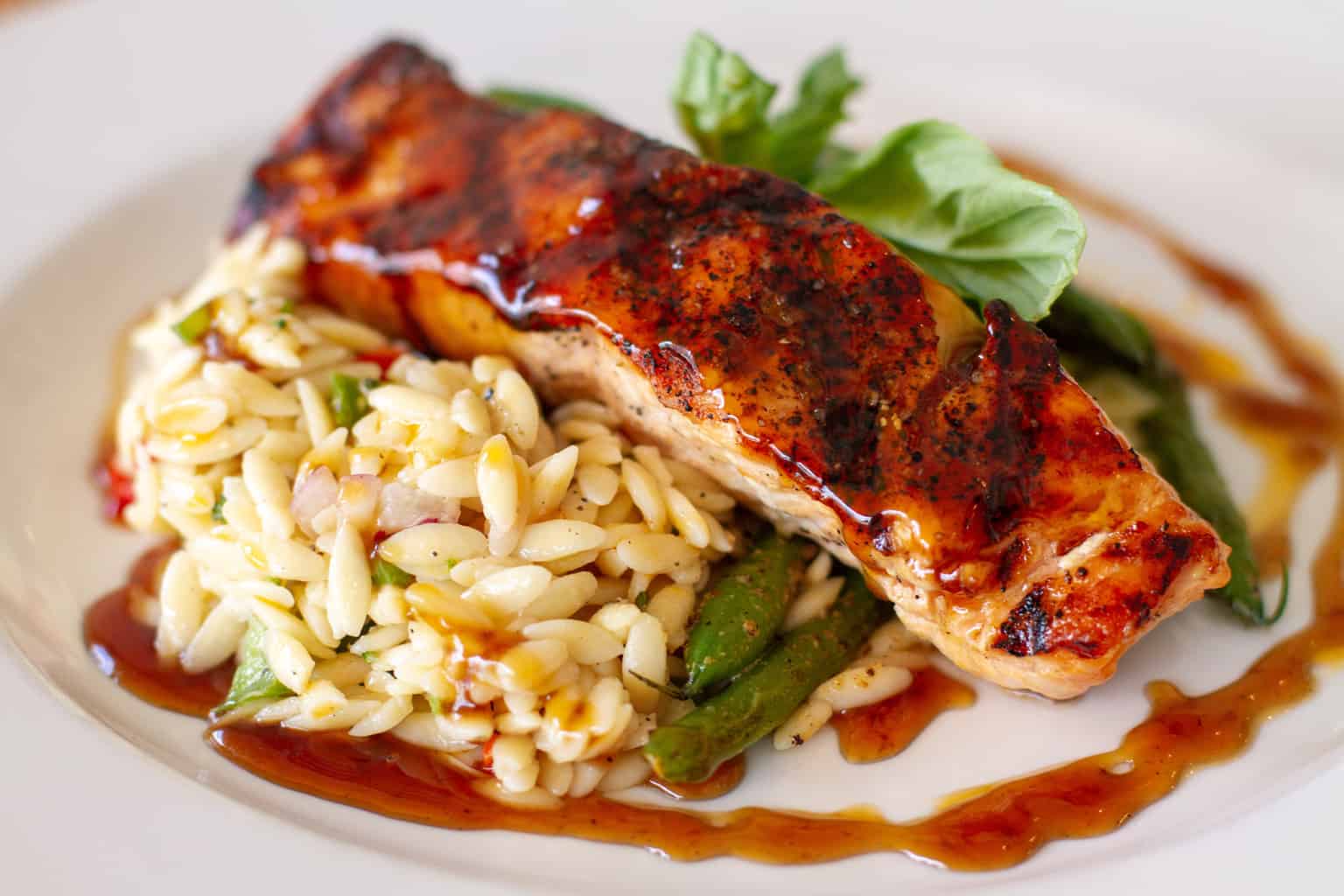 Macon's Best Food
An essential guide to our favorite restaurants.
AMERICAN
Back Burner Restaurant
The Back Burner Restaurant has been serving the Middle Georgia community since 1997. Located in a charming 1934 home, the Back Burner Restaurant has crafted a niche by offering a variety of steaks, chops and seafood. Private dining rooms are available as well as a banquet space for private parties. We accept all major credit cards. Reservations are not required but are recommended.
11 a.m.-2 p.m. and 5-9 p.m. Tuesday-Saturday; until 9:30 p.m. Friday-Saturday
2242 Ingleside Ave. 746.3336. backburnermacon.com
Bearfoot Tavern
A gastro pub and beer garden with an extensive menu that goes beyond your typical bar fare, featuring gourmet burgers, steaks and seafood. Check out the back patio for dining outside or enjoying live music.
11 a.m.-10 p.m. Monday-Thursday; 11 a.m.-11 p.m. Friday-Saturday; 11 a.m.-9 p.m. Sunday. Brunch is served 11 a.m.-3 p.m. Saturday-Sunday. 468 Second St. 305.7703. bearfoottavernmacon.com
Brasserie Circa
This American brasserie, Circa has spirited classic French and European influences.  With its European neighborhood restaurant feel, Circa offers extensive preparations of seafood as well as a raw bar. Large fresh salads and signature sandwiches provide the casual essence of the menu. Specialty grilled items include a filet, New York strip and more. A private dining room is available for parties, and catering is also available.
Lunch: 11 a.m.-2 p.m. Monday-Friday. Dinner: 5-9:30 p.m. Monday-Thursday and 5-10 p.m. Friday-Saturday. Brunch is served 11 a.m.-2 p.m. Saturday. 4420 Forsyth Road. 621.4140. maconcirca.com
Dovetail
Located in the center of a quickly re-emerging downtown district, Dovetail serves uniquely crafted, Southern cuisine. With dishes inspired by seasonal availability and traditional Southern fare, chefs use their expertise to highlight character and flavor, creating an experience that is familiar to any Southern dinner table, yet re-imagined in a rustic and sophisticated dining room that tips its cap to the strong agrarian history of the South.
5:30-9:30 p.m. Tuesday-Thursday; until 10:30 p.m. Friday-Saturday. Brunch is served 11 a.m.-2:30 p.m. Saturday-Sunday. 543 Cherry St. 238.4693. dovetailmacon.com.
Downtown Grill
The exposed brick and atmosphere of this 1890 building create the charming ambience of an old English steakhouse. Serving prime Angus beef, fresh fish and homemade desserts as well as nightly specials, we are dedicated to providing the ultimate downtown dining experience. We also offer a full selection of bourbons, scotches, cognacs and aperitifs as well as an extensive wine list. Cigar aficionados are welcome — bring your own or choose from our oak humidor. We're located in the lane between Mulberry and Cherry and Second and Third streets. Reservations are recommended but not required.
5 p.m.-until Monday-Saturday. 562 Mulberry Street Lane. 742.5999. macondowntowngrill.com
Edgar's Bistro
At Edgar's Bistro, we offer American cuisine with a Southern flair. Experience elegant dining in a warm, welcoming atmosphere. Outdoor dining is available year-round in our spacious patio. Come savor an array of selections including salads, steak, fresh seafood and farm fresh sides. At Edgar's Bistro, a portion of every dollar you spend goes toward education programs, including support for Helms College. In addition, Helms College culinary students receive experiential learning opportunities through service at Edgar's.
11 a.m.-2 p.m. and 5-9 p.m. Monday-Friday. 5171 Eisenhower Parkway. 471.4250. edgarshospitality.com/edgarsbistro
Fountain of Juice
Committed to bringing local, fresh food to please the eclectic palate, the foj team creates fabulous fare. Macon-born owners Natasha and Carl Phillips' restaurant at the Prado on Forsyth Road features seasonal specialties. Dried jalapeño encrusted tuna, crab stuffed hush puppies, and their signature kale salad are just a few of the truly unique culinary experiences that await you. Call in for carry out and check out the expanded deli case for prepared to-go entrees. It's the go-to lunch and dinner spot for fast sandwiches, soups, salads, desserts, juices, smoothies and, of course, iced green tea.
10:30 a.m.-8:30 p.m. Monday-Saturday. 4123 Forsyth Road. 755.5000. fountainofjuice.com
Grits Café
Upscale casual dining offering creatively fun Southern cuisine. The menu features great appetizers like Fried Green Tomato Napoleon and a Grits Martini with shitake mushroom cream. Dinner offers Blackened Salmon over a black eye pea salad, Praline Chicken stuffed with forest mushrooms and spinach, New Orleans BBQ Shrimp and Grits, and Grilled Ahi Tuna. Extensive international wine list, signature cocktails and craft beers available. Private dining room for large groups. Reservations recommended.
Lunch: 11 a.m.-2 p.m. Tuesday-Saturday. Dinner: 5:30-9 p.m. Tuesday-Thursday; until 10 p.m. Friday-Saturday. 17 W. Johnston St., Forsyth. 994.8325. gritscafe.com
H&H Soul Food
Founded in 1959 by Inez Hill and Louise Hudson, H&H Restaurant is a Macon soul food institution – woven into the fabric of Macon's history. H&H has kept Macon's most diverse clientele well-fed with delicious, stick-to-ya-ribs soul food and is most famous for its founders' unique friendship with the Allman Brothers Band. This friendship took Mama Louise on quite a ride that included a seat on the tour bus in 1972 and lifelong friendships with Gregg and the rest of the band, as well as most of the figures of Macon's Southern rock explosion.
Breakfast: 7-10:30 a.m. Tuesday-Friday. Lunch: 11 a.m.-3 p.m. Tuesday-Friday. Brunch is served 9 a.m.-3 p.m. Saturday-Sunday. 807 Forsyth St. 621.7044. handhsoulfood.com
Kudzu Seafood
Kudzu Seafood brings the Gulf Coast to Middle Georgia, where fresh Gulf Coast seafood is served daily. Come try Macon's best fried shrimp. Kudzu Baskets offer your choice of shrimp, grouper, oysters, soft-shell crab or chicken fingers. In addition, Kudzu offers Macon's largest assortment of seafood tacos. Specialties include jambalaya, shrimp and grits, salads, po' boys and burgers. Kids menu available. Check out the daily specials. Now serving beer and wine. Outdoor dining available.
11 a.m.-3 p.m. Monday-Tuesday; 11 a.m.-9 p.m. Wednesday-Friday; 11:30 a.m.-9 p.m. Saturday. 470 Third St. 292.2095. kudzuseafood.com
Oliver's Corner Bistro
Oliver's Corner Bistro passionately delivers a fresh take on the average casual dining experience. We serve quality sandwiches, lunch entrees and attractive salads. Our dinner menu offers elegant yet fulfilling dishes with a blend of options. For lunch, try our sandwiches and melts, salads or an entree such as Honey Bourbon Glazed Salmon. Our pastas are all made in house, with dinner entrée features such as Chicken Pesto Pasta and the Bacon Pomodoro & Tiger Shrimp Pasta. Wine and beer options also are plentiful.
Lunch: 11 a.m.-2 p.m. Monday-Saturday. Dinner: 5-9 p.m. Tuesday-Thursday; until 10 p.m. Friday-Saturday. 496 Second St. 305.7475. oliverscornerbistro.com
Piedmont Brewery & Kitchen
A locally owned and operated brewpub located in historic downtown Macon, we offer a wide range of hand-crafted beers brewed on-site and a menu featuring unique takes on traditional pub food. Piedmont is a laid-back place where anyone and everyone can celebrate their love of great food and drink. Our urban arcade is located in the basement next to the brewery and has something for everyone. Whether you're just looking for a quick bite and a cold craft beer or whether you want to hang out with a group of friends and enjoy casual pub food with entertainment, be sure to stop in and let us treat you to a one-of-a-kind dining experience in Macon. The game room is available for private parties, and catering is offered.
11 a.m.-9 p.m. Sunday-Thursday; until 10 p.m. Friday-Saturday. 450-B Third St. 254.2337. piedmontbrewery.com
The Rookery
During an era that saw Jimmy Carter ascend to the White House and Macon's own Capricorn Records release hit after hit making music history, the Rookery was just being born. Today the Rookery bustles on, serving Allman Burgers and Jimmy Carter shakes to Maconites and travelers from far and wide. Voted Best Burger in town and featured in Garden and Gun's "Guide to the South's best Burgers 2014," the Rookery's dining area, outside patio and renowned bar are always bustling with satisfied patrons. Other noteworthy features are the onion rings, hand-cut fries, milkshakes and extensive craft beer list.
11 a.m.-10 p.m. Sunday-Thursday; until 10:30 p.m. Friday-Saturday. 532 Cherry St. 746.8658. rookerymacon.com
Tic Toc Room
Elegant casual dining in the heart of historic downtown Macon featuring modern Southern fare with an expansive martini menu and a wine list that spotlights more than 200 premium selections. Whether you are seeking a quiet dinner for two, cocktails with friends or a private venue for your engagement of up to 200-plus people, the Tic Toc Room will help meet your dining, catering and entertaining needs. Dress is business casual; reservations recommended.
5-9:30 p.m. Monday-Thursday; until 10:30 p.m. Friday-Saturday. 408 Martin Luther King Jr. Blvd. 744.0123. thetictocroom.com
Zaxby's
Chicken fingers (using pure chicken breasts) and Buffalo wings and a great selection of Zalads. No reservations accepted. Find our three locations in Macon at 3960 Northside Drive, 474.1141; 4686 Presidential Parkway, 405.0080; and 910 Riverside Drive, 750.1199. Visit our two Warner Robins locations at 401 N. Davis Drive, 922.1000; and 2931 Watson Blvd., 778.1417. Check us out in Perry at 1425 Sam Nunn Blvd., 987-1020.
11 a.m.-10 p.m. daily. zaxbys.com
ITALIAN
Marco Ristorante Italiano
From the warm Mediterranean undertones of the dining-room décor to the classic homemade Italian food, everything at Marco Ristorante Italiano is carefully selected to give guests the complete Italian experience. A Macon tradition for more than 10 years, the restaurant is owned and operated by native Italian Nazario Filipponi, who selects each menu item based on recipes from his Italian upbringing. Marco also has a private dining room seating up to 30 people and a refined bar fully stocked with the finest wines and cocktails.
Lunch: 11 a.m.-2 p.m. Monday-Friday. Dinner: 5-10 p.m. Monday-Saturday. 4581 Forsyth Road. 405.5660. marcomacon.com
Natalia's
Since its opening in 1984, Natalia's has become more than just a restaurant. Honoring seasoned traditions and celebrating new flavors, the inviting North Macon escape features classic Italian dishes, from pastas to grilled fare. The romantic dining rooms, private gathering spaces, lively bar and gorgeous Tuscan-inspired patio provide for memorable gatherings. The authentic Italian backdrop paired with incomparable service and an extensive wine selection makes Natalia's the perfect place for any event, big or small.
5-9 p.m. Monday; until 9:30 p.m. Tuesday-Wednesday; until 10 p.m. Thursday-Saturday. 201 N. Macon St. 741.1380. natalias.net
MEXICAN
Margaritas Mercer Village
The Margaritas at Mercer Village location is affiliated with the other Margaritas' locations in Middle Georgia, which have been run by the Rodriguez family since 1988. Margaritas Mercer Village serves all of the usual Mexican favorites as well as some items unique to its location. There are 32 beers on tap with a good mix of craft, Mexican and old standards such as Bud Light. The restaurant caters to a university/downtown clientele and often has Mercer sporting events showing on their big-screen TV.
11 a.m.-9 p.m. Monday-Saturday; noon-9 p.m. Sunday. Brunch is served Saturday and Sunday mornings. 1602 Montpelier Ave. 254.7707. margaritasmexicangrill.com
PIZZA
Ingleside Village Pizza
Hand-tossed, Macon-style pizza with fresh toppings and homemade dough. Best selection of imported beers in Macon. Serving Macon's best pizza for 26 years and counting.
11 a.m.-9 p.m. Tuesday-Thursday; 11 a.m.-10 p.m. Friday; noon-10 p.m. Saturday; 5-9 p.m. Sunday. Corner of Ingleside and Corbin avenues. 750.8488. inglesidevillagepizza.com
THAI
LaDDa Bistro
Serving authentic Thai cuisine, sushi, unique brunch dishes and more. Chef Tom Sarrtsud has an extensive culinary background, having worked for master chefs in New York City while gaining experience in French, Italian, Middle Eastern and Nouveau American cuisine. He and his family now share their love of food with their customers in downtown Macon. Catering available.
5-9 p.m. Tuesday-Thursday; 11 a.m.-3 p.m. and 4-9 p.m. Friday-Saturday. Brunch is served 11 a.m.-3 p.m. Friday-Sunday. 442 Cherry St. 812.8138. laddabistro.com