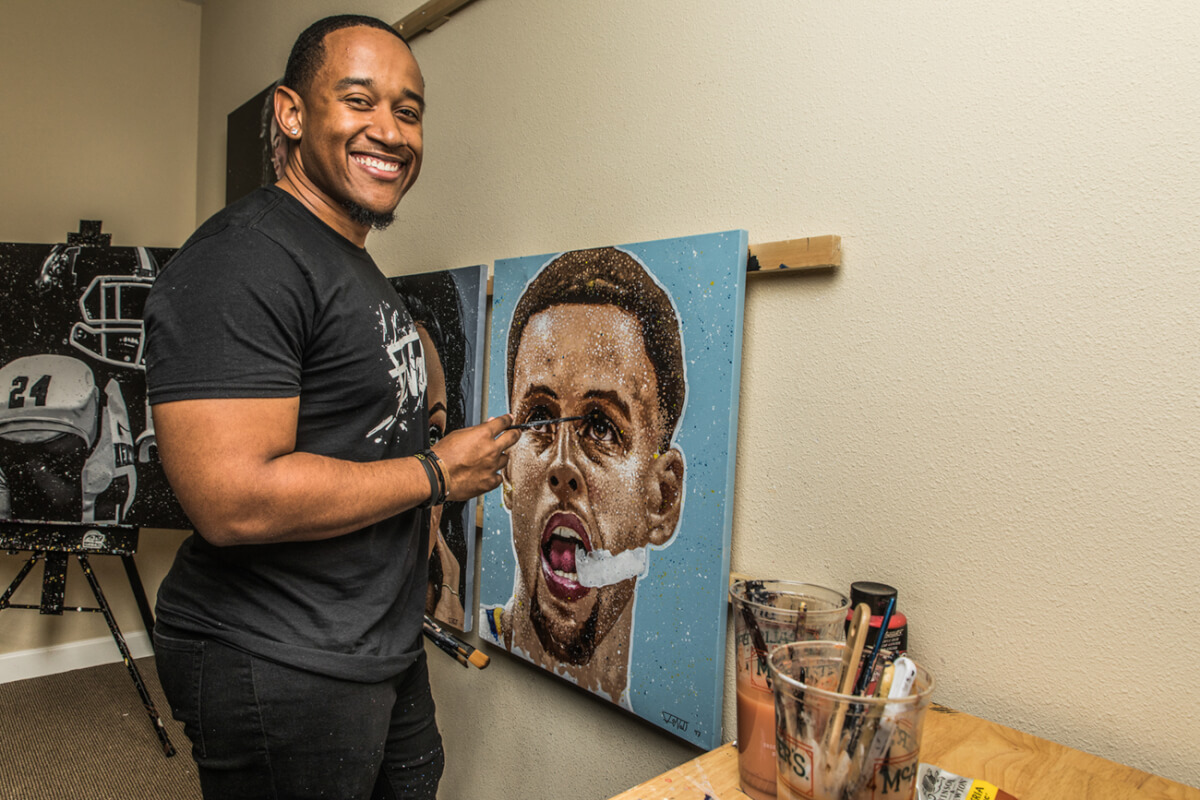 From Pigskin to Palette
Caleb Brown's inspirational journey
By Lisa Pritchard Mayfield
Photography by Matt Odom
Though he always has loved drawing – it was his first real hobby – Caleb Brown never was interested in painting. In fact, until the final semester of his senior year at Mercer University, Brown actually hated painting.
"I have always been artistically inclined," Brown said. "I was just a little bit better than my peers, though. But I never thought that I could make a decent living as an artist."
Also athletically gifted, Brown was a member of Mercer's inaugural football team and excelled in the classroom as a student in Mercer's pre-physical therapy program.
 The turning point came during the winter break of Brown's senior year of college.
"I was working a physical therapy internship by day and had started painting portraits at night," he said. "I battled boredom at my internship, but it wasn't long before I recognized that painting ignited my passion." 
Portraiture, specifically, spoke to Brown.
"Looking at someone's face, or looking at a depiction of a memorable moment, can conjure warm feelings again and again. I think that's what I love most about portrait painting," he said.

Performance painting
The next semester, Brown enrolled in Painting 101. Though Brown admits his performance in that first class was probably "underwhelming," his art instructor, Eric O'Dell, exposed him to the demanding, yet rewarding world of art-making and inspired the possibility of pursuing a career in art.
About the same time, Brown discovered an artist named David Garibaldi via Twitter.
"He is a world-renowned performance speed painter, and I witnessed one of his performances on social media. He was at an album release party for my favorite rapper at the time, Future. Garibaldi was dancing and jumping around while painting a portrait of Future, all in five minutes," he said. "I was so intrigued that I tried my hand at performance painting. At a talent show later that year, I did a speed painting during intermission and everyone loved it! That is ultimately what got me thinking about the possibility of pursuing art as a profession."
Originally from Fayetteville, Brown's childhood was typical by most standards and he graduated from Fayette County High School. 
"I absolutely love my hometown," he said. "My family life was good, I played sports, loved video games and got into trouble."
Always a big Alabama Crimson Tide football fan, Brown had earned the nickname "Bama."
"Even my father and former coach at Mercer, Bobby Lamb, call me 'Bama,' " Brown said.

'Artrapreneurship' career
These days, people know Caleb Brown by his real name. That's because he's become something of a famous artist in his own right. After researching numerous successful contemporary artists, Brown felt assured he could venture into what he calls "artrapreneurship." His work – mostly comprised of portraits of cultural icons – is inspired by artists of the past and present: Michelangelo, Garibaldi, John Moody, Mike Dargas, Tiffanie Anderson and even Professor O'Dell.
Though much of what he paints is driven by commissions, Brown still selects a subject based on his admiration of the individual.
"I love it when I have an opportunity to complete what I call a 'pleasure painting,' " Brown said. "That's a piece created purely for the joy of expression. Painting portraits makes my heart sing. Capturing a person's essence on a canvas gives my life purpose."
Brown earns his living strictly as an artist these days. Since beginning his journey, Brown's artwork has attracted several prominent collectors, including Super Bowl MVPs, Grammy Award winners and platinum-selling recording artists. 

Inspirational TEDTalk
The artist isn't content to share his message on the canvas alone; Brown is frequently tapped for speaking engagements at high schools, churches and leadership conferences. Recently, following a rigorous application and interview process, Brown was invited to deliver a TEDTalk in Savannah. Called "Adversity is our Greatest Gift," he shared with the audience the importance of embracing adversity.
While in the moment, adversity may not seem much like a "gift." The experience forces us to "become stronger individuals who build a better world," Brown said. "We also cultivate confidence, compassion, acceptance and love. When we use adversity as a stepping stone for growth, we can ascend to heights that we've never imagined. We can unify our country. We can make the world a better place."
Brown continued, "We all set out to paint a beautiful life full of joy, excitement and love. But sometimes life punches a hole in that masterpiece."
Maybe you become sick, or you lose your best friend, or you're laid off at work, or your heart is broken.
"Adversity is tough," Brown reminded his audience. "It's painful. It can rock you to your core. And here in the South, we've seen plenty. But we've also seen what's possible when we allow adversity to fuel our resolve."
Recalling his own adversities, Brown said life simply hit him in the face and he realized how unprepared he was.
"2019 has been the hardest year of my life," he said. "I was painting my masterpiece; I thought I was in the driver's seat. Then SNAP! Life punched a hole through me. I was depressed, fragile. I wasn't myself. I didn't paint for weeks. I thought I wouldn't make it, but that voice reminded me again: This pain is a gift. There's something to learn here."
In time, he returned to the easel of life and began re-painting his masterpiece, learning from his mistakes and growing. It was a wake-up call, and he said he's grateful for it.
"I live now with renewed purpose," he said. "I don't walk the same way."

Create to uplift
Brown is looking toward a very bright future, perhaps where his artwork is being auctioned for large sums of money to benefit various charities. Brown has a special interest in assisting the homeless; his mother instilled that value in him when he was young.
"We would go around Atlanta and give out lunches to the different homeless persons walking around the city," he said.
Additionally, Brown recently hosted a shoe drive in Macon to benefit those in need. Special Olympics, too, is a cause with which he wants to become more involved. But most importantly, he wants his artwork to provide a platform for uplifting others – creatives and non-creatives alike. That's the underlying message of his inspirational journey.
Brown admitted that making art for a living is one of the toughest and scariest things he's ever had to do, but it also has been the most fulfilling.
"I know that being vulnerable and opening myself up for failure is a requirement for wholehearted living. I've had to take risks, many of which did not work out in my favor. But some did," he said. "And to keep showing up, in spite of all that could go wrong, in the service of your purpose and dreams is the best thing anyone can do. I hope my art conveys that message to others."