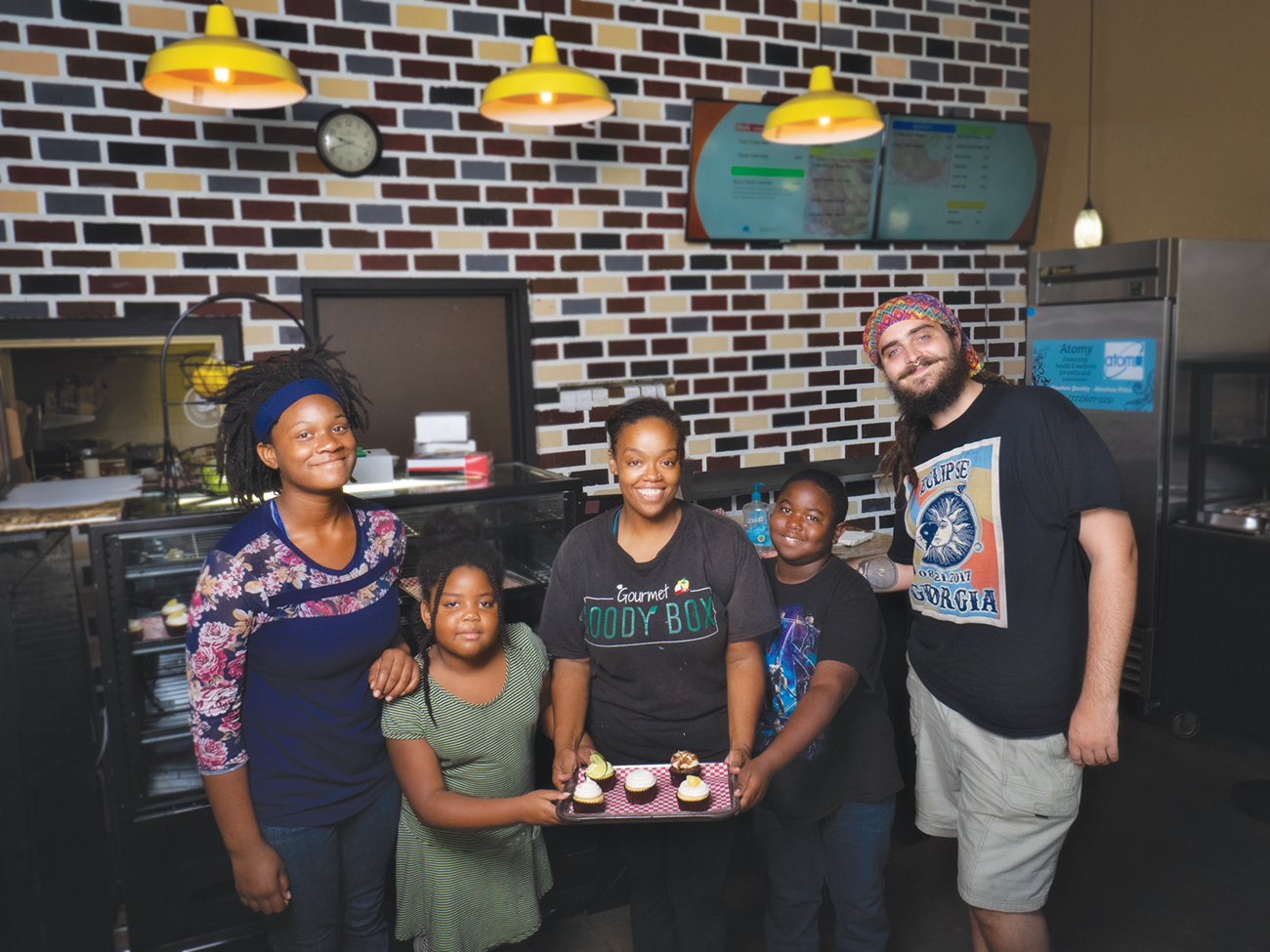 Heart and Soul Food
Jessica Mack seeks to change perceptions about vegan diets with Southern Vegan Soul Café
By Traci Burns
Photography by Jessica Whitley
"For years I was selfish," said Jessica Mack, who, along with Greg, her husband of nearly 14 years, owns and operates Southern Vegan Soul Café, an all-vegan eatery located in the Macon State Farmers Market, and the food truck Gourmet Goody Box, which pops up at various locations with savory offerings.
"I ate whatever I wanted because it tasted good, but it was hurting me. I had to find perspective," she said. "In the grand scheme of things, I am important. I have to take care of me!"
A quick Google image search for "what vegans look like" turns up unsurprisingly cliché imagery: lithe yoga moms, tie-dye clad hippies, shirtless bodybuilders – all with white skin. The burgeoning black vegan movement wants to change this narrative. Though eating meat-free has strong roots in Rastafarian and Nation of Islam dietary practices, modern black vegans are inspired by a number of intersecting issues, among them food access, personal health and social justice.
"(Black Americans') diets need to be different than what we're used to eating," said Mack.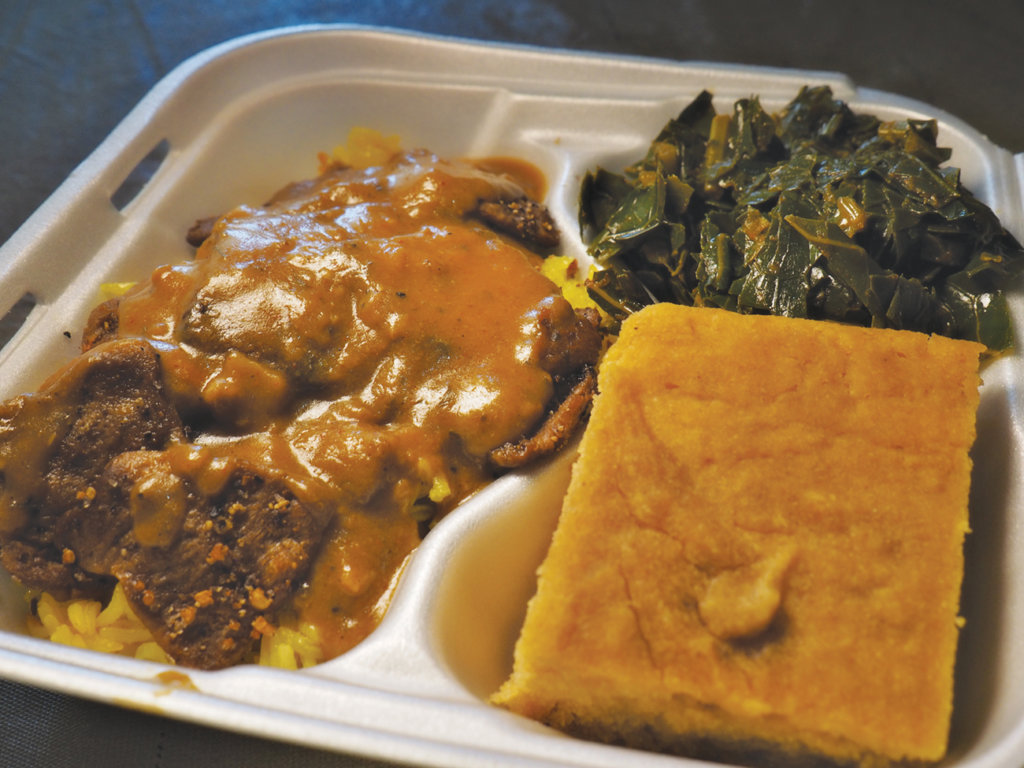 Traditional Southern soul food is as comforting as it is delicious, and it's a beautiful homage to the resilience and creativity of its creators. But when the newest report from the Centers for Disease Control and Prevention says that African-Americans ages 18-49 are twice as likely to die of heart disease than their white counterparts, something's got to give.
Mack's reckoning came after her son's birth, when she realized she'd accidentally crept up to nearly 400 pounds.
"You know how, when you're in love, you gain weight?" she laughs – but not being able to be as active a parent as she wanted to be was no laughing matter.
Initially she shed pounds quickly with an intense workout regimen, but at her husband's suggestion, the family switched up their diet. They started out doing one month vegetarian, one month off, then tried going vegan one day out of each week, which led to one week per month, and now it's been seven years animal-product-free for the entire Mack family – son Jonathan and daughter Poetry included.
"Feeling healthy, making connections with my food, really paying attention to what I put into my body – it's been amazing," said Mack. "And on the journey, I've connected with so many new people. Seeing so many of my people change their diets to care for themselves and be healthier is a beautiful experience."
Mack, who carries herself with a genuine, exuberant energy, said her husband's life changed dramatically as well. He was able to take control of his cardiac health and reverse a newly diagnosed heart palpitation issue without resorting to medications.
Home cook to restaurateur
Trial and error is how Mack described her process of learning how to cook without animal products. As anyone who's ever checked out the natural foods section of the supermarket will know, buying prefab meatless products can get expensive, especially when feeding a whole family. After attending a dinner party at the home of some longtime vegan friends and falling in love with buffalo "wings" made from cauliflower, Mack started experimenting.
"My brother-in-law is my main audience to test new dishes on," she said. "He's a meat-loving guy, and he'll tell me the truth."
From homemade veggie burgers to toasted coconut "bacon" to pulled barbecue made from jackfruit, Mack's repertoire is innovative and ever-expanding.
The shift from home cook to restaurateur happened quickly. A few years ago, Mack took on a job as a baker for another local vegetarian restaurant, then she and her husband decided to branch out on their own with a food truck that sold all-vegan sweet treats such as cupcakes, cookies and cinnamon rolls.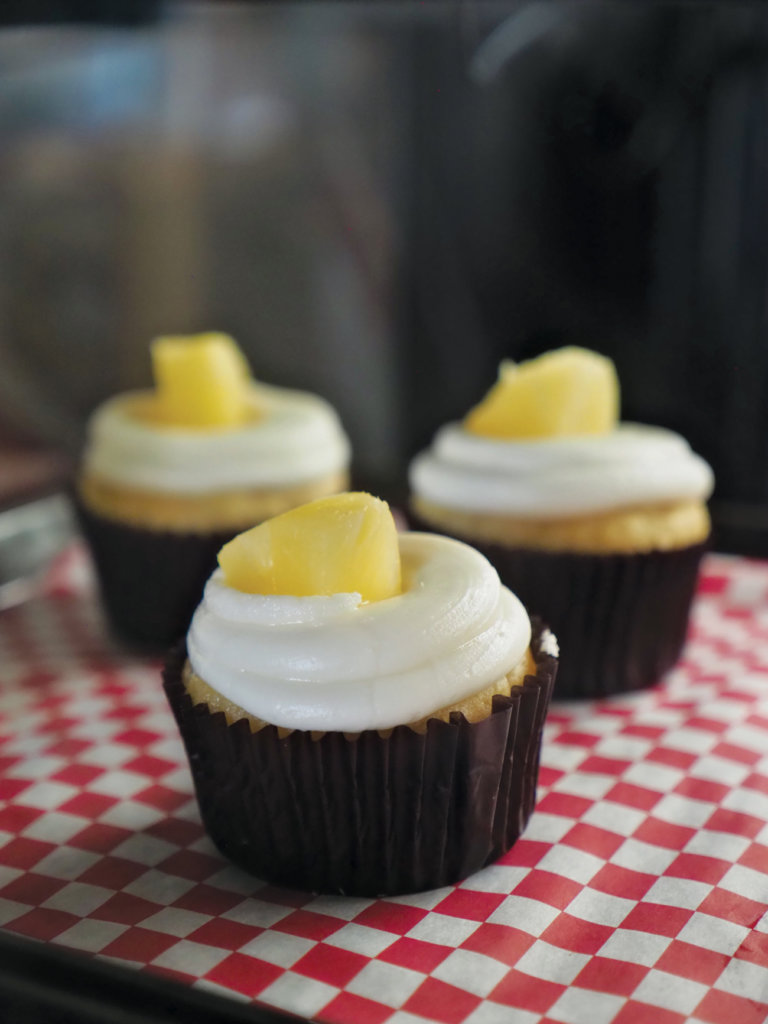 After establishing a solid customer base at Macon's Mulberry Market and the International City Farmers Market in Warner Robins, they tested the waters with savory options such as veggie burgers and grilled "cheese" sandwiches. Marketgoers fell in love.
"Jessica is very dedicated to the cause of not only making all her food from scratch, but to educating people in Middle Georgia about veganism. Everyone at the market loves her," said Lacey Resch, Mulberry Market's manager.
While on the search for affordable commercial kitchen space, fellow market vendor Bistro to Go told Mack about the Macon State Farmers Market, which offered not only a good-sized kitchen but also a storefront, all at a reasonable cost.
Opening a non-mobile restaurant hadn't been in the plans, but the family seized the opportunity and diligently worked for six months cleaning, re-tiling and hand painting, and in May 2018, the restaurant opened its doors. Initially called Gourmet Goody Box, Mack revised the main location's name in early 2019 to Southern Vegan Soul Café, in an effort to more accurately reflect its soul-food fare.
Long road to success
The path to opening her business wasn't an easy one. Running a food-based business requires a lot of red-tape navigation, and Mack hit some bumps along the way.
"Finding the right resources and getting everything up to par and legit was a struggle," she said. "You aren't necessarily just given this information freely from the different agencies, you have to research and know which questions to ask."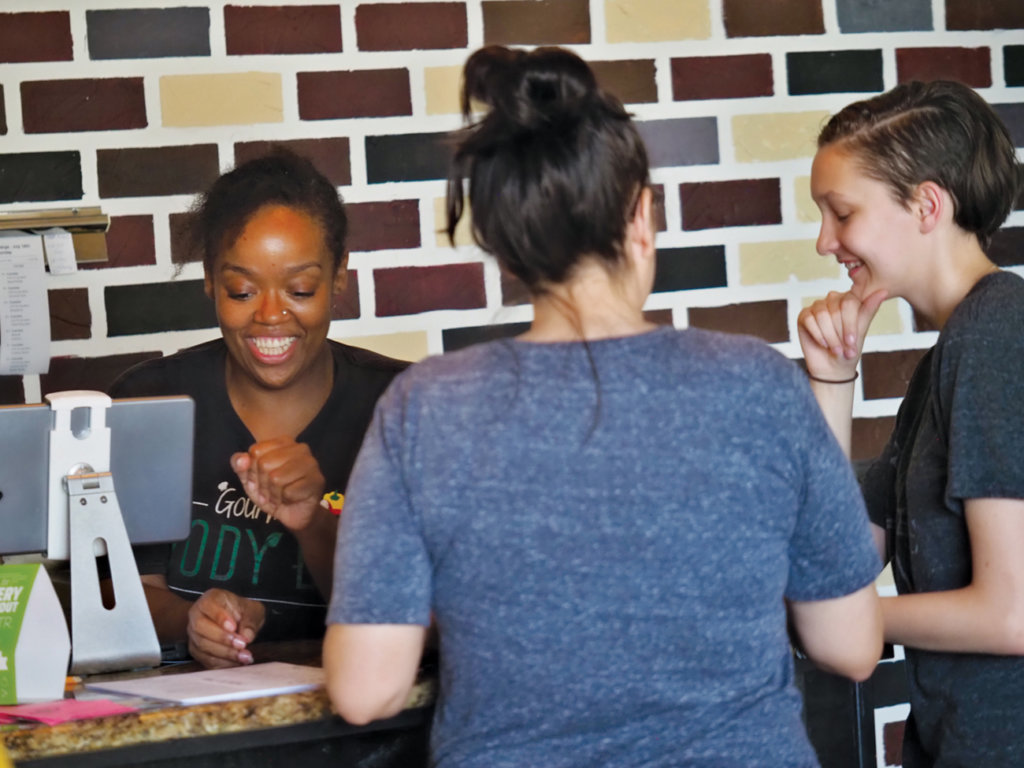 She pauses, then goes on: "I did notice that I'd sometimes get a different response when I was on the phone with someone using my 'professional' voice than when I showed up in person. I can't say it was definitely race related, but it was my experience, and talking to other restaurant owners it seems their experiences were a little different from mine."
Tenacious, Mack powered through and got the work done, and she's proud of that fact.
"I want to let everybody know we're the real deal, we're not just selling plates," Mack said, referring to the practice of home cooks, most of whom advertise via word of mouth and operate without the proper licensing, selling food for profit.
"That's an African-American thing – we hustle, we have to find ways to feed our families, so we take what we're good at and make it a business. But in that process, we've got to take it a step further and do it the legal way," she said.
Response to the restaurant has been great so far. Their main location, inside a covered building at the Macon State Farmers Market, is a bit unusual, but Mack said, "I'm constantly reaching new people. The exciting thing about the Internet is that it allows you to be in multiple places at once, so people can find us on Facebook, Instagram, HappyCow, Yelp … that gets us more business, more visibility and more people trying new things."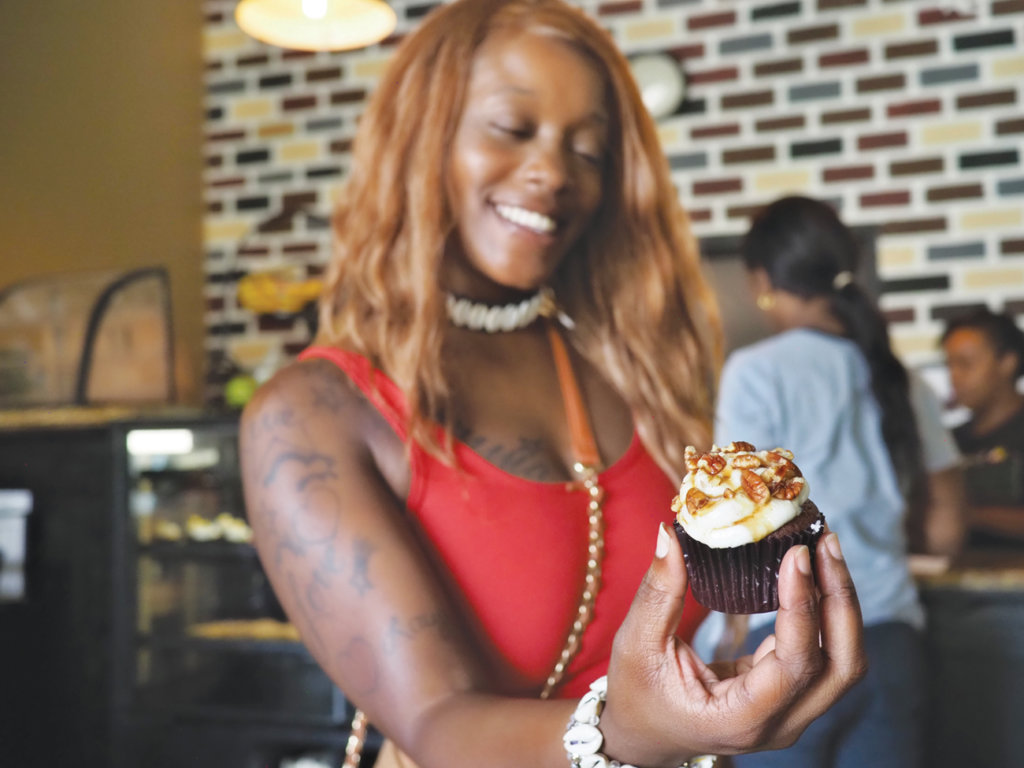 The Internet response has been encouraging.
"This tastes like what you would expect food to taste like in heaven," raves one online reviewer, while another compares the restaurant favorably to upscale vegan eateries in places like New York and Washington, D.C. Nearly every reviewer mentioned the friendly, warm, family-oriented vibe of the place – and that beams directly from the heart and soul of Jessica Mack.
"I really do love what I do," Mack said. "I try to never forget the reason why I work this hard. I feel called to do this, and that inspiration drives me to create something I know is needed in our community. My aunt always told me, 'Never get in the kitchen if you're not right in your spirit.' So, if I'm aggravated or in a bad mood, I take care of that before I start cooking, because I took her message to heart – what you're giving is what you've got."
What's on the menu at Southern Vegan Soul Cafe?
Weekly Taco Tuesday with specials including the garlic jalapeno taco (fried jackfruit tossed in homemade garlic-jalapeno sauce with lettuce, tomatoes, onions and vegan cheese sauce) and loaded nachos (piled high with handmade "beefless" crumbles, black beans and vegan cheese sauce).
Check their FaceBook page for updates and specials.
Popular items available daily include pulled jackfruit barbecue on Texas toast, ciabatta garden burger and crispy/buffalo/barbecue meatless chicken nuggets.
Sunday brunch features chicken and waffles, french toast, scrambler skillet, avocado toast and more.
Cupcakes, cinnamon rolls, ice cream, coffee, other sweet treats – all vegan!
Custom cake/cupcake orders welcomed.
Catering available.
Southern Vegan Soul Cafe
Address: 2055 Eisenhower Parkway
Phone: 478-254-0816
Facebook: SouthernVeganSoulCafe
Instagram: @southern_vegan_soul_cafe
Hours: 11 a.m.-3 p.m. Sunday; noon-3 p.m. Tuesday; noon-6 p.m. Wednesday-Thursday; noon-4 p.m. Friday; closed Saturday and Monday
Gourmet Goody Box Food Truck
Phone: 478-216-8780
Search for them on FB to see where they'll be and what they'll have on offer.