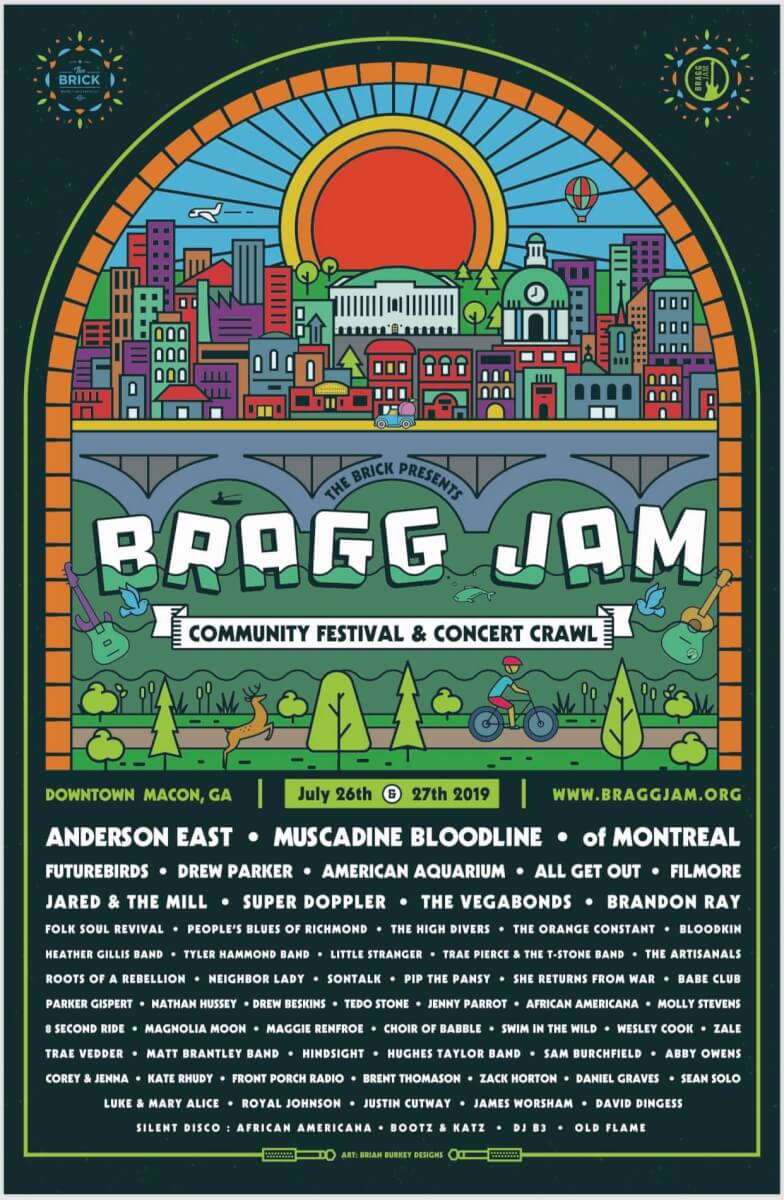 Something to Bragg about: Marketing a legacy
For more than two decades, Bragg Jam has been a music staple in Macon. What started as a way for friends and family to grieve the loss of two brothers quickly turned into a highly anticipated festival every summer.
Chances are that you've already heard about Bragg Jam or you've attended at least one of its hundreds of shows. Do you remember how you first heard about it? Was it a friend who brought you along? Did you see someone wearing a T-shirt? Each year, a new group of volunteer board members work on how to spread the word about the festival, and each year is different in some way.
BRAGG JAM'S ORIGINS
The first year, in 1999, there was no need to get the message out. People just wanted to come together to listen to live music and mourn the loss of their friends.
"It was all born out of a need to heal as a community," said Heather Evans, the first Bragg Jam board president.
Evans was also good friends with Brax Bragg. Brax was a Macon singer and songwriter with an incredible music career ahead of him. He had just recorded a CD with his new band The Buckleys and was getting ready to go on tour in the summer of 1999. Before the tour kicked off, Brax and his brother Tate, a classical guitarist, went on a cross-country road trip. On July 3, the two brothers tragically died in a car accident while driving through Texas.
Later that month, Brax and Tate's friends came together to hold a night of playing Brax's songs at the Rookery to honor and celebrate the brothers. What was known as Brax Bragg's Musical Extravaganza, an impromptu celebration with no budget, would turn into the non-profit now known as Bragg Jam just a few years later.
"Now that we were starting to claim 'festival,' it was time to promote the event further than its original fan base. For the board, we staked claim that Bragg Jam was the citywide music event we had been hoping for as a community," said early Bragg Jam marketing chair Jessica Walden.
In the early 2000s, there weren't many music venues in Downtown Macon. The board knew they wanted to expand their concert crawl, so they would rent out vacant storefronts, clean them up and turn them into overnight bars and stages. They had the venues and local musicians, but they needed more concertgoers.
These were the days before the easy access of creating event pages on Facebook or sending out tweets on Twitter. Walden had to get creative, so she researched guerilla marketing campaigns.
She came across the New England Beer Company, which had just launched its Sea Hag IPA and was promoting the beer by handing out flyers around New Haven, Connecticut. The flyers had blurry images and scrawled handwriting that read "This is creepy" with a local phone number to call. When you called, you heard a scratching recording that referenced the legend of the sea hag. So, Walden and the board got to work and did something similar. She grabbed pages torn out of a spiral notebook and wrote "Call now, Bragg later!" with a local phone number to call.
"We set up an answering machine on a landline and created a scratching recording of a couple talking about their plans to 'get together' at Bragg Jam. It was like you were listening to something you weren't supposed to, but it gave you all the details about Bragg Jam," Walden said.
She, along with other Bragg Jam volunteers, started putting these notebook pages on the back of bathroom stalls in bars and restaurants. Some were wadded up and distributed guerilla-style in frequented places in Downtown Macon.
"The phone line ultimately lit up," Walden said, "and Bragg Jam's first official marketing campaign was launched."
Playing off of the Sea Hag Beer's marketing plan, they decided they needed their own legend, something that went along with the theme of the Ocmulgee Heritage Trail, especially since Bragg Jam donated its proceeds to the Trail in memory of the Bragg brothers. Bragg Jam President at the time, Brad Evans, suggested a Bigfoot legend. Not long after, the mythical Swamp Ape named Muddy Brown was born and started a whole new marketing campaign for Bragg Jam.
With a marketing budget of around $100, the Bragg Jam board bought a Bigfoot costume and began producing content. In 2009, they commissioned "home videos" spotting the Swamp Ape around different parts of Macon. These videos got people talking. Muddy Brown became a beloved legend, especially when he was rocking bermuda shorts and a Bragg Jam T-shirt. He would make appearances during the late July concert crawl at different venues.
"When he finally made his public debut, I still vividly remember a child holding a balloon and taking off running while crying," Walden said.
But still, people were loving him. It wasn't long before Muddy had his own Facebook page and was adding new friends. His page still exists by the way—look him up! People were buzzing, wondering—Who was sweating behind the Swamp Ape costume? Walden still won't say.
BRAGG JAM TODAY
Social media became a big game changer for Bragg Jam, as it did for people across the world. Today, you can find everything you need to know about the festival on its website, Facebook, Twitter, Instagram and even Spotify.
As Bragg Jam grew throughout the years, so did the team working on the festival, and eventually so did its budget (although not by a lot). A thing to note is that the Bragg Jam board consists of volunteers, and most of the time, the people on it contribute what they are good at. While some things have changed, two things have remained consistent when it comes to marketing: T-shirts and posters.
"The swag of Bragg Jam is probably our most effective marketing today," said former Co-Marketing Chair Stephanie Howard. "We spend a lot of time getting really cool artwork.The art has to be spot on."
When you look at the Bragg Jam posters over years, it's easy to see how much creativity and time went into each design. None of them are the same. When it comes to marketing these days, most of the time is spent on trying to come up with the design for that year, with help from local artists. Each year, an artist from the Macon area designs the posters and T-shirts. While they're all different, they all share the same aesthetic.
"It has to be something that reflects the festival, the community, and the city," said former Co-Marketing Chair Leila Regan-Porter. "I'd say the aesthetic for Bragg Jam is a meeting of the past and present. There are a lot of echoes to the past of Macon music. The tones we use tend to be more vintage and have a classic but timeless feel to them."
"People get excited about the new designs every year," said current Bragg Jam Board President JR Olive. "My favorite thing in the world is to see someone I don't know wearing a Bragg Jam T-shirt."
Bragg Jam doesn't just offer T-shirts and posters. They sell different swag items each year, depending on what sells and who is on the board making those decisions. Olive didn't reveal what they'll be selling this year, but that's part of the fun for the people to find during the concert crawl. As they prepare to hold the 22nd Bragg Jam festival the last Saturday of July, the board will use other marketing tools they've used in the past such as billboards, radio ads, Spotify ads, social media targeted ads and in-kind trading.
While all of these marketing strategies are effective, many agree that word of mouth has been a great way to get people to Downtown Macon every summer. That talk stems from two decades of music celebration.
"Bragg Jam is really cool. It has that 'cool kids' feeling to it and people want to be a part of it," Howard said. "It is truly a grassroots festival. It's special and unique."
Bragg Jam is much more than just one concert or a concert crawl. The non-profit festival holds multiple events in the community throughout the year such as Second Sunday on Coleman Hill, Bragg Fam (a kids-friendly event) and more.
"We're always thinking about what to do next. How do we stay relevant and keep this going for many years to come?" Olive said.
As this festival evolves, there are some components that stay the same. Brax's band, The Buckleys, get together to play Brax's songs every year to kick off the late July concert crawl. What started as a way to remember Brax and Tate has turned into a true community event that not only celebrates their lives, but the life of music in Macon.
"When we were younger and first started this, we knew what was happening, but it's still amazing to see what it has turned into," Heather Evans said. "It's not easy to put on a music festival this big. It's a lot of work. Every time that it morphs or grows into what it is is because of the unique people on the board with a vision. It turned into its own entity where it could sustain itself. It's kind of a legacy."
Today, you can find Bragg Jam at BraggJam.org as well as Facebook and Instagram. You can also still find Muddy Brown on Facebook and "Swamp Ape" Macon videos on YouTube.