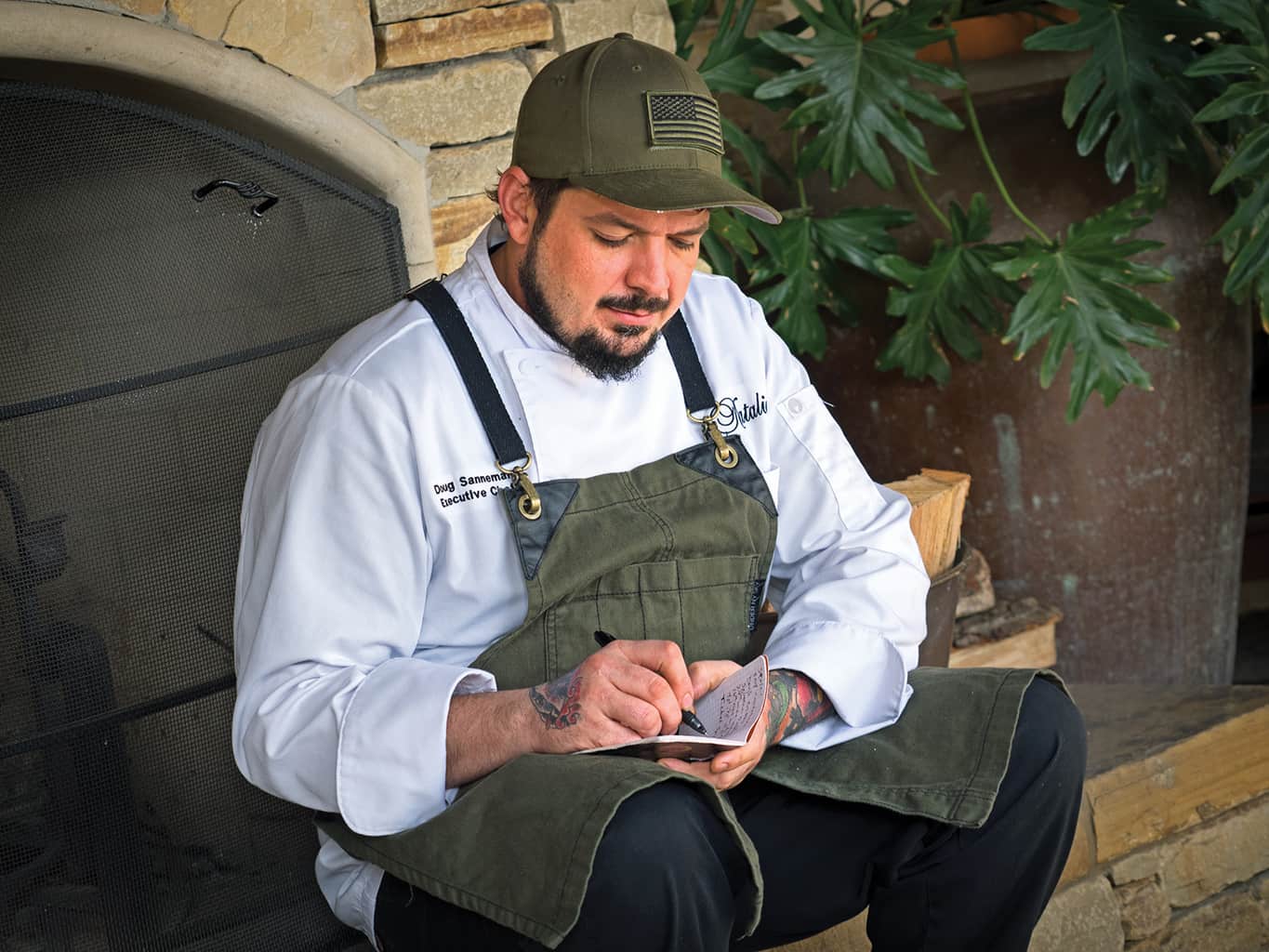 Standard of Excellence
Longtime local chef Doug Sanneman puts his creative stamp on evolving menu at Natalia's 
By Renee Corwine 
Photography by Jessica Whitley 
 Chef Doug Sanneman is a straight shooter. He's got an open and honest face and a ready smile. Somehow though, you get the impression that if he doesn't like your cooking, he's going to let you know.  
He's relaxed and laughing now, sitting in the bar area of Natalia's before the rush of a Wednesday night dinner crowd. Just a few glances at his watch remind you that he's here for business. 
Checking in an hour or so later, in a hectic kitchen with plates of carpaccio and lumache zooming past and the delicious smell of searing veal chops, Sanneman is in total control as the restaurant's executive chef, deftly working to create some of Macon's best cuisine.  
From dishwasher to chef 
Sanneman's start in the restaurant business certainly wasn't at any place as polished as Natalia's. Growing up in Warner Robins, he worked at several different pizza places – the closest he came to Italian food before starting at Natalia's in September. After high school, he joined the Navy, where he served for five years. That service led him to La Jolla, Calif., and an internship at The Marine Room with executive chef Bernard Guillas.  
"That's when I first realized I wanted to do this for a career. That's what sparked the passion," he said. 
After his time in the Navy, Sanneman said he "bounced around a little bit" doing construction work before coming back home to Warner Robins where he took a job as a dishwasher in Danielle's restaurant.  
"In 18 months, I was running the kitchen there," he said. 
His experience there led him to the kitchen at Henderson Village in Perry, and then on to Edgar's Bistro just before Goodwill Industries of Middle Georgia opened its culinary program at Helms College. 
"I had a friend working at Edgar's, so I went in for the interview and got the job. I stayed with them almost six years. I opened (Helms) with them and became a fulltime instructor with the school," said Sanneman, who doesn't have a culinary degree of his own, but earned his spot as an instructor through years of experience and innovation in the kitchen. 
In 2012, when the Moonhanger Group, who now owns Natalia's, opened Dovetail, they hired Sanneman to help open the restaurant and serve as its executive chef. He stayed there until December 2016, when he stepped down to deal with alcohol addiction. 
"I did a great job for Moonhanger. We re-opened H&H, El Camino and got the catering business going, but I had to deal with the alcoholism," he said. "I went into a treatment facility for a few months to get my head clear. … I'm two years sober now." 
After treatment, Sanneman took some time away from work to focus on his recovery. He wasn't actively looking for work, only applying for things that seemed interesting. 
"I looked at taking a job in Antarctica. I don't know what I was thinking," he said with a laugh and a shake of his head. "The job was only six months and I thought it would be an interesting experience. I sent the paperwork off, and waited and waited. 
"Soon, I got a call from Houston Lake Country Club's owner Mark Byrd. He knew about my past and the reasons why I left Moonhanger, and he gave me a shot as executive chef. I'm grateful for that. 
"Well, three weeks on the job there and the Antarctica paperwork finally came through – of course I turned it down. The freezer at Houston Lake was the coldest freezer I've ever been in, and every time I went in there I'd think, 'What in the world was I thinking?'" 
Natalia's new ownership 
In July 2018, Sanneman got a call from his former Moonhanger boss, Wes Griffith. Wes and his brother, Travis Griffith, had purchased Natalia's restaurant and wanted him to join the team as executive chef. 
"Doug was our executive chef at Dovetail, and he's just super talented," said Wes Griffith. "In my opinion, he's the most talented chef in the area. He's got such a good palate, and he's got a strong history here. He taught at Helms, is a certified executive chef, brings a real good work ethic and has so many skills in the kitchen. He loves all different types of food and world cuisine, and creating rustic Italian food is one of his passions."  
Sanneman said it was tough to leave Houston Lake, but was excited at the opportunity to work at such a Macon landmark. Natalia's was established in 1984 by Natalia Del Basso Orsini, a native of Sulmona, Italy, and has been Macon's go-to spot for fine dining for 34 years. 
"I've always loved Italian food, and I've never worked in an Italian restaurant. That was a big fear of mine, coming in here and gaining 40 pounds by eating pasta," the 37-year-old Sanneman said, adding that his favorite dish is pasta amatriciana. "I make it for myself every now and then – but really spicy." 
Sanneman admitted taking on such a role was a big task, and said he's working hard to address concerns from longtime patrons who are worried about menu changes to their favorite restaurant. 
"I truly believe that the restaurant is just as good as it always has been, and I truly believe that everyone in the kitchen believes that as well," he said. "And yes, we are very aware of what's going on out in the community and we care very much about that, and it's on our radar constantly. 
"When I came in, I had never worked for Natalia, I never even knew Natalia, but look at what she's built! I respect that, and I don't want to change the integrity of the place." 
Griffith echoed those sentiments, adding that the restaurant was founded on recipes that were close to Natalia's heart, and they hired Sanneman knowing he'd be respectful of that. 
"We want to keep and honor those traditions, but wanted to bring someone in who could start to sprinkle in modern interpretations of Italian cuisine," Griffith said.  
Expanding menu, inviting atmosphere 
Sanneman said his role at the restaurant is to identify the core menu favorites that keep customers coming back, while tempting them with some new offerings as well. 
"When I came in, I had the mindset to not change a bunch of stuff. In fact, we haven't done much to the core menu at all," he said. "The way we're advancing things is through the Specials Board, which is a huge task to manage." 
With a goal of bringing in new ingredients through their use in weekly specials, Sanneman said the restaurant now features "every type of mushroom you can think of, and lot of game like elk, duck and venison." 
Sanneman said he's taking a slow approach to changes in the core menu. 
"We are looking at creating a core menu change maybe by March, but we're not holistically changing everything," he said. "We want to keep all of our old customers and invite new ones in as well." 
Griffith said it's important to maintain the integrity of the restaurant, while also looking to its future: "To me, that's what keeps businesses going, to slowly evolve with the times."  
For now, Griffith said he's focused on maintaining the excellent reputation of the restaurant, and Sanneman is just one member of the "A-team" they've created to do that. 
"Now that we have a year under of our belt as the steward of Natalia's, we've identified our A-team moving forward. Long-time server and front of house leader Richard Hedden has stepped up to the plate. He's been here for years, and we're excited to announce that he will be Natalia's general manager." 
Simple and satisfying 
Glancing around the bar area, scattered with folks laughing over cocktails and meatballs, Sanneman said dining at Natalia's doesn't have to be fussy. It can be as simple as drinks and appetizers or desserts. 
Addressing those with reservations about fine dining, Sanneman said, "Anyone can eat here. What are people afraid of? Is it the tablecloths?" he asked with a laugh. "I don't think it's the cuisine. We're very approachable from a cuisine standpoint; I believe that. Don't let the tablecloths scare you!"  
When cooking at home, Sanneman said he likes to keep it simple, with just a touch of experimentation. 
"When I cook, a lot of the times I'm experimenting with stuff. I love using a real wood grill, and I'm hoping that's something we can bring into the kitchen at Natalia's. … People would be surprised; I'm not complicated at home," he said, starting to laugh. "I'll eat imitation crab meat and cheese out of a can from time to time. I ain't too proud."