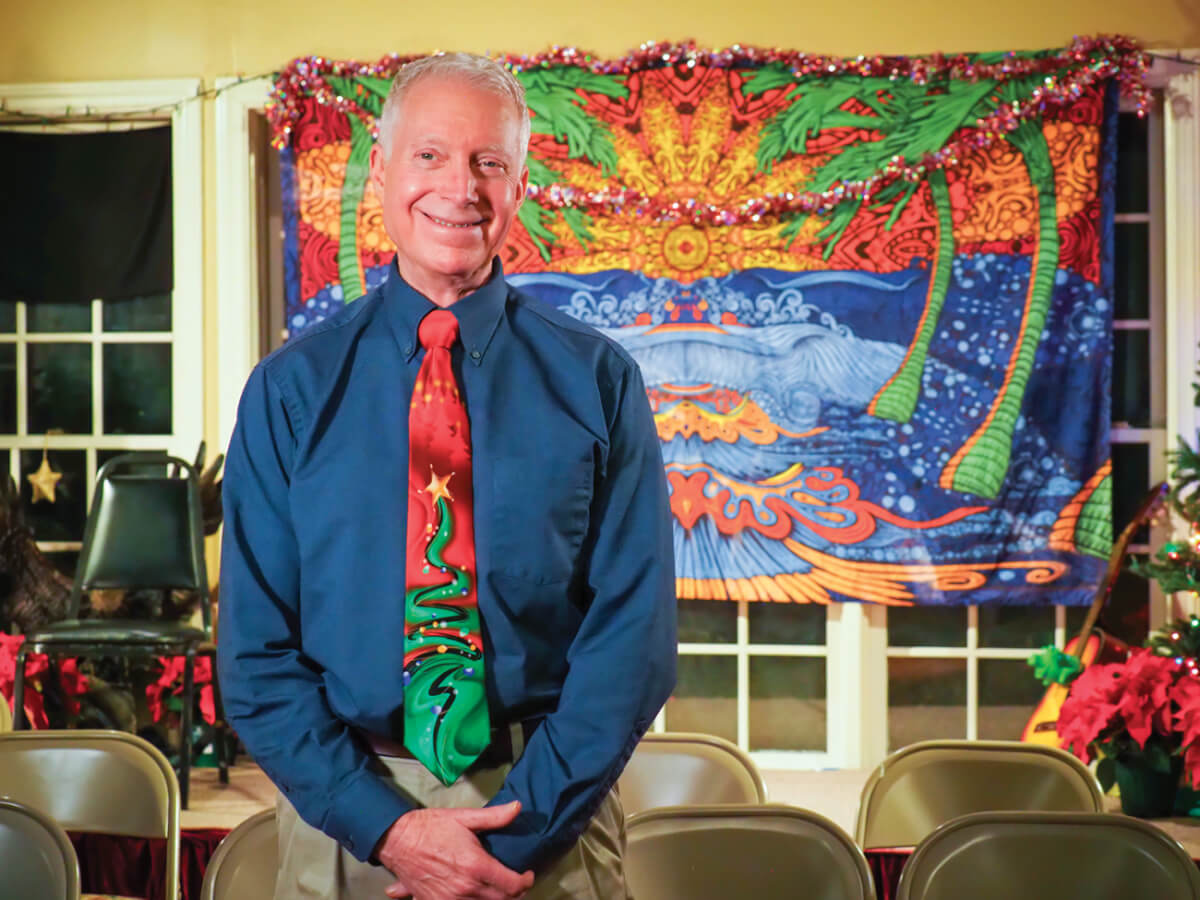 Wood and strings and love  
One man's passion for guitars and acoustic music keeps top players coming to Macon
By Michael W. Pannell
Photography by Jessica Whitley
A lot of people are thrilled when Joe Cullison's friends come to town, almost as thrilled as Cullison is. 
When his friends show up, people know music – really good acoustic music – is in store. 
For 17 years, Cullison has brought some of the world's finest acoustic musicians to Macon, particularly guitar players and those who play bluegrass, fingerstyle, folk, Celtic and various genre-bending adaptations. 
But Cullison never set out to be a concert promoter. He said he's just always been crazy about music and about guitars. His zeal to hear great players led to friendships and the courage to ask, "Hey, how about coming and playing in Macon?" 
"The gist of it is that I have a pretty loyal – a very loyal – group of friends, acquaintances and fellow music lovers who come to shows and keep things going," he said. "I don't advertise a lot but there's a lot of word-of-mouth. I've done shows from the Grand Opera House, where we had Blue Highway, to having friends play at my home. I get the bills paid, make sure artists do well and have a little to move on to the next one.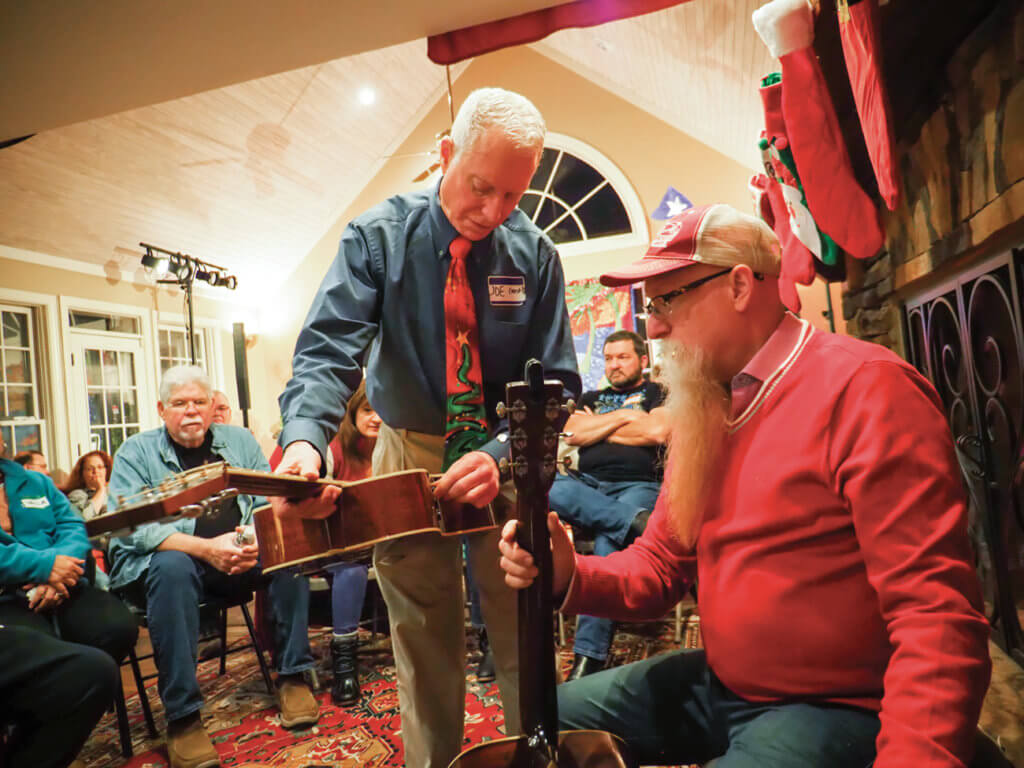 "I've done as many as half a dozen and as few as two shows a year. But it's always with people I think are worth hearing – people I want to hear. I guess that's it: I'm really just a regular guy and I get to hear these great, great players and get to share them with people around here. That's like a bonus." 
Scarlett Farr is one of those "people around here." She's attended concerts regularly for four years after hearing about them from her brother, Al Lovelady. 
"Growing up we always listened to country and bluegrass and I never stopped loving it," she said. "Joe bringing who he does is amazing to me. I never imagined I'd hear this caliber of musicians live so often. They're not all bluegrass, but I've come to trust that if Joe brings somebody, they're worth a listen." 
Jim Garvine lives near Fort Valley and has come up for a majority of Cullison's shows for eight years. He plays guitar, loves bluegrass and agrees with Farr that he never would have thought he'd get to hear the quality players he does. 
"I'm not sure who was the first but probably it was Monroe County Crossing, a great bluegrass group, or Claire Lynch, who's considered a top bluegrass singer and won the International Bluegrass Music Association's (IBMA) Female Vocalist of the Year award three times," he said. "She's been nominated for two Grammys. The music is good and you get to meet others who are into it." 
Cullison said his musical interests started as a teenager listening to folks like Neal Young and James Taylor. While at the University of Georgia earning a degree in psychology, he joined a men's chorus that had a bluegrass component and needed a guitar player. 
"I said I could but really I couldn't do it," he said. "I could play bluegrass rhythm but joining made me listen to greats like Tony Rice and step up my game."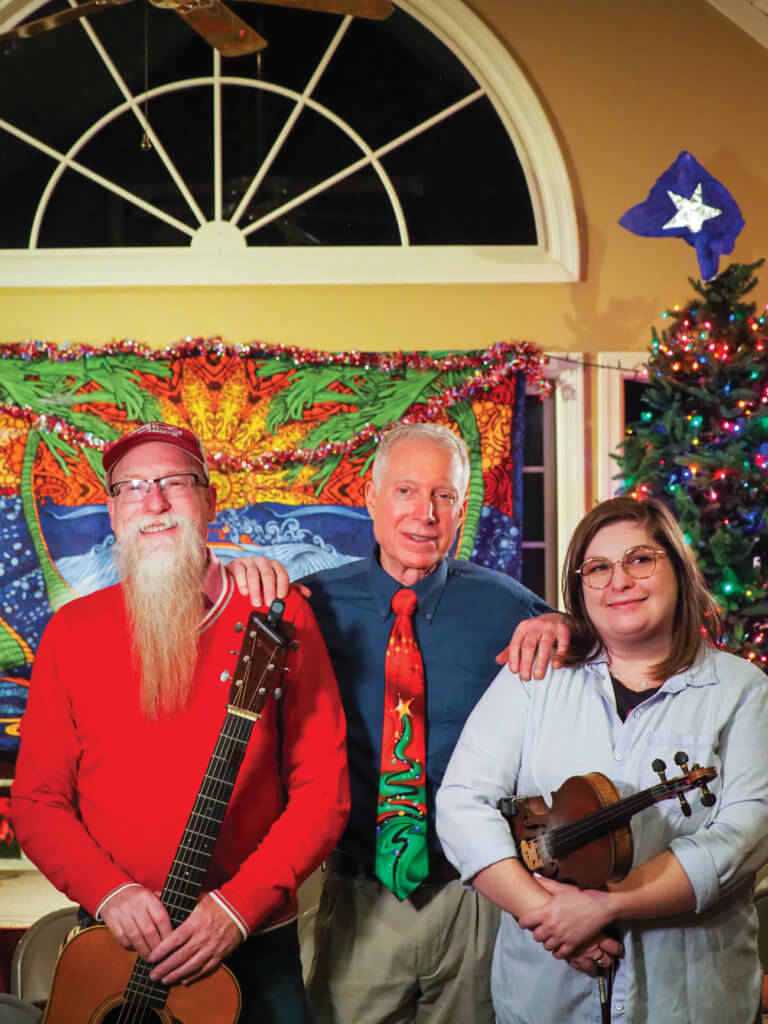 A year or so after UGA, Cullison found himself in a sales job he didn't care for. A chance conversation with an Air Force recruiter led to a 20-year career piloting C-130 cargo planes and doing administration work. During that time, he stayed active musically by forming a bluegrass outfit in his squadron that consistently won base-level talent shows, command-level shows and for four years took second place at the Air Force-wide competition. 
"We played all over the world," he said. "Plus, when we won contests it meant our job became practicing to win the next one, so that was a pretty good deal." 
Cullison retired in 2000 while at Robins Air Force Base and moved to Macon to be near musician friends. He also started attending guitar workshops and camps including the popular Nashcamp around Nashville and Warren Wilson College's Swannanoa Gathering in western North Carolina. It offers five separate weeks focusing on areas like guitar, mandolin, fiddle, traditional songs, Celtic music and contemporary folk music. 
World-class musicians teach and there's time to hang out, learn casually and get to know people. That's how he met player-teachers leading their fields like Robin Bullock and Steve Baughman, Jim Hurst, Preston Reed, Al Pettaway, David Grier and Muriel Anderson. 
Friendships were made. Things happened. All were among those who eventually came to Macon to play along with others Cullison met.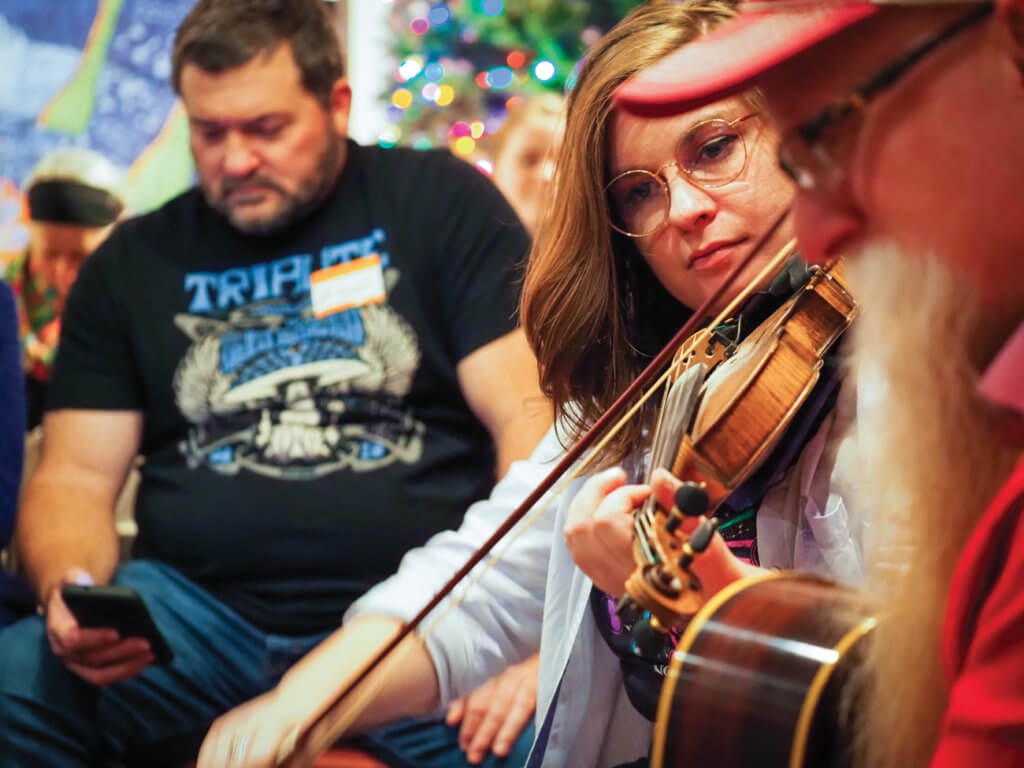 It was fingerstyle guitarist Preston Reed who first started talking to Cullison about doing shows in Macon. Reed said he'd come, and Cullison did a show with him at the Douglas Theatre in 2002. 
"Preston helped me so much and so did Gina Ward at the Douglass," Cullison said. "Another iconic guitar player who came and was a big, big help was Jim Hurst." 
Three-time IBMA Guitarist of the Year winner and sought-after teacher and studio musician, Hurst has done dozens of Cullison's shows.  
"There's all kinds of music in Macon but Joe wanted to bring more bluegrass and acoustic fingerstyle players," Hurst said. "We became friends at Nashcamp, where I taught for 14 years. I encouraged Joe to do it – do it right away." 
Hurst said there's a unique trait to Macon audiences. 
"Most people traveling through Macon on the interstates don't have a clue what's going on or what the musical heritage is," he said. "But when I come to Macon, I know I'm performing for people with an upper-level musical knowledge and awareness. At Joe's, I know they're there to listen. That's a great situation." 
Muriel Anderson is another notable performer who considers Cullison a friend and has played multiple Macon shows. Anderson's background includes studying with classical master Christopher Parkening, being a student and friend of Chet Atkins and having Les Paul say, "what I like is the touch that Muriel has on the guitar, the way she plays it like we all wish to play." 
Anderson is well known as a harp guitarist as well as six-string player. She was the first woman to win the National Fingerstyle Guitar Championship and founded the Music for Life charity to provide funds for school music programs. To help support it, she calls on friends to perform at her Muriel Anderson's All Star Guitar Nights, which regularly coincide with annual National Association of Music Merchants (NAMM) trade shows in Nashville and Los Angeles. Many have responded, like Peter Frampton, Les Paul, Duane Eddy, Tommy Emmanuel, Bela Fleck and Vince Gill. The event is often used by Guitar Player Magazine to present its prestigious Legends Award. 
"At Joe's house concerts, it's almost like the concert is secondary to the idea Joe and I are friends with all our friends coming over to enjoy music," Anderson said. "The format is charming for the player and audience and must be similar to what people experienced in the heyday of chamber music. You can stretch out and try new things you'd never dare in a concert in a big hall. People come like they're seeing a friend and know they're going to hear good music and have a good time." 
Cullison's annual flagship show is the Celtic Christmas Concert featuring fingerstyle players Bullock and Baughman and occasionally others. In reviews, Bullock has been called a "Celtic guitar god" and he and Baughman are sought after performers and teachers. Baughman also promotes an old-time clawhammer style of playing both banjo and guitar. 
Cullison met the two at Swannanoa. 
"Joe brought us to Macon for concerts and we realized the blend of Steve's and my instruments were perfectly suited for Christmas music," Bullock said. "Joe has brought us back for 16 years and taken the concert from being just a Macon thing to a tour in as many as five states."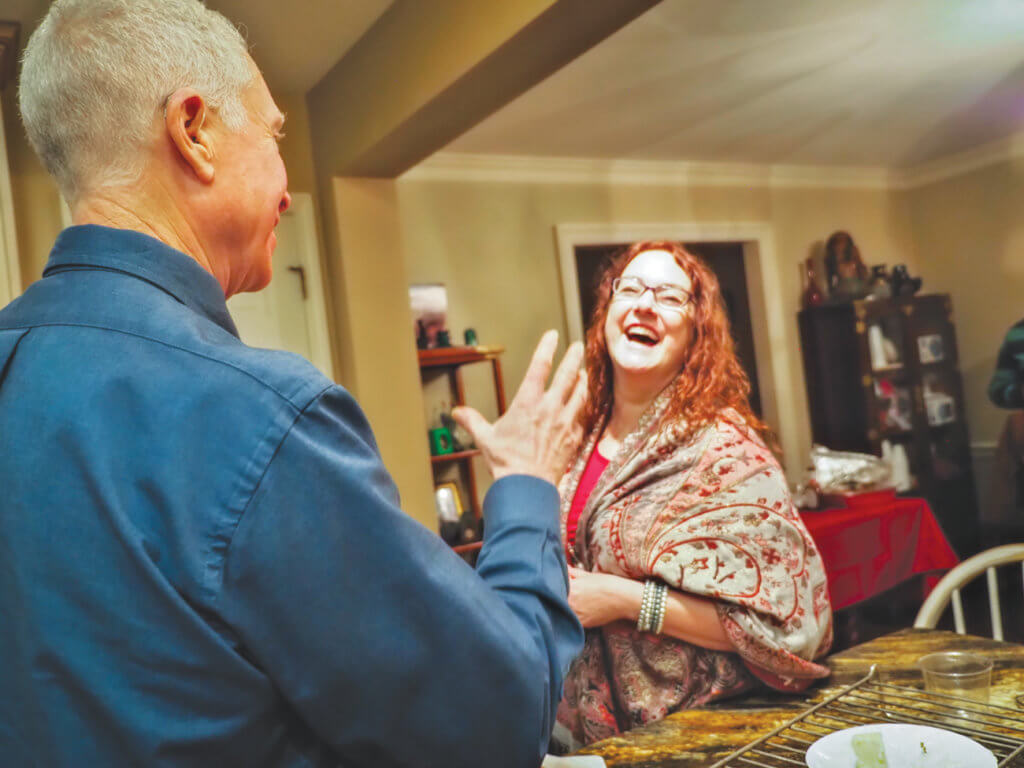 Through the years, Cullison's concerts took the name Acoustic Productions with a website at acousticproductions.com. 
"I'm just honored to make even a small contribution to the music available in Macon," he said. "I could never have pulled off the 150 or so shows of one type or another at places like the Douglass, the Grand Opera House, the Howard Community Center, Juliet Opry and Wesleyan's Pierce Chapel without the love and help I've gotten from audiences, musicians and sponsors. 
"Personally, I think we're starting to see one of the biggest explosions of talented young people ever playing this music and I'm just thankful to be part and glad there are others who like hearing it live as much as I do."