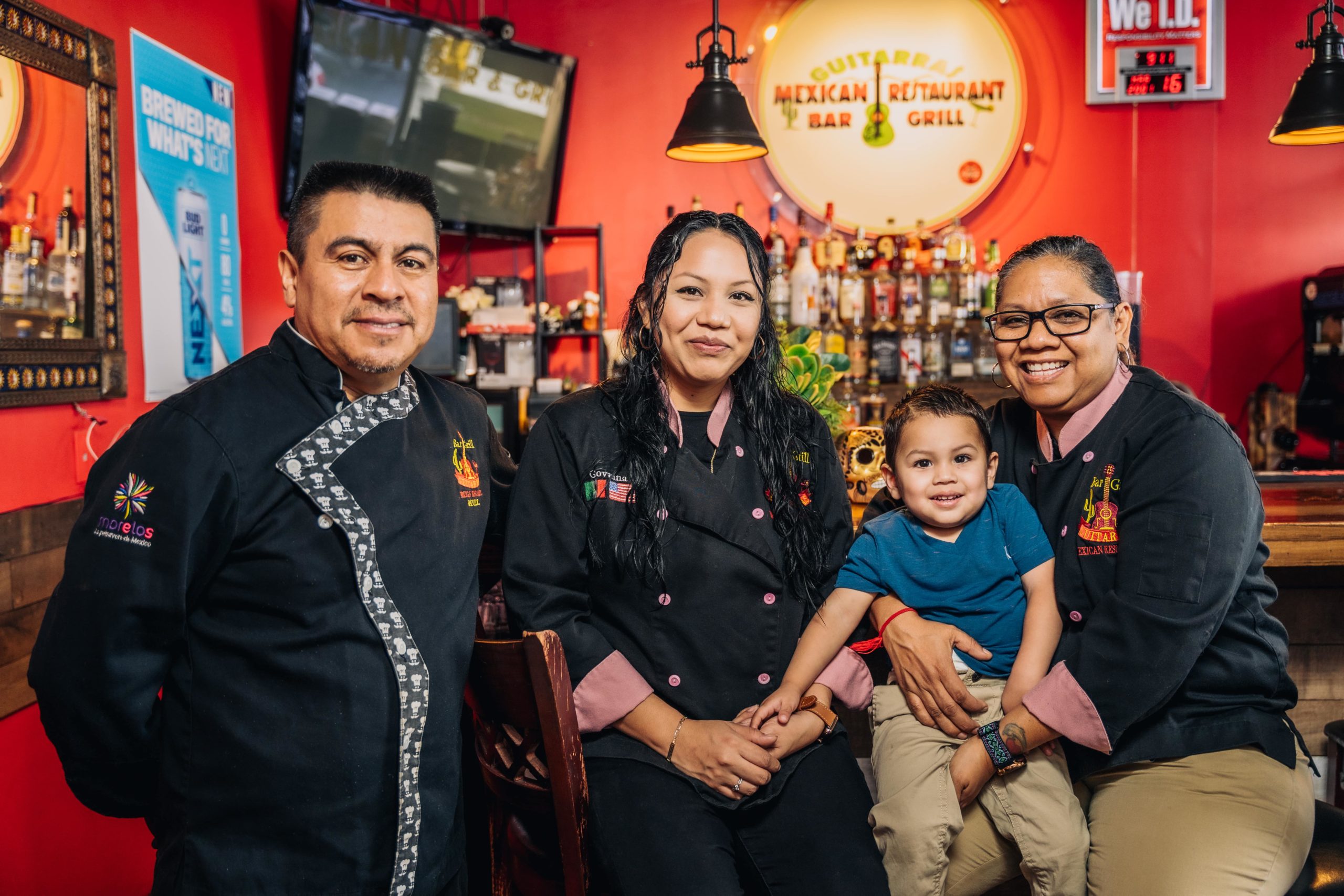 Gorgeous generations
By Hannah Jett Theus
Photography by Jave Bjorkman
Multigenerational businesses are impressive. When they're led by women, we should be shouting, "Who runs the world?" from the rooftop and screaming their successes in unison. While striving to find their own work-life-balance, two women-led Macon businesses have an ability to give you a taste of authenticity and dress you to the nines.
GUITTARAS MEXICAN GRILL
IF THE WAY TO SOMEONE'S HEART is through their stomach, then Guittaras Mexican Grill is chock-full of love. This family-owned restaurant on Tom Hill Sr. Boulevard has been shaking up some delicious margaritas and serving authentic dishes with an inviting ambience since 2015.
Giovanna Pina, owner of Guittaras and daughter of David and Nancy Resendiz, is proud of her family's hard work, which has led to a bustling restaurant and saught-after food truck. Pina and her parents worked at local Mexican restaurants before being convinced by friends to open their own. For that, Pina said her family is forever grateful.
"I remember traveling and my parents cooking for some friends, and they would always encourage them to open a restaurant," she said.
The Resendiz family knows how to strum up your taste buds. Their authentic dishes such as mojarras fritas, sopes, huaraches and empanadas are big sellers.
"Our green spicy salsa is also a must-try and a compliment to all our meals. I put it on everything!" Pina said.
Pina said the restaurant's staff is mostly family.
"We are all very close and even our staff that isn't family has turned into family. Our staff is mostly my mom and dad; my two brothers, David and Luis; my sister, Evelin, and her fiancé, Miguel; my uncle, Abel; and my cousins, Beto and Manuel. My husband, Javier, is also always ready to jump in when needed," she said.
Pina credits her parents with the success of the restaurant.
"I may be the owner, but the most humble and hardworking people are my parents. Without them, this restaurant would not be what it is today," Pina said. "I am very proud of them and grateful that I am able to work beside them and be able to provide for my own family all while maintaining and creating new friendships."
You may even see the Resendiz family out and about in Macon at festivals, work events and parties.
"We decided to open a food truck and thought it was a good idea because people would know exactly where the food was coming from. It comes from a clean, established restaurant and you know exactly where everything was prepped and cooked," she said.
The restaurant's loyal customers are deserving of a tequila toast themselves.
"They have continued to show us time and time again the value of amazing friendship," Pina said.
So, whether you're on the go at an event or deciding on your next lunch spot, be sure to give Guittaras a try. You're in for a tasty treat from one of the sweetest families around.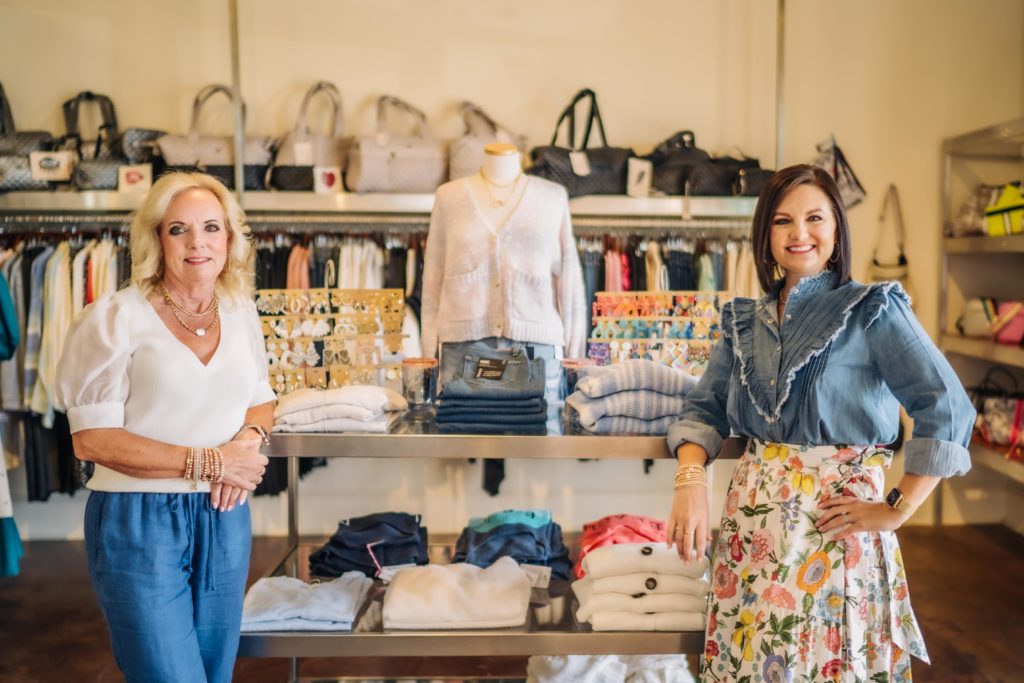 RUMOR BOUTIQUE
WHEN YOU LOOK GOOD, you feel good and Rumor Boutique on Forsyth Road knows how to make you feel spectacular. Owned by a stylish mother/daughter duo and specializing in customer service with an array of accessories and attire, rumor has it that the key to their success is going above and beyond to be kind.
Open since 2005, mom Judy Smith and daughter Ashley Johnson both had retail experience before opening the doors to their brick-and-mortar location.
"Owning a store, you wear so many hats. You're not always on the floor, but working with customers on a day-to-day basis is my favorite," Johnson said. "It's what keeps us going. We have a wonderful staff and amazing customers. We always help customers, whether they find something or not. It's our pride and joy to go above and beyond and to make everyone feel welcome and wanted," Johnson said.
Johnson had seen first-hand the power of a family-owned business after interning and working her way up to becoming the manager of a boutique owned by three sisters.
"It truly takes a village to run a small business," she said. "I feel like having my mom helping me out is everything. I knew how important it was going to be to have someone by my side. I trust her with everything. Family is super important to us. We work together every day to be the best for our customers."
Long-time customers are now bringing in their daughters to shop for the latest sizzling styles from amazing brands like Show Me Your Mumu, and the store continues to reach younger audiences through social media.
"I have learned that as a business owner, you have to adapt with the times. We didn't grow up in the social media age. We have had to adapt. We've always had great, savvy employees that we lean on to help us on our social media outlets," Johnson said. "I am very thankful we have a brick-and-mortar. Yes, it is nice to have social media and an e-commerce website as an enhancement, but if all of social media was taken away, I feel like Rumor would still be around to provide great clothing and accessories to the Middle Georgia area."
Whether you're looking for something casual chic or date-night ready, Rumor is the best of the best and will make you feel that way, too.