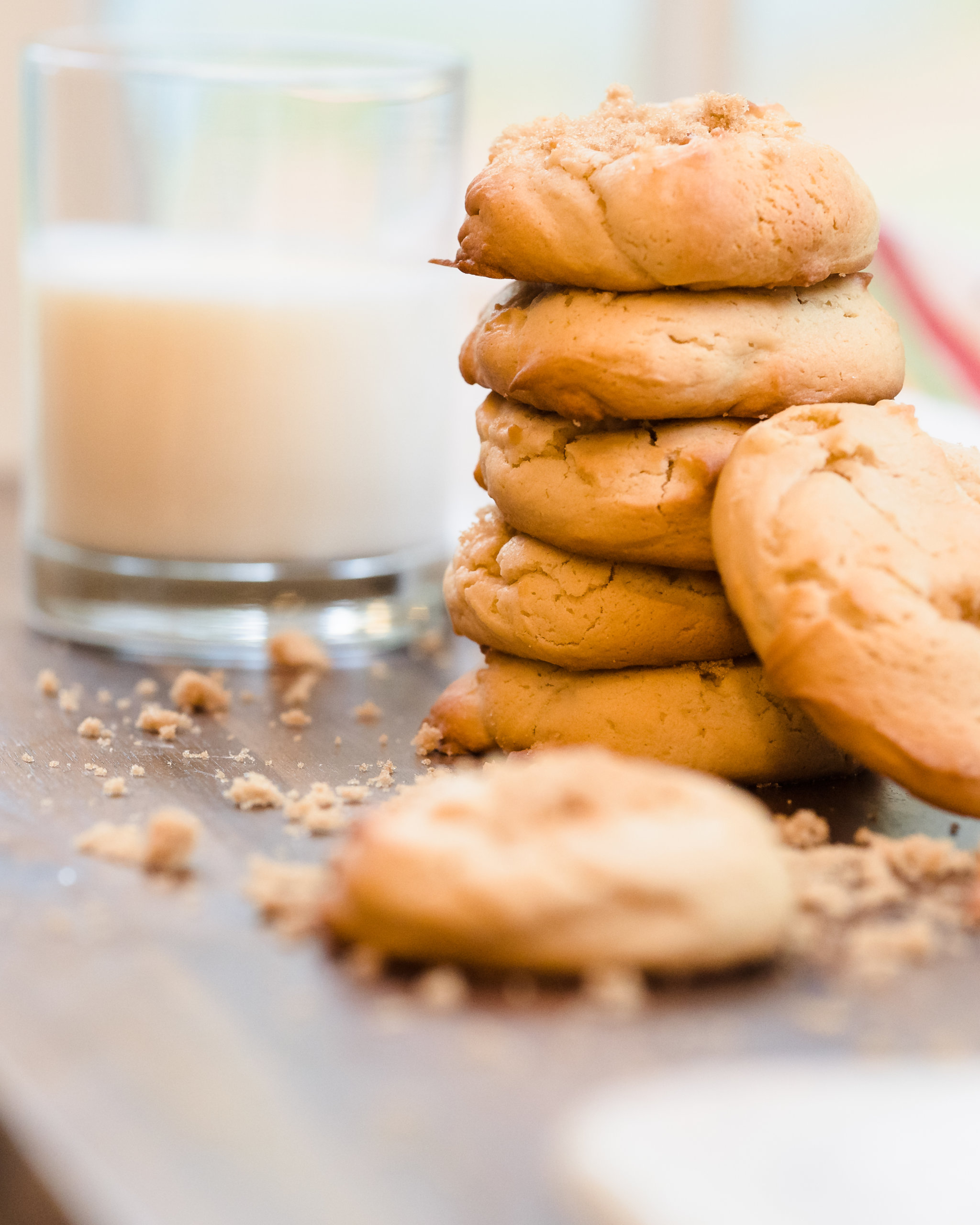 Tradishes Rediscovered cookie recipe sparks fond memories
By Kelley Dixson
Photography by Mike Young
Join us in this series as we search for the dishes that move you. We want to know why you cook what you cook. Share your story with us at hello@maconmagazine.com. 
"Simple and clean. All her recipes were like that. She didn't overcomplicate food. She baked because that's how she loved."
Chef Lane Richardson's grandmother, Mary Grace Baker, began her life in Amish country during the Great Depression, learning how to grow, prepare and preserve food, how to nurture those around her and how to live simply and still feel fulfilled.
The expert knowledge handed to all her children and grandchildren before her death in 2014 was invaluable. But for Lane, her influence was a crucial ingredient to the man he would become.
"Her family was her pride and joy, and while I don't remember her saying 'I love you' all that much, I do remember always feeling loved. She'd always let me lick the spoon when she made sugar cookies," he says.
Now, through Lane, Mary Grace Baker's legacy of how to love with food is carried on to another generation.
"Grandma used to feed us butter. She'd say 'Kids need fat!' She grew up in the Great Depression. They did what they had to do," he says.
Mary Grace Baker was a housewife for 56 years and baked almost every day. Lane showed us her personal recipe book with handwritten instructions on how to make her most cherished dishes.
Among them was the recipe for her sugar cookies.
With just a few ingredients – and somehow even fewer directions – the recipes are all handwritten and would probably only benefit the most seasoned baker.
"I don't really enjoy baking. It's a long game of hurry up and wait. It's too precise, and I get ideas in the middle of cooking that radically change a dish, and you can't do that in baking," Lane says. "Grandma's recipes were written down the way someone who has been making a recipe for the better part of a century would write them."
Mary Grace Baker's sugar cookies, or Amish sugar cakes, are a type of drop cookie with crystalline sugar crusting the top.
"Very airy, so that you don't have to chew it so much as let it melt in your mouth," he says while sifting the flour and baking powder into a bowl. Using a hand mixer and a larger, separate bowl, he beat the shortening and light brown sugar together at a medium pace until fluffy.
His daughter, Sonny, and son, Baker, run in and out of the kitchen, giggling and checking on the progress of the cookies. He hands each of them a mixer beater heavy with cookie dough to lick clean – a tradition the kids are glad was passed down.
Baker never got to meet his great-grandmother, but Sonny is just old enough to remember her great-grandmother's kindness.
She watches her father add eggs and vanilla to the shortening and sugar bowl and mix until combined. In a third and final container, he stirs together the cream of tartar, baking soda and milk and waits a few minutes for it to sour.
Lane then alternates flour and milk into the mixture, being careful not to overwork the dough. With a spoon or a cookie scoop, he drops the cookies onto a baking sheet.
The cookies bake for 13-15 minutes or until they have risen and spread and are golden brown around the edges. Immediately when they come out of the oven, sugar is sprinkled on top.
Let them cool — if you can wait that long — and dig in.
These cookies were a family favorite and difficult to reproduce. And as they would find out after her death, the lack of specifics in her recipes resulted in much frustration when they tried to re-create the exact taste.
"My mom, my sister and I tried over and over to replicate her cookies, but we just couldn't get them right," Lane says.
Worried that they may have lost an important memory, the family was devastated.
"My grandma died unexpectedly in 2014. It was heartbreaking. Three years later, my co-worker brought in an assortment of homemade cookies to share with the staff. I reached down to grab one without any thought and within one bite I instantly recognized the cookie. As luck would have it, the baker was from very close to where my grandma had grown up and learned to bake," Lane says.
Ecstatic, Lane took the rest of the cookie home. Upon tasting it, everyone in the family "had the same reaction. We all embraced each other and sobbed over these beautiful cookies. It was like we had Grandma back for a few moments."
Founts of wisdom and kindness, grandmothers are a key to the past and one of our greatest resources. If you're lucky, you get one like Mary Grace Baker, who "was filled with seemingly-boundless love for everyone she came in contact with and had a way of making everyone feel like they were the most special person in the room."
Not only did she pass on her love and reverence of food and family, she left behind pieces of her heart — to remind her family to always lick the spoon.
Amish Sugar Cakes
Makes about 3 dozen cookies.
4 cups flour
1 rounded teaspoon baking powder
1 cup shortening or butter
2 ½ cups light brown sugar (reserve ½ cup for topping cookies, or use white sugar)
2 eggs
1 teaspoon vanilla
1 teaspoon baking soda
1 teaspoon cream of tartar (or 2 teaspoons of lemon juice or white vinegar)
1 cup milk
Preheat oven to 350 degrees. Mix together and sift flour and baking powder into a bowl. In a larger, separate bowl or a mixer, beat shortening or butter and light brown sugar together on high until fluffy. Add in eggs and mix well, then add vanilla and mix well.
Place cream of tartar (or lemon juice or vinegar) in a small container, then pour in milk. Wait about 3 minutes for the milk to sour. Then, stir in baking soda.
Alternate adding flour and the milk mixture to the large bowl and beat on medium speed after each addition, being careful not to overwork the dough.
Drop on a cookie sheet with a spoon or cookie scoop about 2 inches apart. Bake for about 12-15 minutes, or until the edges are golden brown and the cookie has risen and spread.
Immediately after removing cookies from the oven, sprinkle with remaining brown sugar or white sugar. Cool and enjoy!