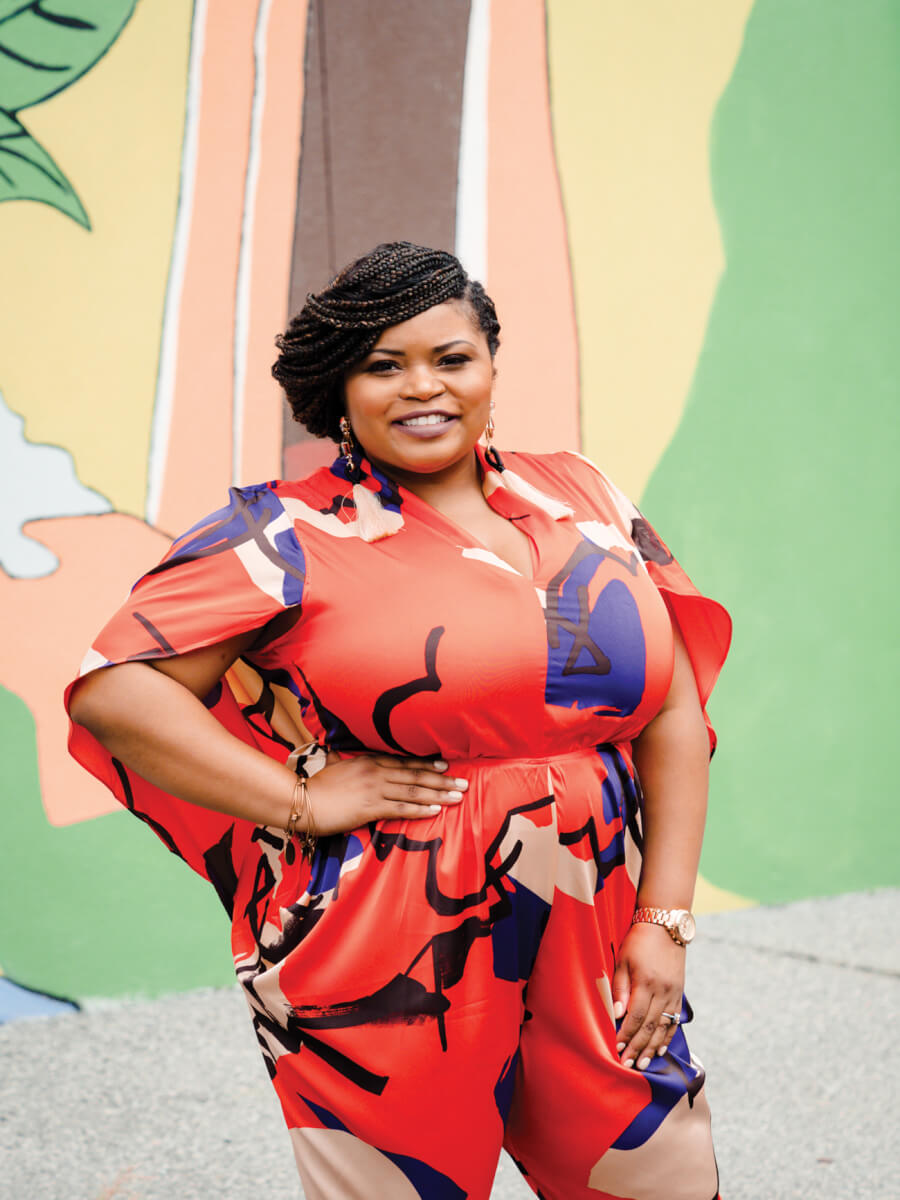 5 Under 40: Ansley Booker
Ansley Booker,

35

 
Director, Office of Diversity and Inclusion Initiatives at Mercer University 
Tell us about your job, and why you chose your career field. 
The Office of Diversity and Inclusion Initiatives collaborates with departments, colleges and student organizations to provide an array of events, programs, educational trainings, workshops and webinars to increase awareness and understanding of the importance of diversity and inclusive practices in higher education and the wider community. This office also directly sponsors cultural celebrations throughout the year including Diversity Day and the MLK Living the Dream event. 
The overarching goal of the office is to expose the Mercer University community to various multicultural events, trainings, lectures and curricula to build, maintain and strengthen cultural competencies throughout the campuses while maintaining a community of respect, honor and heritage.  
I have always chosen careers where I was able to help people and influence change. I specifically choose higher education because I wanted to make a difference and help shape the future. In higher education, I can work with individuals from various backgrounds, moral belief systems and identities to discover how to work together toward a collective and equitable future.  
Tell us about your activities in the community, especially what you're most excited about. 
I am an active volunteer in the Macon and Middle Georgia community, working with groups that provide access to opportunities and resources for youths and adults. These groups have included Streets to Success, the Renaissance Mentoring Team, Delta G.E.M.S., Embodi and Real I.M.P.A.C.T. Center Inc., Our Girls Rock Too-Statesboro, I Am Developing Co., National Panhellenic Council-Delta Sigma Theta Sorority Inc., Mercer University Upward Bound/ Educational Opportunity Center-TRiO Programs and the Rosa Jackson Community Center.  
I am most excited about future collaborations in the city. I collaborated with a local nonprofit, I Am Developing Co., and AmStar Theatres to take more than 100 adults and children to see "Black Panther" and more than 40 young girls view "A Wrinkle in Time." I also traveled to Cape Town, South Africa, and served as a volunteer to repaint and retool a local elementary school. I believe serving one's community with your time, talents and treasures is one of the greatest gifts you can share. 
As you look to the future, what are your professional and personal goals? 
My professional and personal goals intertwine greatly. I look forward to more diversity, inclusion, equity and justice initiatives to help foster a more inclusive society. I want to work more on providing materials and resources that will tackle antiracism work in P-16 education, as well as increase literacy rates.  
What are you personally committed to accomplishing in Macon and why? 
My life's mission is to impact as many young adults and children to achieve post-secondary and career success. Therefore, I work with programs that closely align with those values. One project that I am extremely excited about is our 2019 Leadership Macon Project at the Ocmulgee Mounds National Historical Park. The Ocmulgee Mounds Education Project will build an outdoor classroom for the thousands of school-aged children who visit the park each year through school field trips or family outings. 
Also, we will be providing mobile educational trunks for S.T.E.A.M. (Science, Technology, Engineering, Arts and Math) instruction for students K-16. Each trunk is comprised of a variety of education lesson plans and hands-on activities for all ages. Each activity reflects an aspect of S.T.E.A.M. education as well as the integration of historical narratives from the Mounds. This project will support the education of our local students and provide an enhanced experience for the visitors who come to our area. 
Right now, what is the best thing going on in Macon? 
The best thing going on in Macon right now are funds to help empower and sustain the community through uncertain times. One example is the Community Foundation of Central Georgia and United Way establishment of the Central Georgia COVID-19 Response and Recovery Fund. This fund has been providing grants to local nonprofits and community organizations to meet short– and long-term needs in the response and recovery efforts. 
In addition, The Central Georgia Empowerment Fund will cultivate charitable giving within the African–American community, build capacity and financial sustainability of nonprofits that serve the African–American community and address the most pressing needs facing African–Americans in Middle Georgia. 
Lastly, the Macon Arts Alliance's Macon Cultural Plan 2020 funded by the Knight Foundation to use art and culture to ensure access to art and art programming for all Macon residents, encourage a creative community that attracts new residents to live and work in Macon and bolster existing arts and cultural institutions to create new opportunities that increase tourism.  
What have you learned during these pandemic times?  
I have learned that we as a human race have a very long journey ahead of us as we explore our intersectionality, privilege, guilt, shame and bias. I believe that not only America, but the world, is suffering from two pandemics: Racism and COVID-19. As a society, we have to acknowledge, address and atone for the oppression and discriminatory practices, policies and procedures in our society before we can move toward reconciliation and restorative justice. These two pandemics have only exacerbated the ills in our society. We must address them today in an intentional and strategic human rights and civil rights movement, not just as a moment in history.  
Congressman John Lewis said, "As a nation, if we care for our beloved community, we must move our feet, our hands, our hearts, our resources to build and not to tear down, to reconcile and not to divide, to love and not to hate, to heal and not to kill. In the final analysis, we are one people, one family, one house – the American house, the American family."  
What is your vision for our community? 
My vision for our community is continued growth, development, inclusion and appreciation for others. I envision an implementation of a Macon Inclusion Plan. It could be as an extension of the OneMacon initiatives. Many cities have adopted restorative justice and reconciliation plans to help build more unified towns. One aspect of the Inclusion Plan is to hire a Chief Diversity and Inclusion Officer as part of city management. 
What needs to change to encourage continued progress in our city? 
To encourage continued progress in our city, we must highlight more positive opportunities in Macon. We need to rewrite the narrative while embracing our culture and heritage but intentionally preparing for the future.  
What would be a missed opportunity in Macon? 
A missed opportunity in Macon is a missed visit to the Tubman Museum. The Tubman Museum has been celebrating African–American art, history, and culture for more than 30 years. The Tubman Museum is the largest museum in the nation dedicated to educating people about the art, history, and culture of African–Americans.  
When you talk about Macon to people who don't live here, what do you tell them? 
Macon is the "Song and Soul of the South." She is a city steeped in tradition, song and soul. We are home to talented musicians and artists including Little Richard, Otis Redding and the Allman Brothers. We celebrate culture through a myriad of international festivals including the Pan African Festival, Cherry Blossom Festival and the Ocmulgee Indian Celebration. 
We have great sports teams including the Macon Mayhem, Knights, Bacon and Georgia Doom. We are a place for higher learning, being home to over five colleges and universities including Mercer University, Georgia Military College, Central Georgia Technical College, Wesleyan College and Middle Georgia State University. 
We are Georgia's "Little Hollywood," having had movies and shows filmed in Macon including Emmy-nominated "The Watchmen," "Zombieland" and "42," just to name a few. Lastly, Macon embraces transplants like myself with love – so come join us.  
What does it mean to be a good leader? 
I believe in three models of leadership: servant leadership, transformational leadership and inclusive leadership. All three models allow for the leader and the team to be catalysts for change. A transformational leader is a person who encourages, inspires and motivates individuals to innovate and create change that will help grow and shape the future success of their lives and communities. The servant-leader is a servant first. I believe that for us to impact a change we must first serve, learn and listen to others. An inclusive leader utilizes a diverse group of traits and individuals to shift culture through collaboration, courage, cognizance and cultural intelligence.  
What do you consider your greatest achievement? 
I have made several public speaking appearances related to STEM, leadership, diversity and feminism. However, my greatest achievement was taking the stage for my 2019 alumni feature TedTalk at the University of Georgia entitled "Unhidden Figures: Uncovering Our Cultural Biases in STEM." We are no longer "hidden figures!" 
I worked with a team of amazing individuals for more than three months to tell not only my STEM journey, but the journey of those who blazed a trail before me and those who will follow. It was an exhilarating experience and one that I will never forget. We had an audience of more than 1,800 people in the Classic Center Theatre in Athens.  
What are three qualities that got you where you are today? 
The three qualities that have sustained and propelled me to the person I am today are persistence, self-efficacy and adaptability.