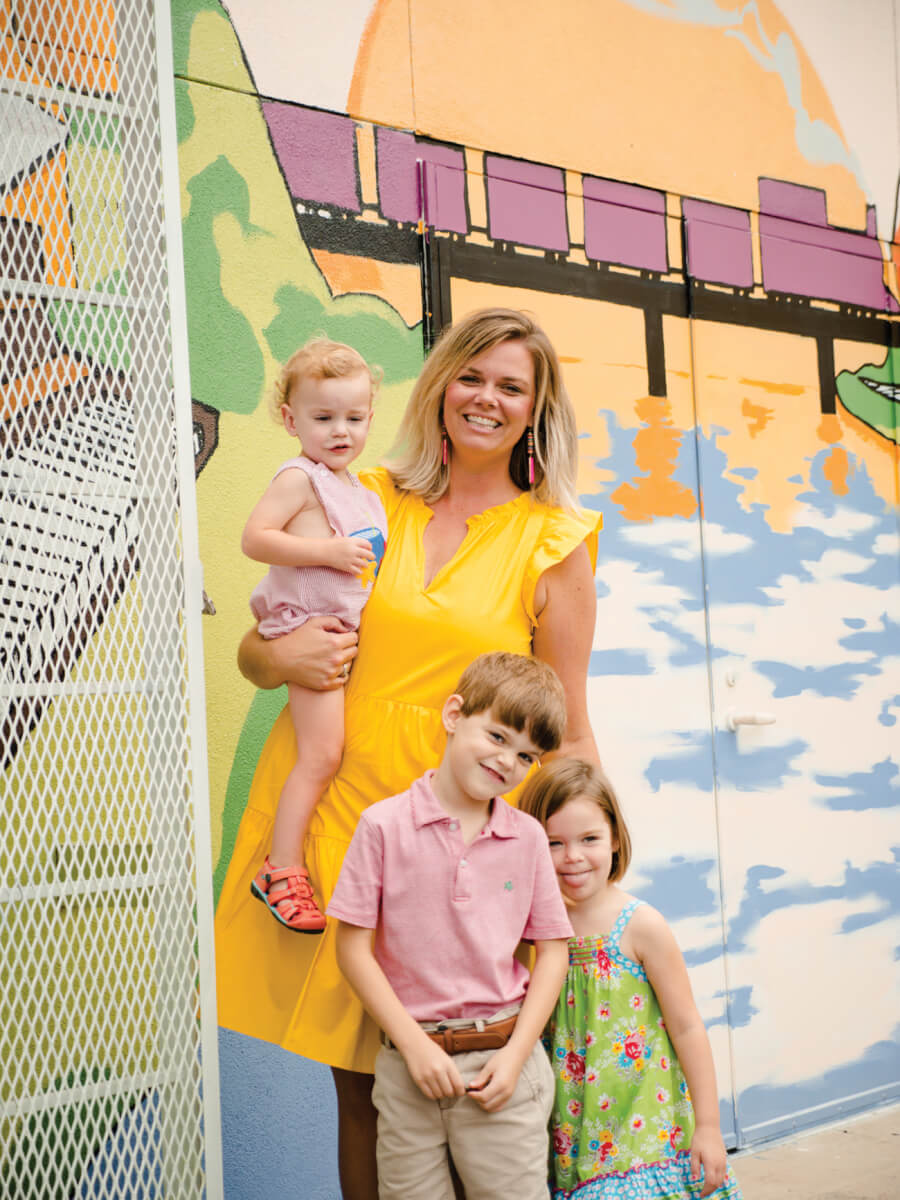 5 Under 40: Elizabeth Schorr
Elizabeth Schorr

,

35
Founder and CEO, Elizabeth Schorr & Co.
Tell us about your job, and why you chose your career field. 
I am the founder and CEO of Elizabeth Schorr & Co. We spend our days helping people represent the spirit behind their businesses through branding and website design. Our clients are passionate, wonderful people who run exceptional businesses and organizations that trust us to amplify their brand image. I chose the graphic design field in college and never looked back because it is a blend of both creative and business excitement that inspires me to create strong brands.
 
Tell us about your activities in the community, especially what you're most excited about. 
After spending several years in Savannah, my husband and I returned to Macon to raise our family. What excites me the most is that so much is happening here that we never realized we would be a part of. Macon is buzzing with new collaborations, initiatives and other small businesses like ours are opening daily. I sit on several boards including Bragg Jam and Middle Georgia Youth Ballet and support Historic Macon Foundation, Celebrating ART, Bike Walk Macon and the Museum of Arts and Sciences. I also am a co-founder of The Web, a work club and community offering programming, co-working spaces and support for members. It is really exciting to be part of building a vibrant city for our children.  
As you look to the future, what are your professional and personal goals? 
Professionally, I want to expand my knowledge of trends so I can best educate my clients as they expand their brands. It is important to be aware of changes in technological advances and with what is trending in terms of advertising, messaging and social media. Being aware of these trends will help to utilize the advantages of my clients. Personally, my goal is to better implement boundaries and routines so I can allow myself to enjoy life outside of work.
 
What are you personally committed to accomplishing in Macon and why? 
I want to continue to encourage collaboration over competition. My design style is the right fit for some people but not for others. There is plenty of work to go around and I love collaborating with other artists in my industry to design the best end product. Expanding my network through our work club, The Web, has presented resources for myself and my clients. Just because I "can" do something doesn't always mean I "should." Knowing who to ask to get the job done can be a lifesaver for a busy business owner. 
Right now, what is the best thing going on in Macon? 
Macon has exciting energy right now. New businesses are opening, others are expanding and I love being part of it. When I get a call from a business owner looking for help, the excitement in their voice is probably the best thing going on in Macon because it shows eagerness, hope and resilience.  
What have you learned during these pandemic times? 
When everything was canceled this spring, I was forced to let go of my schedules, my work, my children's schooling and my plans. As I plan ahead for this fall, I'm met with indecision and worry because most of what will happen is out of my control, and I have to understand that life is happening even if it feels as if it is at a halt. Taking time to cook dinner for my family, spend more time with my children and notice the sunsets in my own backyard are all things I've learned during these pandemic times that make life better. I treasure this time with my young family and I'm thankful for all of it.  
What is your vision for our community? 
A vibrant community that everyone is excited to be part of. 
What needs to change to encourage continued progress in our city? 
We need more people willing to jump in and give new ideas a chance. Our community is extremely supportive of local businesses but we need more people willing to open the awesome coffee shop, restaurant or favorite boutique they know and love in other towns.  
What would be a missed opportunity in Macon? 
It would be a missed opportunity not to complete the Ocmulgee Heritage Trail. My family enjoys biking and walking along the trail, and it's wonderful to have such a beautiful greenspace in downtown Macon. The trail connects the historical, cultural and wildlife aspects that fostered Macon's unique identity and continues the legacy of "A City Within a Park." 
The master plan for the trail includes easy access into Ocmulgee Mounds National Historical Park, new trail through Riverside Cemetery, an extension northwest to Amerson River Park and connecting neighborhoods throughout Macon. In addition, the trail currently houses a wonderful public art exhibit, a tree identification project, fountains, playgrounds, river access and more. 
Benefits of multi-purpose trails have been proven to include a better quality of life, encouraging physical fitness and healthy lifestyles, protecting the environment, strengthening local economies and preserving culturally and historically valuable areas. Businesses want to locate around amenities so their employees can enjoy what Macon has to offer. 
When you talk about Macon to people who don't live here, what do you tell them? 
Macon is a great place to raise a family. We are a diverse community with new breweries, live music and welcoming neighbors. Not to mention that if someone wanted to take a trip to the beach or mountains, it is not difficult to do because of our close proximity to both.  
What does it mean to be a good leader? 
I think a good leader both listens for input and keeps their eyes focused on the end goal.  
What do you consider your greatest achievement? 
Creating a company (ES&Co. elizabethschorr.com) that allows me to be financially stable while also juggling three small children and their schedules.  
What are three qualities that got you where you are today? 
Creativity, flexibility and enthusiasm. Every day in my world looks different. A new project could pop up out of the blue, or a child could need me to stay home. Being able to adjust and change quickly with sometimes a creative solution (like working on my laptop from the pediatrician's parking lot) helps me get the job done.