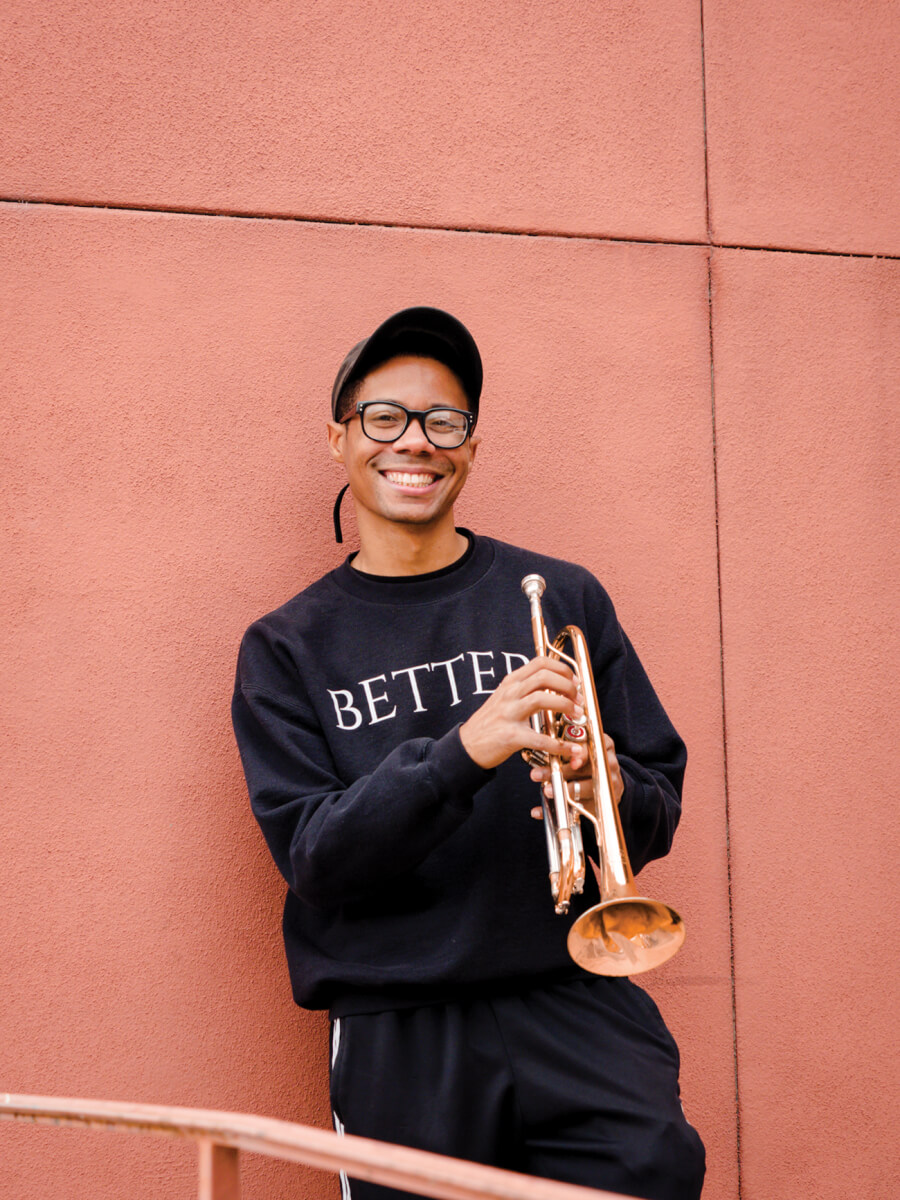 5 Under 40: Vinson "ALäZ" Muhammad
Vinson "

ALäZ

" Muhammad

,

33

 
Musician and servant
Tell us about your job, and why you chose your career field. 
I am blessed to be an award-winning hip-hop recording artist, composer and edutainer (education through entertainment). I chose music as a career because I love to create. Music is a universal language that connects with all people, and it gives me the freedom to serve my community on my own terms. 
Tell us about your activities in the community, especially what you're most excited about. 
Despite the challenges of 2020, I have been honored to be a part of several incredible projects in Macon including: Trumpet arranger and musician for "Kings" by multi-Platinum, Grammy-nominated producer Marcos "Kosine" Polacios featuring Idris Elba and Kevin Ross (horns recorded in Macon); executive producer of "A Whole 'Nother World" featuring DKOMX inspired by Ta-Nehisi Coates' New York Times best–seller, "Between the World and Me" with stage adaptation by Apollo Theater Executive Producer Kamilah Forbes; hip-hop coach and resident instructor for Otis Music Camp and Weekly Audio Engineering Lessons with the Otis Redding Foundation; curator for Black Note Fridays and The Coollab Project pre-launch event at Brooke Haven Lounge with Rock Solid Musik; executive director of the Coollab Project Instagram Live Open Mic every Thursday from 7-9 p.m.; executive producer of the 15th annual Real Talk Hip-Hop Summit; and host of 28th annual Juneteenth Freedom Festival with Kwanzaa Cultural Access Center and Torchlight Academy Inc. 
In addition, I am a grant recipient from Griffith Family Foundation and Macon Arts Alliance, a NewTown Macon Entrepreneurship Academy graduate, the local distributor for the Final Call Newspaper Community Outreach Program with Muhammad Mosque No. 93 and feature performer for the Elevate Retreat. 
I'm also a studio production after-school provider with the Tubman Museum, the director of studio production community workshops with Rosa Jackson Recreation Center and a hip-hop history consultant for Dr. Thomas Duval African American Ancestral Obligation Project with Street to Success. 
As you look to the future, what are your professional and personal goals? 
My number one goal is peace of mind for myself, my family and my community. Professionally, my goal is to complete a 200–piece music library to place with major artists, television and film productions, and video games by winter 2020. Another goal is to travel to studios across the world to build relationships, learn and grow to become the best resource possible to provide Macon with world-class music production education and professional opportunities. 
What are you personally committed to accomplishing in Macon and why? 
I am personally committed to seeking and securing funding and additional resources to provide world-class music production education and exposing the young recording artists, musicians and producers of Macon to their rich heritage and opportunities to make their goals a reality through educational programs and local, national and international exchange trips. 
Right now, what is the best thing going on in Macon? 
Macon is the soul music capital of the world! The Little Richard House, Otis Redding Foundation, Mercer Music at Capricorn, the Big House, Grants Lounge, the Douglass Theatre, and Macon's rich and robust gospel community serve as preservation and the present–day continuation of the soul music tradition that has literally influenced and shaped the sound of artists and musicians all over the world. 
What have you learned during these pandemic times? 
I have learned that I must be the change I wish to see, and that I must connect with like minds that prove to be sincere by their actions to make lasting change in my community. I pray that we learn to seek the kingdom of God first and love our neighbors as we love ourselves in real life. 
What is your vision for our community? 
I see Macon as a model city for the world guided by the principles of freedom, justice and equality for all people regardless of creed, class or color. I see our students becoming stalwart readers and even stronger critical thinkers, becoming the makers and owners of a new paradigm. I see our city as a global leader in arts and culture, commerce and technology.  
What needs to change to encourage continued progress in our city? 
Honesty of racial and economic discrimination, systematic changes through the equitable allocation of programs and resources, and humility of leadership and influencers finding ways to work together to maximize those resources.  
What would be a missed opportunity in Macon? 
A missed opportunity would be for the various segments of our population to not respect each other and to fail to create economic opportunities for the immensely talented youth of Macon so that they can make Macon their base as they impact the world. 
When you talk about Macon to people who don't live here, what do you tell them? 
I tell people I'm from the Mactown, aka Macon, Ga! I tell them this is the soul music capital of the world! I tell them they gotta pull up because there is no place like the Mac!  
What does it mean to be a good leader? 
To lead is to learn and to love. The more we learn and the better we love, the better we will lead.  
What do you consider your greatest achievement? 
My greatest achievement will always be successfully being present, grateful and in obedience to God's will in any and all endeavors of my life. 
What are three qualities that got you where you are today? 
The three qualities that have gotten me where am today are focus, belief and consistent perseverance.