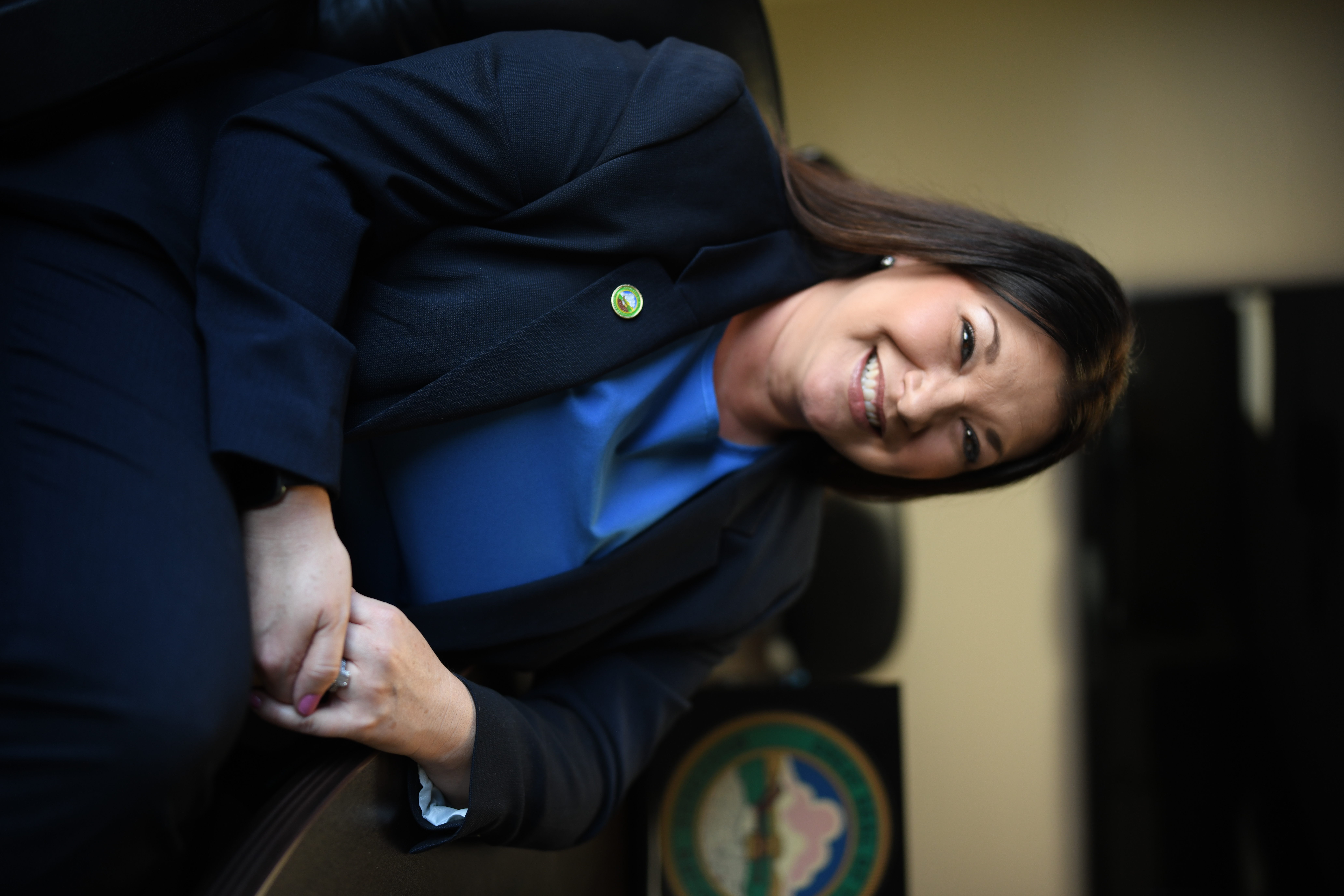 Creating diverse opportunities for our people
How Muscogee Nation Businesses and first female CEO Vivian McCutchen are creating a network of empowerment, from Oklahoma to right here in Macon
Story and photography by Harmony Apel
This is the second in a new Macon Magazine series highlighting the Muscogee (Creek) Nation. Macon is part of the ancestral homeland of the Nation, and as Maconites continue to welcome a closer relationship, we feel it is valuable for our readers to learn more about the tribe, from Okmulgee to Ocmulgee. Read the first part of the series at maconmagazine.com.
Vivian McCutchen, age 45, from Okmulgee, Oklahoma, never expected to be CEO of anything. She was more comfortable behind the scenes. Efficiency, operations, and compliance was where she thrived. But after 20 years serving in the background, she was asked to step out of the background and into the leading role as the first female CEO of Muscogee Nation Businesses, LLC, or MNB.
"You put your head down and you keep working and someone will notice," said McCutchen, who served as chief operating officer and facility security officer at MNB before accepting her current role as CEO. "I was fortunate that the board saw potential in me."
Created in 2015, Muscogee Nation Businesses is a holding company that was a restructure of Muscogee Nation Business Enterprise, a company formed by the Muscogee (Creek) Nation in 1999. With six subsidiaries, the goal is to diversify the revenue streams of the Nation through economic development while promoting the social, physical, and economic advancement of tribal citizens by creating employment opportunities.
The Muscogee (Creek) Nation is the fourth largest tribal nation in the country, spanning 11 counties in Oklahoma with ancestral ties to Macon. The tribe provides crucial benefits to its approximately 97,000 citizens such as veteran services, housing assistance, nutrition programs, higher education assistance, and emergency disaster funding, to name a few. The tribe is able to provide these services to its citizens with funding from gaming revenue and other businesses created through the Muscogee Nation Businesses subsidiaries.
"It's two-fold," McCutchen explained. "Turning a profit with these businesses helps the Nation to provide essential services to our citizens, but these businesses also employ our citizens. And creating meaningful employment opportunities helps create generational change."
But the tribe hasn't always had the ability to create economic growth for itself. With the majority of its land in trust, the tribe was reliant on the federal government for nearly all services prior to 1975 when Congress passed the Indian Self-Determination and Education Act. This was key legislation for tribes because it allowed them federal protections to truly start providing for their own citizenry. In 1988 the Indian Gaming Regulatory Act passed, which opened a federal avenue for tribal gaming. Tribes could now use the trust land through the Permissions Act and the National Indian Gaming Commission. This allowed them the opportunity to exercise those dollars and provide economically for their own people.
Although tribal gaming kickstarted economic growth in the 1990s, with constant infringement on Tribal Sovereignty, McCutchen said it's important to continue to diversify revenue streams. The development of Muscogee Nation Business Enterprise in 1999 allowed the tribe to create opportunities outside of gaming. "We have to approach economic growth holistically," McCutchen said. "Jobs being created and skillsets being gained will lessen the burden of our tribal social service programs. The total economic impact must be considered beyond just a bottom line."
One of MNB's subsidiary companies is Muscogee Staffing Solutions, which serves commercial and federal clients and staffs both inside and outside reservation boundaries. "A misconception is that our businesses only do work within the Nation," McCutchen said. "But our services are available to tribal and non-tribal businesses alike." Muscogee Staffing Solutions has citizens placed in positions across the country and even internationally in a variety of industries including medical, scientific, professional, and industrial.
In 2020 the COVID-19 pandemic brought unique situations for employers, but with its own staffing agency, the Nation was able to mobilize a workforce quickly to keep citizens working and new projects moving forward. The staffing agency placed Jacqueline Rolland of Sapulpa, Oklahoma, in a position within the Nation, helping to process citizens' applications for COVID-19 aid. It provided work during an uncertain time and gave her a way to help her community. "Everyone was impacted by COVID in some way," Rolland said. "I enjoy helping other citizens get back on track."
And when the Nation started a meat processing company shortly after the pandemic, the company hired its employees from Muscogee Staffing Solutions. Trenton Kissee, National Resources Manager and head of the tribe's company, Looped Square Meat Company, said when hiring contract or temporary workers for deer season, access to an in-house staffing agency proved invaluable.
"Muscogee Staffing knows what we need, how we operate, and the environment and requirements of our operations," Kissee said. "Having this background knowledge has been integral in reducing unnecessary turnover due to 'fit' or lack of understanding of our requirements."
Other MNB subsidiaries include an asset protection company that provides security services both inside and outside of the Nation, a business services company that helps citizens and businesses with support, along with a manufacturing company, a development company, and a distribution and logistics company.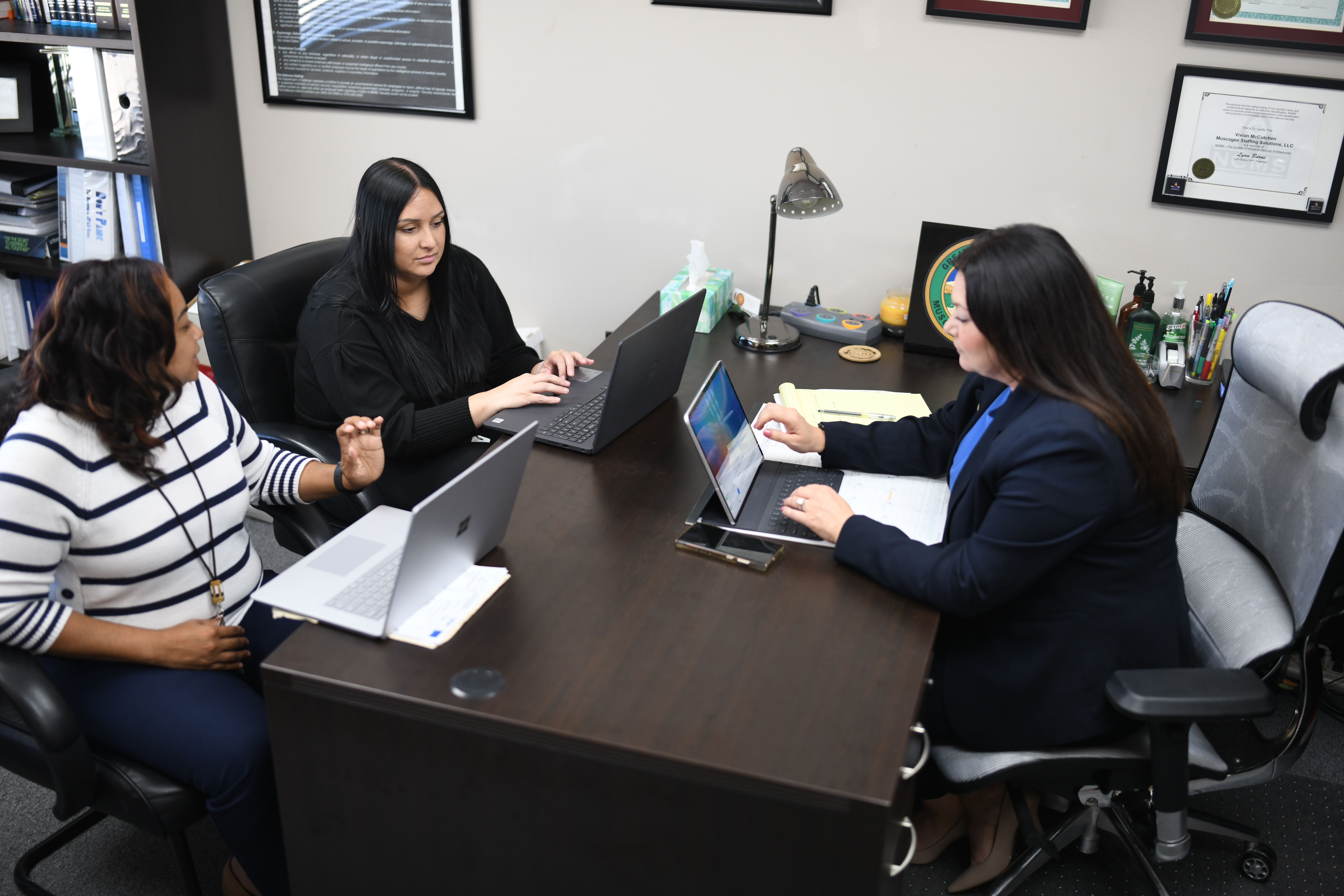 Economic Development is Personal
MNB is also charged with expanding economic development and the board tries to emphasize the development of locations where the Nation may have idle lands, particularly in rural areas where job scarcity is problematic and where citizens need more economic opportunities. Muscogee Staffing can work to partner in those areas with employers and fill positions with tribal citizens.
McCutchen knows first-hand the difference these opportunities can make. Raised in a low-income household, she was determined to break cycles of generational trauma. After working in hospitality and retail management, electrical contracting, and the gaming industry, she was offered a job at Muscogee Nation Business Enterprise as a contract administrator. When she had a child at age 20 and became a single mom at 23, college wasn't an option she knew existed. "I thought college was for rich kids," she said. "As a Native kid, I wasn't exposed to a whole lot and the importance of education wasn't impressed upon me. My parents worked really hard for what they had, and that work ethic stuck with me."
But something a former Chief said to her changed her course. "He said with my work ethic, if I got an education, I could really make an impact," McCutchen said. After that interaction, she opened her mind and began to think bigger.
When her son was in grade school, she started her educational journey, eventually earning her bachelor's degree in criminal justice and a master's degree in Indigenous Peoples law, both from the University of Oklahoma. "It was tough," she said. "But I didn't have the option to fail, my son could only depend on me. I needed an education to take care of my son."
McCutchen knows breaking generational cycles requires more than hard work. It requires opportunity. And the businesses that MNB creates play an important role in strengthening the local economies where citizens live and work, helping them to grow, thrive, and flourish.
And MNB could be doing the same in the city of Macon soon.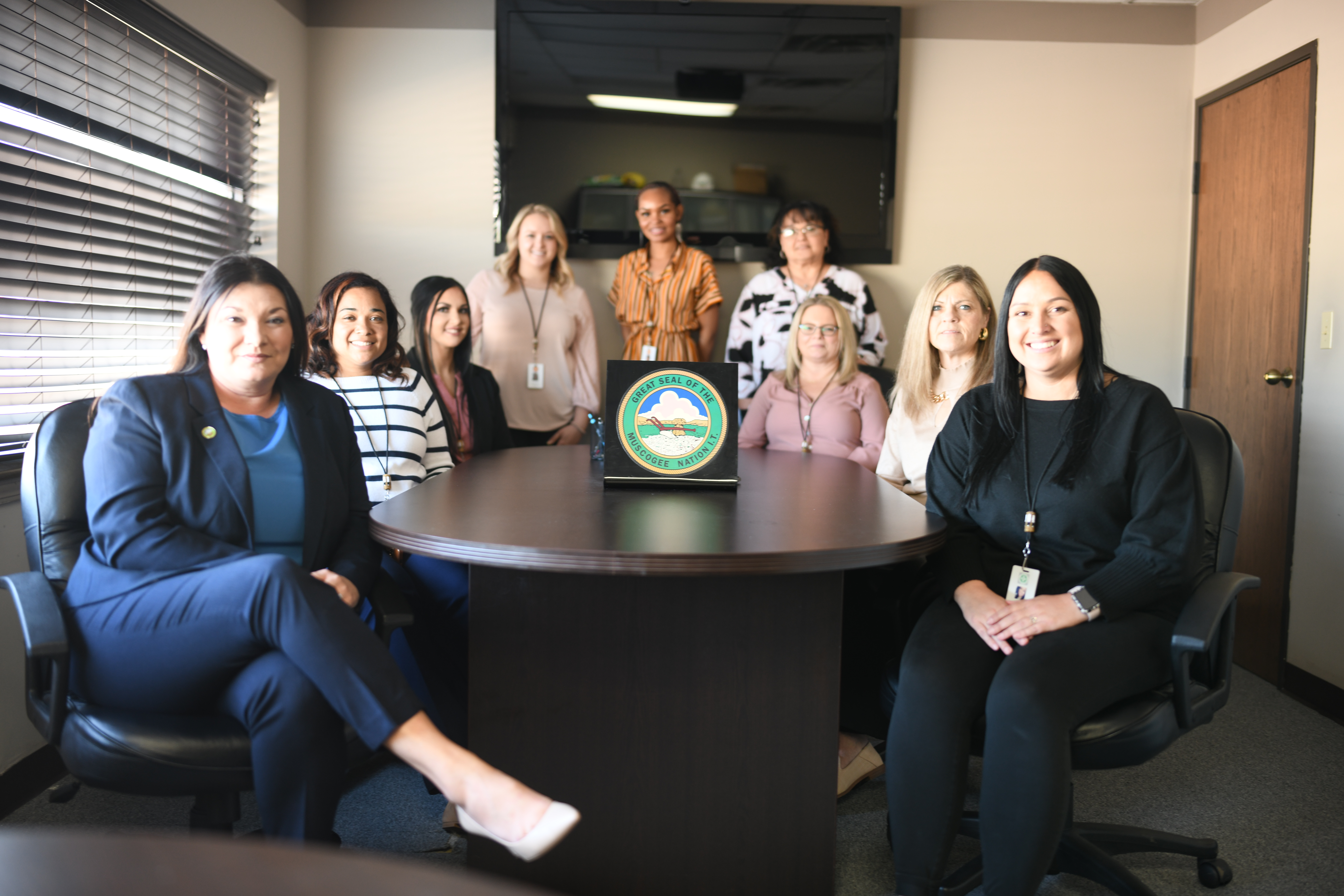 From Okmulgee to Ocmulgee: Partnerships in Macon
Jessica Walden, president and CEO of the Greater Macon Chamber of Commerce, said with a national park on the horizon for Macon, there are exciting opportunities for MNB to help meet supplier needs and fulfill contracts. "Workforce is a critical issue everywhere," Walden said. "Yet MNB has areas of specialty and experts in fields that can meet some of these needs in important areas, such as healthcare and engineering. And we have many economic engines who've launched supplier diversity initiatives. They're looking for businesses who can fulfill contracts, and to have MNB be able to do so, it's an unprecedented opportunity."
Walden, along with a group of Macon business leaders, took a recent trip to Oklahoma to meet with McCutchen and her team to learn more about MNB and the potential for partnership. "I discovered that MNB invests in entrepreneurship, which is a priority focus in Macon and within the business community," said Walden, who's already working with McCutchen in the early stages of a pitch contest.
The idea is to allow MNB to discover and identify entrepreneurs who can support business opportunities in Central Georgia that will emerge from having a national park. "It'll be a fun collaboration, but one that could bring an exciting partnership into the spotlight," Walden said.
The Macon Chamber of Commerce recently invited MNB to be a partner member. Walden said it was important to extend membership. "We are welcoming more and more involvement from Muscogee (Creek) Nation in our community service organizations and business opportunities," Walden explained. "Having more opportunity to work together, it's exciting and innovative and inclusive for us as a community."
And McCutchen added that MNB is experiencing unprecedented growth. Within the next decade, she sees operations relocating and expanding into new industries. "As we continue to diversify the revenue streams, we'll also be diversifying the skill sets of our people," said McCutchen, asserting that growth can only be attributed to the team of people that makes up Muscogee Nation Businesses, who work wholeheartedly to support the clients and organizational mission.
"They're the heartbeat of MNB," she said. "Their work is selfless. It's more than just a job to them. They're Muscogee, and they're truly invested in ensuring the long-term success of the clients and the health and well-being of our communities."