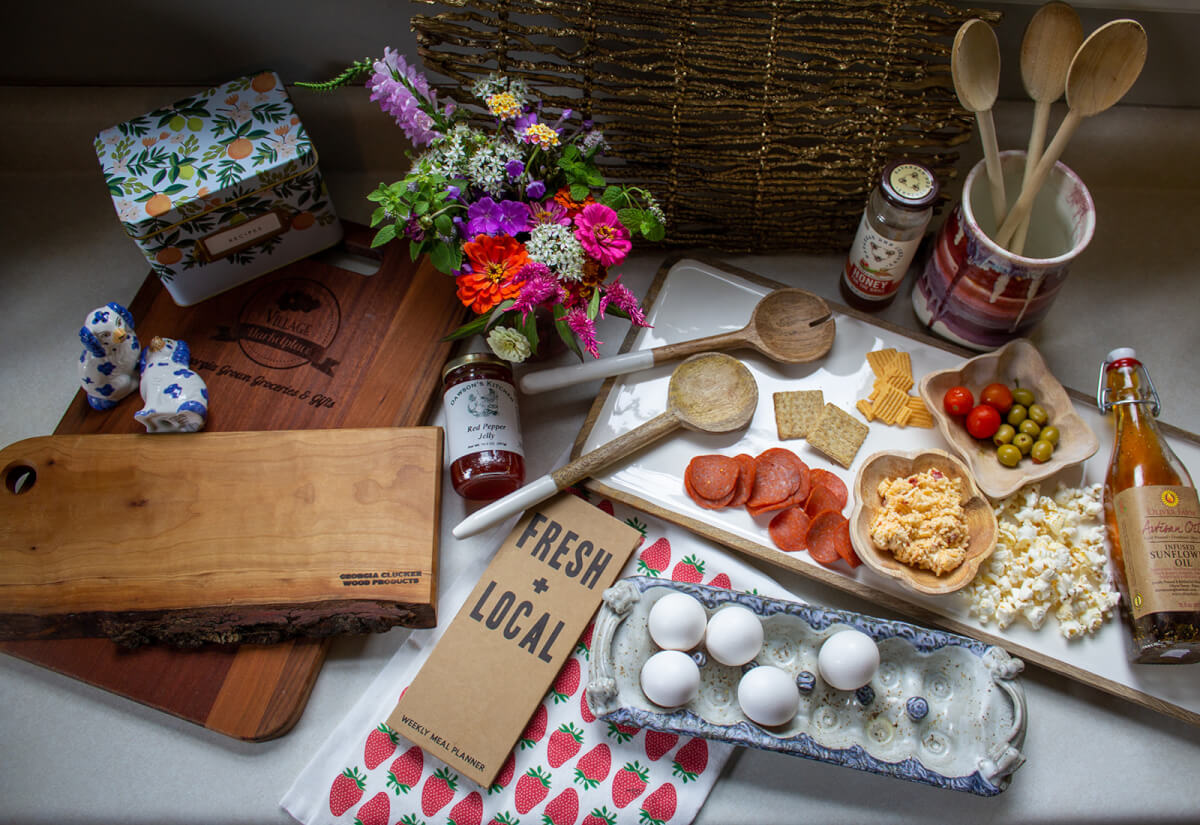 Shop Local Guide: The kitchen edition
On the surface, one's kitchen is a functional space, designed for sustaining one of our most basic human needs: eating. But when I pause to consider how I actually move through it, it becomes clear how much of my life unfolds in the room.
My kitchen has set the stage for quality time learning a family recipe from my grandmother. Many spontaneous moments with the dedicated friends who insist on helping with clean-up after a party happen in the kitchen. It has been the backdrop for a slow dance with my love while the oven preheats, aprons on, music up. Some weekends, the kitchen is where I spend most of my time, binging a podcast while preparing lunches for the week.
The kitchen ranges from a lonely space to a community space and hits every point in between. Incorporating local treasures into a place so versatile and integral to our daily lives is one small way to enhance the many hours spent there. From functional items like cutting boards, shopping lists, and sunflower oil to more decorative ones like serving platters, recipe tins, and fresh flowers, our local shops can cover a range of kitchen needs. Let this spread inspire you to look local and add a little joy to your kitchen this season.
Item List
1. Serving platter and utensils from Previews | 4420 Forsyth Rd. Ste 160 | @previewsinteriors
2. Sunflower oil from Ingleside Village Marketplace | 2381 Ingleside Ave. | @villagemarketplacemacon
3. Utensil crock from Old Mill Market Company | 94 E Adams St. Suite 4, Forsyth | @oldmillmarketco
4. Honey from Travis Jean Emporium | 502 Cherry St. | @travisjeanemporium
5. Placemat from Previews | 4420 Forsyth Rd. Ste 160 | @previewsinteriors
6. Flowers from Rag & Frass Farm | 15176 US-80, Jeffersonville | @ragandfrassfarm
7. Recipe tin from Creters | 2374 Ingleside Ave.
8. Salt and pepper shakers from Carol's Linens | 4123 Forsyth Rd. | @carols_linens
9. Large cutting board from Ingleside Village Marketplace | 2381 Ingleside Ave. | @villagemarketplacemacon
10. Small cutting board from Ingleside Village Marketplace | 2381 Ingleside Ave. | @villagemarketplacemacon
11. Jam from Dawson's Kitchen | 3360 Brookdale Ave.
12. Shopping list notebook from Old Mill Market Company | 94 E Adams St. Suite 4, Forsyth | @oldmillmarketco
13. Tea towel from Ingleside Village Marketplace | 2381 Ingleside Ave. | @villagemarketplacemacon
14. Egg holder by Cindy Angliss from the Fired Works Ceramic Exhibition