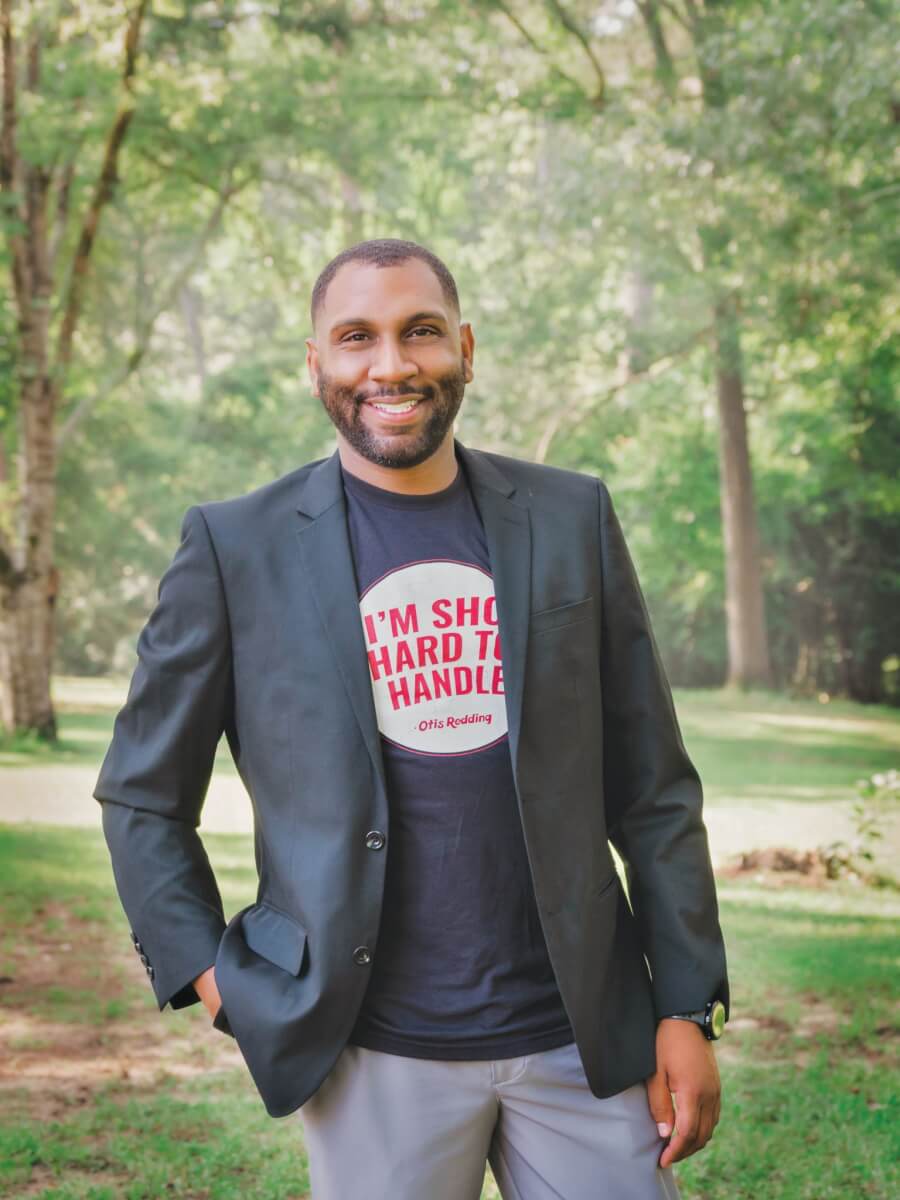 5 Under 40: Justin Andrews
Justin Andrews, 32
Director of Special Projects and Outreach for The Otis Redding Foundation
Tell us about your job, and why you chose your career field.
My job is to connect the Otis Redding Foundation with organizations whose mission is to improve and empower all young people. We are strong advocates of partnerships in planning camps and programming of music and arts education. Keeping the legacy of Otis Redding alive and relevant to the new generation plays a vital role in my job. I get so excited to be able to provide kids, who may never have the opportunity to play an instrument or dance or song write, with that experience. The creativity and possibilities in the arts are endless.
Tell us about your activities in the community, especially what you're most excited about.
Along with being part of the Otis Redding Foundation, I am very involved with the nonprofit arts community in Macon. I'm on the boards of Macon Arts Alliance, Macon Film Festival, Macon Pops and Visit Macon. I am so excited to see how all of these organizations can partner and bring more arts to Macon!
As you look to the future, what are your professional and personal goals?
To see the building of a state-of-the-art facility in Macon that will house our Otis Redding Center for the Arts. It will be a place where kids will be able to work on music or take private lessons, experience the visual arts, film and more. Most importantly, the center will be a safe place where kids can come and hang out and create anything they want. Through the center, we hope to reach even more kids in our community, showing them why education in music and the arts is an important balance with academics.
What are you personally committed to accomplishing in Macon and why?
Creating a pipeline of young musicians, artists and creators who continue to represent the cultural influence of the arts in Macon. Macon is an amazing place and the world should know the history of this place and the history we continue to make today.
Right now, what is the best thing going on in Macon?
Downtown. I have lived here most of my adult life, so I have seen the ups and downs. The amount of new businesses that have come to downtown is amazing. I hope even more businesses will come.
What have you learned about yourself or people during 2020?
The past 18 months have shown us how important socialization is. People need conversation with people outside of their bubble. Also, I hope that people of all races have learned to respect each other. You have to give respect to be respected.
What is your vision for our community?
My vision for my community is to have a global community that learns from each other and works with each other for the common good of teaching this to our young people. We need to set an example of what is right.
What needs to change to encourage continued progress in our city?
People need to change their negative mindset about our community.
What would be a missed opportunity in Macon?
Film! Film in Georgia is huge. We have become the new Los Angeles. A film production studio or a place where filmmakers can do pre- and post-production work would be amazing. We have to take advantage of the boom that is happening in so many counties in Georgia.
When you talk about Macon to people who don't live here, what do you tell them?
I tell them about the music, of course. Macon was built on music. From Otis to James to Capricorn and the Allman Brothers, what's not to love? I believe that is the only selling tool you need. We have something unique here that no one else has. Let's take advantage of that.
What does it mean to be a good leader?
To be a team player. Making everyone feel like they are part of the process. Listening to ideas and not completely throwing them away. It's a lot of early mornings and long nights, but in the end, it is all worth it to see your team and organization succeed.
What do you consider your greatest achievement?
Overseeing and designing merchandise sold in the Otis Redding Museum and the online store.
What are three qualities that got you where you are today?
Listening to my dad, Timothy Andrews. Listening to my mom, Karla Redding-Andrews. Listening to my granny, Zelma Redding.