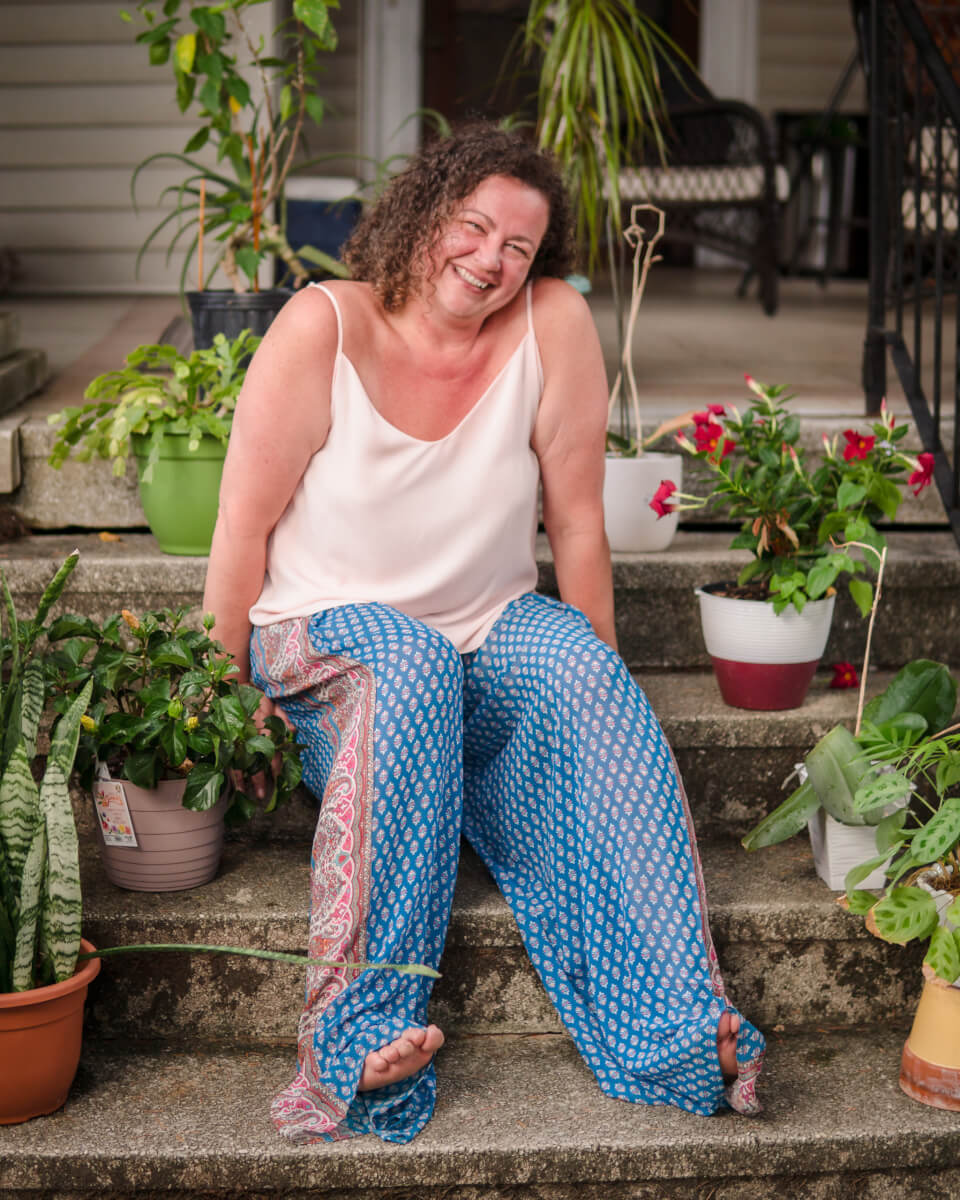 Choosing Macon: Mariana Furlin
By Kelley Dixson
Photography by Mike Young

"I've been called a plant whisperer," she says, gesturing to her potted garden of wonders. Herbs, vegetables, cacti and even a presumably dead orchid with new leaves adorn her porch with bright greens and deep purples and reds. 
Candles surround us to keep the mosquitoes at bay and add a warm glow to the already beautiful summer sunset. She is dressed in an outfit befitting anyone wishing to avoid the effects of 200 percent humidity. As we settle, we joke about finding the best summer pants (palazzo, obviously), and her genuine laugh echoes off the brick columns of her house.  
Mariana Furlin, fierce ally and forever Wesleyanne, unravels her life story and shares how she came to choose Macon – twice.  
"I was born in Elmhurst, New York, which is in Queens, and then we moved to Hicksville, New York, on Long Island," she said.  
She spent her childhood among a multitude of cultures that were celebrated regularly, including an International Day. Students were asked to dress traditionally for and share information about their nationality. Smiling, she recounts her mother dressing her as Carmen Miranda, a famous Brazilian performer known for her vivacious outfits and hats adorned with baskets of fruit. 
This was in stark contrast to her middle school years, when her family moved to South Florida where she witnessed prejudice toward her classmates of color, by students with her skin tone. 
"I am brown on paper, but my (light) skin gave me a privilege to not be the subject of racial prejudice," she said, adding that she was driven to more tolerant groups and "found shelter in the arts … in glee club, concert choir, performance choir and in theater." 
As an adult, her musical talent even led her to singing a concert with the Holy Trinity Episcopal Church Choir at Carnegie Hall.  
Looking to broaden her world view, young Mariana applied to five schools, including Wesleyan College and Mercer University. 
"I did a day trip to Wesleyan and then a prospective student weekend where I was paired with a freshman to see what it was like to be a student there. I went on a weekend that they did stunt reading," she said, adding that she was immediately charged by the electric energy of the campus. "The friends that I made that weekend, I kept as friends." 
Being surrounded by strong, vocal women provided a cocoon for her to truly establish her voice and find her place in the world. She stepped off the plane and told her mother, "I found it. That's where I'm going." 
Her years there would be the ones that nourished the sown seeds of her passion for allying with those in marginalized communities.   
The summer prior to her senior year, she attended a community college close to home to complete one required class for her to proceed with her psychology major at Wesleyan.  There was a notable difference to the respectful, open environment she had grown accustomed to at Wesleyan. 
She remembers an encounter with a teacher and a male student that showed her the "impact of Wesleyan's education" when she was interrupted mid-sentence by the teacher to turn the attention of the class to him. Because of her previous three years at Wesleyan, she felt empowered to speak out against sexism. 
"We've all been that woman," she said, citing the recent response to the verbal attack of Alexandria Ocasio-Cortez. But, she believes there is no group more discriminated against than black women, and throws her fervent support behind movements that advocate for them, including the Black Lives Matter and MeToo movements. 
In her philosophy, those who wish to be allies should "own up and realize that systemic racism is a real thing. It's not the responsibility of your friends of color to educate you, it's your job. … People shouldn't be ashamed to admit that they still need to learn or punished once they've learned." 
Her passion for educating potential allies visibly ignites while she speaks, and her fire grows as she explains how staying silent and refusal to listen only keeps the current systems of oppression in place.  
After graduating from Wesleyan, she received two master's degrees from Florida State University in Art Therapy and Art Education — two fields combining her passion and her father's wish for her to pursue a job that would give her financial stability. The starving artist does exist, and, trust me, the struggle is real. 
Before she began the pursuit of her doctoral degree, her education was put on hold when the illness of her mother and the duty of "the eldest female in a Latin American family" called her to home to care for her family. 
"I remember running for class president my freshman year of high school where I only knew a handful of people. No one voted for me, but the voice that I found in high school was (my mom) encouraging me," she said. "A year to the day I moved home, my mother passed away." 
The stories of her mother give one a sense of the powerful bond they shared and her legacy of strength, passion, beauty and talent that left a permanent impression on Mariana.  Those elements weave in and out of her stories, as well as her life. Later, tragedy would strike her family again with the untimely death of her younger brother, Junior. This haunting memory drives Mariana's daily search for peace, love and positivity.  
Her boyfriend, Kevin, comes to refill her wine as we discuss her decision to make Macon her home. It began with a couple of visits where she met the people who would eventually become her chosen family here. After attending a party and a wedding – my first marriage, in fact – and feeling the same electric connection she felt when she first arrived here in 1988, the wheels were already in motion to return for good. 
Now, along with her constant companion and furry sidekick, Gus, she wears many hats at Wesleyan as the assessment coordinator for education, the program assistant to the MBA and the graduate program admissions counselor. 
She has made her community a priority by participating in events like Leadership Macon, co-planning the Soapbox Derby and supporting education initiatives like Change the Narrative 365, "the 2020-2021 women-led MEd cohort that seeks to put black history into daily education instead of relegating it to the shortest month of the year." 
"Coming from larger cities, where small contributions seemed like just a drop in the bucket, here, in our city, those little things make a big difference," she said radiating passion as she talked of her inclusion in Macon's evolution and building relationships with people who want to be catalysts for change.   
Mariana is a humble ally, a captivating storyteller and a true friend. She believes in change, no matter how uncomfortable. She loves and protects with her whole heart. How perfect it is, and how lucky we are, that she found her home where she found her voice — in Macon. And now this plant whisperer is putting down roots.