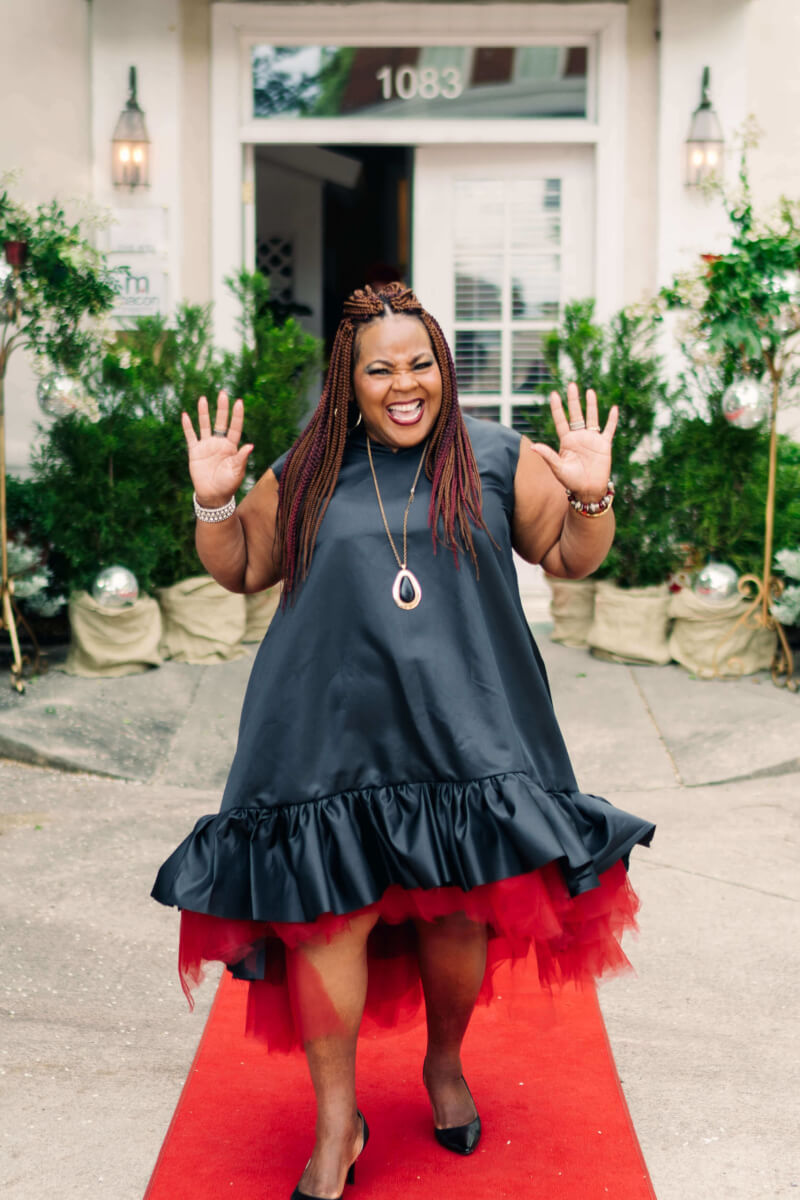 Red carpet success
By Hannah Jett Theus
Photography by Jave Bjorkman
Step into your stilettos because the fierce, fabulous fashion week featuring local boutiques and local designers was just a glimpse of what is to come. Downtown Macon Fashion Week, held July 18-24, drew shoppers to the booming boutiques downtown where they had the opportunity to win a $500 shopping spree courtesy of Fall Line Brewing through a partnership with NewTown Macon.
Emily Hopkins, director of place for NewTown Macon, knows just how important recognizing and celebrating local business is.
"Fall Line Brewing Co. asked NewTown Macon to help make Downtown Macon Fashion Week possible, to which we responded with an enthusiastic yes," she said. "This event is an example of the power of collaboration in downtown Macon and how businesses work to support one another for a vibrant city experience in our historic urban core."
A powerful partnership among The Web work club and Macon Magazine — thanks to the brilliant idea from Eizabeth Schorr, owner and creative director of Elizabeth Schorr and Co. and Web co-founder, during a Downtown Macon Community Association meeting — led to a fashion showcase July 22 complete with a red carpet. With a week to plan, coordinate and execute, style mavens Virginia Sharp, owner of Daemarii's Unique Boutique, and Diane Jackson, of Lady D Fashion's, were called in to bring their expertise and flair for all things fabulous. With décor from Mary Pinson, the event was perfection.
Longtime Maconite Kelda Cubit found the event refreshing.
"I am a customer of Daemarii's and I've gotten to know Virginia over the past few years. I love the excitement going on in Macon and in downtown right now, especially since I grew up here," she said. "When I heard about this event, I knew I had to come. You just have to try it to believe it. Experience is always the best teacher, so come out and experience Macon and have a great time."
Web co-founder Jessica Walden described the event as a hot night of fresh fashion coupled with reuniting with old friends.
"This is a fun blend of fashion and reunion and seeing and supporting small businesses. You cannot re-create this on Zoom," Walden said. "I became a pandemic fangirl (of Daemarii's). What Virginia has been able to do as a sense of community and boutique shopping that translated online and in person is amazing. We can't wait to see what she does next."
"And getting to know some new people is the best part about it," added attendee Deon Tucker. "The ability to see it online and have them hold it for you, so you can see it on, just adds that small town touch."
With Daemarii's personable owner displaying the power of connection, the boutique reached people during the pandemic in a revolutionary way. Through special Facebook Live events and fashion shows, Sharp was able to connect and serve her valued customers while growing her following and gaining national attention from media outlets. While it wasn't in person, her innate way of making someone feel like she's known them all of their life is magical and powerful.
She also has been awarded a $25,000 grant from American Express to further her business in Macon through the Coalition to Back Black Businesses.
"I am honored, honored, honored to represent Macon and Georgia," Sharp said, adding that soon she will open a second location. "God has truly, truly blessed us."
Lady D's Fashion, spearheaded and sewn by Diane Jackson, also delivered stunning custom creations during the showcase. Focusing on special occasion items, Jackson uses flowing fabric lines and purposeful placement to make women feel their best.
"I've done a lot of fashion shows, but this one is special because Macon is here," Jackson said. "I am so excited to share. I don't order my items, they are made-to-order. I cannot wait to share what I can do and to show people what I'm made of."
Although she shines with special-occasion garments, Jackson said she is open to serving her clients in whatever they need.
"To have something custom-made means it's all about you. It doesn't matter your shape or size, I will make you feel special in what you're in," she said.
Expect to see more runway shows from Macon Magazine and The Web.
Why shop local?
"The personal touch and the fact that they remember you as customers and your style makes all the difference." — Sherrie Moody
"Experience is always the best teacher, so come out and experience Macon and have a great time." — Kelda Cubit
"I became a pandemic fangirl (of Daemarii's). What Virginia has been able to do as a sense of community and boutique shopping that translated online and in person is amazing." — Jessica Walden