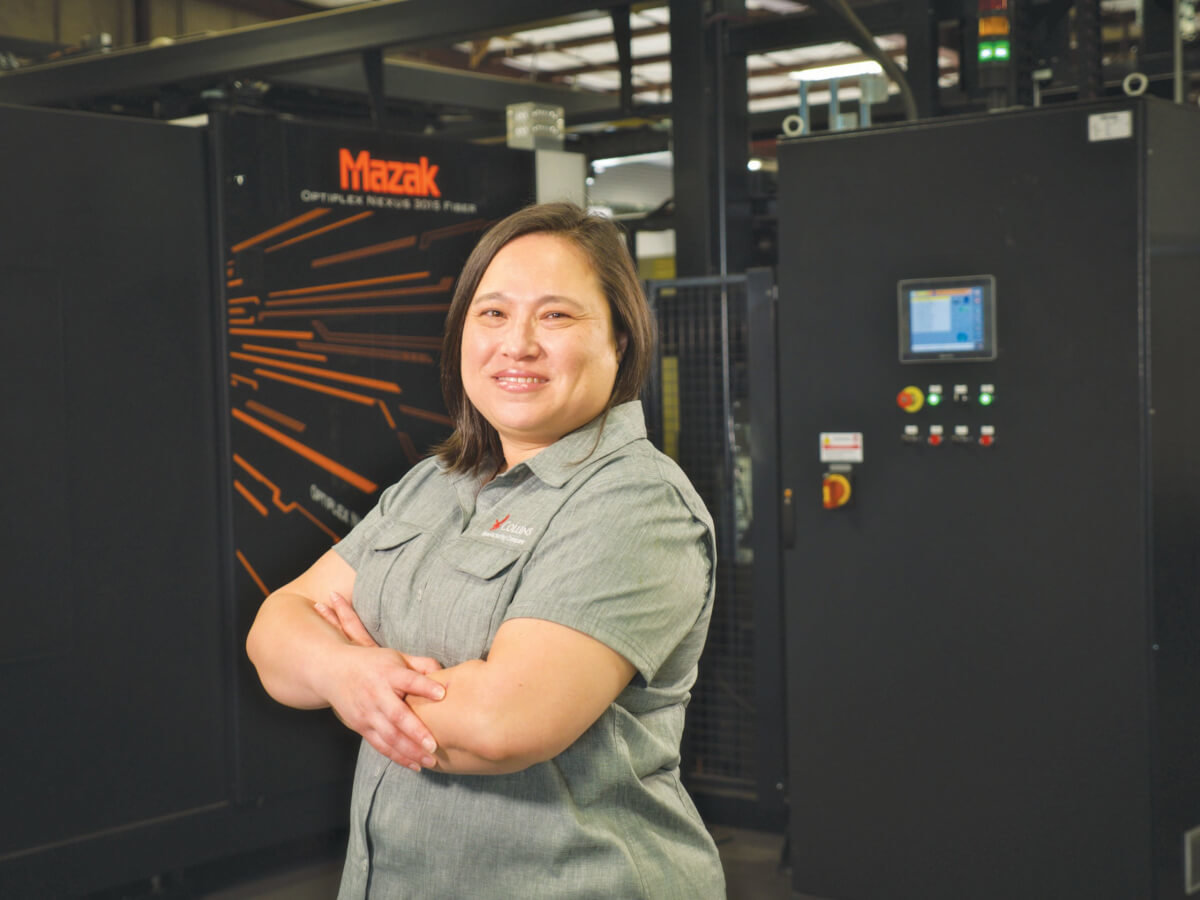 Women in Business 2020: Gwen Collins
A special advertising section championing our local women in business. In partnership with Cox Communications. Photo by Jessica Whitley.
Greene Machine & Manufacturing, Inc.
DBA Collins Manufacturing Company
President/Owner
251 South St., Macon 
478-745-6188 
gcollins@collins-mfg.com 
What is the mission of your business?
Our mission is to provide quality manufactured goods that meet the requirements of our customers both in the U.S. and abroad. Our largest customer is the Department of Defense. I have many relatives who have served in the military and many of our workforce is also prior military. We have great pride in manufacturing products for the Department of Defense in support of our warfighters. 
Your advice for women wanting to start their own business in Macon?
My advice is to start with the University of Georgia Small Business Development Center. They are a government–funded resource that offers their services at no cost to their clients. We relied heavily on the advice and assistance of this agency when we purchased our business in 2006. They helped us quickly secure our first SBA loan for our initial cash flow injection. Over the years, we have attended workshops and networking events sponsored by the SBDC and continue to rely on the advice and assistance of their counselors.   
How do you define success?
I would define success by the satisfaction of our customers in the products and services we provide and the number of jobs our company has been able to bring to the Macon area. I am proud to say our company has grown from five employees in 2006 to more than 42 today.  
What are you most excited about right now in our community?
I am most excited about the focus on vocational programs in our local schools. During the last two years, we have hired two welders who went through the welding program in the Jones County school system; they both started right after graduation. The Macon-Bibb County Industrial Authority has been working closely with Bibb County schools in identifying vocational programs that can support the workforce needs of local businesses and industries. As a company, we rely heavily on welders and machinists, who are becoming more and more rare.  We are excited about the opportunities being provided to local students to pursue a trade as an alternative to college.  
You might be surprised to know:
That our business manufactures tools and equipment used to load and move heavy munitions for the military. For example, we manufactured a stand to hold a 30,000-pound Massive Ordinance Penetrator (MOP) bomb for the Air Force.   
What is the most gratifying part of your job?
The most gratifying part of my job is knowing that what we support our warfighters and that our company has and continues to create jobs and opportunities for our local community.    
What has been the most challenging part of being a female business owner?
The most challenging part of being a female business owner is finding the balance between running a business and being a mom. All business owners know that it takes a lot of work and dedication to build a successful business. When we bought our business, we had two small boys, Cameron and Carter. The perk of being the business owner was being able to take off when I wanted or needed to. I was able to attend school functions and field trips with both of my boys and Larry was their coach in every sport they played. We never missed a game or practice and am thankful to be given the opportunity to not miss out. The downside is that whatever time I took off often equated to late hours and weekends at work. Some of the time our boys would stay with us at the office watching videos or playing video games – usually longer than they wanted. Often times they would stay with either Larry's parents or my parents while we worked. We are very lucky to have the family support that we do. Without them, we would have no balance and either our kids or our business would have suffered.  
I admire women who:
Are not afraid to go against the norm. As an engineering student at Mercer University in 1994, I was one of only a handful of female engineering students. It was challenging and intimidating at times, especially when I was the only woman in a class. Despite this, I graduated in 1998 with my degree in Biomedical Engineering.    
What was the best business advice you ever received?
The best business advice I got was from my mother–in–law. When my husband and I were looking at buying our business, we reached out to our parents for advice on whether this was a good or bad decision. My mother–in–law told us to follow our instincts and we would be successful in whatever decision we made. This has held true from our purchase of the company to our latest facility expansion. 
I hope more women will:
Not be afraid to take the risk of business ownership. In 2006, my husband and I were presented with an opportunity to purchase our company. We both had great jobs with benefits and had two boys under the age of 5. At that time, we took a leap of faith and bought the company by taking out a small business loan and taking out all of the equity in our home. Larry quit his job to run the company and I kept my Civil Service job at Robins Air Force Base. This was a risk, but we maintained the safety net of my government job. In 2011, we decided we wanted to expand our business to include government work. In order to do this, I had to quit my job. No more safety net – all eggs in one basket. Again, we took a leap of faith and I quit. It was not always easy, but we took the risk and over the years have grown our company to where it is today. 
How could women better support each other?
I believe women can better support each other by joining or creating groups or committees in their industry to share knowledge and network. We have all encountered obstacles in business and in life – especially as female business owners. By coming together, we can provide encouragement, knowledge and teaming opportunities to help each other grow our businesses.   
How could men better support women?
Men could better support women by recognizing their strengths rather than focusing on their weaknesses. My husband, Larry, and I own the company and have worked closely together every day for the last 10 years, and we are still happily married. The key to this has been our ability to recognize each other's strengths in the different aspects of our business and have faith and support each other's abilities and decisions. We respect each other's opinions in all of our discussions and have found that we complement each other very well. Larry is the dreamer and is very passionate about growing our company. I am the logical voice of reason who is often guilty of over-analyzing a decision. I keep him grounded and he encourages me to think outside the box and dream big. On our own, we would both fail, but as a team we have succeeded to build a multi-million–dollar company. 
I wish I had known:
15 years ago what I know today. As a small business trying to grow and expand, I have stumbled over many hurdles and hit a lot of brick walls. I have had to learn a lot by trial and error, especially in doing business with the federal government. Although I cannot change the past, I try to help others from repeating my mistakes. When I attend any workshop or small business event, I take every opportunity to share my experiences and lessons learned.