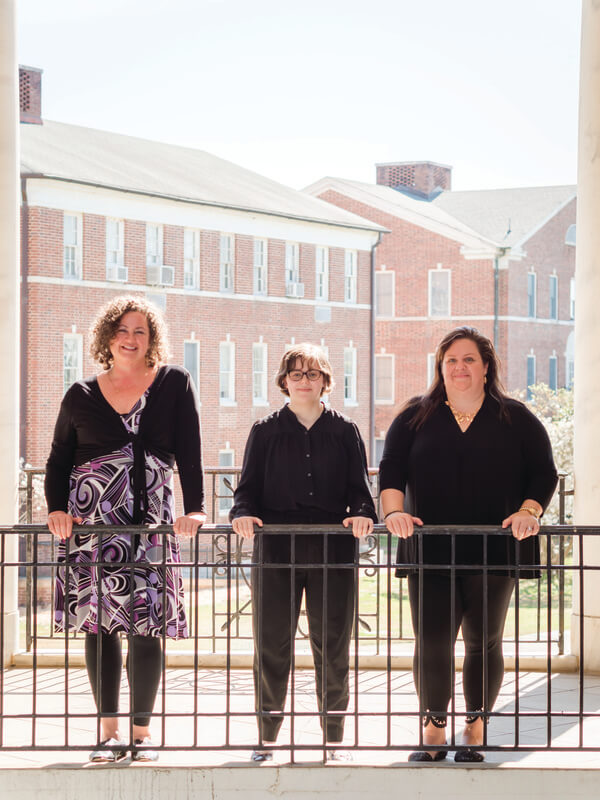 Women in Business 2021: Wesleyan College Graduate Admissions Team
A SPECIAL ADVERTISING SECTION CHAMPIONING OUR LOCAL WOMEN IN BUSINESS. PHOTOGRAPY BY JESSICA WHITLEY.
Kristina Ejike
Mariana dos Santos Furlin
Kayley Harrison
4760 Forsyth Road, Macon
478-757-2801
graduate@wesleyancollege.eduwesleyancollege.edu/graduate
WHAT IS YOUR MISSION?
Wesleyan College is committed to developing a community of industry leaders and faculty who encourage creativity, leadership and innovation through flexible learning opportunities. All graduates are prepared to excel in the complex world.
How has your business shifted because of the COVID-19 pandemic?
As a higher education institution, Wesleyan College has had to take the necessary steps to create a safe learning environment for our students while upholding our commitment to providing a quality education. The COVID-19 measures we've taken include purchasing OWL equipment that simulates classroom engagement for those learning from home, modifying classroom space for social distancing and continuing to adapt to the changing needs of our faculty, staff and students.
WHAT IS THE MOST GRATIFYING PART OF YOUR JOB?
Higher education has an effect where you always feel like a student. Wesleyan College has world-renowned faculty and knowledgeable staff that I learn from every day. I think the most satisfying part of working at Wesleyan is everyone is always learning from each other.– Kayley Harrison
Working at Wesleyan, we are able to change lives and know that when students walkout of our graduate programs they are equipped and prepared to make a change. This creates a circle where they can use these tools to make a difference and we were part of that!– Kristina Ejike
To see how far Wesleyan College has come with regard to higher education and professional and graduate programs. To be known as the "First for Women," is a prestigious honor in and of itself. But to see Wesleyan College grow so much so that they offer several graduate programs and see those students progress to achieve and earn their degree, is an honor and a privilege.– Mariana dos Santos Furlin
WHAT ARE YOU EXCITED ABOUT IN OUR COMMUNITY?
Being able to partner and be involved in all the changes that are happening. Macon is growing and as needs are identified, people are stepping up to address them. The sense of community is getting stronger.– Kristina Ejike
I'm excited about Mayor Lester Miller's dedication to his constituents by the creation of a transitional team: This team offers the mayor diverse perspectives within the community. Through the development and fostering of new partnerships with not-for-profit organizations they are providing much needed services for the disenfranchised people in our community: Brookdale Warming Center, Macon Mental Health Matters, Macon Head Space Inc. Mayor Miller is reaching across party lines to effect change in our community in mutually beneficial ways.– Mariana dos Santos Furlin
I'm excited to see great community initiatives like the Brookdale Warming Center evolve. The last year reinforced the idea for me that people in Macon want to help our community members, neighbors and small businesses. I know COVID-19 caused problems for several businesses and restaurants, but I think we came together to support the people and places that make Macon a great place to live. I'm looking forward to seeing the initiatives and love for local business grow as we (hopefully) get closer to returning back to normal life safely.– Kayley Harrison
I HOPE MORE WOMEN WILL: Learn that their self-worth has little to do with how others perceive them, and more to do with how they perceive themselves.– Mariana dos Santos Furlin
Reach for the dream that they had as a child and keep coming back to. Regardless of how impossible it looks, nothing is impossible!– Kristina Ejike
Strive to be leaders in their fields. More women are getting advanced degrees, but we are still seeing disproportionate boards, leaders and CEOs. We may not be able to create inclusive, diverse workplaces in a day, but we should always reach for it.– Kayley Harrison
LOOKING BACK, I WISH I HAD KNOWN: Sometimes it's worth sacrificing the comforts of now for the unchartered waters of your next big adventure. Even if the next big thing doesn't work out, you still had an adventure and learned something through the experience of trying. – Kayley Harrison
All the potential I bring to things and how valuable I am. It's still a work in progress but every day I know I'm closer and better than I was yesterday!– Kristina Ejike
My thoughts and words have weight, validity and they are relevant.– Mariana dos Santos Furlin
Your advice for women wanting to start their own business in Macon?
Do it! Macon is a great town with deep roots but yet vibrant community that's constantly evolving and growing.– Kristina Ejike
Go for it! There are so many strong women in this community who want to hold other strong women up, and offer support and assistance!– Mariana dos Santos Furlin
Growing up in a local family-owned store, I have so much respect for those looking to start a business. My mom worked late nights, some weekends and early mornings to make sure it succeeded. Having the support of family, friends and community members seems crucial to me. Sometimes you have to ask for help from those around you, whether it's with shipping orders or juggling family and work. My advice would be to always seek out other people who could offer support, advice and help. As alone as you may feel, starting a business is never a completely solitary journey.– Kayley Harrison
How do you define success?
Success is finding peace and purpose in what you do.– Kristina Ejike
Identification and nurturing of those skills that speak to and fulfill your nature of being.– Mariana dos Santos Furlin
Success is feeling satisfied with what you accomplish each day.– Kayley Harrison
What has been the most challenging part of being a woman in business?
The hardest part is not being taken as seriously as male counterparts. It sounds cliché, but you see it time and time again that women with high goals are often encouraged to do what they can, however men with high goals are encouraged to reach them. In 2021, women are every where men are, and it's time we are taken more seriously.– Kristina Ejike
The hardest part for me to comprehend is the gender pay gap. The definition being: a woman who is doing the same job as a man, with the exact same qualifications as a man, is still paid 2 percent less for no attributable reason.– Mariana dos Santos Furlin
Communication strategies and styles are something I think women are forced to be mindful of in the workplace. In my own experience and talking to other women, I think we waste mental energy wondering if we are speaking too softly or too forcefully. It's a personal challenge to focus on what we say instead of how we say it.– Kayley Harrison
I admire women who:
Stand up for what is right regardless of what the majority is doing.– Kristina Ejike
Use their voice to speak for those who do not have a voice, are not recognized or who have been silenced.– Mariana dos Santos Furlin
Keep striving to achieve their goals regardless of the obstacles they face.– Kayley Harrison
What was the best business advice you ever received?
Fail and fail fast.– Kristina Ejike
Learn as many jobs as you can while in your position – it makes you invaluable. Failing doesn't make you a failure. At the end of the day, the only opinion that truly matters is your own.– Kayley Harrison
How can women better support each other?
Create a community and always build each other up. Become allies, not enemies, and genuinely smile at other women's success.– Kristina Ejike
Communication, collaboration, cooperation. Rising tides raise all ships.– Mariana dos Santos Furlin
Become mentors for each other and be willing to offer advice to the women around you. If you're a manager or a leader, be the supporter of your group and give them the tools to grow both professionally and personally. We need to do more than silently support from the sidelines. Join professional clubs, get involved with your community, and make a difference by sharing your expertise with the women around you.– Kayley Harrison
How can men better support women business owners/leaders?
Encourage, empower and stand up when they see the inequality and speak out when they have the opportunity.– Kristina Ejike
Become allies actively within their community. Support women with words, actions and dollars!– Mariana dos Santos Furlin
Buy local and be mindful of the spaces you occupy. If you're not frequenting any businesses that have women in leadership positions, try to find women in your community who want your business. Try new women-led restaurants. Buy homemade and local products instead of buying from a chain store. Your support will create change.– Kayley Harrison