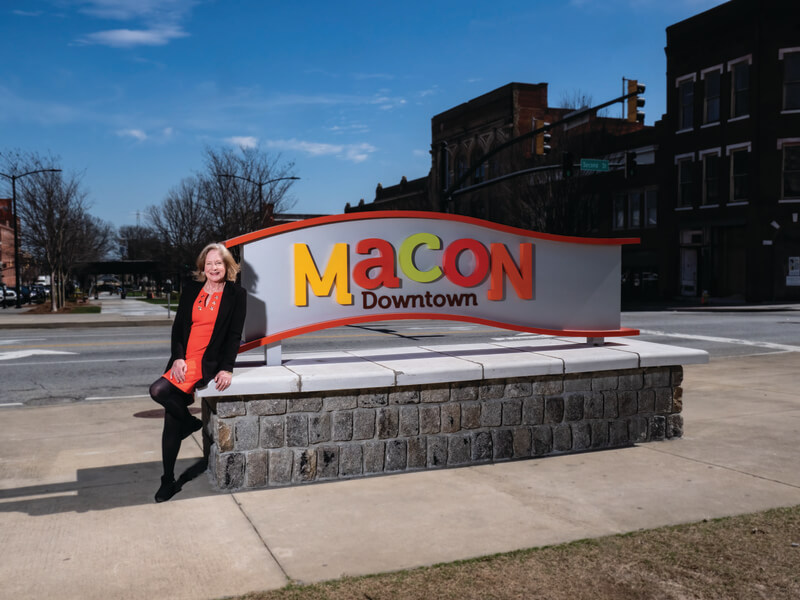 Women in Business 2021: Wimberly Treadwell
A SPECIAL ADVERTISING SECTION CHAMPIONING OUR LOCAL WOMEN IN BUSINESS. PHOTOGRAPY BY JESSICA WHITLEY.
W.T. Designs
Landscape Architect
840 High St., Macon
478-808-0391
wimberly@wimberlytreadwell.com
wimberlytreadwell.com
WHAT IS YOUR MISSION, AND HOW HAS THAT SHIFTED BECAUSE OF THE PANDEMIC?
Wimberly Treadwell Designs works to create unique space that offers well-being, comfort, whimsy, safety and happiness for clients when working on residential projects, and for the community when working on public and commercial projects. Landscape architecture has gained attention because outdoor space has been essential to having meetings, enjoying meals, exercising and exploring. It has been a busy year; many clients are undertaking improvements in their personal outdoor spaces. The community has moved forward with urban renewal and park projects.
I ADMIRE WOMEN WHO:I admire all the young women working for the good of the community, investing their money, time and talent to make this a great community. I admire the young mothers who make a choice to go to work and balance arrangements for their children. This year has been incredibly challenging for these young women and I applaud, admire and praise their spirit and determination.
YOU MIGHT BE SURPRISED THAT:During the pandemic, everyone utilized outdoor space, as many clients were seeking to enhance and add comfort to their stoops, porches and patios. As such, Wimberly Treadwell Designs will be opening a virtual store that will feature furniture, containers and accessories for outdoor spaces.
What was the best business advice you ever received?
"Put pen to paper and get started." From landscape architecture school, I had a professor who knew students were hesitant to start the execution of a design or project. That thought has stayed with me: Unless you begin a project, you never will finish it.
How do you define success?
For me, success is when I see my work being acclaimed by people who have no idea I was involved. When I see photographs, social media posts, someone practicing yoga on an overlook, I feel that the spaces that I have designed are a success:Facebook lit up with the Macon sign during the Christmas lights event. NewTown posted pictures of the renovations in the Poplar Street median between Second and Third streets. The Navicent Foundation 2020 report pictured the fountain.
What are you most excited about right now in our community?
I am excited because it seems there are more collaborations underway with numerous organizations coordinating and efficiently using the resources of volunteers and funding to meet community needs. The food drives, the fight for local businesses of all types and the organization and efforts by Pleasant Hill neighbors are just a few examples.
What is the most gratifying part of your job?
The successful completion of projects that people enjoyas users or enjoy as partners. My projects involve partners, clients, community, funders, engineers, architects, Macon-Bibb departments and many more. Collaboration starts as every project begins, whether the client offers ideas, or a team of designers and community organizations discusses a project. It is gratifying to work in collaboration and create great projects!
I hope more women will: Invest their time and talent by being involved in this community and making it more vibrant.