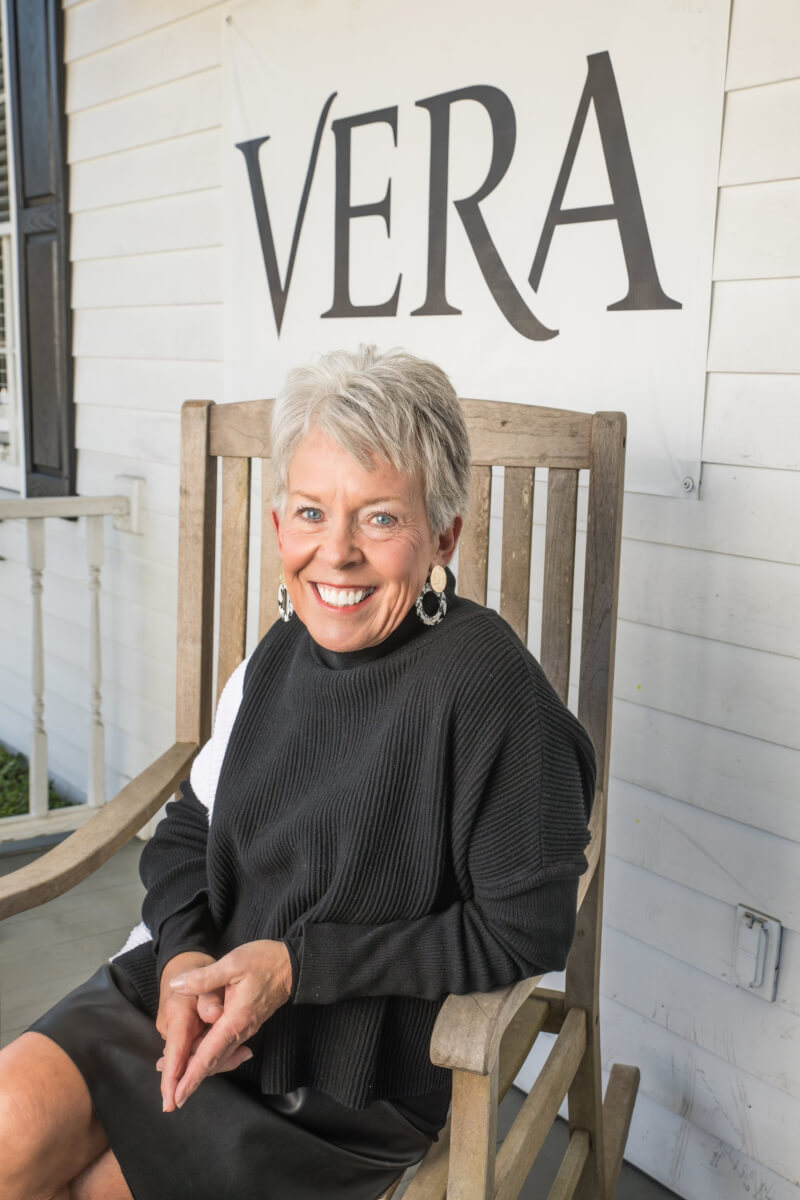 Absolutely Very Vera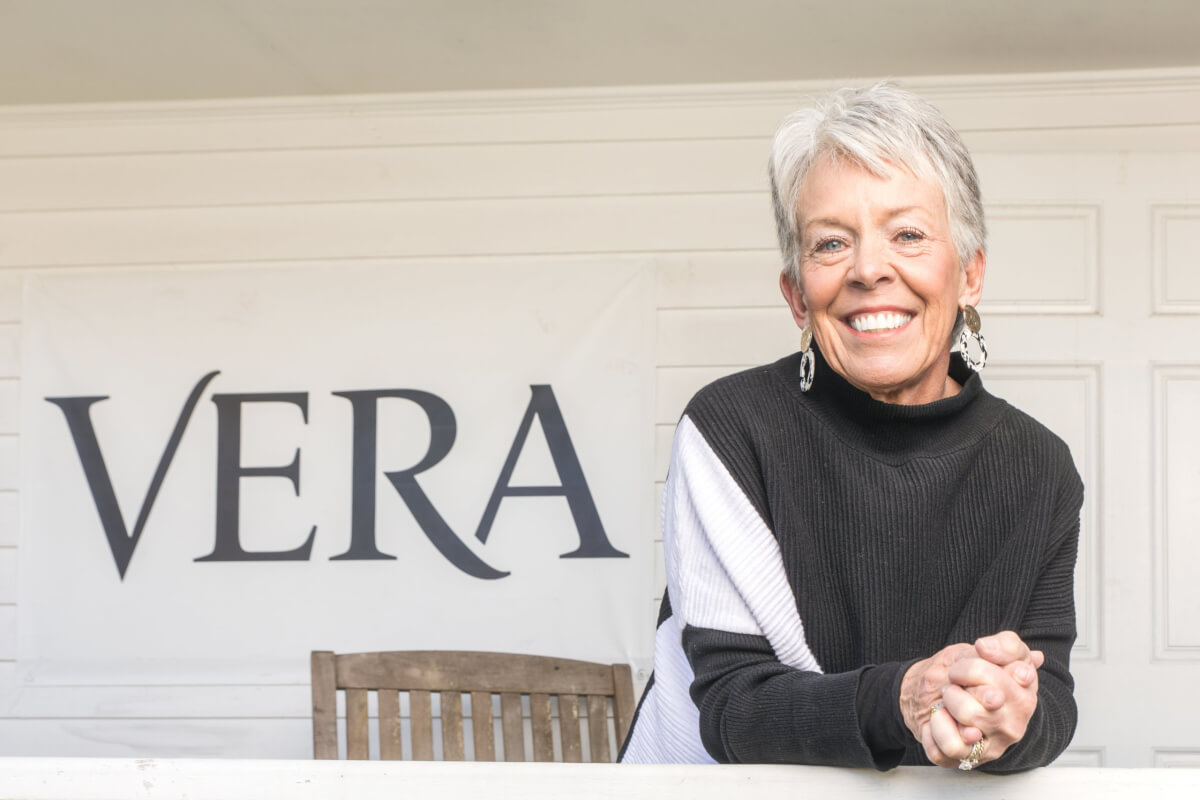 Absolutely Very Vera
By Traci Burns
Photography by Matt Odom
Vera Stewart became a Maconite under less-than ideal-circumstances. When she was 7 years old, her father passed away. Her mother, who was raised here, felt her best option was to relocate herself and her five children from their home in Raleigh, North Carolina, to a place where she could be surrounded by the comfort of family.
"I ended up here at a very vulnerable time in my life," Stewart says, "and I am so proud of all the ways this city reached out to shape me into the person I became."
So, who did Vera Stewart become? A loving and dedicated wife, mother and grandmother – all great accomplishments and just the beginning of the list for Stewart.
Throughout her impressive career, she's been a teacher, a caterer, an early mentee of Martha Stewart's, a mail-order cake sensation who garnered great press in Southern Living and Garden & Gun and drew accolades from Oprah and Oscar de la Renta, a cafe owner, a children's cooking camp founder, a cookbook author and a nationally syndicated cooking show host.
This driven businesswoman is proud – and a little awestruck – of the serendipity of her early years here. In Macon, Stewart met mentors and teachers who took an interest in her and helped guide her career path. Through these encounters, Stewart learned the essential nature of teaching others to care for themselves and their loved ones via the culinary arts – and she learned how much fun this could be, too.
She learned that being a successful company head meant working hard every day alongside your employees rather than barking orders from an isolated office, and that respecting and appreciating those employees garnered the best results. She learned that in order to truly grow a brand, you have to be forward-thinking, resolute and, at times, risk-taking. She learned the importance of rigorous, rewarding mentorship.
Raising Vera
The hospitality entrepreneur behind the VeryVera brand is engaging and lively. Her accent is comfortingly, deeply Southern and she's well-known for her megawatt smile, something she says she was self-conscious about as a child. She's also very down-to-earth.
"I don't dye my hair," she says of her short-cropped silver 'do. "I'd never have time to sit still in that chair! I have too many things to do!"
She laughs, then tells a story of being a young girl sitting in the congregation of Vineville Methodist Church and seeing Mr. and Mrs. Snow (of Snow's Funeral Parlor) walk in.
"They looked like Ken and Barbie to me back then," she says. "He was tall and good-looking, and she was a show-stopper – tall and gorgeous with a full head of gray hair. Because of her, I've never associated gray hair with age."
Stewart grew up witnessing her mother, Betty Stewart Wingfield, thrive under less-than-ideal circumstances.
"She didn't really have a safety net, which I'm not sure I fully understood as a child, but I did understand the concept of: if you give up, who's going to pick up the pieces? That's part of my DNA, I think," Stewart says.
Stewart's mother, 40 and newly widowed, re-entered the workforce as a teacher. She earned a master's degree at Wesleyan College, where Stewart's older sister also studied, and always instilled in her children the importance of graduating from college, which they all did.
Stewart recalls a formative entrepreneurial moment on Wesleyan's campus. She was a Girl Scout, and every Girl Scout who sold 500 boxes of cookies could earn a golden charm for their bracelet.
"I was getting that charm if it was the last thing I did," says Stewart.
So, her mother dropped her off at the dorms to sell cookies to college kids door-to-door. She easily secured her charm, and in the process got an alluring preview of the rewards that can follow ambition and potential.
As a young girl, Stewart would take the Nancy Hanks train from the Cherry Street station up to Atlanta, where her grandmother (and namesake) lived.
"She doted over us," Stewart says. "She only raised one son, so she loved having granddaughters. She was an inspiration to me in so many ways – she loved to entertain, loved sewing, bridge club, garden club. Everything she did was just so very, so much so that her friends called her Very Vera. I made her nickname my business name."
Stewart's mother's influence is also a fundamental part of the work she does.
"Even though she worked, she still made a point of managing all the different meals of the day. Breakfast would be a half grapefruit, sectioned out – she taught me what a grapefruit spoon was, and why you use a different spoon to eat your cereal," Stewart says. "My favorite part of entertaining is setting the table, and that comes from her. If she made a sandwich at lunch, she'd cut the crusts off or garnish it with one of those toothpicks with the frill, even if it was just for my brother and me. It's a comforting moment for me when I'm doing those things. It makes me feel like I'm with her."
During her senior year of high school, Stewart met the woman who would steer her toward the path she's been trailblazing since. Her homeroom class at Central High (where she was a member of the inaugural graduating class) was helmed by Catherine Dupree, who taught Home Economics. As a student on the college prep track, Stewart wasn't required to take Home Ec, but she became increasingly fascinated with the goings-on in that classroom, and soon began showing up early to help Mrs. Dupree set up that day's project. Stewart hadn't yet considered her college major.
"I graduated in 1971, when schools weren't co-ed yet, so all I knew is that I wanted to go to UGA where there would be some boys," she says, laughing.
Mrs. Dupree, seeing Stewart's genuine interest and ability, gently suggested that she might do well as a Home Ec major.
Learning to lead
Stewart held a job at the three-story downtown location of Belk Matthews throughout her high school years, and Bill Matthews was her first boss. The impression he made was significant and long-lasting. She admired the respect and care he had for his employees and she was impressed by his work ethic.
"He could've just sat up in the office and let the store run itself, but he was hands-on," Stewart says, "and he always kept that brand very active in Middle Georgia. He recognized that Belk needed to move into the Macon Mall back when it was first built. He's always been one of my cheerleaders, and I've kept up with him for all these years."
In 1974, Stewart graduated from the University of Georgia with a Home Economics Education degree and spent four years as a Home Ec teacher, following in Mrs. Dupree's footsteps. She left that job to stay home with her firstborn son, but, not wanting to leave the workforce altogether, she transitioned into catering.
"Most people my age were intimidated by throwing a dinner party, but not me," she says. "My friends would say, 'I'd have people over if I could do it like you,' and I'd say, 'Well then, let me do it!'"
At that time, Stewart and her family lived in Cartersville. In 1982, when native son Joe Frank Harris won the race for governor, he chose Stewart to cater his inaugural luncheon.
"That was huge for me," Stewart says. "That launched my business from a little cottage industry to a legitimate opportunity. It gave me the self-confidence that I could take on something so large and succeed, and it gave me a very solid reference for my resume that spoke well of my qualifications as a young person in the catering business."
Shortly thereafter, Stewart and family relocated to Augusta, the city she still calls home. At the time, her sons were small – ages 2 and 4 – and she felt some initial worry about making herself known as a reputable caterer in this new city. Her business took off thanks to her combination of talent, tenacity, confidence and creativity – and her prescient ability to put herself in the position to be mentored by a culinary icon, long before that icon was a household name.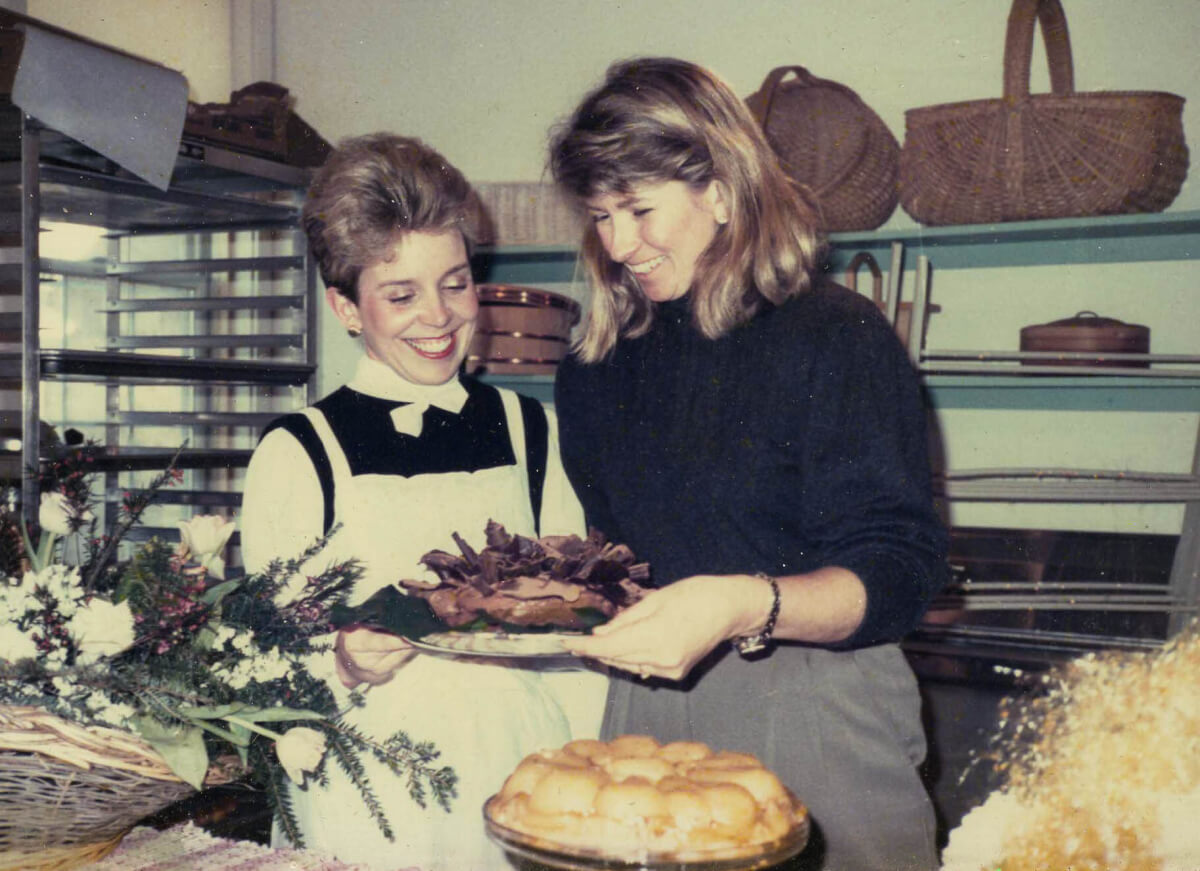 Becoming Very
In 1985, Martha Stewart wasn't, well, Martha Stewart just yet. Back then, she was a talented caterer who had just published a well-received cookbook and was beginning to enjoy some widespread success, and she had placed an ad in the back of Country Living magazine offering cooking lessons. Vera Stewart knew a good thing when she saw one.
"I'm pretty sure that the overall cost of getting in a plane and flying to Westport for these classes totally wiped out my savings account," Stewart says, "but it was worth it. She knocked it out of the park, and it really opened up a lot of doors for me."
Augusta is home to the legendary Masters Tournament, and before long Stewart was able to insinuate herself into that culture and become the go-to caterer for the yearly luxe, lucrative golf event. But resting on her laurels has never been Stewart's strong suit, and she found herself thinking: What else could I be doing? She didn't exactly want to open up a restaurant. She still had young kids at home and didn't want to be away from them every evening, but she did want to situate herself in a brick-and-mortar location, absorb the overhead costs and diversify her income flow.
In 1993, Stewart launched her VeryVera mail-order business with a small but solid repertoire of cakes based on her grandmother's traditional recipes. When Southern Living published a full-page spread on VeryVera two years later, "I made a sale in every state in the USA in 10 days' time," Stewart says.
Shortly thereafter, a recent transplant to Augusta from California approached Stewart about building a website for her burgeoning business, so in 1996, she became an internet innovator as well.
"Food wasn't really all over the internet then like it is now," Stewart says, "so we had one of the first food blogs. People were into it."
In 2002, Stewart opened a cafe and retail space that sold the items offered by her mail-order business. VeryVera had branched out to include savory casseroles alongside sweet treats. That same year, Stewart's accountant suggested that, because of the expense increase that came with the retail location, she needed to find another way to generate revenue.
Stewart's local fans had expressed interest in the idea of cooking classes, so VeryVera's hands-on cooking camps for kids seemed like a natural progression. That first summer, the camp lasted for three weeks and enrolled 12 students. Currently in its 18th year, the cooking camps, aimed at children ages 6-14, now are franchised to several cities (including Macon) and regularly sell out all six weeks of sessions. Because of COVID-19, no franchise locations chose to hold classes in 2020, but Stewart continued as usual, with 100 percent occupancy.
Mentorship is deeply important to Stewart, and she's offered invaluable experience to many young people. Most of her staff and interns are former cooking camp students, and she has nothing but high praise for their skill and work ethic, which she finds doubly impressive since most of them are high school or college students as well.
"Seeing what these kids accomplish, I have very little patience for adults who can't manage to get anything done," Stewart laughs. "Never underestimate what you can learn from hiring a young person. They see you and your business through a different lens, and that could easily magnify itself into another way to engage your customer base."
Smiling for the cameras
In 2011, Stewart was contacted by the Food Network to film a show.
"I thought it was something called 'Top That Cake' for a new channel that was premiering that summer," she says, but when she showed up on set and saw Bobby Flay, host of the popular cook-off show "Throwdown," she knew it was time to get competitive.
Stewart went head-to-head with Flay for a carrot cake challenge. She bested him easily, with spitfire-sassy Southern charm, humor and class – and, of course, with a better cake. This exposure inspired a local TV manager to offer Stewart the chance at her own show.
"The VeryVera Show" is a lively, likeable, tailor-made vehicle for Stewart's skill set. Her years of teaching experience translate to easy on-camera confidence, her hospitality industry connections make for amazing guest appearances and her theme – classic Southern recipes with a modern twist – is accessible and appealing.
The first episode was filmed in 2013, and now, in its ninth season, the show is available in 30 metro markets, including Macon, where it has aired on 13WMAZ on Saturdays at 12:30 p.m. since 2016.
In 2013, Stewart closed her cafe and mail-order business. She broke the news in a letter that opens, "I am excited to announce this next chapter in my career," setting an uplifting tone for her loyal fans – don't be sad about what's leaving, look forward to what's new and next: a cookbook.
Stewart and her dedicated team spent years perfecting the content, and in 2018, "The VeryVera Cookbook: Recipes from My Table" was released. The beautifully photographed book, intended for cooks at every skill level, is a true love letter to Southern culture and to Stewart's own family and folkways. The book contains recipes for every item Stewart sold in her cafe and via mail so that, as she wrote, "our traditions will continue from your oven instead of mine."
Visiting Macon
Though she doesn't have any family left in Middle Georgia, Stewart still pops up here occasionally. In 2016, the Macon Arts Alliance brought her to do a demonstration on charcuterie board creation, and the Federated Garden Clubs of Macon Inc. has had her as a guest speaker at one of their luncheons. Scott Mitchell, owner of downtown boutique Travis Jean Emporium, loves inviting her for cookbook signings and other in-store events.
"Vera's passion for cooking is only surpassed by her infectious smile," Mitchell says. "She's always 100 percent energy and 100 percent fun, and she's a real crowd-pleaser."
The life-upending pandemic of 2020 meant a rough year for all of us, but the food-service industry was hit especially hard. Stewart missed catering gigs due to cancellations (the Masters announcement hurt the worst) and her cooking class franchises chose to close, so naturally she's happy to leave that year in the rear-view. But she doesn't dwell on the loss, saying, "This too shall pass." Remember, she learned from her mother early on that when something breaks, you pick up the pieces and keep moving forward.
Sharing her joy
What's next for the VeryVera brand? Stewart is excited to consider writing a second cookbook, something she didn't think she would do until recently when the project manager of her first book reached out with an idea. Stewart has learned to listen to the wisdom of the talent she surrounds herself with.
She'll also continue "The VeryVera Show" and the cooking camp, and she's excited to spend time with her grandkids, who she credits as her inspiration for staying strong and spry.
Reminiscing about her past reminds Stewart of the importance and permanence of memories, so she delights in passing down her passions to her grandchildren: they cook together, set the table, have tea parties – laying the foundation for a new generation to carry forward these simple, elegant traditions.
"If you look at my brand as a whole – from catering to cookbook to working with children to etiquette and manners – it all goes together, and it all traces back to that homeroom teacher who suggested I might do well as a Home Ec major," Stewart says. "I love staying passionate and engaged because of the opportunities I've had, and the ones I still continue to reach out for. I always tell the young people I work with, if you don't stay on your A game, when the opportunity presents itself, you won't be ready. Your goal should always be: This is going to be the best year of my life, even if you don't know exactly how or why yet."
A recipe from Vera
"When I think of go-to weeknight meals, I think about my freezer," Vera Stewart says. "And my favorite make-ahead dish is this meatloaf. It's my older sister's recipe – she's Bitsy – and it freezes beautifully. It's easy to double, so you can have a little stash ready when you need it, and then you can just do a quick salad, mash a potato, open a can of green beans. That's true comfort food."
BITSY'S MEATLOAF
Serves 4-6
1 ½ pounds ground beef (80/20 ground chuck recommended)
¼ pound hot pork sausage (Jimmy Dean recommended)
1 cup panko breadcrumbs
1 large egg
1 ½ teaspoons salt
¼ teaspoon ground black pepper
1 medium Vidalia onion, chopped
½ cup marinara sauce
1 tablespoon Worcestershire sauce
For the sauce:
½ cup marinara sauce
2 tablespoons yellow mustard
2 tablespoons dark brown sugar
2 tablespoons white vinegar
Preheat oven to 350 degrees.
In a large bowl, mix all the meatloaf ingredients together until well incorporated.
In a separate bowl, mix together all the sauce ingredients and set aside.
Press the meatloaf mixture into an 8-by-4-inch loaf pan. Place in the oven and bake for 45 minutes.
Drain the fat and cover with the sauce. Place back in the oven and bake for an additional 5 to 10 minutes.
Remove from the oven and let rest for 10 minutes before slicing.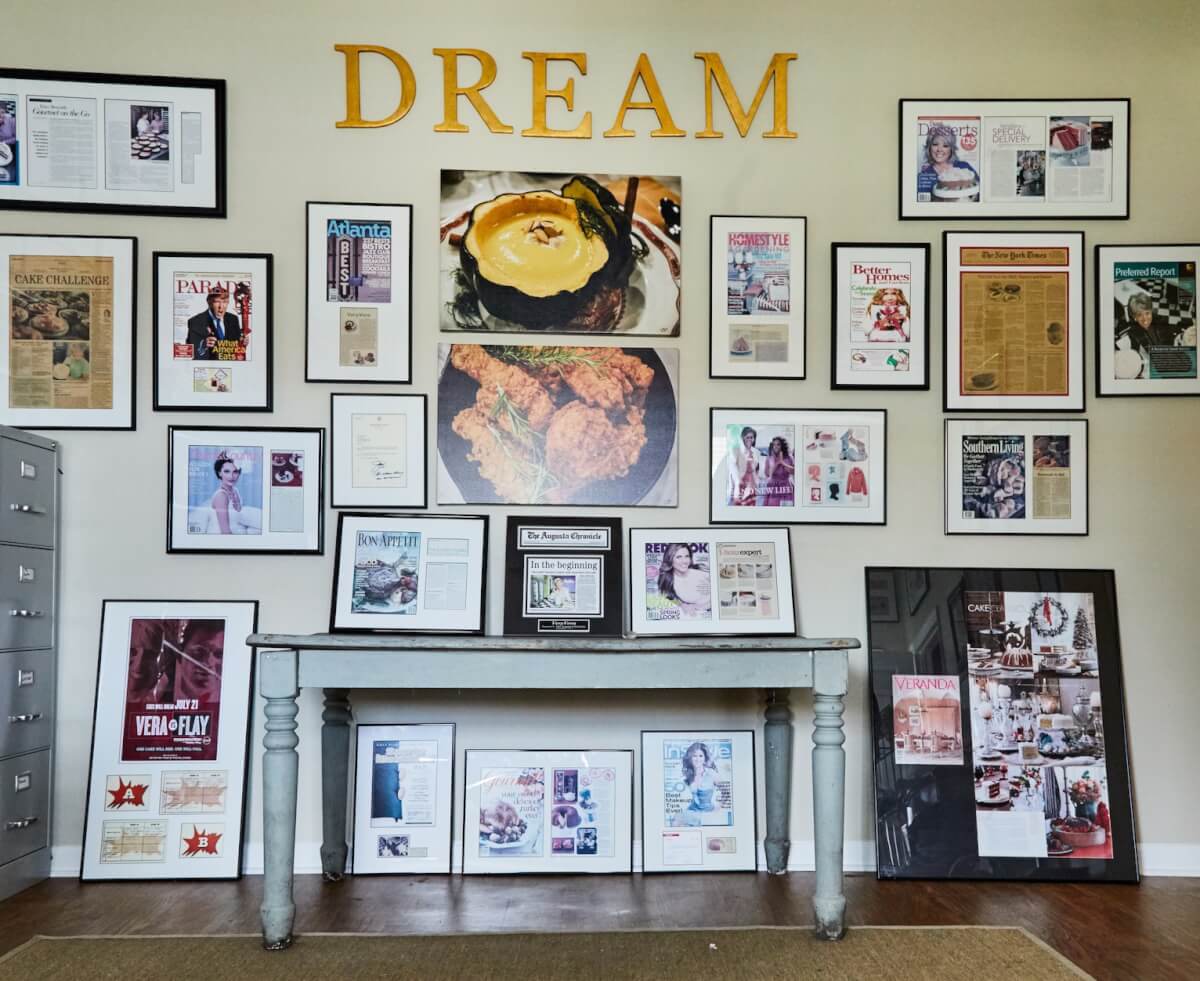 DREAM
Vera offers her strategy for business success.
In the introduction in my book, "The VeryVera Cookbook, Recipes from My Table," I share that the word DREAM has always been part of the journey. I used to dream big and found the creative outlet that provided keeps me excited and energized. In focusing on dreaming and working hard to achieve them, I developed a theory to the word that could benefit the entrepreneurial spirit.
D is for Determination: Recognize what "safety nets" you may have and consider if you would have enough determination to move forward if you didn't have something or someone to fall back on.
R is for Responsibility: Leading by example, especially in the early stages, will set the foundation for your expectations and growth. And who knows, when the next pandemic hits, you'll know how to do all the jobs yourself.
E is for Energy: I've tried my best to not let being tired join my vocabulary. We all have our trigger points and I know for sure I need to eat right, go to bed early as much as possible and stay one-step ahead of myself. Losing momentum or being disorganized will definitely make me tired.
A is for Attitude: With a name like VeryVera, I have no choice other than to be happy and VERY at whatever I do. Your name may not be VERY, but your attitude on the positive, upbeat side will be like a billboard to growth, success and a great passion for your work.
M is for Management: A well-oiled machine works like a charm and a well-managed company or business can accomplish great things. Look for like-minded staff by having them take a personality test and note the types of personalities that would work in your business plan and culture.