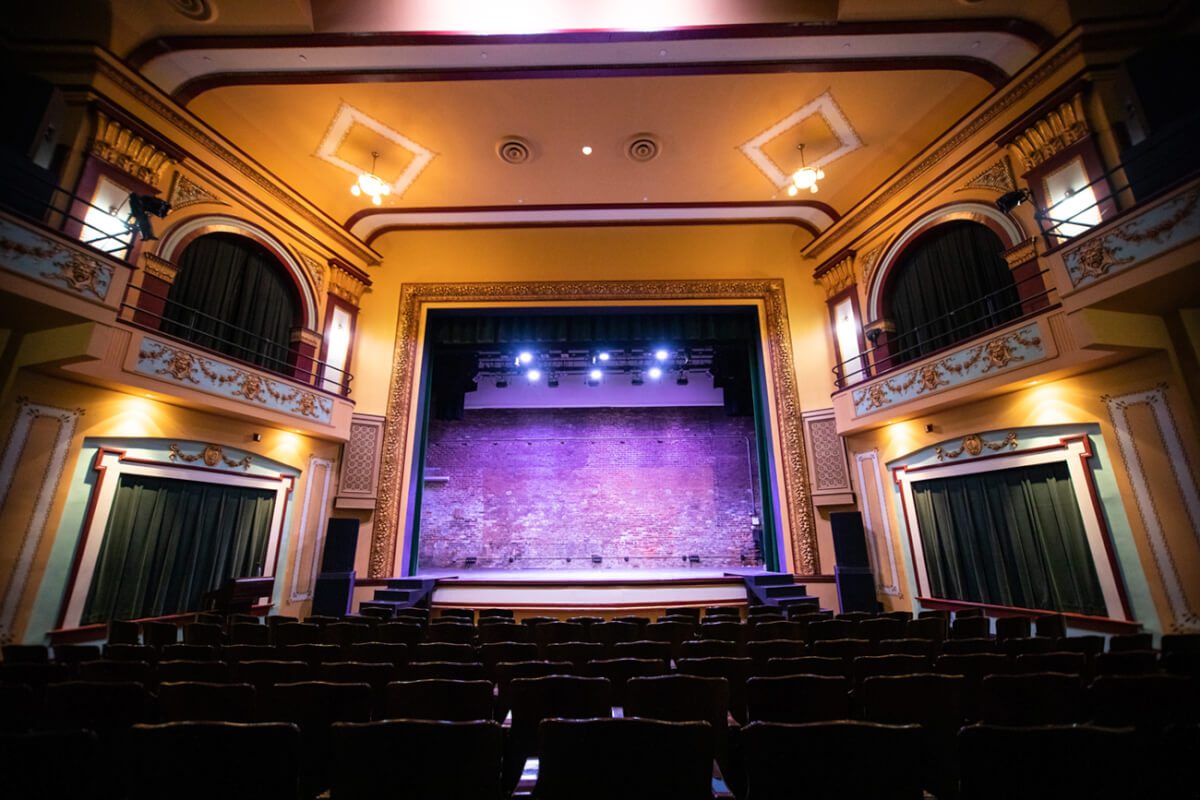 Amazing Douglass
Douglass Theatre legends and lore all tie back to the man who founded it
By Michael W. Pannell
Photography by Christopher Smith
Some buildings mean more than the string of events that happen there – as significant as those events may be. Some buildings, as beautiful and well-crafted as they are, are more than what can be seen or touched.
For multitudes, that's true of Macon's Douglass Theatre.
Located at what's now 355 Martin Luther King Jr. Blvd., where Charles Douglass opened it in 1911, the Douglass speaks to people's hearts more than you'd expect from any collection of wood, fabric and bricks.
In the Douglass' legend and lore, there are palpable moments and memories that explain why it speaks after 109 years of good times, good friends and the chance to see top performers, shows and films.
But at its heart is the man Charles Henry Douglass.
'A golden touch'
On the surface, most know Douglass was a black man who operated a theater catering to African-Americans where famous performers appeared and some even got their start.
But Douglass did more. Douglass created a community's focal point and lived a life that encouraged, inspired and enabled others.
"He had a golden touch," said Camellia Simmons, a granddaughter of Douglass. "He's known for the theater but he was a true entrepreneur his whole life. He was a philanthropist and did a lot for education even though he didn't get far in school himself. You wouldn't think a man without an education could do all he did in the era he did, but he managed to."
Douglass worked hard from a young age and became successful, even noteworthy, in a time with little room for black men to be too successful or have accomplishments recognized by white society. He prevailed again and again, and those who remember him say he did it with determination and joy.
In February, several dozen of Douglass' descendants and friends of the theater celebrated what would have been his 150th birthday. Memories and tales were shared, and Johnny Hollingshed Jr., once artistic director at the Douglass, took to the stage to act as if he were Douglass returning to reminisce and "have a quick check on the place."
Born in Macon in 1870, Douglass was son to a former Virginia slave. As a child, he began gathering and selling light wood, then collected bruised fruit and vegetables to sell. Douglass picked cotton, opened a lemonade stand and sold newspapers. A bit older, he would call through windows to black soldiers not allowed to leave their train cars and, for a fee, take orders and return with items from nearby stores. He opened a shoeshine stand. Douglass saw people riding bikes and so he got one – but not a new one. It needed repairs and so he fixed it – and then started a successful bicycle repair and rental business.
In 1901, Douglass became director of the Georgia Loan and Savings Company. There he met assistant cashier Fannie Appling, who would become his wife.
Without saying Douglass led an easy life, it's clear he took what he had and made the most of it by piling up endeavors. Hollingshed said this included a juke-joint on Hazel Street featuring dancing girls. It's possible the club opened his awareness of the entertainment world. After starting at the savings and loan and before opening the Douglass, in 1907 he organized the Florida Blossom Minstrels and Comedy Company.
Douglass did all this and more until his next project was to open a theater.
'No one knew'
There are variations in stories about why Douglass opened his theater but all share the theme of discrimination. Plus, never discount the man's eye for profitable businesses.
"I heard Mr. Douglass and his wife – especially his wife – loved stage shows and frequently came to the Grand Opera House," said Bob Mavity, senior technical director and default historian at the Grand. "Sadly, the Grand was segregated and the only option the Douglasses had was to sit in the peanut gallery, the top balcony – not easy to get to or comfortable. I heard it became difficult for Mrs. Douglass to climb to the balcony, and he didn't want her to go without seeing live shows or go on being treated as a second-class citizen. He opened his own place."
The Douglasses could afford travel and some say being refused admission to a New York theater inspired the decision. Regardless, Hollingshed noted that when Douglass built his theater, he employed decorative elements like broken chains, African royalty masks and other pertinent trimmings representing freedom from oppression.
Never satisfied with just one venture, Douglass also operated an adjacent hotel and restaurant among his ongoing businesses.
Hollingshed said to bear in mind Douglass' forethought when considering the famous segregation-era guide for black travelers, Victor Hugo Green's "The Negro Motorist Green Book."
"Mr. Douglass did something that baffled a lot of fans but delighted performers and made them happy to come here," Hollingshed said. "Instead of worrying where they'd stay or eat, he built secret rooms they could use. But it meant a lot of fans were left wondering and waiting for autographs at the stage door for stars who never came out – no one knew."
Granddaughter Simmons remembers hearing about the rooms, a pool table and bar when, as a girl, she ran around the no-longer-populated area now called the annex.
He was called a 'race man'
Simmons said her grandfather was a good man who always "wanted all people to be treated the same."
By all accounts, Douglass was smart, brave, hard-working and never wasteful. He remained aware of fellow black people and sought to advance their state of affairs.
Douglass Theatre board member George Fadil Muhammad agreed much of the theater's story is Douglass' own heart, soul and his example in both black and white communities. He echoed Simmons' idea that Douglass "wanted all people to be treated the same."
"But he found himself with a problem," Muhammad said. "Whites wanted to see his shows – some of the best shows in town. The problem was Jim Crowe laws forbade races mixing and to his credit, instead of shutting whites out, Mr. Douglass found ways to let them in and created nights for whites, even dealing with issues like it being illegal for whites and blacks to use the same water fountains or bathrooms. It's amazing how he managed."
But Douglass and the theater didn't sit well with all white people, leading to the most horrific moment in the theater's history.
"That part of our history is marked by a plaque in front of the theater," Muhammad said. "It recalls that in 1922, a lynch mob dumped the dead, badly mutilated body of John 'Cockey' Glover at the Douglass in an instance of violence and enmity. Glover had been involved in a serious altercation in Macon, a killing, and was then himself murdered after being pulled from a train headed toward Atlanta. The Douglass had nothing to do with the incident but those who murdered him without recourse to a fair trial obviously saw the Douglass as a refuge and symbol for the black community. Douglass was known then as what was called a 'race man' because he proudly stood for his race and culture. He was never militant or advocated violence but was an example of a successful black man who rallied and built his community. Dumping Glover's body there made a statement."
It's uncertain if Glover's body was thrown into the Douglass or at its front doors. The plaque, placed in 2016, commemorates the incident and 15-plus people lynched in Middle Georgia from 1886 to 1922.
In the book "Macon Black and White: An Unutterable Separation in the American Century," Middle Georgia State University history professor Andrew Manis notes the incident's ramifications included a particular black family leaving town. Elijah Poole witnessed the mob and decided to move his family to Detroit, where he became Elijah Muhammad and was an early leader and major shaper of the African-American religious and political movement now known as the Nation of Islam.
'Teenage Party' memories
Douglass personally operated his theater until he died in 1940, bringing outstanding entertainment including little-known movies produced by black people for black audiences. He also played a role in the 40-theater Theatre Operators Booking Agency.
In his lifetime and after, the parade of films, stars and shows never slowed and included vaudeville greats and comedy stars such as Butterbeans and Susie, seminal jazz and blues artists like Ida Cox, Bessie Smith and Ma Rainey, and big band superstars such as Cab Calloway and Duke Ellington.
As friends gathered in February to celebrate, the second most often recalled memory involved legendary disc jockey "King Bee" Hamp Swain's "Teenage Party," which began broadcasting live from the theater over WIBB-AM in 1958. If lore surrounding the Douglass has early, middle and modern periods, the program and its talent contests are good markers for the middle.
"Teenage Party" was where a young Otis Redding got his start on the Douglass stage.
But is it true the Douglass and "Teenage Party" banned him?
Yes. True, but not malicious.
Redding was barred from competing after taking 15 consecutive $5 first-place prizes to give others a shot at winning.
Influenced by Macon's Little Richard, who didn't appear at the Douglass until later in life, Redding, the King of Soul, began there while other legends, like James Brown, enjoyed regular appearances on their way to international fame.
The parade of entertainment continued until a slow decline affecting many downtown Macon businesses forced doors to close in 1977. Few realized a third period in the theater's history would arrive in the 1990s, bringing $2.3 million worth of restoration and modernization undertaken by a community group called "Friends of the Douglass Theatre."
'This was home'
Doors reopened in 1997 with parts of the Douglass carefully restored – such as African mask décor and artful trimmings featuring broken chains of slavery – while others were completely redone. A portion of old seating space was converted to a modern lobby. New seats were fitted and heating and air-conditioning installed. Modern projection and sound systems were put in with even more modern digital upgrades coming later.
Today, the Douglass operates not under a single entrepreneur but an active board wanting it used in meaningful and entertaining ways for the whole community and for its vital and historic memories to be preserved.
There's now no place for limiting who can or can't attend a steady stream of young performers, singers, musicians, plays, movies, comedians or rent space for parties and events.
Within, the Douglass hosts the Macon Film Guild's monthly features and documentaries, is a venue of the Macon Film Festival and, with the Central Georgia Opera Guild, has presented live broadcasts from the New York Metropolitan Opera. Outside, there is a walk of honored stars.
Gina Ward, director of the Douglass, said she's often asked if the Douglass has ghosts like other historic theaters. She answers no, she's never experienced ghosts, but memories are everywhere.
"If memories are ghosts," she said, "then the place is full of nice ghosts."
Standing for the whole Macon community now, the Douglass and its creator remain cherished icons for the black community.
"What Charles Douglass did, and why this place is so important, is that when it was much needed he built a place that said, 'This is your place, a place you can sit down, relax, enjoy the show and forget about the troubles of the environment you're in and things you have to deal with to survive,'" Muhammad said. "That was one of the great, great accomplishments Mr. Douglass made. There were heinous things, horrible acts, but the Douglass was a jewel to the black community. There's no other theater like it. This was home."