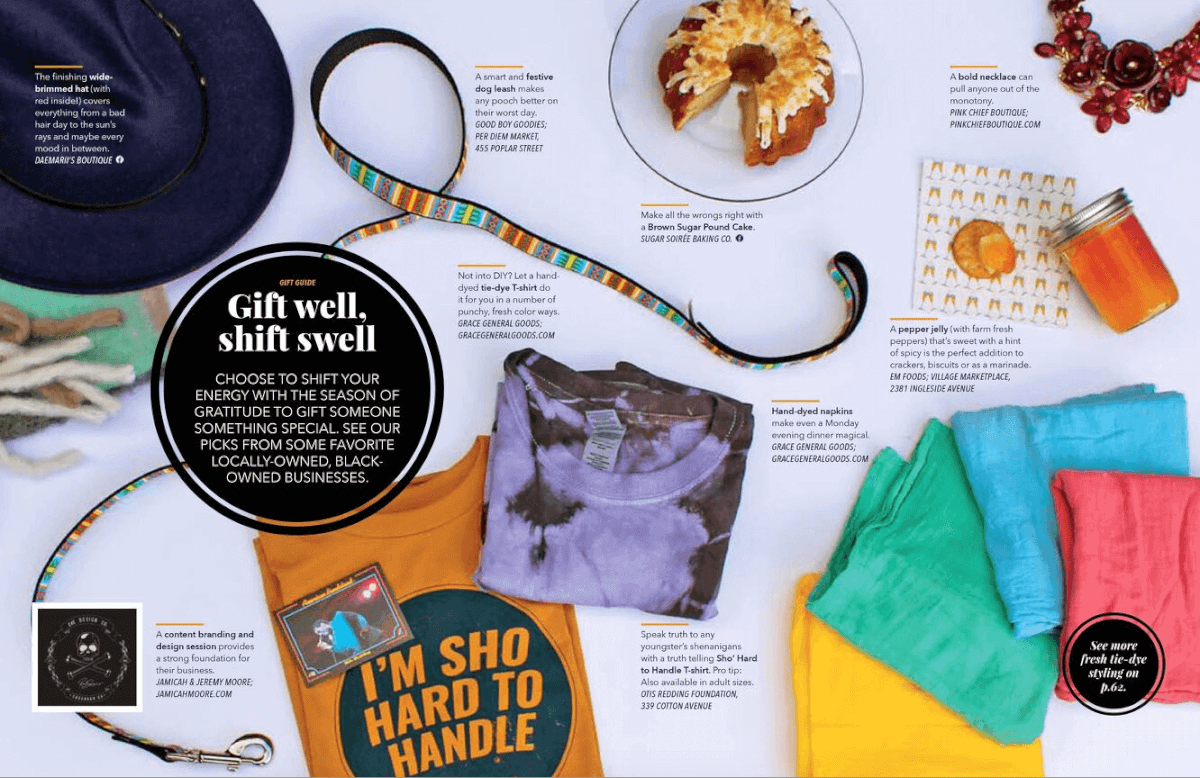 Black, Locally owned Gift Guide
Gift well, shift swell
Choose to shift your energy in the season of gratitude to gift someone something special. See our picks from some favorite local, Black-owned, businesses.
A content branding and design session provides a strong foundation for their business.
Jamicah & Jeremy Moore; jamicahmoore.com
A bold necklace can pull anyone out of the monotony.
Pink Chief Boutique; pinkchiefboutique.com
A pepper jelly (with farm-fresh peaches and peppers) that's sweet with a hint of spicy is the perfect addition to crackers and biscuits or as a marinade.
Em Foods; Village Marketplace, 2381 Ingleside Avenue
A smart and festive dog leash makes any pooch better on their worst day.
Good Boy Goodies; Per Diem Market, 455 Poplar Street
The finishing wide-brimmed hat (with red inside!) covers everything from a bad hair day to the sun's rays and maybe every mood in between. Daemarii's Boutique; Facebook: Daemarii's Unique Boutique
Speak truth to any youngster's shenanigans with a truth telling Sho' Hard to Handle T-shirt. Pro tip: Also available in adult sizes.
Otis Redding Foundation; Otis Redding Foundation, 339 Cotton Avenue
Make all the wrongs right with a Brown Sugar Pound Cake.
Sugar Soirée Baking Co.; Facebook: Sugar Soiree Baking Co.
Hand-dyed napkins make even a Monday evening dinner magical.
Grace General Goods; gracegeneralgoods.com
Not into DIY? Let a hand-dyed tie-dye T-shirt do it for you in a number of punchy, fresh color ways.
Grace General Goods; gracegeneralgoods.com