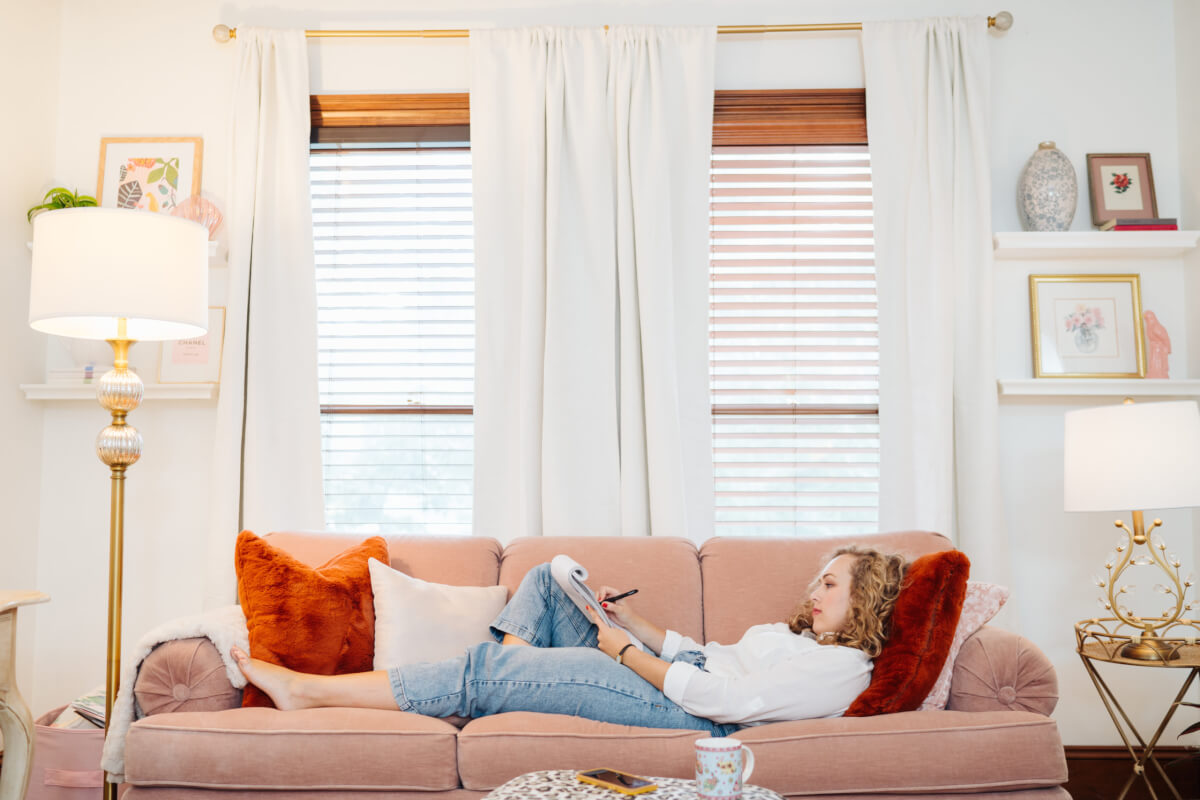 From Cubicle to Couch
A style evolution of pandemic proportions By Renee Corwine Photography by Jave Bjorkman
Coco Chanel is famous for saying, "Fashion fades, but style endures."
As we remain in the depths of the COVID-19 pandemic, and with no certainty about when our lives will return to normal, many Americans continue to work from home, educate from home, shop from home and yes, even cook from home. It appears that while wardrobe choices may change, the quarantine lifestyle endures.
Five months ago, some of us initially rejoiced at the option to slip into our soft pants. Many of us haven't seen a flat iron since April – myself included. Then there are others who still can't start their work-from-home day without putting on their lipstick.
My grandmother was a believer in getting dressed. An Air Force wife and homemaker for the majority of her life, Helen Solomon was famous for not leaving her bedroom until she "put her face on." Although she and her three children contracted polio in the 1950s, she lived through that pandemic with a daily ritual of mascara and chic heels.
We talked to a few Maconites to see how their personal style and work life has evolved during the last few months. While some still wear business clothes and trendy booties, others have gotten a little more comfortable now that the cubicle has become the couch. 
Mark Coats
Mark Coats, a development manager with New York Life, has been working from home since the COVID-19 pandemic began. With the company for 11 years, he said working from home is vastly different than life in the office.
"I miss the enthusiasm of being in the office, getting the team around the table for weekly planning meetings or lunch meetings, and interaction with agents at training. But it's fun to see everyone's pets and kids running around on Zoom calls."
That includes his own "office staff," 2-year-old labradoodle Alie, who's always ready to bark at the mailman or answer the door.
Mark has maintained his office routine of getting dressed professionally for work every day.
"Occasionally I'll put a tie on, but normally it's slacks and a button down," he said. "I don't feel like I'm in work mode if I'm in gym shorts and a T-shirt. Getting dressed allows me to mentally prepare for the day."
His one caveat: "I don't put dress shoes on. I wear house shoes or socks."
Mark described his style as business classic, and usually wears a white shirt, but added, "I like to keep my socks fun."
Elena Garza
As an independent contractor working in graphic design for Elizabeth Schorr & Co., Elena Garza said not much has changed with her work attire during the pandemic.
"I'm lucky that I can wear whatever I like, so it hasn't been a huge change for me," she said.
Shopping almost exclusively at Karats and Keepsakes, she likes to choose basics that don't go out of style, like jeans with a graphic tee or nice top, but keeps it fun with sneakers or a snakeskin bootie.
On a typical day, Elena works from The Web office, but did work from home during the height of quarantine.
"In the beginning, I was only working from home and slowly started coming back to The Web. Now, I pretty much come every day because it helps me focus," she said.
Regardless of where she is, one thing is certain: "I always have to do my hair and makeup so I can feel like a normal human. If I don't, then I don't feel like myself."
A painter as well, Elena said she's always been creative and was drawn to graphic design as a career where she could express that creativity. Focusing on painting has been an upside to spending more time at home.
"I've also made exercise more of a priority," she said. "It helps me mentally unwind."
Sarah Webster
Pre-COVID, Sarah Webster looked forward the creative energy she got from working in the office at 13WMAZ. As the marketing director, she's responsible for promoting the station's brand and its talent.
"For me, a lot of my job is creative, and I get a lot of energy from interacting and brainstorming with people," she said. "Being home, that's so limited, and it's just not the same over Zoom."
When working from home became her norm, Sarah began to notice some holes in her wardrobe.
"I dressed pretty professional for work because it helped me be in work mode. Since I've been home, I haven't really dressed that way," she said. "I realized I don't have enough semi-casual clothes, things you can wear at home and be comfortable and not be sloppy. I never wore jeans to work before, and I got these just before quarantine, and I wear them three times a week now because they are so comfortable."
She describes her style as a little boho and a little retro. For a professional work-from-home look, she frequently chooses a white, button-down shirt with a collar.
"I feel like a collar makes you look more put together on Zoom," she said.
Even though her clothes have changed, one thing remains the same about her morning beauty ritual: "I have to have lips, 100 percent, all the time, even at home, even under a mask. If I don't have lipstick on, I'm not ready to go."
Cierra Johnson
Cierra Johnson is a woman with a lot going on. A single mother to 10-year-old son Aiden, she's a media consultant for Cox Media and also an independent realtor with her company, Say Yes to the Address. Like most people, she's embraced the benefits and challenges of working from home.
"At home, I can focus more because I'm not distracted by other conversations happening around me. And I get to work in my PJs, and I'm all about that, honey," she said. "But I so, so miss the ladies I work with. Also, I'm in sales and I thrive on being out of the office and traveling around to different businesses."
Cierra said her friends describe her style as "team too much," a moniker she embraces.
"I am over the top. I love to dress up. I love a bad pair of heels and Calvin Klein dresses. I love the curls, the makeup, the accessories. I love to look good. Even on T-shirt days at work, it was always a pair of heels with that T-shirt."
Heels are her signature accessory, and with no sales calls to make, she still slips them on for Starbucks runs.
"I love to command a room when I walk in. How you dress changes how people perceive you," she said. "When a woman is wearing her heels, she's walking tall and feeling like she can conquer the world."