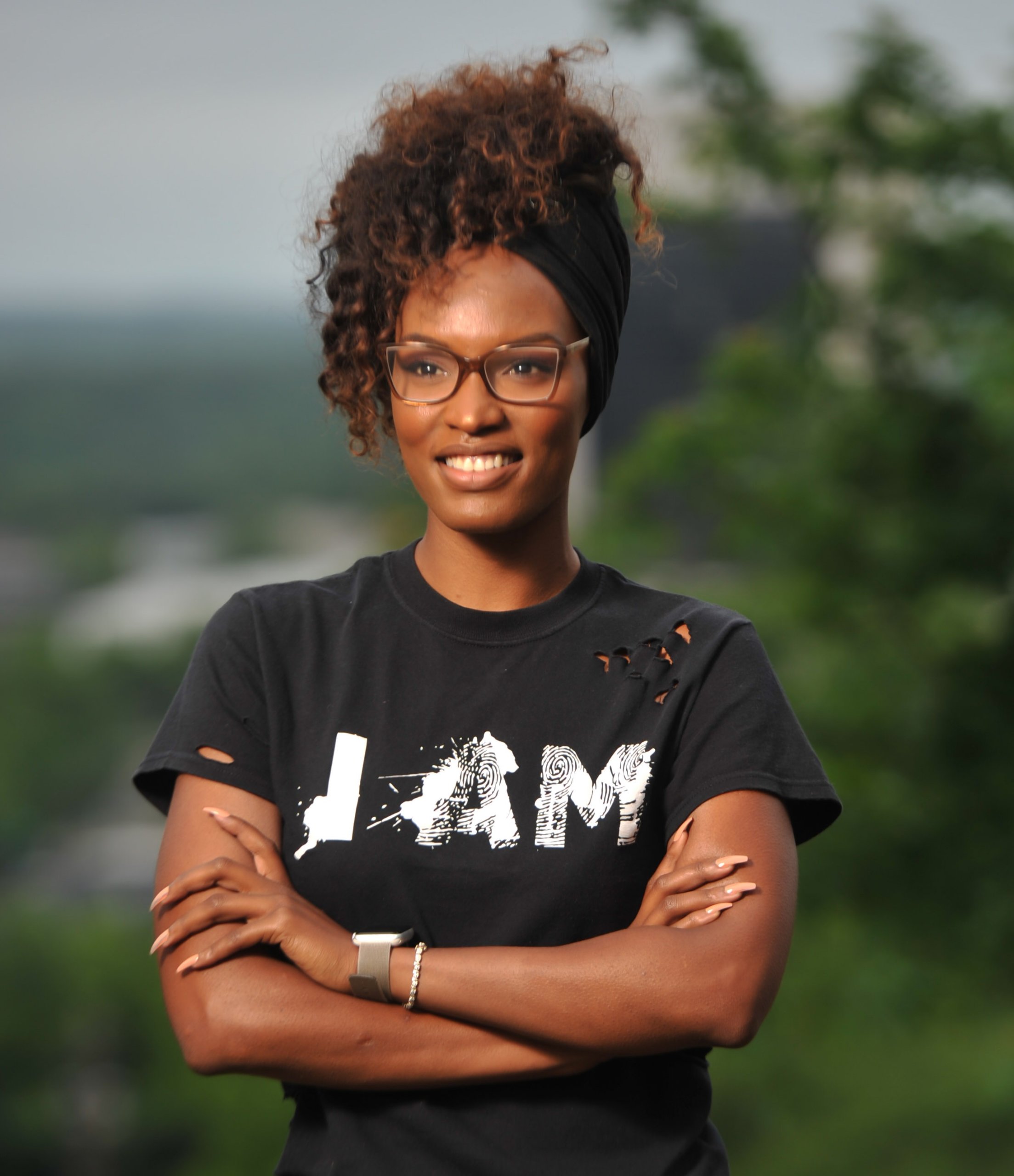 She is!
She is!
Through counseling and coaching, Andrea Glover is challenging the community and changing mindsets By Lisa Pritchard Mayfield Portrait photography by Dsto Moore
Ask Andrea Glover about her role in her hometown, and her response undoubtedly will begin with an emphatic, "I AM!" Perhaps that's because Glover knows who she is and where she's going; but it's also likely because she is the founder of I AM Developing Company LLC.
"Live on purpose, with a purpose." That's the mantra of I AM Developing Company, said Glover, who reminds her clients that "every day it is a gift to be alive."
According to Glover, everyone has an individual role that supports the collective purpose: "That's where we inspire and invite others to do the same. When we stop hiding from our mistakes, scars and wounds, and learn to embrace them, we can pocket a gift. This is a tool to take with us on our journey in life."
Glover helps her clients discover how to use their own unique gifts to be purposeful in life.
"We each have a unique fingerprint for a reason," she said. "It's our job to take the gifts we were born with and discover how to use them."
Toward that end, Glover said she lives this mantra, intending to be purposeful in all things she does.
"I intend to be impactful in all things I do, blooming consistently and always evaluating myself," she said. "I'm a believer in celebrating the present and consistently striving to be the best version of myself. That's what I require of my clients, too. That's the work of a coach."
That's also the foundation of her company and what is required of her team. Glover currently has six staff members who serve in a variety of capacities, operating from their office near Mercer University Drive.
Glover works one-on-one with a variety of clients from a mix of fields and backgrounds. She provides group counseling and coaching sessions rooted in identity development, professional development, goal setting and execution. Serving as a consultant to small businesses and nonprofit organizations as well, Glover interacts with educational leaders and groups, policymakers and political front-runners.
"I facilitate courageous conversations and create community classrooms that educate the world on how to live life, abundantly," she said.
Glover and a friend, Michelle Allen, founded I AM Developing Company several years ago as an educational consulting company devoted to educating African-Americans and serving the needs of African-American students in public schools.
"African-American students make up 57 percent of the public-school population nationwide, but 73 percent of educators are white women," Glover explained. This gap provided an opportunity for these two black women to utilize a unique approach to discuss one of the most taboo topics in education: racial disparity.
For two years, while still in college, Glover and Allen presented courses about assimilation, negotiation, creating safe spaces, privilege, personal bias, policy disenfranchisement, internalized racism and more.
"We utilized this framework along with psychological and counseling theory to engage in courageous conversations about these topics and how they impact our education of students," she said.
After graduation, the business partners took separate paths. Glover returned to Macon where she saw a need for female students to be mentored and for young adults to find purpose. Growing up in Macon, Glover's own mentors, camp leaders, principals and coaches all inspired her to be an educated woman: "I've been taught to be proud of who I am and where I come from."
With four sisters and two brothers, Glover has worked hard to position most of her identity to be affiliated with her family ties.
"I'm the first in my family to attend and graduate from college," she said. "For the first two years of college, my major was undeclared. I had the opportunity to explore and decided health and mental education were going to be part of my purposeful path."
Speaking purpose into others' lives is her life's goal, but as a child, Glover was bullied because of the way she spoke. In middle school, she transitioned from a predominantly black school to one that was predominantly white.
"The African-American vernacular English did not register with my classmates and I felt so much shame," she said.
After that ridicule from her peers, Glover stopped speaking in middle school.
"For two years I stopped utilizing my voice," she said. "It wasn't until my senior year of high school and college that I was reminded God had created me, and I needed to speak."
Though she's had the opportunity to relocate to both Atlanta and Seattle over the last few years, she's always been drawn back home.
"My roots are here, my family is here and my impact has to be made here," Glover said. "I love Macon and I love supporting those who are just like me – hopeful and naïve about what this world has to offer. I hope to inspire those in my community, and I hope to challenge them, too."
For the last two years, Glover has been teaching at Howard Middle as a business education teacher.
"It's exactly the project-based learning we need to simulate real-life situations that will prepare our students to be life-long learners," she said, adding that the connections she's made with students have changed the way they feel about their teachers.
"I enjoyed how she made her classroom a safe environment so that everyone can feel comfortable talking and sharing things with one another," said one young person.
Said another: "Her teaching style is very unique. She is one of the very few teachers who knows how to connect on a personal level with her students."
Glover's life vision has come full circle, as she has accepted a position as school counselor at Hartley Elementary for the upcoming school year. Utilizing her background in cultural responsivity, organizational structure, community involvement and her passion for people, Glover said her new role will allow her to engage on a different level.
"Moving into a leadership role will give me an opportunity to cast a wider net of influence," she said. "Although I'll definitely miss being in the classroom, I'm excited about the impact I'll have and the opportunity to work with other dynamic leaders in education."
Kevin Adams, former principal at Howard Middle, said Glover is amazing at connecting with students.
"Ms. Glover does an amazing job of connecting with students in such a way that she can be demanding while also encouraging students to put forth their best effort," Adams said. "By building strong relationships she is able to breathe hope into the lives of her students."
In the school environment, Glover said she cherishes the chance to model behaviors that encourage students to dream out loud and face their biggest fears head-on.
"I want to be a role model for both working hard and working smart," she said. "I only hope I can continue to encourage all students to love who they are and live unapologetically while loving unconditionally."
Glover also encourages students to embrace those who look like them, and be curious and compassionate to those who may not share their same experiences.
"Our students are naïve to societal constructs," she said. "Their imaginations are what's needed for innovation and expanding the world as we know it. I want to foster and cultivate spaces that encourage educational exploration. … I watch my students bloom, and I hear them fall in love with themselves, and I see them eager to continue to find those small wins that build confidence."
Glover sees those same attributes in adults.
"It's affirming to know my presence, my power, and my gift can be used to inspire others to continue to heal themselves," she said. "That is where they begin to build confidence, and that's the greatest affirmation."
Looking ahead, Glover plans to complete a doctoral degree in performance psychology with a concentration in sensory and therapeutic design. Her goal is to transition her love of counseling and design to create therapeutic spaces that foster healing and learning. In the short-term future, Glover plans to relocate her I AM Developing Company office space to a larger, classroom-style center where she can host bi-monthly classes.
Eventually, she'd like to serve as a lead psychologist, teaching at the university level, and hopes to publish work that supports the environment in which the community lives.
"I want to change the way we design public school spaces and underserved communities," Glover said. "As we are reimagining reparations for communities, I would like to lead policy changes, city planning and civic engagement. I hope to serve my community in a political capacity that continues to demand equity and build a legacy of service."
With the current national climate engaged in a shift, Glover serves as an educator for those willing to learn and, most importantly, an educator who works with individuals who are ready to confront themselves and how they show up in the world.
"My company is a flagship for engaging in conversations that are dominating the news cycle, while providing research-based action plans for individuals, groups and organizations," she said. "Now is the time we confront our truths so we can make peace with our past and do the impossible in the future."
Breakout box
'I challenge you'
"Remember, your life matters, your purpose matters and most importantly, your life is ready to be taught. I challenge each of you to ask the hard questions, change the daily surface conversations to ones that allow for vulnerability in your family and in your circles. You'll be surprised at what you uncover and what gifts you have to give." – Andrea Glover
Subscribe to Andrea Glover's website at iamandreaglover.com and follow her on social media @iamdevelopingco