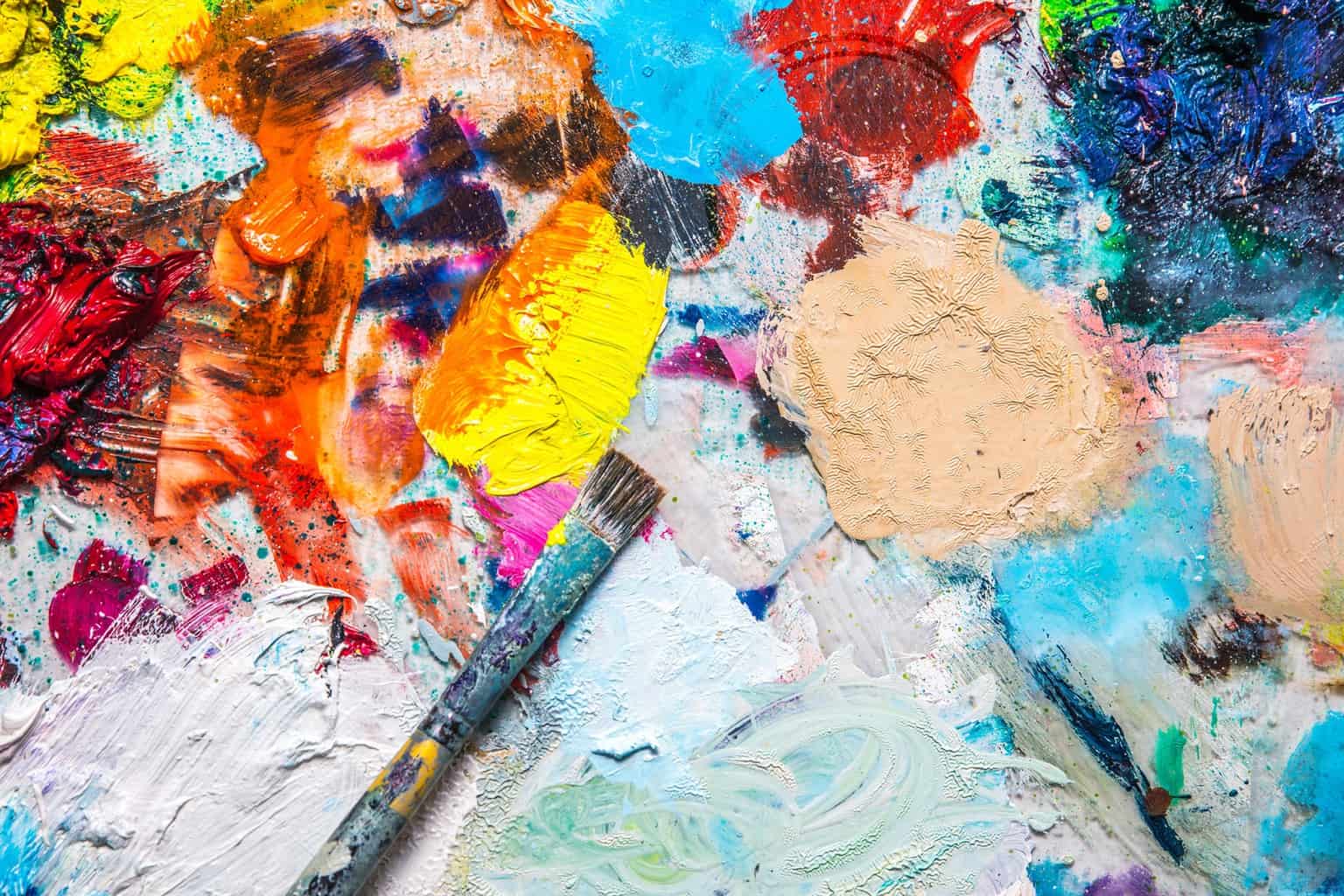 Making Space
Burgeoning artist movement in Macon reflected in opening of new artists' studios
By Michael W. Panwell
Photography by Matt Odom and Christopher Smith
Is a revival of art, artists and art production heating up in Macon?
Some see evidence that it is – with downtown as the hub. They point to a buzz among artists and in art communities that "something's up" with creators expectantly coming to Macon and others gladly staying here to pursue their art.
And they point to elements in place needed for a creative outburst, one of which may come as a surprise but has been building quietly: the creation of spaces for working artists to work, namely, simple studio space.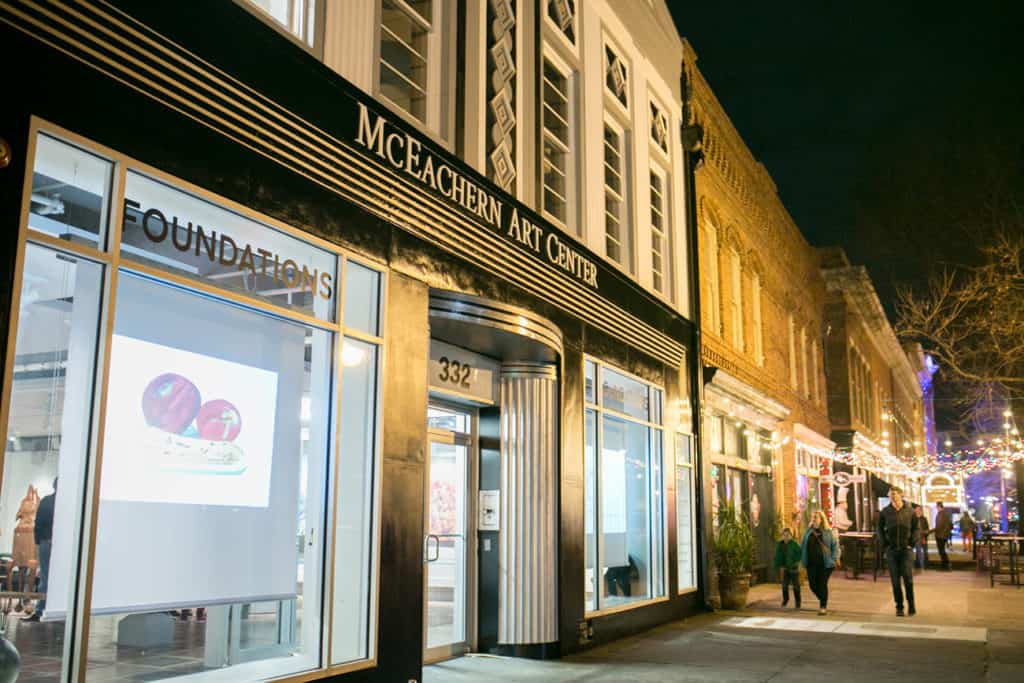 "Everyone is happy, downtown is flourishing and seeing revitalization, and we all hear when a new restaurant or two opens," said Macon artist Eric O'Dell, an assistant professor of art at Mercer University. "But most people aren't hearing about all these spaces being created for artists to work. Some know, but overall it's going unnoticed and people aren't aware of how important it is."
In recent months, three multi-artist studios have opened, and the synergy for artmaking spaces is palpable downtown.
In February, a smattering of Macon artists, studio owners, musicians, artist/entrepreneurs and others dropped by the four or five buildings of the vacated Triangle Chemical Company facility on Lower Elm Street.
Ric Geyer, who has created "arts incubators" in Detroit and Atlanta, invited them to see where he is investing $250,000 to create an events venue that also will be a "gathering place for urban youth to do positive things." And yes, there will be studio space and gallery space for painters, sculptors and other artists.
A number of artists who dropped that night by were encouraged that Geyer was seeing what they were in Macon: a burgeoning art and music scene. Colin Penndorf was there talking with Geyer and other artists. Penndorf leads the Ocmulgee Artist Guild, a collaborative of about a dozen Macon artists, and is curator at The 567 Center for Renewal gallery. He attended Middle Georgia State University and said he thought it was a good idea to stick around after college.
"There's tremendous creative energy in Macon, and I'm one of those who believes something is in the air, something's happening and it's going to surprise a lot of people," he said. "You're seeing it more and more. There are artists at work, ones you never hear of, who are doing really good work. I believe you'll soon hear of them, some in a big way. We're just at the tip of the iceberg."
With other independent artists, Penndorf and the Ocmulgee Artist Guild occupy new studio space at 164 Franklin St., in a building procured by painter and former art educator Megan McNaught. Curator for the Macon Arts Alliance gallery on First Street, McNaught said her own need for studio space was the reason she took on the venture.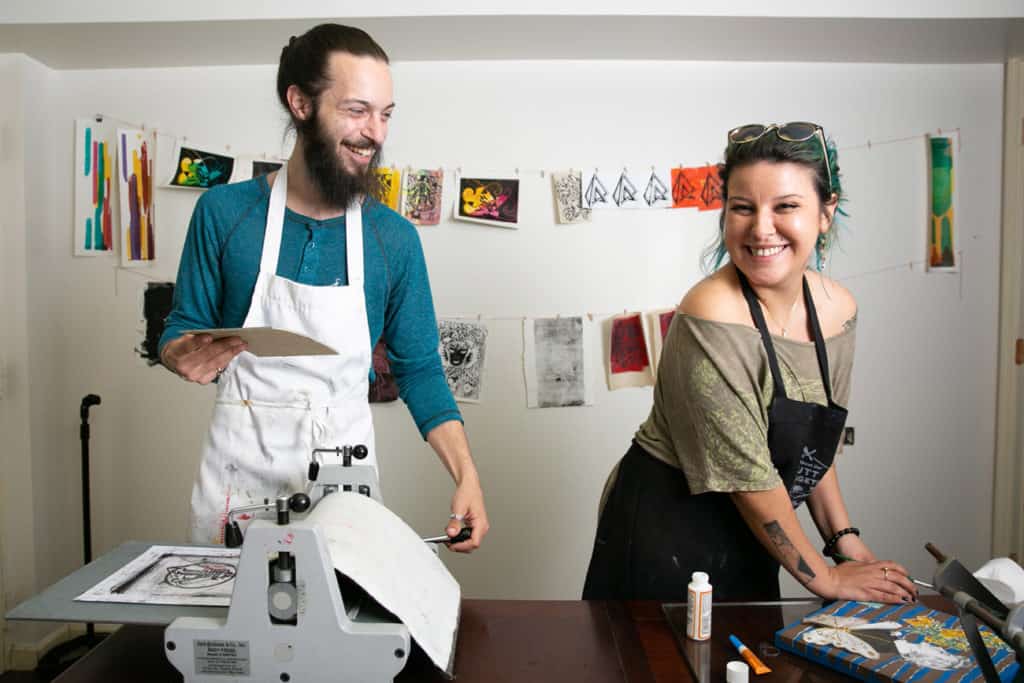 "There wasn't really a plan, but I did know others needed space, so now here's a place artists can work and be in the company of other artists," she said.
McNaught agreed there is excitement brewing about new spaces for artists, and acknowledged it's been a long time coming.
"There have been talented people here all along and now there are more opportunities and spaces. Downtown development is spilling over, and there are things like the Mill Hill Community Arts Center in East Macon. I see an evolution from what's been happening in Macon through the years and an evolution from the Arts Exchange."
Now closed, the legendary Contemporary Arts Exchange saw a very loose collective of artists form in the mid-1990s after Macon businessman and art appreciator Tony Long thought artists might like to use the undeveloped office spaces on the upper floors of 590 Mulberry St. They paid a pittance for electricity, $10 a month, and it didn't seem to bother most that there was no heat or air conditioning.
Arts Exchange artists, loosely organized, decided to let the public in to see what they were up to on the first Friday of each month—and party with them a bit into the wee hours. That decision is what led to Macon's First Friday downtown celebrations.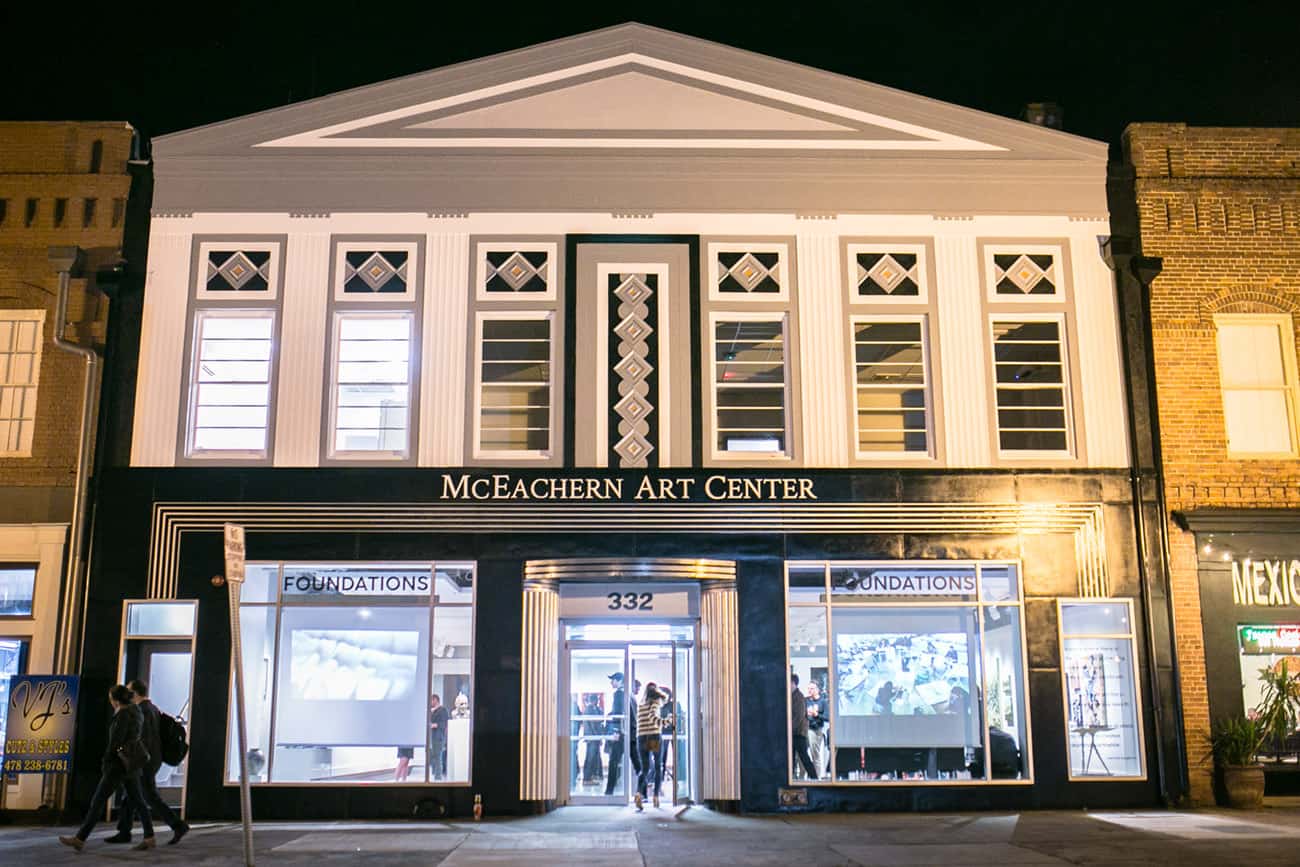 The Arts Exchange was the epitome of cheap, usable studio space for artists, photographers, musicians and writers. Few of the artists expressed outrage last year when the building sold and new developers asked them to start moving out. Collectively, they knew it had been a good ride but was now time to move along to other spaces. Some went home with their supplies and years of work, others found new spaces, and some are still looking for the right spot.
O'Dell was one of the early artists at the Arts Exchange, and is slowly moving out of the Arts Exchange to a spot made available to him above the Hummingbird Stage and Taproom on Cherry Street.
As a Mercer art educator, O'Dell is a key figure in another of the new artist studio spaces downtown, Mercer's McEachern Art Center, which opened on Second Street in February. Above the ground floor gallery, the building has spacious student studios.
"The Arts Exchange was a creative engine," O'Dell said. "Its day came and went, and what I see now is people moving along, other connections being made and what I think is, the creative engine has changed but it's starting to run on high test. There's a lot going on."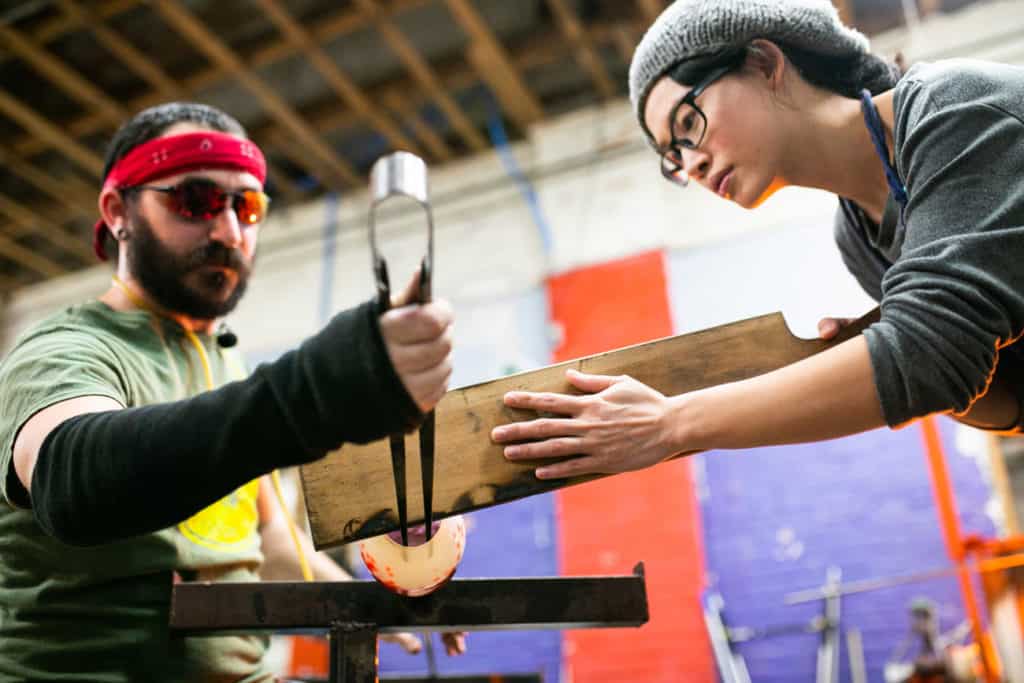 Yen-Ting Chiu and her husband, Brian Beck, moved to Macon last year, and in November opened StARTup Studios on Riverside Drive, near Franklin Street. Chiu primarily works in ceramics and Beck in glass. The two started StARTup with three-dimensional artists in mind, but studio space is open to all, as is gallery wall space. They also offer classes and community engagement events.
"We wanted to open a place where artists could get out of their home studios, as well as a place to help grow the art community and engage and teach the wider community what it means to be an artist and create," Beck said. "Our business is more of a lifestyle. … The reason we chose Macon was because after visiting several times we saw something was boiling here, about to spill over. We saw how the art community is growing quickly and that people are actually doing things."
A mile or so away downtown is The Ampersand Guild, a membership artist guild with studio space on the east end of Cherry Street. There is also gallery space, a rentable theater-music space and rentable photo studio. Ampersand's history goes back three years, but it was just one year ago they had a grand re-opening downtown on Cherry.
Director Daniel Montoute is most often found at the end of a long gallery hall at Ampersand, standing behind the sales counter. Behind that counter is his own studio space, one of a half-dozen studio spots. He's typically bouncing between working on one of the colorfully striking portraits he's known for and answering the phone or replying to emails.
"Downtown is definitely continuing to grow and the number of artists grows with it," he said. "That means demand for space to work grows. There's excitement as things push forward. I used to work privately, but I've gotten used to being in the moment in front of my painting as an artist then stopping to do something to run this place. It's different, but the energy of being part of a community and the exchange that takes place is really good. Having the space and seeing art produced here – and people coming to enjoy and buy it – that really is good. That's what we're hoping to see more and more of."
Julie Wilkerson is executive director of the Macon Arts Alliance, a nonprofit fosters art and culture in Middle Georgia.
"We're excited about the new studio spaces and about what many are feeling is coming. Is it alchemy at work? Is it thoughtful planning bringing it about? I'd say yes, it's a bit of both," Wilkerson said. "Advancing art and culture in Macon – for all of Macon – is part of what's behind the huge study being done now toward creating a Macon-Bibb County Cultural Masterplan. We want to foster all aspects of art and culture in all areas or our community. And we want artists to have the resources to flourish."