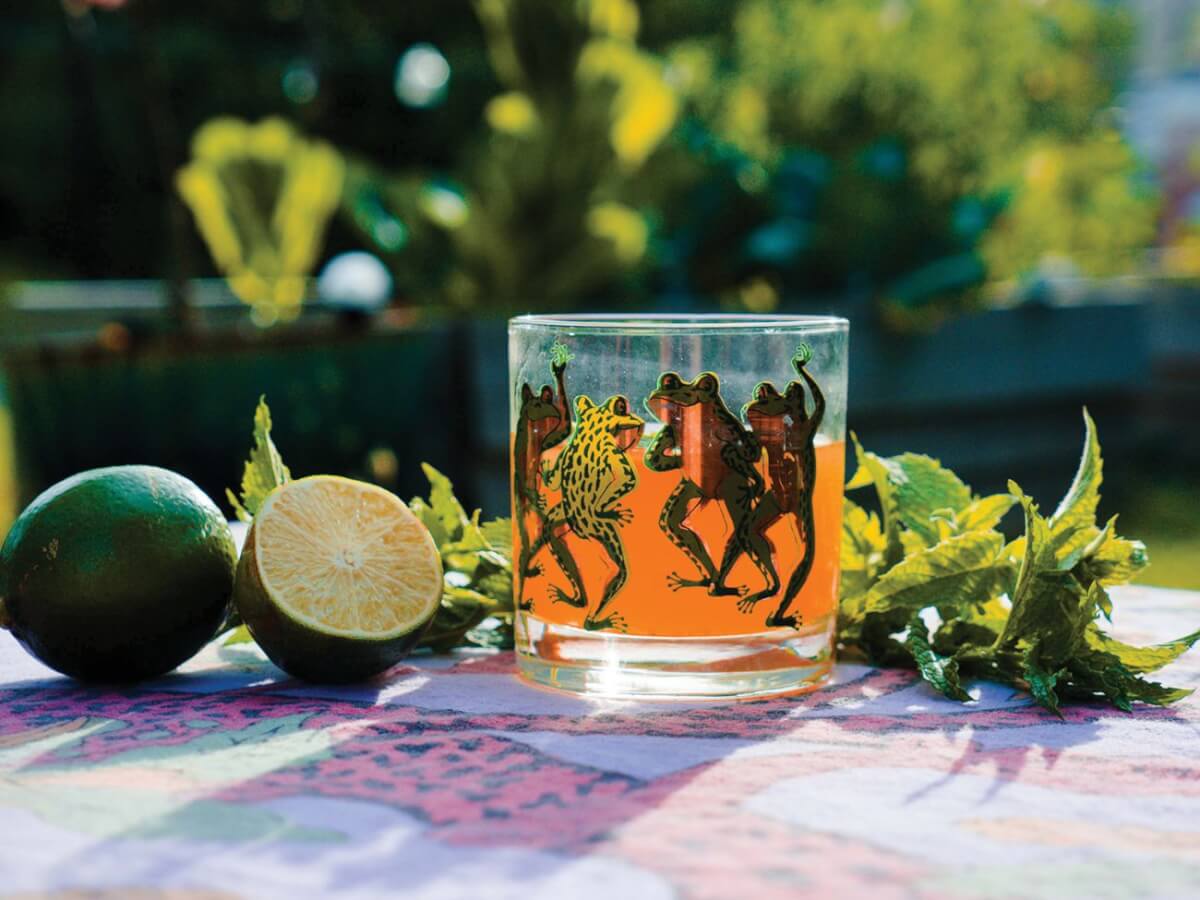 Quarantinis
Local bartenders share their favorite drinks for socially distant times
By Traci Burns
These days we're all a little nostalgic for less complicated times. Meeting a friend for a quick drink downtown, heading out for an evening of live music and cold beer, catching up with your sweetie over a multi-course dinner – these once-simple pleasures seem decadent in this time of social distancing.
The bright side is that remembering the good times ensures that we're all enthusiastically looking forward to creating more of them together in the future. In the meantime, be reassured by the fact that your favorite local bartenders miss your friendly face as much as you miss theirs. Here, a few of them share the libations they've been whipping up at home – the quarantinis, if you will.
Try out one of their recipes during your next Zoom cocktail date or socially distanced porch hangout, and don't forget to tip your bartender, generously, when we're all able to be safely together again.

Marianna Knox-Smith
Kinjo Kitchen + Cocktails
When I think of a comforting cocktail, I look to whisky. No matter where you are or what's going on, you can just sit, sip and the warmth of it envelopes you. The beautiful thing about classic cocktails is that there are so many ways you can transform an old school recipe into something innovative and exciting without ever violating the sanctity of the original.
At the moment, my go-to drink is one of our signature cocktails at Kinjo Kitchen + Cocktails, which is loosely based on the traditional Old Fashioned. The Ichi, (Japanese translation to English is "one"), is appropriately named, considering that it's number one in my book of favorites – but it's also the first on our cocktail list.
As soon as you bring the glass to your lips, the aroma of the oil on the skin of the orange hits your nose. Next, the spiciness of fresh ginger and sweetness of the honey balance each other out, which brings together the warmth and earthiness of the whisky and leaves the flavor lingering on the back of your palate. Then, on the finish, you begin to notice something vaguely familiar, and after you spend a moment contemplating it and taking another sip or two to figure it out, it finally hits you – toasted sesame.
The Ichi 
1 1/2 ounces toasted sesame oil washed Fuyu Japanese whisky
1/2 ounce High West Double Rye whiskey
1/4 ounce Ginger & Honey Syrup
3 dashes Angostura Bitters
Add syrup, angostura and a pith-less orange swath to stirring vessel. Gently muddle peel until you can smell the aroma of the citrus oil, then add whiskies and fill stirring vessel with ice. Stir briskly until contents are thoroughly chilled but not over-diluted, then strain over large ice cube. Cheers!

Ryan Smith
Lazy Susan Tapas Bar
My go-to quarantini is a Caipirinha. It goes great with gardening, patio weather and pretending this is just a super long staycation and not something more sinister. Fun fact, it's the national cocktail of Brazil, but the best thing about it is you can make it with things you probably have around your casa. After this is all over, if you feel like having the best damn Caipirinha money can buy, stop into Susan's and snag it off our summer cocktail menu! Until then, let's raise a glass to health, saude!
Caipirinha
2-4 ounces Cachaca Brazilian rum or substitute Panama rum (2 if you're doin' alright, 4 if you're really feeling the existential dread setting in)
2 lovin' spoonfuls of sugar in the raw
1 half a lime cut into 4 cubes
Add sugar to base of glass, then limes. Muddle limes until their juice is extracted, then mix with sugar to make a paste. Top with Cachaca and ice, stir to combine and chill. Bottoms up, buttercup!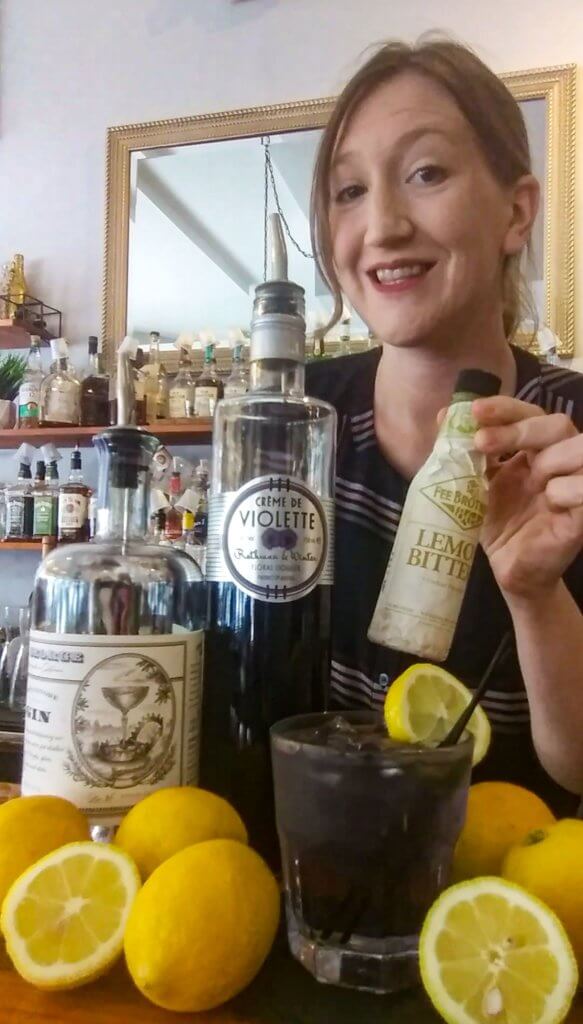 Nikki Hammock
Oliver's Corner Bistro
Impress your friends with this easy yet fancy summer cocktail!
The Dutchess  
1 1/2 ounces botanical gin
3/4 ounce creme de violette
2 dashes lemon bitters
Sprite
Combine all, add ice, add Sprite. Garnish, if you please! It would probably be delicious with some flavored Pellegrino instead of Sprite as well.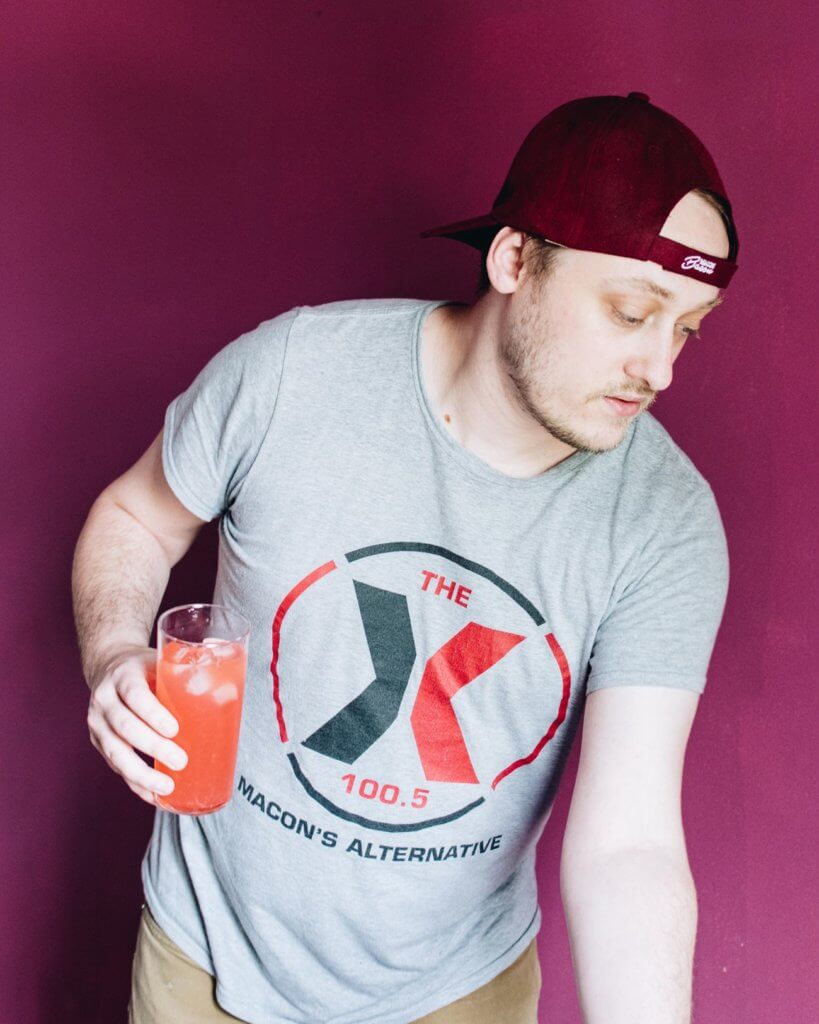 Alec Kessler
Reboot Retrocade and Bar
When I'm not doing my radio show on 100.5 FM, I tend bar at Reboot Retrocade and Bar. I've been there for just over two years now, and I couldn't be happier. I love everyone – from the owners all the way down to the barbacks. It's more like hanging out with friends than working.
My usual go-to quarantine drink would either be beer or good bourbon with light rocks, but my significant other does not share those tastes. If there is anything I've learned at Reboot, it's that you can keep the ingredients simple and still make something bright, tasty and boozy. I call this drink a Long Day Off, mainly because that is what was required by my test subject after a few of these.
It's a simple, but delicious and deceptively strong drink that can ruin tomorrow for you if you aren't careful. It is best consumed while staring judgmentally out the window at your neighbors who aren't social distancing and pairs well with binge-watching a comedy – I recommend "Letterkenny," "The Unbreakable Kimmy Schmidt" or "Community."
Long Day Off 
2 ounces vodka
1/2 ounce peach schnapps
1/4 ounce grenadine
Lemonade, to taste
Shake together the vodka, peach schnapps and grenadine. Pour over ice in a Collins glass and top with lemonade.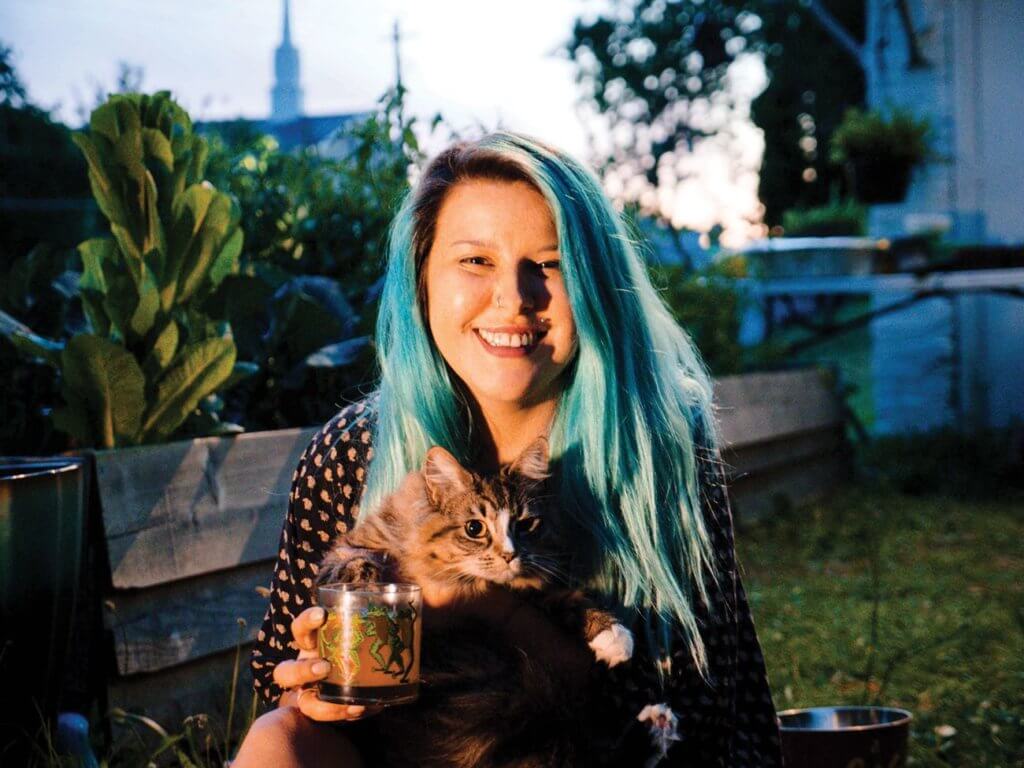 Brooke Scott
Piedmont Brewery & Kitchen
I have been working at Piedmont Brewery & Kitchen for the last three years. At the beginning of the year, I also started working at Macon Beer Company and JBA. I love working in a variety of places because it gives me a chance to interact with all types of people in Macon, as well as build on my skill and knowledge of bartending.
It has been especially hard not being able to work and be the busy bee I normally am, not to mention missing all the people I don't get to interact with who I've spent years serving and getting to know.
Although this is a weird time for all of us, I have greatly enjoyed the personal space to work in my garden and spend more quality time at home with my pets and take care of home projects. One of the perks of having a garden is that I have a lot of mint – like, way too much – growing in my yard, and I often end up using this in cocktails regularly throughout the week.
One of my new favorite cocktails to make is a Covosa 75. It's super easy and made from a variety of things I normally have around the house. I find myself drinking this after spending my day in the garden or while I'm working on sketches or other artwork. It's an easy sipping drink that packs a punch while remaining refreshing and light.
Covosa 75  
1 1/2 ounces tequila (I used Jose Cuervo silver)
2 ounces champagne
Mint leaves
Equal parts Jumex mango nectar and Sprite
Garnish with lime
Muddle the mint in a pint glass. Add ice, liquors and then mixers to fill. Give it a nice stir and garnish with lime. If you prefer your cocktail a bit stronger, use a short rocks glass.

Meagan Evans
Society Garden
While hazy IPAs and fruited sours have become my beer of choice, with Society Garden's gates closed this spring, my favorite backyard cocktail is easily the Pimm's Cup. My family has spent the last eight weeks running around in our backyard, and this traditional British drink brings garden freshness straight into the glass.
While my two girls are chasing our eight chickens, wrangling 10 baby ducks and screaming when our two dogs get too close to either fowl, I can sit back on our swing overlooking our pond and sip on a Pimm's – and life is good. Quarantine time has reminded me to cherish the little moments and long afternoons. We'll all be back to being too busy, chasing down more hours in the week, soon enough.
Pimm's Cup 
2 ounces Pimm's No 1 Cup
3 ounces Sprite or ginger ale (ginger beer is even better!)
Cucumber, sliced
Any fruit in your fridge, sliced (strawberries and apples work well)
Garnish with mint from the garden if you have it
Pour ingredients in a glass over ice, garnish, stir and serve.