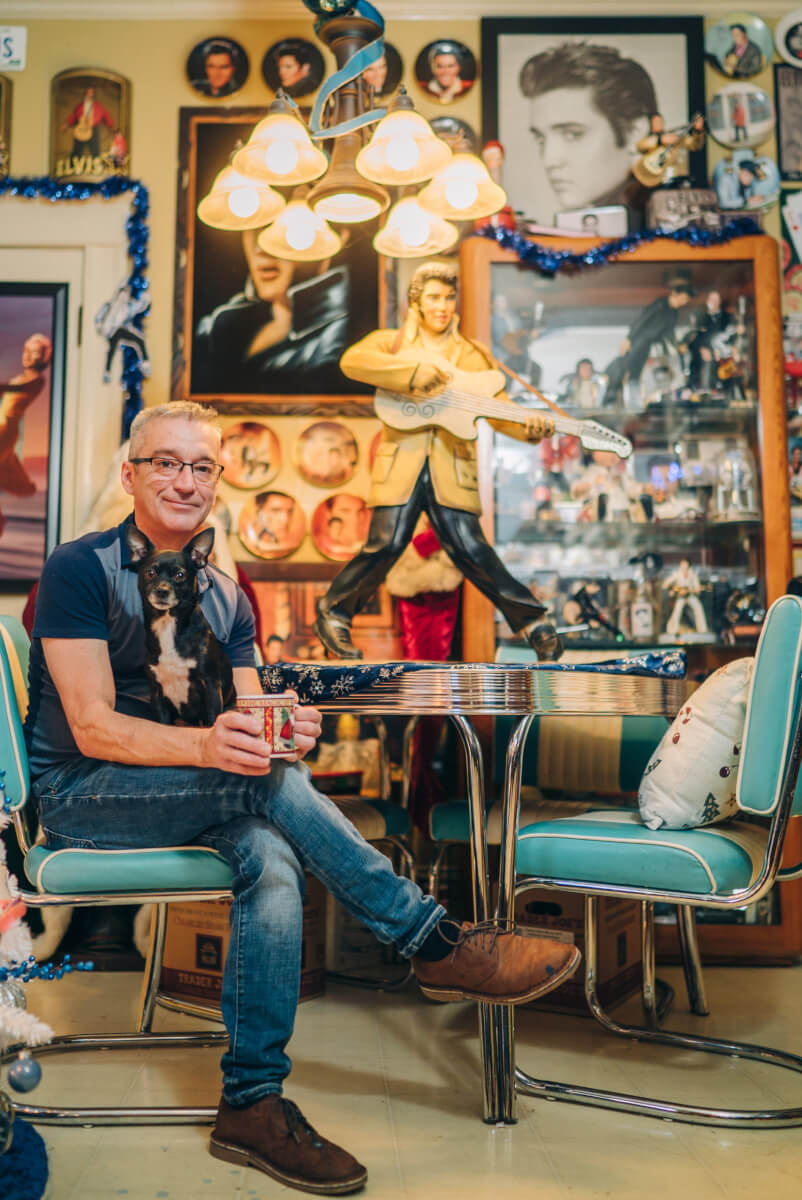 Thank you very much
By Traci Burns
Photography by Jave Bjorkman
"Christmas isn't just a day. It's a frame of mind." Kris Kringle first spoke this line onscreen in the 1947 classic "Miracle on 34th Street." Things aren't as simple now as they were then, and for many of us, the holiday frame of mind means being stressed, overwhelmed and overbooked.
When we're able to slow down and let go of expectations, though, we get a glimpse of the true spirit of Christmas – joy, gratitude, generosity, childlike fun and wonder, and the pleasure of being with friends and loved ones. Anyone who has ever spent time with Randy Fenley will tell you that he manages to embody that spirit year-round.
Randy, who grew up in Central Florida, has called Macon home for the past 33 years. He worked as a server for many of those years, his friendly face and charming demeanor a consistent and welcome presence to Middle Georgia diners. His current position at Compass Cares, which provides personalized treatment and care to those living with or affected by HIV and AIDS, allows him to continue serving the community he has grown to love.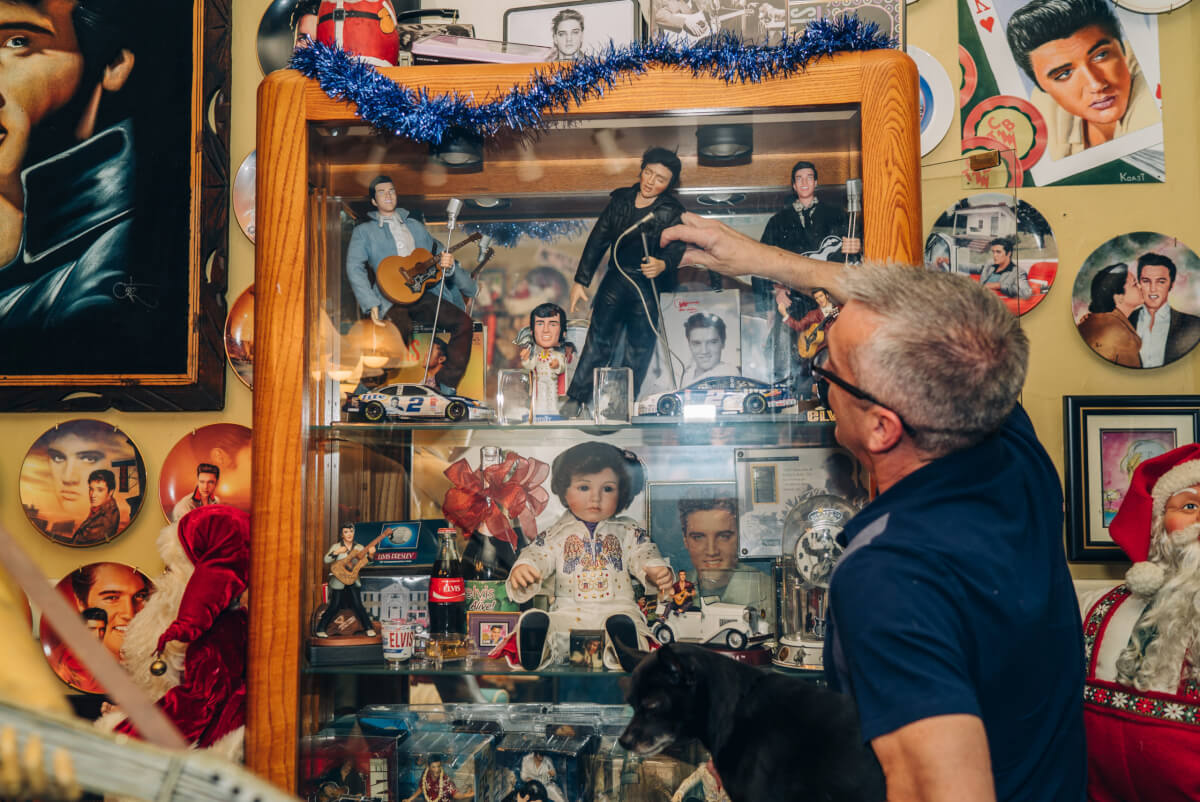 Most of the year, Elvis is king of Randy's home décor. He's a lifelong aficionado and dedicated collector, and he's turned his living space into a kind of museum of cultural iconography and kitschy treasures mostly featuring Mr. Presley, with glimpses of Marilyn Monroe or Lucy, of "I Love Lucy" fame, popping up. When Christmas is around the corner, though, the other icons take a backseat to jolly old St. Nick.
When Randy got his own place in Macon, he began to amass Christmas decorations, most of them Santa themed. About 13 years ago, he got the idea to throw a Christmas party to show off some of the treasures he'd been collecting. Thus, the Ho-Ho-Ho-Rah Bash was born.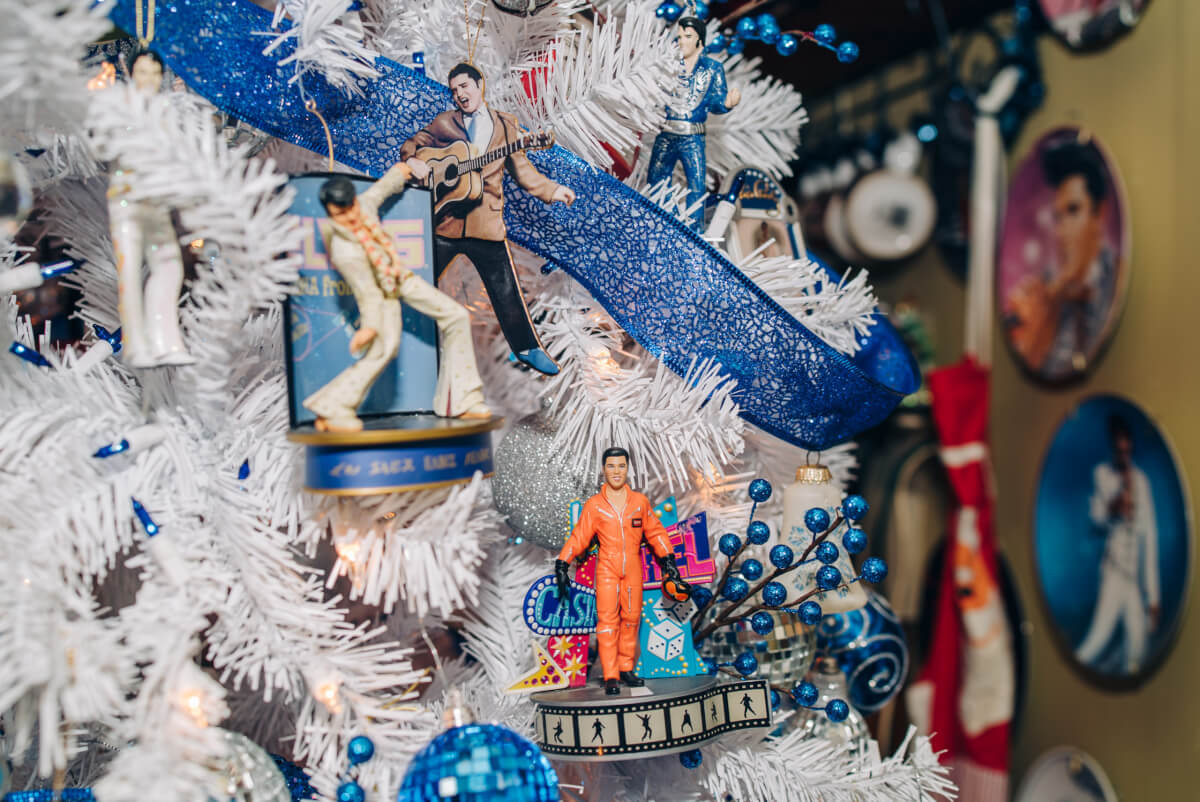 These parties, which Randy throws once every few years, bring a diverse mix of people together with the express purpose of creating joy. Randy's an ideal host, delighting in giving back to his loved ones with good entertainment, good food, good drinks and even door prizes. It's a beloved tradition to all who have participated.
Last Christmas, Randy hosted his fifth Ho-Ho-Ho-Rah. He expects to hold the next one in 2024, when COVID-19 will hopefully be a semi-distant memory and when he's not quite as traumatized by the work that goes into putting up and taking down his remarkable decor.
Here, he talks about his background, his collections and his charming canine sidekick.
Christmas is absolutely my favorite time of year. Growing up, we always had a good Christmas. We'd open up gifts from the family on Christmas Eve, and Santa would leave presents for us on Christmas morning. I couldn't wait for Santa to come, but I was also terrified of him. I'd always have to go get in bed with my sister and lay there all night trying to get to sleep.
My folks are from Central Florida – that's where I grew up. When I was younger, I moved to Thomaston and lived there for a year. Hated it. I was on my way back to Florida and some friends from Macon talked me into staying. Most of them have moved on, but I'm still here. Been in this apartment for 33 years. My landlords are like family. I like it here. I'm not big on change. I like to have roots.
My first memory of Elvis is from the 'Aloha from Hawaii' concert on TV, the one where he wore that iconic white jumpsuit. I've been a fan ever since. I've got this Elvis medallion I bought at the old Westgate Mall shortly after he died. I've got movie posters, whiskey decanters, this big ol' Elvis head that was actually worn by somebody on a Mardi Gras parade float. My prized Elvis possession is this framed album signed by Elvis himself. My friend bought it for me in San Francisco.
We went to Graceland last year on Labor Day. It was my third time. It never gets old to me. Seeing all his awards is just amazing. In just 21 years or so of performing, he accomplished so much. There was one long hallway of just his gold records – some people would kill for just one of those, let alone a whole hallway.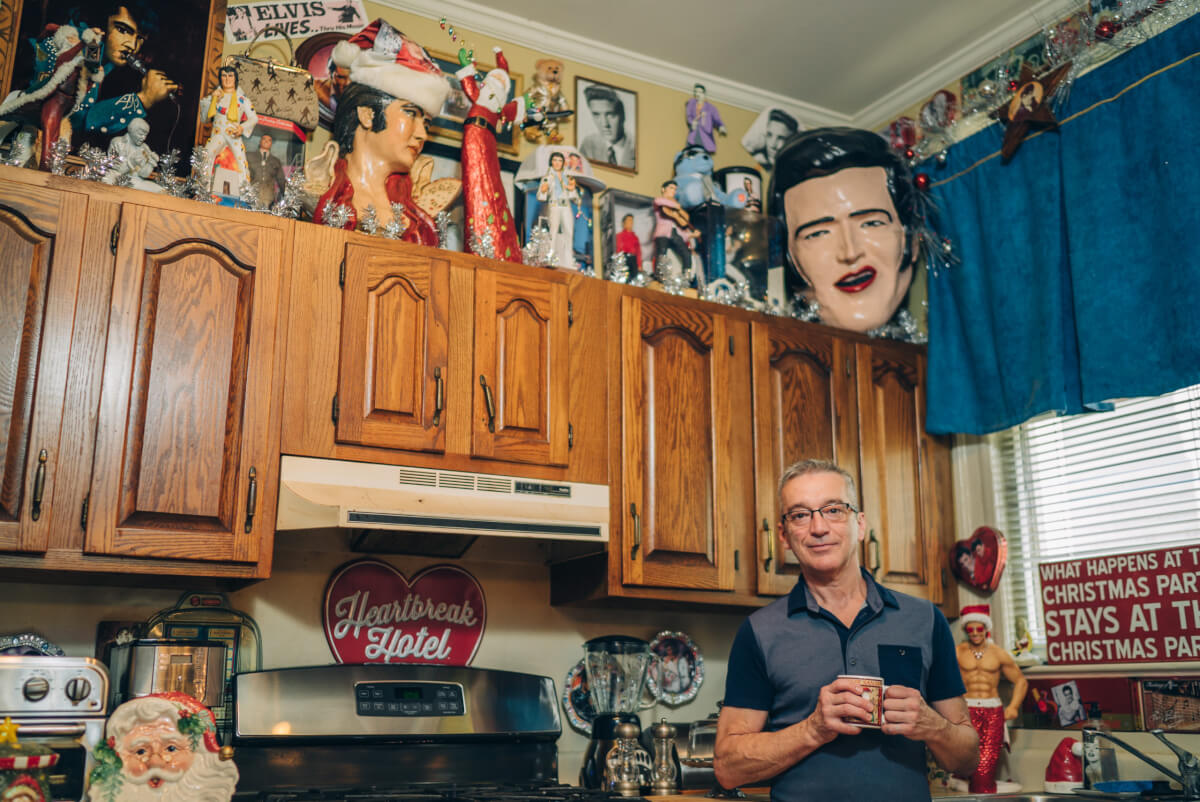 Some of the little Elvis museums are so cool. They have stuff you wouldn't think they'd be able to get their hands on. It's like somebody saved everything to do with Elvis from the time he was born. In Graceland, you can't go upstairs where he died, out of respect, and there are a few more off-limit spaces, but for the most part you can go through it all. I love the Jungle Room – it's tacky, but it's Elvis tacky, you know? It's priceless. I take pictures every time like I've never been before. The same exact pictures. It's all part of the experience.
In all the time I lived here in this apartment, I just started collecting stuff and I guess it got out of hand. Elvis stuff, then Elvis Christmas ornaments, then Lucy ornaments, then Marilyn ornaments, then Santa ornaments, and eventually I thought they all needed their own tree. I started out with real trees but moved to artificial. Five trees is the most I've had. Five is my limit – I think.
I have to take down some of my Elvis stuff when I decorate, but a lot of it stays up. Even my dog is Elvis. I'm obsessed. He was like 14 ounces when I got him. We slept on the floor together for the first few months because I was scared I'd roll over in bed and squish him, or he'd fall out of bed. I don't know what I'd do without him now – I love him so much. He's good company.
This Santa tree, it's 9 feet tall, takes me over 12 hours to put up. I got it down to 2,200 lights – that took me 16 hours. It's a real labor of love and patience. When it all starts coming together, it's worth it. When I'm in the middle of it all, surrounded by boxes, and I can't walk anywhere in my house, I'm like, 'What have I done? Again? Am I crazy?' But it always comes together.
I buy things at antique stores, estate sales, yard sales. That Santa – the big one – I got him at an antique store in Warner Robins seven or eight years ago. I looked at him, then came home. I knew I had to get it. I knew I was going to get it. I don't know why I came home. I turned right around and came back. It's a lot to store, and I keep buying more. I say I'll find more room, and I always do, but I might be starting to run out.
My mom loves it, but she thinks I'm crazy. She's given me some of these pieces, some of the ones in the bedroom that I treasure. She always complains when it's time for her to get her Christmas stuff out, then she says, "I don't have near as much as you do, I can't complain."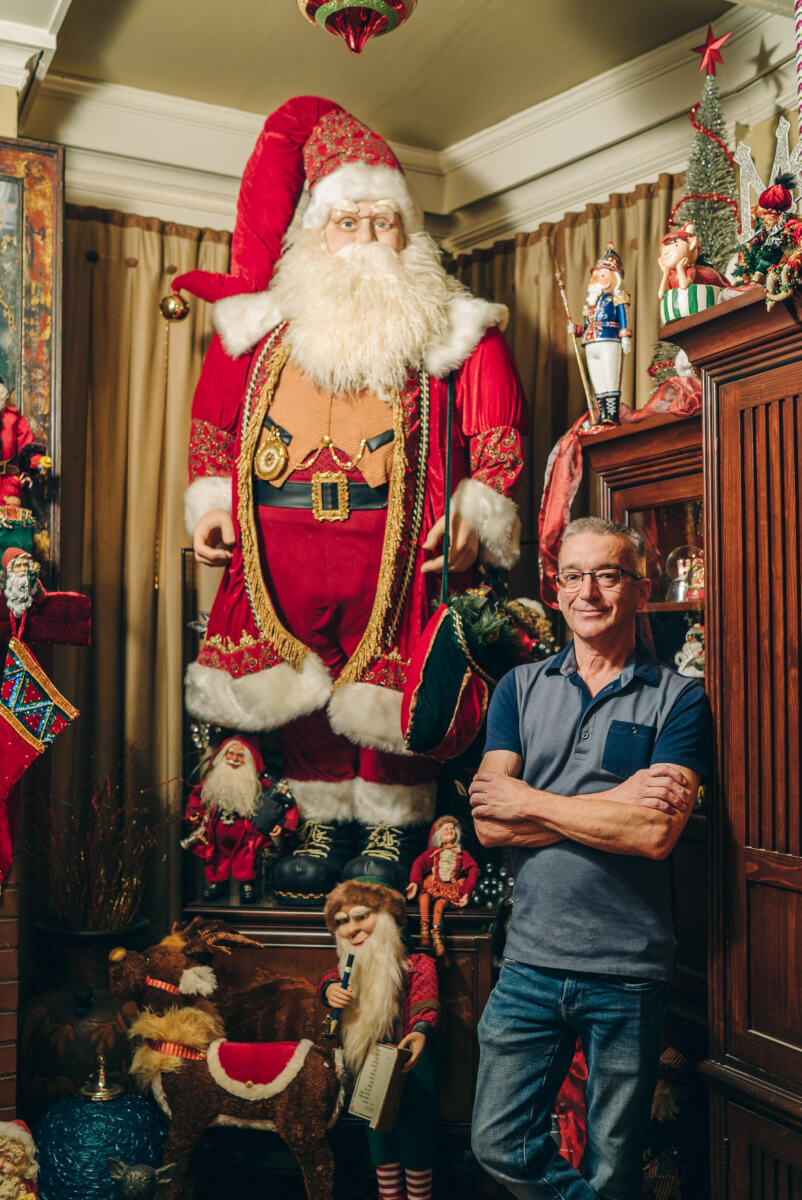 For the first Ho-Ho-Ho-Rah party, there were only about 35 people here and it was raining like a monsoon. I'm glad it wasn't more people because that was a good amount to have inside. The last one had about 200 people. We did a bonfire outside. I do the food. I hire a bartender. As long as the weather cooperates, it goes over pretty well. I love watching everybody look at the decorations. Last time I got this copy of "'Twas the Night Before Christmas" that everybody who came to the party signed – that's so special to me. I love my friends.